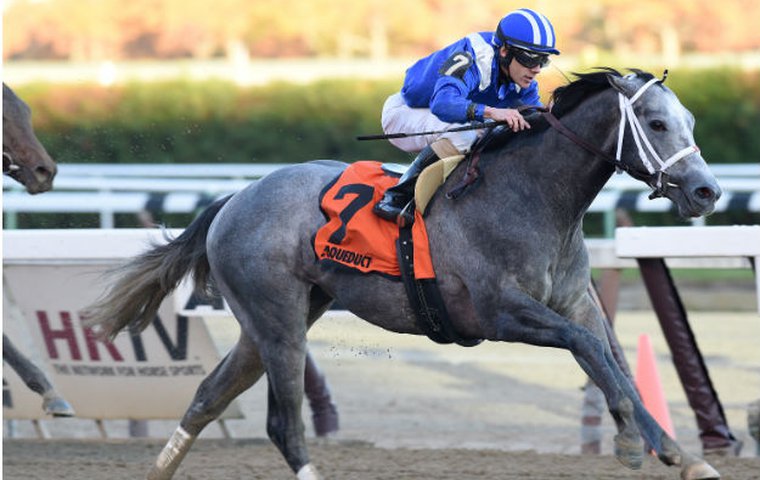 Three-year-olds with undefeated records in late March are inevitably subjected to grandiose expectations

Yet of all the major contenders on this year's Triple Crown trail, only Mohaymen will carry with him a weight that has been crushing for so many other horses before him.
Shadwell Stable's son of Tapit out of the Dixie Union mare Justwhistledixie owns a perfect 5-for-5 record, with four Grade 2 stakes wins, and his highly anticipated clash on Saturday with undefeated 2-year-old champion Nyquist in the $1 million Florida Derby is taking shape as a showdown to rival the Kentucky Derby itself.
Yet, because he was sold as a yearling for $2.2 million, he's also that rare brand of a racehorse whose accomplishments and background put him in select company and paint him as a prime example of how high-priced dreams can indeed come true.
----------
What was it about Gun Runner that made two racing giants so keen to have him?
----------
"People observe how difficult it is to get it right at any level, so when you finally get the right horse, like Shadwell have done with their purchase of Mohaymen, that makes it so much more notable and exciting," said Ian Tapp, who works in sales and bloodstock development for Gainesway Farm, which stands Tapit.
"He came from world-class breeding and to go through the sale process that he did with the vetting, the physical appearance, the pedigree, and to stand out like that and then to still be the best two years later after training and racing is rare and exceptional."
Unlike other parts of the business world, in the racing industry spending gargantuan amounts at yearling or 2-year-old sales is anything but a guarantee of success on the racetrack. In fact, the largest sums spent on an unraced young horse at an auction have been monumental busts.
Coolmore shelled out a king's ransom - $16 million - for The Green Monkey at the Fasig-Tipton Florida 2-year-old sale in 2006 and reaped only a third-place finish from three career starts with earnings of $10,400. Three other horses that sold for more than $10 million (Seattle Dancer, $13.1 million in 1985; Meydan City, $11.7 million in 2006; and Snaafi Dancer, $10.2 million in 1983) posted a combined record of four wins from 13 starts, with earnings of slightly less than $200,000.
Backdrop of epic failures
It's against that backdrop of epic failures that Mohaymen is blazing an unusual yet exciting path as that once-in-a-decade horse with a seven-figure price tag that has actually thrived as a Triple Crown hopeful.
He shared top honors by selling for $2.2 million at the 2014 Keeneland September yearling sale, and in the past 25 years the 75 editions of the Kentucky Derby, Preakness and Belmont Stakes have been won by just three horses who sold at an auction for $1 million or more: Rags to Riches ($1.9 million) in the 2007 Belmont Stakes, Fusaichi Pegasus ($4 million) in the 2000 Kentucky Derby and A.P. Indy ($2.9 million) in the 1992 Belmont Stakes.
Expand the criteria for the 75 stakes to horses that sold at auction for more than $600,000 and the figure inches forward to just four, with only Shadwell's 2006 Belmont Stakes winner Jazil ($725,000) added to the mix.
Want to win the Kentucky Derby? Homebreds have captured nine of the 12 editions since 2004.
Included in the nine is American Pharoah, who was bought back for $300,000 on behalf of his breeder, Ahmed Zayat, at the 2013 Fasig-Tipton Saratoga yearling sale when bidding failed to reach a sufficient level. Of the other three horses, two sold for $35,000 or less, and of the five Kentucky Derby winners since 2002 who were sold at auction, the top sale prices were $190,000, followed by sales tickets of $35,000, $22,000, $20,000 and $9,500 - sums that are usually attached to claimers.
THE COST OF A KENTUCKY DERBY WINNER
| | | |
| --- | --- | --- |
| Year | Kentucky Derby winner | Highest yearling/2yo auction price |
| 2015 | American Pharoah | Homebred/$300,000 F-T NY yearling by original owner |
| 2014 | California Chrome | Homebred |
| 2013 | Orb | Homebred |
| 2012 | I'll Have Another | $35,000 OBS April 2yo |
| 2011 | Animal Kingdom | Homebred/$100,000 Kee Sept. yearling by original owner |
| 2010 | Super Saver | Homebred |
| 2009 | Mine That Bird | $9,500 F-T Ky yearling |
| 2008 | Big Brown | $190,000 Kee April 2yo |
| 2007 | Street Sense | Homebred |
| 2006 | Barbaro | Homebred |
| 2005 | Giacomo | Homebred |
| 2004 | Smarty Jones | Homebred |
| 2003 | Funny Cide | $22,000 F-T NY yearling |
| 2002 | War Emblem | $20,000 Kee Sept. yearling |
| 2001 | Monarchos | $170,000 F-T Fla. 2yo |
| 2000 | Fusaichi Pegasus | $4 million Kee July yearling |
| 1999 | Charismatic | Private sale $200,000 |
| 1998 | Real Quiet | $17,000 Kee Sept. yearling |
| 1997 | Silver Charm | $100,000 OBS Spring 2yo |
| 1996 | Grindstone | Homebred |
| 1995 | Thunder Gulch | $120,000 Kee April 2yo |
| 1994 | Go For Gin | $150,000 F-T NY yearling |
| 1993 | Sea Hero | Homebred |
| 1992 | Lil E. Tee | $25,000 OBS 2yo |
| 1991 | Strike The Gold | Private sale $500,000 |
| 1990 | Unbridled | Dispersal sale $70,000 |
| 1989 | Sunday Silence | $32,000 Cal. 2yo. in training |
| 1988 | Winning Colors | $575,000 Kee July yearling |
| 1987 | Alysheba | $500,000 Kee July yearling |
| 1986 | Ferdinand | Homebred |
| 1985 | Spend A Buck | Private sale $12,500 |
| 1984 | Swale | Homebred |
| 1983 | Sunny's Halo | Homebred |
| 1982 | Gato del Sol | Homebred |
| 1981 | Pleasant Colony | Homebred |
| 1980 | Genuine Risk | $32,000 F-T Ky. |
| 1979 | Spectacular Bid | $37,000 Kee Sept. Yearling |
| 1978 | Affirmed | Homebred |
| 1977 | Seattle Slew | $17,500 F-T July |
| 1976 | Bold Forbes | $15,200 F-T July |
| 1975 | Foolish Pleasure | $20,000 Saratoga yearling |
| 1974 | Cannonade | Homebred |
| 1973 | Secretariat | Homebred |
| 1972 | Riva Ridge | Homebred |
| 1971 | Canonero II | $1,200 Kee Sept. yearling |
| 1970 | Dust Commander | $6,500 Kee Sept. yearling |

Odd as it might seem due to the quality of the horses, spending millions at a sale has been anything but the answer for success in the U.S. 3-year-old classics for the past 15 years.
"It is amazing to see the percentages of horses that have cost a lot of money, over a million dollars, that haven't turned out," said Terry Finley, the president and founder of West Point Thoroughbreds, which raced Justwhistledixie in a partnership and sold her to Clearsky Farms in 2010. "It's really startling."
Considering how unusual it has become for an unraced, seven-figure purchase to blossom into championship material, it's hardly surprising that the rewards for those bolts of lightning can be immense. Fusaichi Pegasus was reportedly sold for $60 million, while A.P. Indy emerged as the one of the industry's dominant sires.
That's why Shadwell officials such as United States racing manager Rick Nichols know they have something special in Mohaymen. Even though Shadwell has another undefeated 3-year-old colt in the homebred Shagaf, it's Mohaymen's bloodlines that separate him from other horses considered top contenders for the Run for the Roses. As a son of Tapit, he hails from the nation's most coveted sire. His dam's first foal was no less of a runner than 2013 Breeders' Cup Juvenile winner New Year's Day.
"You can tell there's a bond between Mohaymen and Rick," said Geoffrey Russell, the director of sales for the Keeneland Association. "You can see the gleam in his eye when he talks about him."
As bright as Mohaymen's future may seem on the racetrack, his pedigree is so rich that it has convinced Nichols and Shadwell owner Sheikh Hamdan bin Rashid Al Maktoum that, when the time comes, Shadwell will stand him at its stud farm in Lexington, Kentucky, rather than syndicate him for a figure that could easily stretch into tens of millions of dollars.
----------
McLaughlin: what makes Mohaymen so special
----------
"If we're going to have stallions here (in the United States), we need to develop them here," Nichols said. "With that in mind, that's why we were looking for a colt of this nature. We've bred some very nice colts. Shagaf (out of Bernardini) is very nicely bred, but not as well as this colt is. We want to win Grade 1s and the Kentucky Derby, but Sheikh Hamdan's main goal is to have some nice stallions in our stallion barn.
"He will not syndicate this horse. We already have a stall in our stallion barn for him based on what he's done as well as his pedigree and conformation. We feel comfortable, even though he hasn't won a Grade 1 yet, that we can stand him and support him with our mares."
While a victory in the Florida Derby would net Nyquist a $1 million bonus for being a product of Fasig-Tipton's Florida 2-year-old sale, the race could generate an even bigger financial windfall for Mohaymen by making him a Grade 1 winner and cementing his status as a sire.
"Hopefully he can get the Florida Derby, get that Grade 1 win, and anything that happens after that will be icing on the cake," Nichols said. "The Florida Derby can clinch him as a stallion. He has a spot in our stallion barn, but it would be a much better one with a Grade 1 win to his credit."
Getting that Grade 1 victory in the Florida Derby will be a formidable challenge with Nyquist shipping in from California to stand in the way, yet Nichols has complete confidence in his undefeated colt, especially at a racetrack where he's already won the Fountain of Youth and Holy Bull for trainer Kiaran McLaughlin.
The best against the best
"It's what it's all about. You put the best with the best and you see who's the best," Nichols said about the Florida Derby matchup. "That's the fun of it. Sheikh Hamdan is such a great sportsman and he enjoys that aspect of it so much, be it win, lose or draw. That's what it's all about. Prove your product on the racetrack and then bring them home and breed them. It hasn't changed for hundreds of years.
"It will be interesting to see how it turns out. I can understand (Nyquist's) reason for coming. If they win, they get a million-dollar bonus. If we win, we get a big smile on our face and that would be worth a million dollars to us. As of right now we're definitely committed. It's (Mohaymen's) home track, we have home field advantage. He obviously likes the track. He's comfortable at the track and in the paddock. It's all working so why make a change?"
Thoughts of races like the Florida Derby or Kentucky Derby run rampant at a premier sale such as Keeneland, yet it takes a special horse to beat the long odds stacked against precocious yet unproven horses. As Finley points out, the risks are great.
"When you get to those high levels it's tough to get out from underneath those horses," Finley said. "People know the more you spend, statistically the better a chance you have to get a good horse. But that doesn't mean those odds are great. That's what I tell my people. We're working hard to find value and, when you're at the top and bidding against people who rule countries, you're not going to win. And when you do win, you're probably not getting the value you want. It's a fascinating part of our game, but it's risky. If you want security, I tell people to put their money in a CD [Certificate of Deposit] at the bank."
The inherent risks and search for value originally put thoughts in Nichols' mind that the son of Tapit he fancied at the 2014 Keeneland September sale was worth about $1.5 million. Yet there was something different about the grey colt that convinced him to dig even deeper into the Shadwell checking account.
Exuding presence
"Most of the times, horses with good pedigrees aren't the ones with the best conformation and the really nicely conformed horses don't have the best pedigrees," Nichols said. "It's very unusual when you get those two things together in one individual. When you find it, that's when we feel we can really step up to the plate, like we did for Mohaymen. He has the type of pedigree that doesn't come along too often. Yet, if he wasn't such a nice individual, no, we would not have gone that high for him.
"Did I think he was worth $2.2 million going into the sale? Not really. But the way he looked and his pedigree gave us the encouragement to go on and try to get him. My original value on him was around $1.5 million. Then as we got involved it was close to $2 million, and then $2 million and a bit. But I had to stop at $2.2 million. That was going to be it for us."
Needless to say, Mohaymen is looking more and more like that exceptional horse who has the potential to turn a huge sale price into a bargain.
"To use the cliché, he ticked all the boxes. He has the pedigree, the conformation, but he also had that magic word that gets thrown around and is appropriate for him: he has presence," Russell said. "That is what separates good horses and he exudes it. He's such a cool horse. He handles everything so well. When a horse sells for that much, they're in the sales ring for a while, but he was cool as a cucumber. He has a great demeanor that bodes well on the racetrack, and down the road in the breeding shed as well."
Mohaymen wasn't the only yearling at that Keeneland sale who sparked a wild bidding war. Yet, reflective of the risks in the process, he is without question the one who has proven to be worth all the fuss and stacks of cash.
The other $2.2 million colt at the sale, a son of War Front named Air Vice Marshal, went to Coolmore and through three races in Europe has just one win and earnings of $29,182.
Eleven other horses were bought for $1 million or more, yet only one of them has won a race as of March 17.
MILLION DOLLAR BUYS AT THE 2014 KEENELAND SEPTEMBER SALE
Price ($)

Horse

Pedigree

Runs

Earnings

2.2m

Air Vice Marshal

War Front - Gold Vault (Arch)

2 in Ireland,

1 in England

1 win, 1 2nd, 1 3rd

£8,291

2.2m

Mohaymen

Tapit - Justwhistledixie (Dixie Union)

5 in U.S.

5 wins (4 Grade 2)

$805,350

1.6m

I'm Amazing

Unbridled's Song - Tizamazing (Cee's Tizzy)

unraced

1.5m

Gioia Stella

Medaglia d'Oro - Dowry (Belong To Me)

2 in U.S.

2 2nds

$15,200

1.45m

Eyeshine

Dubawi - Casual Look (Red Ransom)

unraced

1.35m

Tour de Force

Tiznow - Dream Supreme (Seeking The Gold)

unraced

1.3m

Schubert

War Front - Score

(A.P. Indy)

2 in Ireland,

1 in England

1 2nd

£2,309

1.2m

Crowned

Bernardini - Mushka (Empire Maker)

unraced

1.2m

Adios Reality

Tapit - Dream Rush

(Wild Rush)

2 in U.S.

unplaced

$1,465

1.1m

Leslie's Harmony

Curlin - Leslie's Lady (Tricky Creek)

2 in U.S.

1 3rd

$3,600

1.1m

Tathqeef

Tapit - Foxy Danseur (Mr Greeley)

1 in England

1 win

£3,235

1.1m

Celestial Smile

Tiznow - Countess Lemonade (Storm Cat)

2 in U.S.

unplaced

$595

1m

Espresso Time

Tapit - Super Espresso (Medaglia d'Oro)

4 in U.S.

3 3rds

$12,000
(Results through March 17)
With results like that, it's not just Shadwell that has a vested interest in Mohaymen. With the Shadwell star serving as a reminder of how worthwhile a multi-million dollar purchase can be, his success as well as the red-hot interest in offspring of Tapit promises to have a positive impact on the major summer and fall sales.
"Of course it helps when a horse who was the No. 1 pick at the Keeneland September sale can be undefeated and the No. 1 contender for the Kentucky Derby," Russell said. "You live by your last race at the racetrack in a lot of aspects of our game, and Mohaymen is a very exciting horse out of a leading sire who's re-writing the record book.
"When Fusaichi Pegasus won the Kentucky Derby, we saw an impact. When these high-priced, very well-bred colts win our premier races it inevitably increases the value of well-bred yearling colts at an auction. People realize these expensive horses can win."
As Tapp sees it: "The best thing about Mohaymen's success is that he's now a poster child for an expensive yearling who had great success on the racetrack and it gives some buyers added confidence. It also convinces others to increase their budget going into a sale. It brings more people into the market and sometimes you get that trickle up effect at higher levels."
Interestingly, Justwhistledixie is currently in foal at Clearsky Farms carrying Mohaymen's full-brother or -sister by Tapit and was due to deliver her latest offspring on March 18.
New Year's Day sold for $425,000 and her second foal, Winslow, a winner of just one of five starts, brought $600,000.
After what Mohaymen has accomplished, if all goes well, it would not be shocking if Clearsky sells another seven-figure yearling purchase down the road.
----------
Look to the U.S. not Europe for a blue-collar classic horse
----------
"That mare was a good, honest mare who was very talented. It was a pleasure to own her. We would love to own her now, no doubt about it, but I'm happy for Shadwell," Finley said. "They are great for the game and they're great ambassadors. They invested for decades so it's great to see them have success. There's also no nicer guy in the business than Kiaran McLaughlin, and he trained the mare. With that pedigree, if she produces a filly you wouldn't even have to run her to get a residual return for her."
Then again, if the next foal turns out to be nearly as good as its big brother, that just might be good enough to make it a star.
In racing there's often a million reasons why a valuable horse can turn out to be a disappointment, and yet that can be quickly pushed into the background when that magical moment arrives and a one-in-a-million runner grabs the sport's brightest spotlight.
It happened with A.P. Indy and then with Fusaichi Pegasus.
Can it happen with Mohaymen? That's the multi-million dollar question begging for an answer this spring.