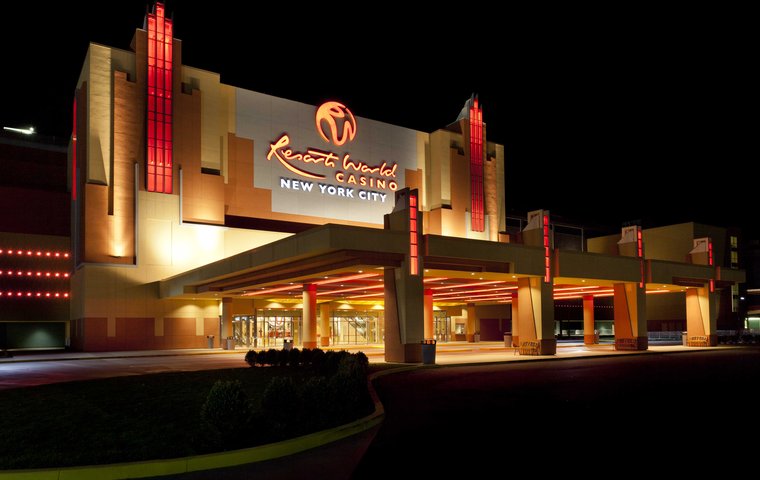 In the final part in her series on how the New York breeding industry has been revitalized in recent years largely because of the lucrative breeder, stallion and owner awards program, Terese Karmel reports on worries over the future of the casino revenue that has made that program possible.

Although at the moment, things seem fairly smooth for the New York breds program, officials and horsemen are quick to point out that the issues of NYRA control and casino VLT (Video Lottery Terminal) distribution leave many important unanswered questions for them.
"Yes I worry about it," said Michael Lischin, co-owner of Dutchess View Farms, in Pine Planes, New York . "The New York breeding program makes us able to make a profit. If we didn't have it, we'd have to go out of business.
"Finger Lakes would go out of business and most of Aqueduct would go out of business and all you'd have is a wealthy person's sport the way it was 30 years ago. Right now we are profitable." he said. Before the casino money, "we were just breaking even, although we have an edge because we live and work here."
The control of NYRA
The future of the control of NYRA was finally wrapped up over the first weekend in April when, facing a state budget deadline, Governor Andrew Cuomo and the state legislature agreed to a compromise that still gives the state powers to oversee NYRA but provides a greater voice to horsemen.
Sixteen members of the new 17-member board, which officially moves NYRA back into private hands, were announced before the Belmont Stakes draw on Wednesday.
Though Cuomo sought to make them ex-officio members, the New York Thoroughbred Horsemen's Association and New York Breeders Inc. will each get a seat on the NYRA board with full voting powers.
The Senate and Assembly also changed Cuomo's proposal to greatly strengthen the powers of a state panel that oversees parts of NYRA's budget, a sticking point for horsemen. The governor wanted the Franchise Oversight Board, created in 2008 when NYRA's racing franchise was extended, to be able to impound NYRA's funds, such as money it gets from the Aqueduct casino for operating aid and purses. He also wanted to give the board powers to take "corrective" actions if the board, in its opinion, believes there were "significant" risks to NYRA's finances.
Dominated by Cuomo appointees
However, lawmakers said the powers sought by the governor were too vague and that the panel could end up serving as a de facto NYRA board. The oversight board is dominated by Cuomo appointees.
Many of the oversight board powers sought by Cuomo are in the final agreement to re-privatize NYRA, but lawmakers restricted potential controls by requiring a unanimous vote by the board's members. That could favor NYRA, because the unanimous votes would have to come from members appointed by the Legislature, which has had its problems with NYRA but tends to look upon the racing corporation more favorably than a long list of New York governors over time.
Click here for full details of the New York awards
According to press reports, Senator John Bonacic, chairman of the Senate's racing and wagering committee, whose district includes many horse operations, said it was time the state got out of the business of Thoroughbred racing.
The Republican senator said having representatives from the breeder and horsemen groups will bring other voices with expertise in various aspects of racing to the board.
"I expect greater things from the new board than what we've seen in the past," Bonacic said.
Protecting jobs
Jeff Cannizzo, executive director of New York Thoroughbred Breeders, Inc., the major industry lobby group representing more than 300 horse farms, said the reprivatization agreement protects the industry's 33,000 jobs.
"Thanks to Governor Cuomo's ongoing commitment to preserving this diverse agricultural industry that touches every county of New York State, the most prestigious racing in the United States will continue for decades at NYRA," Cannizzo said.
Since 2012, the issue of putting NYRA back in the hands of horsemen has been debated, when mismanagement and losing propositions prompted Cuomo to appoint a state board to take over the $4.2 equine industry, much the biggest proportion of which relates to Thoroughbred racing and breeding, with the provision that his 2017 budget would include funds to return it to private hands.
The revenue issues involving VLTs located at Aqueduct's Resorts World Casino, owned by Genting, a worldwide Malaysian casino company, and terminals owned by the state-approved Nassau OTB, which has yet to find a location for its facility, have been apparently also been resolved.
$330 million expansion
Resorts World has between 5,000 and 5,500 VLTs, from which NYRA is guaranteed by law to receive 16 percent of the revenue, broken down in categories. In 2016, a total of $132,237,856 was distributed as follows:
NYRA purses, $61,986,495

NYRA operations, $24,794,598

NY Thoroughbred Breeding and Development Fund, $12,397,299

NYRA capital expenses, $33,059,465
An agreement was reached, approved by the state Gaming Commission in October 2016 and signed into law the following April, in which Genting agreed to host up to 1,000 VLTS for Nassau OTB while that operation pursues a location. Some 460 are already installed and Nassau has the option of installing 540 more. The revenue from the Nassau terminals does not by law go to NYRA or New York breeders.
As part of that agreement, however, Genting had to commit to a $330 million expansion to include a hotel and other destination amenities. Ground has yet to be broken and there is no deadline.
A spokesman for the Gaming Commission said the intention of the agreement was "if Genting could expand, it could generate more money for NYRA and breeders".
This could be important because the competition for the gambling dollar could become intense since two new casinos are planned for nearby Long Island and the possibility of a Nassau OTB facility also could affect the Aqueduct business.
Compromise at Finger Lakes
Finger Lakes casino issues are a more focused example of potential VLT revenue problems, although recent actions by various state and New York bred agencies have helped matters.
"That's reared its ugly head again," said leading owner Michael Dubb, alluding to the recent opening of the glitzy del Lago Resort and Casino. A Las Vegas type operation just 29 miles from the Finger Lakes Gaming and Racetrack, it is outside the Finger Lakes racing district. Its revenues indicate it is drawing patrons whose gambling dollars are no longer being spent at the racetrack casino, thus cutting revenue for the Thoroughbred industry.
After weeks of haggling, the Finger Lakes horsemen and the state agreed to a compromise solution for the track, which has been losing money for years. The agreement, only good for a year, cuts racing dates from 155 to 145 (April 22 through Nov. 28) and establishes some controls over the number of races per day, especially during the elite Saratoga meet about 200 miles away.
The positive side of the agreement requires the owners to commit between $600,000 and $1 million, depending on VLT yields, to Finger Lakes to guarantee an average purse size of $13,690, about the same as 2016. It also protects 1,200 jobs, Cuomo pointed out in his press release on the agreement.
Generous surplus
Finger Lakes racing got a generous surplus in March, when the New York Thoroughbred Breeding and Development Fund approved awarding any New York bred (sired by a registered New York stallion) that wins a maiden special weight an extra $7,000 in first place purse money, representing a 37 percent increase over previous awards. Purses for state-bred maiden winners will range from $23,000 to $30,000; open company maiden special winners will have added funds.
Fund Executive Director Tracy Egan said the decision was made to encourage New York breeders to look to New York stallions when making breeding plans.
That Fund decision supplements increased contributions from del Lago to offset anticipated declines in VLT revenue at the track casino.
Dubb, who has plenty of New York breds in addition to top-flight Kentucky breds, said the awards program makes it possible for people who own horses to have a good shot with the incentives, creates thousands of jobs across the state and helps New York's horse industry be second only to the dairy industry in terms of the contribution to the state's agricultural economy.
'Total win situation'
Though for years there have been cries to close Finger Lakes altogether, Dubb is strongly supportive of maintaining the track, "which is really needed for the industry because there has to be an outlet for B horses to run at. We don't set out to buy and run at Finger Lakes, but it's nice to know it's there for an investment."
In 2016, 73 percent of the total starts at Finger Lakes were New York breds, who also won 73 percent of the 1,330 races.
"It's a total win situation," said Dubb, whose German-bred 7-year-old colt, Wake Forest, won the G2 Mac Diarmida turf race at Gulfstream Park in March.
Dubb said the uncertainties connected with the New York breeding program are the same that horseracing in general faces, although in New York the privatization issue needed to be settled. With horsemen controlling the board, "people who would run NYRA would be better stewards of the sport," he added.
Dubb, who created and owns Beechwood Organization, a highly successful Long Island construction firm, is very successful on the New York circuit, having won the New York owners' title five of the last seven years with a number of partnerships.
Awards program 'the best in the country'
Most recently, he has had New York winners in three different categories, including Fourstarcrook, a 5-year-old turf stakes winner by Freud, Royal Posse, a 6-year-old New York bred, who just passed the $1 million earnings mark that includes the $200,000 Claiming Crown Jewel for a second straight year at Gulfstream Park, Bonita Bianca, and a 3-year-old filly by Curlin from a New York mare, Friendly Michelle, who placed second in the open company Demoiselle Stakes at Aqueduct in November and has also won two stakes for New York breds.
"I have nice New York breds in different categories," Dubb said. "I always go out of my way to buy and race New York breds."
As does Adam Wachtel, whose NY bred division of his national Thoroughbred operation has been in the family since his late father, Ed Wachtel, started buying New York breds in the late 1980s. Wachtel said the New York program is getting increasingly more traction in the industry.
"Of all the programs I've seen around the country, I've found it to be the best. The breeder and stallion awards are excellent as the open company awards are also great."
Nervous over funding
But, like others, he is concerned about funding cutbacks and is "nervous as to what the future holds. If purse money is cut, that's a problem for everyone."
The first stallion the family boarded in New York was Claramount, successful on the track and even more productive in the breeding shed at Keane Stud in Amenia, N.Y., where he became one of the leading stallions in the state. When he was retired, the family brought other colts to stud at Keane, including Smokin Mel, One Nice Cat and, most recently, a son of Medaglio d'Oro, Al Khali, whom Wachtel called "a monster of a horse".
A more recent Wachtel 'monster' is Tourist, winner of the 2016 Breeder's Cup Mile on turf. Tourist is currently standing at WinStar in Kentucky for $12,500, but Wachtel and his partners hope to breed a few of their New York mares to him so they can drop their foals in New York. One, a 7-year-old mare, Agawa, is currently bred to Tourist and will breed back to Al Khali next season, according to the plan.
"Even Kentucky breeders when I had conversations with them about Tourist said it would be fun to get some Tourist babies in New York," Wachtel said.
Also in Terese Karmel's series on the New York breeding industry
The pot of gold that gave so many farms second lives
The stallions that are helping New York breeder compete with Kentucky