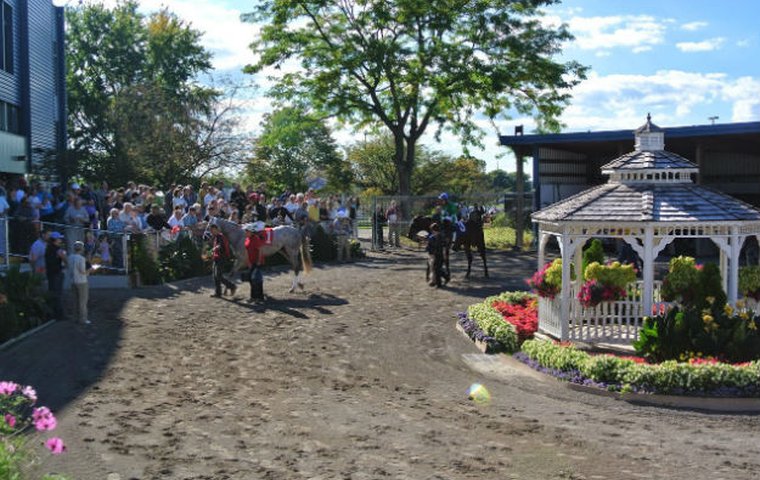 Over its 53-year history, Finger Lakes Racetrack has been referred to as many things, usually tied to the outcome of a race. But the nickname that stuck to the place is "The Thumb," likely because of nearby Canandaigua Lake's position among the Finger Lakes, though there's no definitive proof.

Take a look at your dominant hand and think about all the things you do with it. Now picture it without your thumb. Considering what the management and horsemen at what is now called Finger Lakes Gaming and Racing are looking at, its nickname is apt.
Finger Lakes is a working man's track and has never pretended to be otherwise. Certainly, it has had celebrated moments. Steve Cauthen rode there in 1978. Locally based Fio Rito won the 1980 Whitney Handicap at Saratoga and went on to win Horse of the Year honors. In 2007, a crowd of more than 12,000 watched Kentucky Derby and Preakness winner Funny Cide gamely win the Wadsworth Memorial Handicap in the last race of his career.
But what Finger Lakes does most is write races for horsemen who would be thrilled if they got their 15 seconds of fame but don't expect it. It ran 155 days of racing this year, which is quite an achievement for a place where there are only two stakes with six-figure purses, the allowance purses rarely get higher than $20,000 and the most common race is for $5,000 claimers with purses of $9,000.
Late in the summer of 2014, it looked like Finger Lakes might be headed for better days. Suffolk Downs in East Boston, Massachusetts, was closing in October and it looked like Fort Erie Racetrack in Ontario, Canada might shut down.
The unkindest cut
Positioned nicely between the two and running for comparable money, it stood to reason that some of those horsemen would make their way to Finger Lakes.
Fort Erie stayed open, however, and the Suffolk horsemen dispersed. Some came to Finger Lakes, but more of them went to the mid-Atlantic circuit.
Then in December 2014, the unkindest cut came: New York State's casino siting board recommended that the casino slotted for the Southern Tier area go to Thomas Wilmot's proposed Lago Resort and Casino in Tyre, 27 miles from Finger Lakes.
On Dec. 21, one year after the recommendation, the New York State Gaming Commission approved Lago's casino license. Three days earlier, the management of Finger Lakes made its preemptive move: It requested only 126 racing dates for 2016, a near 20 percent reduction.
Still, there's a plucky spirit at Finger Lakes.
Matthew Clarke, one of the ex-Suffolk trainers who went to Finger Lakes, estimates about eight trainers came there from Suffolk. He came to Finger Lakes for the final six to eight weeks of its 2014 meet to see what type of horses fit there and what the competition was like. He made the decision to move his whole family to Farmington, the town where Finger Lakes is located.
"And I think it's probably fair to say I made a good choice," Clarke said. "For the most part I think all of us who came have done very well. This is certainly been the best year I've had in terms of wins and win percentage."
A 'win-win' situation
Clarke was helped by what Dave Brown, the president of the Finger Lakes Horsemen Benevolent Protective Association, calls the "win-win" of running Massachusetts-bred races at the track.
"It helped us because we were only running 44 races a week because we cut Saturday to eight," Brown said.
Finger Lakes ran five races restricted to Mass.-breds throughout November and early December with purses of $35,000 paid for by the Massachusetts breeders. Racing secretary Bill Couch said most of them had seven-horse fields.
"I'm hoping next year I get more of those guys from Suffolk," Couch said. "We're going to work on those guys; maybe we'll have more of those races. I'm going to be in contact with the Mass. Breeders again."
Clarke and Brown think more ex-Suffolk trainers will come to Finger Lakes next year. Clarke said some of the trainers who tried the Mid-Atlantic circuit where purses are a little better did okay but realized the competition was much harder. Also, Massachusetts' legislature and gaming commission gave permission to the Massachusetts Breeding Association to pay breeders' awards to top-three finishers out of state when Suffolk closed.
"Next year I'm trying to get them to run two or three Mass.-bred races every single month," Brown said. "Then I can say to these horsemen who went to Monmouth or elsewhere, 'Listen, you're going to be running for all this money here,' then they might ship in and then Matt Clarke can say, 'Listen, I did well here.' "
The purse struggle
Everybody at Finger Lakes agrees that doing "well" is a relative term. The struggle is real.
The track's top two stakes are its $200,000-plus New York Breeders' Futurity for 2-year-olds in the fall and the $125,000 New York Derby in July. Both are restricted to New York-breds, as are the other eight stakes, most of which are run for $50,000. While the Futurity and New York Derby get several horses from the New York Racing Association circuit, the others average one to two NYRA invaders, whose owners and trainers are strictly looking for black type.
Purses had to be lowered 12 percent in 2014, but they stayed at that rate this past year. Brown and trainer Jeremiah Englehart, who lives in Farmington but trains strings at both Belmont Park and Finger Lakes, would like to see a slight in boost to the allowances and such.
"What I'm thinking is that we put more money in overnight handicaps," Brown said. "We get breeders' fund money. This year, because we were running out of money, we took that money out of claiming races and just put it in allowance races. We're going to do that next year and the money we save we'll put in overnight handicap races. The better horses will have more places to run than they did this year."
Still, even with the breeders' fund money, Englehart said the allowance purses aren't what they once were, and that's not good.
"We're making everybody mediocre. I don't think that's what the gamblers or the horsemen want," Englehart said.
But with Lago coming, president and general manager Christian Riegle sees the writing on the wall.
"With Lago possibly beginning to operate next fall, we just don't see how we will be able to maintain a positive purse account for the length of racing schedule that we have traditionally had," Riegle said.
'Exodus would be amazing'
Cutting days or purses is always a sore subject. Brown said Finger Lakes suggested cutting racing to four days a week to its owner, Delaware North, which denied that request because it said it needed to stay open for a certain amount of time to cover its costs.
For now, Couch estimates the total purses will be the same next year, but he admits he won't know for sure until 2016. If there's trimming to be done, it'll hurt someone.
"These people can't afford to cut many more days. It won't be economically feasible to them," Brown said. "We have to keep the lower-level claiming races because that's where most of the people here run. Most of the farms that breed their own run at that level. We already lose a number of horses to Presque Isle (in Erie, Pennsylvania) every year.
"We try to prevent it as much as possible, but we recognize these people have to make money and they are bringing back their money here. But if we cut purses or days again here, oh, the exodus will be amazing. It's two and a half hours down the road."
"And then it's a vicious circle because the field size goes down and the handle goes down," he added.
Englehart said that some tracks have gotten leaner to get a little healthier overall, and he wouldn't be averse to that idea.
"Overall, I think our whole condition book needs a boost; we need a new way of thinking," he said.
The condition book may end up being okay if Finger Lakes can get a bill passed in both houses of the New York legislature, which would require Wilmot and Lago's owners to make payments to ensure that purse and breeding funds at Finger Lakes are maintained at 2013 levels.
That was something that was written into the whole upstate casino process. For example, it protects Saratoga Gaming and Raceway's harness purse account because the Rivers Casino that will be built in Schenectady is in the same "zone" as an existing racetrack.
Finger Lakes, however, was not protected because it is in a different zone from Lago: an exclusivity zone, within which the Seneca Nation of Indians was promised by the state no new casino competition.
Finger Lakes' argument to the legislature is that while, technically, it isn't protected by that rule, placing a casino 27 miles away knowingly hurts a facility that, by law, pays a lot more money to the state than said casino will.
The bills were introduced in March, but Brown plans on lobbying hard in January to get them passed.
Letting the chips fall
Several studies have been done about Lago's possible impact on existing gaming facilities, and the numbers vary.
"(Wilmot's) application to the state said 50 percent of his revenue base (gross gaming revenue) would come from existing facilities," Riegle said.
Technically, the existing facilities also include Vernon Downs, Tioga Downs, Batavia Downs and Turning Stone Casino, but Finger Lakes administrators figure their facility will take the biggest hit, being the closest.
Other estimates have the cannibalization as low as 21 percent or as high as 67 percent. The track could weather the low end of that, but not much more.
"If the bills don't pass and Lago takes between 30 and 40 percent from us – remember, revenue from gaming is 60 percent of our purse account – it's not going to be worth racing here because the purses will be so low," Brown said.
Riegle concurs, and he'd hate to see it for a track that has about 112 trainers on site and about 1,100 horses stabled at the height of summer. When you add the number of employees on the payroll at Finger Lakes with the horsemen and ancillary workers, Finger Lakes Gaming and Racing is the second-largest employer in Ontario County.
The New York Thoroughbred Breeders, NYRA and the Jockeys' Guild – and Brown hopes to get the Farm Bureau on board – are all behind the bills to help stabilize Finger Lakes' purse account because the shock waves from Finger Lakes closing would be devastating. In 2013, the races at Finger Lakes generated 52 percent of the numbers of breeders awards paid by the state's breeding development fund.
If Finger Lakes closed there would be tangible repercussions, none worse than the selling of farms that Brown said have been in families for two and three generations.
"We're kind of an unusual track because most of the trainers that train here live in the community, their kids go to school in the community," Brown said. "They don't go different places after we're done. Some, maybe 10 percent, go elsewhere."
That's why Finger Lakes always starts every year with 4 ½-furlong races and builds up the distances. "Because the horses are coming off of farms here," Brown said. "You've really got 100 small businesses here and they're all families."
It's an atmosphere Clarke – who has raced in three countries - called, "one of the friendliest backside communities I've ever experienced," and it's what makes Englehart so passionate about the decisions that are made.
"This is home," he said. "I grew up here and it's where I want to raise my family, so it's important to see this place survive."