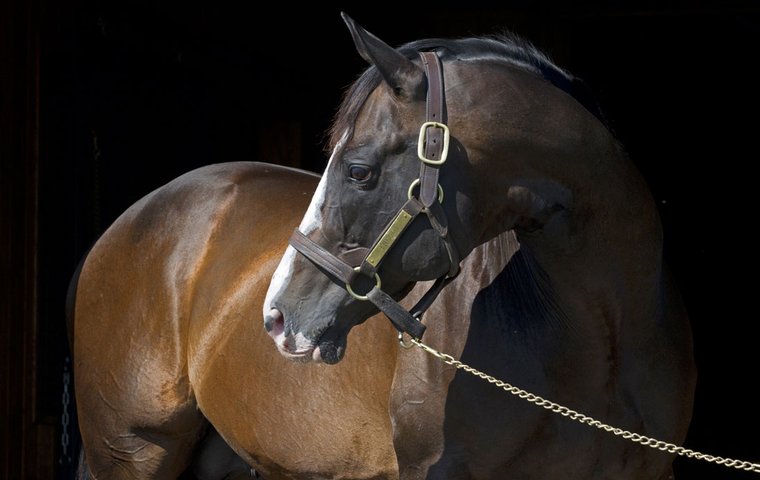 In the first of three reports on the New York breeding industry, Terese Karmel finds out how its fortunes have been turned around as a result of the boost the awards program received from casino revenue. Later, she will look at worries over the future of that revenue.

Sitting high on a pristine hill, the barn resembles a Quaker church with its white-pitched roof rising out of the New York state snow. Black lacquered fences guard the structure as if it contains a king's ransom. And in a sense it does.
This, said the proprietor of Sequel Stallions in Hudson, New York, "should be called Freud Farm". Becky Thomas, a veteran in the breeding business, is referring to one of the top stallions in New York. Since he entered stud in 2002, the progeny of Freud (Storm Cat – Mariah's Storm), a full brother to Giant's Causeway, have earned more than $45 million, including 52 stakes, and the stallion has generated more than $8 million in breeder, owner and stallion awards since 2005.
According to the 2016 Breeders' Fund report, Freud, who stands for $10,000 at Sequel, finished 35th nationally in progeny earnings of $5.1 million from 95 winners of 185 runners. (Freud is world-ranked 76 in the TRC global sires' standings, which are calculated exclusively on Group and Graded races worldwide.)
Sequel, which reopened in 2011 after a two-year hiatus because of poor economic conditions, is owned by Thomas in partnership with Dennis Narlinger. Thomas closed Sequel in 2009 because the New York casino money had yet to be infused into Thoroughbred breeding and racing purses awards.
All change in 2011
"It was not a hard decision," she said. "Our breeder base – mom-and-pop operations – didn't have the money for stud fees. The award program was decimated, New York OTB was bankrupt … it was a dreadful time. We were not a charity farm."
But all that changed in 2011, when the New York state legislature agreed to a plan to bail out a struggling Aqueduct by assigning VLT (Video Lottery Terminal) revenue from Resorts World Casino New York, located at the track, to bolster purses.
It was the proverbial pot of gold at the end of the rainbow for dozens of breeding farms, which got second lives because of the lucrative breeder, stallion and open company awards for New York-breds.
Click here for full details of the New York awards.
Now, Thomas says, "It actually pays to race. Last year was the first in many that I intentionally raced, whereas normally I breed to sell and don't race. We had five racehorses (all New York-breds), which gave us insulation from a market very polarized. The high end is quite strong. Under that it is very poor."
Among her successful horses was Haveyougoneaway (Congrats – One Wise Cowgirl), a New York-bred who won the open company G1 Ballerina at Saratoga a month after capturing the G2 Honourable Miss there, and her homebred Silver Mission (Mission Impazible - Nashinda). Silver Mission, which she owns in partnership with Twin Creeks Racing Stable, won the 2016 Tremont Stakes for 2-year-olds at Belmont Park. These were six-figure races and the breeder and owner awards for a "blue-collar person like me, were impressive", Thomas said.
Keeping farms in business
Sequel's awards were among $16 million the New York Thoroughbred Breeding and Development Fund gave out last year ($14 million of it from VLTs), in breeder, stallion and owner awards and purse enhancements from the state and other resources, a steady amount since 2014, contrasted to a high of $17.5 million in 2013.
The generous awards, thanks in large part to NY slot machines, have kept dozens of horse farms in business, and, in 2016 alone, 33 new ones opened.
For example, a breeder who owns the mare at the time she foals a winning horse in New York state gets 30 percent of the purse money for first, 15 percent for second and third. Each has a $40,000 cap. This compared with non-New York-sired winners is significant since those awards are cut in half.
These incentives have resulted in a 35 percent growth in New York foals since 2011.
Stallion awards, for owners of New York-based covering sires (at time of conception) are smaller but still amount to 10 percent of purses earned from first through third place. They are capped at $10,000 per race.
Favorable comparisons
By contrast, Florida and California pale in comparison.
Winning Florida-breds, for example, can expect 2.6 to 13 percent of the purses depending on their finishes. The Florida Thoroughbred Breeders and Owners Association typically distributes about $12 million annually, but changes to the award structure will boost payments in 2017. Cal-bred awards, though more complicated, range in percentages for breeders, owners and stallion awards, with the average about 20 percent of the purse money for top finishers. In 2015, the Cal incentive programs gave out about $7 million in breeder, stallion and owner awards.
"What separates us from other states is the racing opportunities offered by NYRA and Finger Lakes," said Jeff Cannizzo, executive director of New York Thoroughbred Breeders, Inc., the major industry lobby group representing more than 300 horse farms. Cannizzo, whose family has been involved in New York horseracing for generations (his brother David trains in New York) is a tireless voice in Albany and other important power centers for New York racing.
Over 45 stakes and more than 800 overnights are run for New York-breds at the three NYRA tracks (Aqueduct, Belmont and Saratoga) and Finger Lakes, independently owned by the Finger Lakes Horsemen's Benevolent Protective Association and Delaware North Companies, in Farmington, New York.
Worldwide winners
In 2016, New York-breds won 18 graded stakes races, including three G1s. Perhaps the most prestigious victory, however, did not come on a domestic track. That honor goes to New York-bred Moanin (Henny Hughes – Giggly), who won the Japanese G1 February Stakes at Tokyo Racecourse in 2016, a month after in his victory in the G3 Negishi Stakes, also in Tokyo. Though he has fallen off this year, Moanin has earned $1.77 million in 12 starts.
Then, of course, there is NY-bred Mind Your Biscuits, who won the $2 million G1 Dubai Golden Shaheen at Meydan on March 25.
Says Cannizzo: "Ten years ago, New York-breds running in stakes races was an anomaly. Now New York-breds are running in multiple stakes across the world.
"The New York breeding program creates bloodstock and commercial markets for selling and owning New York-breds. Because of these opportunities and lucrative purses, a New York-bred is something you must have in your stable," he said.
Cannizzo also pointed out that New York-bred yearling sales doubled to $26 million through 2015 since the VLT money came in.
A 2012 comprehensive economic impact study of New York-breds concluded that the equine industry contributed $4.2 billion to the state's economy and provided 33,000 jobs.
Footnote
New York Thoroughbred Breeding and Development Fund Executive Director Tracy Egan said: "It's exciting to see how frequently today's NY-breds win Graded and open stakes. Palm Sunday weekend saw NY-breds win five open stakes at Aqueduct, including the Grade 1 Carter Handicap and three Grade 3 stakes.
"Long Haul Bay won the G3 Bay Shore and Send It In captured the G3 Excelsior. Highway Star, winner of the G3 Distaff, was sired by Girolamo, who stood in New York the year she was conceived so, even though he's left the state, Girolamo will still receive a stallion award.
"And, while the Danger's Hour Stakes isn't graded, the durable NY-bred Macagone won the open race for the second year in a row by the same 1 1/2-length margin but in a faster time than the 2016 running.
"Also, registered NY-sire Here's Zealous sired the winner of the Grade I Carter Handicap, Green Gratto, who is a NJ-bred.