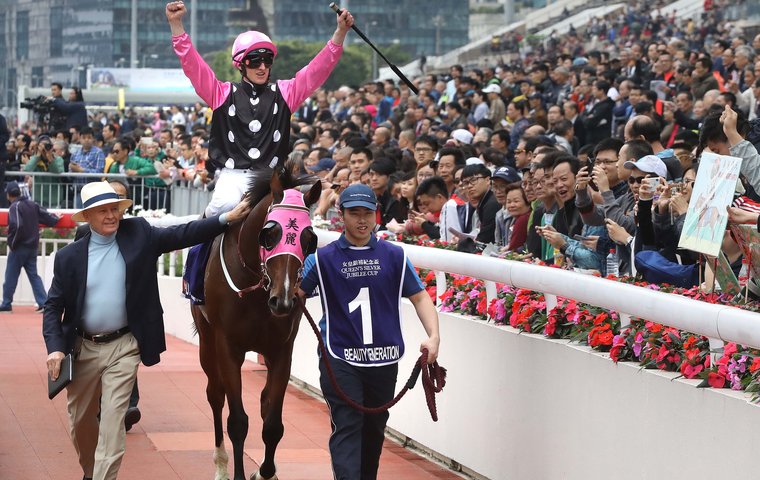 James Willoughby picks out the jockey, trainer, owner and sire who made the biggest impact on the TRC Global Rankings in the week that ended on Sunday.

TRC JOCKEY OF THE WEEK
A pair of G2 wins in Dubai (Meydan Sprint, Balanchine) enabled William Buick (+3pts, stays #7) to consolidate his position as the highest-ranked Godolphin rider. ZAC PURTON's double exceeded that in quality, however, coming in G1 races for the Hong Kong Gold Cup and Queen's Silver Jubilee Cup at Sha Tin. The impressive Purton steered home his old pal Beauty Generation in the latter and gains 8pts to a career-high world rank of #7 (alongside Buick).
It is one of the strength's of the TRC ranking system that the top tens can accurately reflect the true global standing of competitors, even when the limitations of geography restrict them to relatively few wins than in, say, Australia or the U.S. We have written numerous pieces, such as this one by Paul Haigh, about the strength of racing in Hong Kong, and Purton is now rightly accepted among the global elite of jockeys.
Significantly, Purton has even outperformed local legend, world #12 Joao Moreira, a tussle that has been captured by their respective rankings. Notably, Purton leads the world in winning percentage of head-to-head match-ups with other top 20 riders, as shown in the table (Moreira is also highlighted):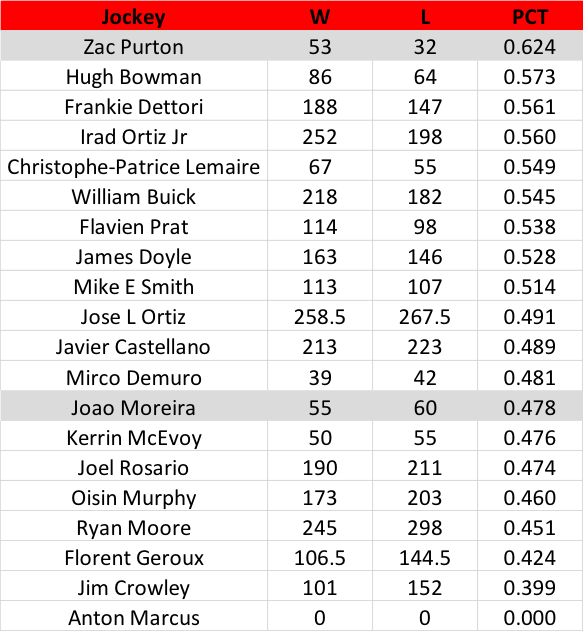 For information purposes – sample-sizes do not make these results that meaningful – here is a breakdown of the individual match-ups that comprise Purton's 53-32 record.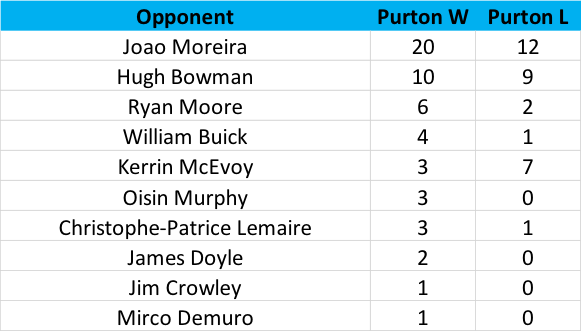 Note that we have made this comparison before, the last time Purton got JOTW honours.
TRC OWNER OF THE WEEK
It's another one for Japan. Last week, this award went to #42 Danox Co Ltd, whose horses with the 'Danon' prefix have been in blistering form. The country's highest-ranked ownership entity is the powerful Yoshida's family's SUNDAY RACING CO LTD (+3pts, stays #7) whose red, black and yellow silks are so recognisable. This week, the livery was carried by Dea Regalo in the G3 Kyoto Himba Stakes at Kyoto (Linate completed a 1-2) and Chrono Genesis in the G3 Queen Cup at Tokyo.
A total of 36 races that count towards our three-year rankings window has been annexed by Sunday Racing. The details of the eight G1 winners in the sample is given in this table:

TRC TRAINER OF THE WEEK
Occasionally, we will add important races which do not have Group or Graded status to our database, categorising them suitably to their worth. Such is the case this week with the US$1.27 million Hong Kong Classic Cup, itself a lead-up race to the Hong Kong Derby and which we think is worth a G2 label. The winning trainer was FRANKIE LOR (+9, #69 from #93), who sent out the winner, Mission Tycoon, the runner-up Dark Dream and fourth-placed Furore.
Lor also trained the winner of another Hong Kong Derby trial in January's Hong Kong Classic Mile, which we also made a G2. He first entered the rankings on November 18, last year, and has made remarkable progress: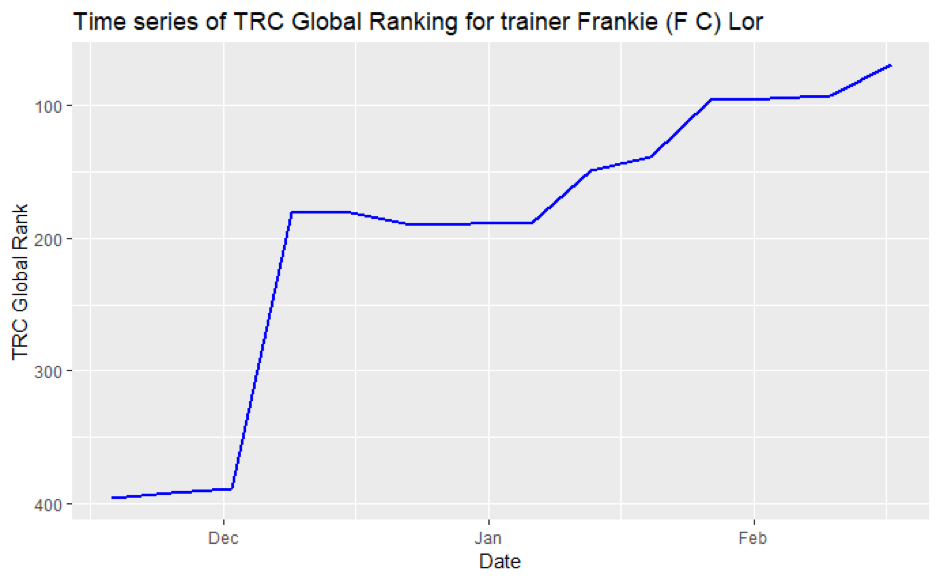 Lor burst onto the global scene when winning two of the four Hong Kong International Races in December, when we profiled him extensively. With Hong Kong legend – and current Hong Kong #1 - John Moore due to retire at the end of the year, everyone in the training colony moves up one, in effect.
TRC SIRE OF THE WEEK
There were doubles for Dubawi (+2pts, stays #1), Put It Back (+14pts, #94 from #236) and Tapit (+3pts, #28 from #31) this week. Honours go to BLAME who was responsible for a couple of G2 distaff winners, Santa Monica Stakes heroine Marley's Freedom and Blamed, who took out the G3 Royal Delta Stakes. The 201 Breeders' Cup Classic winner reaches a new high of #39 after a 5pt gain.
At the end of 2017, Blame was ranked as low as #209, and the following January he was as low as #247. Since then, he has risen relentlessly via the winners listed in the table in chronological order:

Click here for a list of all last week's biggest TRC Global Rankings points gainers.
Click here for a list of all the week's Group and Graded winners