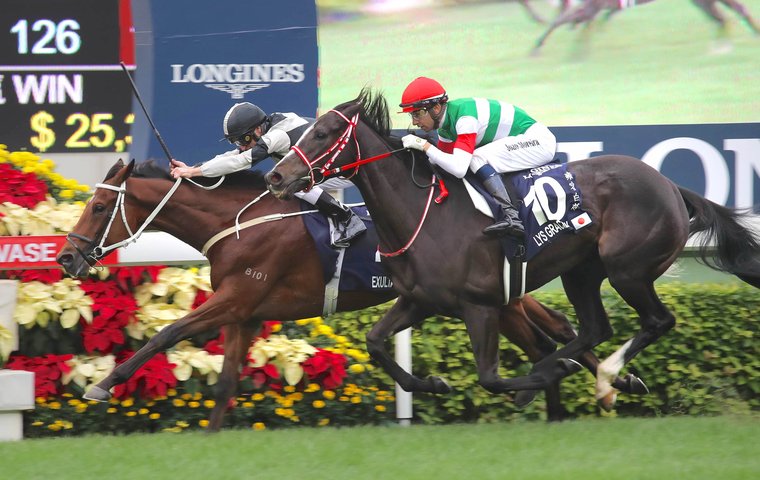 James Willoughby picks out the jockey, trainer, owner and sire who made the biggest impact on the TRC Global Rankings in the week that ended on Sunday.

TRC JOCKEY OF THE WEEK
Nobody can doubt that ZAC PURTON (+10pts, #10 from #14) is one of the elite jockeys in world racing, and he delivered yet again at the highest level with a double in the Hong Kong International Races on Sunday. He had a steering job on Beauty Generation in the G1 Longines Hong Kong Mile, but displayed great skill to score on Exultant in the G1 Longines Hong Kong Vase.
Purton leads Joao Moreira (-1pt, #12 from #11) by six points in the latest rankings (and 13-9 in 2018 head-to-heads). We have had it close between the pair for a long time – appraisal that surely is on the mark judged by their exploits on a week-to-week basis in Hong.
Note that if we used just Group wins within the last three years to rank jockeys, Moreira (31 wins) would be ranked #33 and Purton (24 wins) #49 – instead of both being in the Top 12. The maths used by TRC Global Rankings produces a way-more-accurate appraisal of effectiveness than other methods.
TRC OWNER OF THE WEEK
This week's award recognises the arrival of a potentially top-notch horse in Improbable, winner of the G1 Los Alamitos Cash Call Futurity.
His owners are a partnership of #6 WINSTAR FARM, #8 CHINA HORSE CLUB & STARLIGHT RACING. What is clear from the final furlong of this contest is that they jointly own a horse who has a deadly combination of speed and stamina.
Disentangling ownership concerns like this is the hardest problem TRC Global Rankings faces. Here, because WinStar is listed first and the colt raced in its colours, we nominally list Improbable under 'WinStar Farm Et Al'; we may list him under both WinStar and China Horse Club in future. With other horses in which they are partners, we may take a different view.
When it comes to awarding points for horses in co-ownership, we use a complicated procedure that is focussed – like everything we do – on getting 'the right answer'.
The right answer in this case is a ranking of ownership concerns that reflects the true hierarchy of world racing so that when a higher-ranked owner meets a lower-ranked owner in competition, there is more than a 50 percent chance the former will prevail.
We are content that the respective rankings of WinStar and China Horse Club meet our objectives because, in races in which they have owned horses discrete from each other, this has resulted in the most correct predictions of finishing order.
TRC TRAINER OF THE WEEK
If you have read our article on FRANKIE LOR (+16pts, #178 from #388) you will not be surprised who wins this award. The second-season trainer did not have a Group-race winner to his name before the Hong Kong International Races last weekend, yet we were still able to rank him in the Top 400 in the world because of the strength of racing in Hong Kong. After winning the G1 Longines Hong Kong Cup and the G1 Longines Hong Kong Sprint, Lor takes a massive rise.
A gain of 16pts reflects both the standard of Lor's attainment and the availability of Group races within his domain. Generally speaking, the biggest risers you will see in our weekly Climbers section will be those who are competing for relatively scarce rewards in terms of the number of races local to their base that count towards the rankings.
Lor's rise up the rankings is far from unprecedented, of course. In the table are the biggest weekly points gains in any of the four categories of Jockey, Owner, Trainer and Sire (the last two happen not to have qualifiers) since we first start making rankings on 1/1/2014. Lor's rise in the joint-28th largest:
The historic sweep of all four Hong Kong International Races by local trainers was, of course, presaged by our rankings.
Coming into the week, we reflected the true effectiveness of horsemen in the Chinese Special Administrative Region by ranking John Moore #11, John Size #12 and Tony (A S) Cruz #14. For the record, they now rank #11, #12 and #13 separated by only 12pts. Again, a ranking system based on number of wins in the last three years would have Moore (25 wins) #29, Cruz (17 wins) #57 and Size (16 wins) #61. You get the point.
TRC SIRE OF THE WEEK
With a superb 41 wins in 2016 but only 21 wins in 2017, the magnificent DEEP IMPACT (+2pts, #5 from #6) fell from the #1 sire in the world (we rated him for 41 weeks sporadically from March 2014 to May 2017) to as low as #6. After Danon Fantasy's win in the G1 Hanshin Juvenile Fillies and Gibeon's score in the G3 Chunichi Shimbun Hai at Chukyo, he recovers some lost ground.
Still, Deep Impact's slightly downward trend is likely to hold him back a little. When we modelled the trajectory of past competitors in the training phase of TRC Global Rankings, what became clear was that most careers are parabolic, with a shape driven not like the typical 'ageing curves' you see used in sports analytics to capture the physical powers of sportsmen, but, crucially in racing, by popularity. The perception that a competitor is in the decline isn't always a leading indicator of reality, but in the case of stallions it can be highly influential.
In Deep Impact's case, all of this is to say that it might be tough sledding for him to reach #1 again, but his popularity remains as strong as ever, and rightfully so. We will report back on his results as time goes on.
Click here for a list of all last week's biggest TRC Global Rankings points gainers.
Click here for a list of all the week's Group and Graded winners.