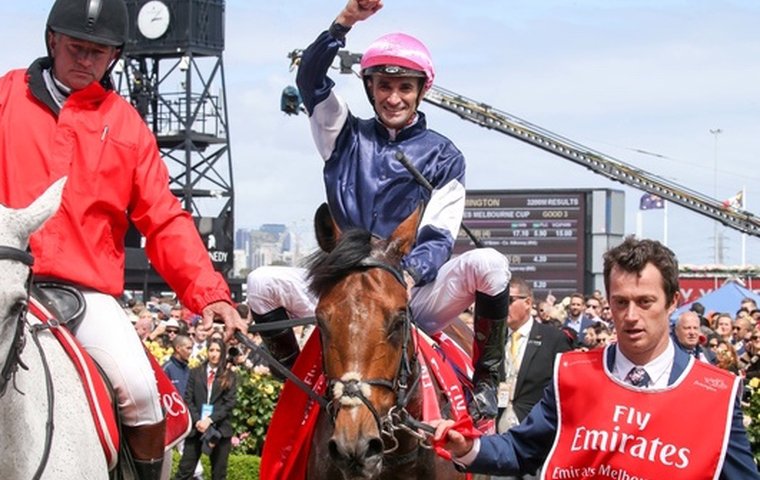 While the reputation of the great Australian stayer took a battering in the Emirates Melbourne Cup, the standing of Australian jockeys did not. In fact, the 2017 season, which is now in abeyance at the highest level, showcased Australian horsemen and horsewomen throughout the world.

The awareness of the fine trainers and riders who make their living Down Under has arguably never been higher. And it's a good time now to monitor trends among their number using TRC Global Rankings.
JOCKEYS
The Top Ten Jockeys who have most improved their standing over the year is given in this table:

Let's go through the columns.
Start rank is the TRC Global Ranking on New Year's Day;
End rank is the latest ranking;
Rank gain is the gain in rank, i.e. the number of ranking spots a jockey has moved up;
Start points is the TRC Global Ranking points on New Year's Day;
End points is the latest ranking points total;
Points gain is the gain in ranking points which, of course, determines overall rank;
2017 W is the total number of Group-race wins in 2017;
2017 R is the number of Group-race rides in 2017;
SR is the wins per 100 rides in 2017 Group races, rounded to the nearest whole number.
You should notice from the rightmost three columns, which aggregate each rider's wins in 2017, that it gets progressively harder to move up the rankings. Mark Zahra, for instance, had nine more Group wins than John Allen, but because he started the year ranked #71 to his colleague's #313, he gained fewer points (31 to 35) and ranking slots (33 to 195). This is because TRC Global Rankings are predictive and the possession of rankings points carries with it the expectation of future success at a commensurate level.
No rider gained more ranking points (63) than Corey Brown. It wasn't just his Melbourne Cup win on Rekindling that catapulted him up the standings, but nine more, including four at G1 level. Moreover, these came on ten different horses, which counts for a lot in terms of rankings points, for it only makes sense that success that comes independent of a single horse is more likely to be the result of the rider's all-round influence on the sport. Brown's winners came for nine different trainers too – the TRC algorithm was impressed.
Damian Lane owns the highest overall rank (#30) of the ten riders spotlighted in this report. Not coincidentally, his 18 wins was also the largest haul, six at G1 level. He won on 14 different horses, including twice on Amelie's Star, Humidor, John Snow and Tosen Stardom.
Lane forms a formidable team with Darren Weir, winning 11 times for our #1 Australian trainer, but also twice in New Zealand for the potent team of Murray Baker and Andrew Forsman.
Regan Bayliss has featured in our Emerging Talent series and continues to progress, while Katelyn Mallyon has had a solid year; her three wins have been supplemented by four seconds. She has thankfully put earlier serious injury behind her and escaped another potential spill as recently as August.
Among riders not listed in the biggest climbers only because they were previously unranked are the following:
Beau Mertens featured in this article, while Andrew Adkins, 20, is a name to watch on the Sydney circuit. Ben Allen, 18, is even younger and also rides for Weir.
TRAINERS

Grandson of Bart Cummings, James Cummings made our list of the three biggest movers of 2016 when gaining 389 places and 42 points to #79. Since then, he has gone up another 47 places and earned another 36 points! You don't get more progressive than that.
As the table shows, Cummings has sent out 103 runners in Group races in 2017, and while a yield of eight winners is slightly less than might be expected, he has had a further ten seconds and no fewer than 18 thirds. TRC Global Rankings is concerned with the performance of every horse, not just tallying winners, and Cummings continues to get horses to run solidly in the best races in Australia.
It would be bullish in the extreme to suggest he can make as much progress again in 2018, but his rise to the brink of the top 30 trainers on the planet is very impressive.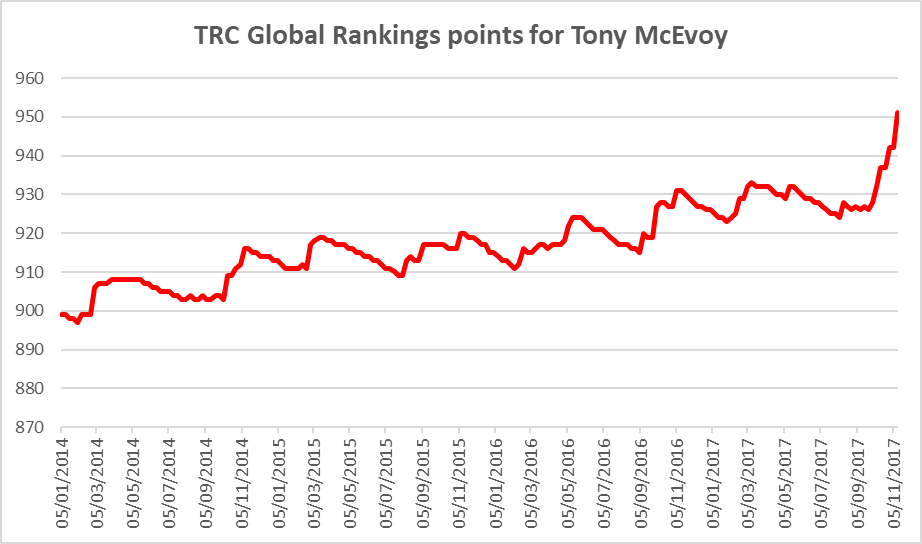 Tony McEvoy deserves a spot in the world's Top 50. Winner of the 2003 Cox Plate with stalwart Fields Of Omagh, he is certainly no flash in the pan compared with some fast risers, as the time series of his TRC Global Rankings points shows.
Ranked since our very first classification was produced internally in 2014, he is relentlessly progressive, allowing for seasonality, and 2017 has seen the gradient of his progress describe its steepest ascent yet.
The four wins of Hey Doc has made a big difference. Luke Currie was aboard for all of them, catapulting the vastly experienced 36-year-old to #106 in the world himself, as the chart of our top climbers above describes.
Kris Lees, based in Newcastle, New South Wales, is really good and deserves a mention too. His seven winners in 2017 followed a breakout campaign in 2016 and have been helped by double strikes at Randwick from Invincible Gem and Le Romain.
Click here for a list of all last week's biggest points gainers.
Click here for a list of all the week's Group and Graded winners.