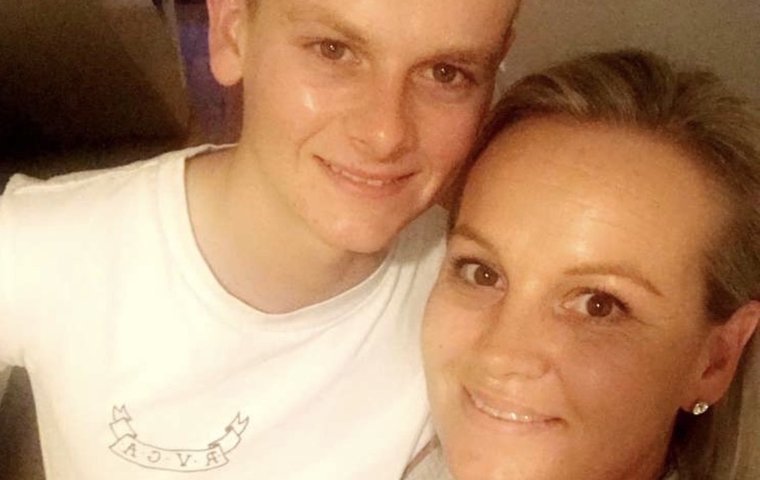 In years gone by, hecklers stood on a mounting yard fence in order to hurl abuse at the rider of a beaten favourite. The professional jockey knew how to take it - take the higher ground, just smile and get on with the job. "You would just go home and forget about it," said one. But the landscape has changed. Social media puts the criticisms online for all to see. Facebook and Twitter can be cruel places. And not just for those copping the abuse. Spare a thought, for instance, for the mums.

SONIA DONNELLY and ETHAN BROWN
Such as Sonia Donnelly, whose son Ethan Brown has been riding in great form of late, recently kicking home his first metropolitan treble when successful for three different stables at Sandown in Victoria in late August.
It was all accolades that day, but there have been occasions when Brown has been subject of online denunciation, some of it with a nasty edge.
"It was a real eye-opener one day reading some of the comments on a punters website," Sonia Donnelly said. "One person even said 'that kid needs a flogging!'"
While Brown, mature beyond his 18 years, assured his mother that he was not taking it personally, that punters were merely talking through their pockets, she was still upset.
"That's my boy they were talking about!"
And Brown, his mother says, does not need to be told by keyboard warriors when he has made a mistake. "He knows. He is already beating himself up."
The local track is 3,000 km away
Highly regarded by his Cranbourne-based boss, Michael Kent, Brown does not have the sort of upbringing most expect an emerging jockey to have had. In fact, he had never even sat on a horse until hinting at around 13 that he was interested.
Plus, being raised in Alice Springs, he was a long way from Australia's main racing centres. His 'local' track, Pioneer Park, is 3,000km from his current home.
"He was definitely not raised in a racing family," said his mother, "though my grandfather enjoyed a bit of success sharing in the ownership of [six-times G1 winner] Durbridge."
After separating from Ethan's father, Sonia met Ronny Donnelly, who "had always been into racing", and the seeds of interest were sewn.
Ronny's brother-in-law, Stephen Brown, had trained in Darwin but had moved to Victoria, and so Ethan headed south for some equine education.
His mother wondered if her young son would cope being away from home, whether the experience would be a bit daunting. But no. "He came back even keener, in fact he didn't even wanted to come home!"
Mixed emotions
Doing a bit of work for local trainer Greg Connor, Brown was keen enough to be signed on as apprentice for Lisa and Gary Lefoe. It was during this time that he caught the eye of visiting Melbourne jockey and apprentice coach Matt Pumpa, who upon his return put out a few feelers.
Initially it was to be a three-month stint with Michael Kent, but it soon become apparent that his natural talent assured him of a future in Victoria.
"Mick said 'we are going to keep him!'" Sonia recalls, both proud and sad at the recollection.
"Ethan asked us if he should stay. It was hard for me, but it was not my place to make up his mind for him. So I told him that the decision was entirely his, that I couldn't write his script for him - and that I'd support him no matter what he decided to do.
"He had just turned 16, he was still on his L-plates, relying on others to drive him around, so it was not easy for him. I went down a few times to help him settle in, but it was really a matter of him finding his own way."
Which, despite some ups and downs, some understandable moments of home sickness, Brown has done - happy with the direction his career is taking and with the friendships he has formed, having shared a Cranbourne house with fellow apprentices Beau Mertens and Jake Bayliss.
"I can't thank those boys enough," his mother said. "They have become his family in lieu of us, and they are like sons to me now."
Wrench of separation
Also grateful to Michael Kent, she said the wrench of separation was made easier (though she admits to crying for several weeks after he left) by her trust in her son's employer.
"I was not going to hand my son over to just anyone, and Mick has been amazing. He helps Ethan not just professionally, but emotionally. At the start, I met Mick at his house and he reassured me of Ethan's place with him as his master and mentor."
She is not surprised that her son has fared so well in a new and challenging environment, noting early that he was going to excel at whatever he set his mind to. "Whatever he does, he will OCD it!" she joked.
"No matter what he is working on, he wants to do his best."
And the affection for animals has always been there. "He has always been an animal person, we always had a number of household pets and he was always gentle and loving with them."
Sonia and Ronny recently travelled to Melbourne to watch Brown in action at Flemington. She will never forget it.
"I had been to the Melbourne Cup once before and was in awe. So to be at that same track and see Ethan ride, it was amazing even though he didn't ride a winner. Just being there watching my little boy ride, it was one of my biggest thrills."
Celebrating success
So what is it like for a mother to watch a treasured son ride?
"I used to get very tense, though the nerves have settled a bit now. It is, of course, always in the back of my mind that he will have a fall one day, but before his interest in horses he was very keen on motorbike riding and it is just the nature of such sports that there is some danger."
While noting that some jockey mums don't always watch their children ride, Sonia says she is always tuning in no matter how difficult it is. "I have to watch, though sometimes it's a matter of wanting to and not wanting to at the same time."
Sonia has enjoyed watching her son improve as a rider, and she laughed as she recalled that, when he rode during a recent visit home, a local trainer said, "he rides too pretty for here now."
Celebrating each of his successes with enthusiasm, sharing her joy online, Sonia admits, "I probably go a bit over the top.
"But I know how tough it has been for him behind the scenes and I just burst with pride at how far he has come."
So what gets a young rider through the difficult times? Determination ... "and that bit of stubbornness which he gets from me," she laughed.
"He has always been so self-driven while being humble at the same time. He doesn't like a big fuss. Even as a little kid, he didn't like big birthday parties as he didn't want to be the centre of attention."
* Ethan talks about his mum: "She is very supportive of me and she texts me before every ride ... 'ride well, stay safe and enjoy.' Every now and then she will throw in a few words of wisdom,. I know she is proud of me and always there for me."
ANN MERTENS and BEAU MERTENS
It was obvious pretty early to Ann Mertens which of her five children would end up following in the footsteps of their jockey father Peter Mertens ... the smallest one.
"The prospect of Beau being a jockey did not really come up until he was about ten, but he was still quite little at that age while his brothers and sisters were getting taller.
"So Peter started to put him on our pony at home and he'd ride up and down the driveway, and when he turned 14 he went to work with Michael Kent - and he hasn't looked back since."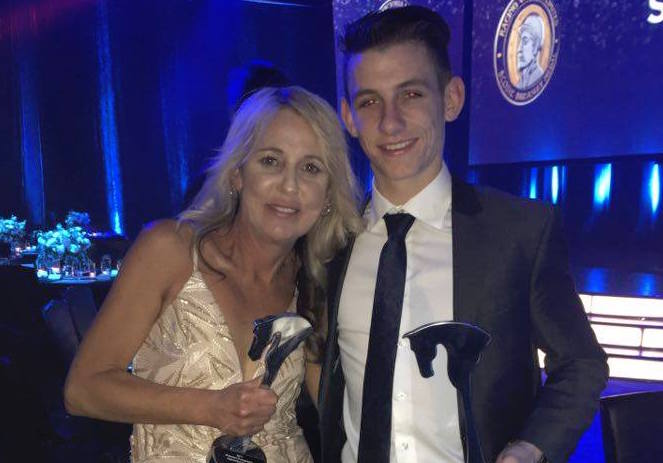 Combining stable work with schooling for a couple of years, the now 20-year-old Beau eventually graduated to riding, becoming a Racing Victoria accredited apprentice with Michael Kent his boss.
In the early stages, Ann hoped he would finish Year 12, but it was soon obvious he was feeling the strain of the long hours required to commit to a riding career.
"I remember driving him to his first day of Year 11. He had already ridden track work that morning and he was asleep in the car. I thought, well this is not the ideal start to the school year.
"He lasted a few weeks, but it was just too much for him. Fortunately Racing Victoria do a great job training apprentices, which makes up for leaving school. They teach the kids a lot and Beau has quite a few certificates. He has learned a variety of skills from first aid to investment. It has been great for him."
Ann has enjoyed watching her son progress from cleaning out stables to riding against the big guns. Last season he was Victorian champion apprentice and was runner-up in the overall premiership.
Ann and the rest of the family, including each of Beau's four brothers and sisters, attended the awards night recently, that evening one of "many highlights" in the young rider's career to date.
A quartet of winners at Mornington was also enjoyed by Ann, as was a Flemington treble. But it is not just the big moments that make this mother proud, it is also her son's overall dedication to his work and the way he has handled racing's demands at a young age.
Massive journey
"It has been a massive journey for him and he has taken it all into his stride.
"He is young in a man's world and he has had to grow up quickly. He has worked hard, he continues to work hard and he has got a lot of goals."
Ann was at first concerned that Beau, always quiet as a kid, would find the racing world a bit too much, but, as it turned out, it proved to be in his favour. "He is never loud or boisterous and he has fit into racing really well. It is his world now."
Like many of those good with horses, Beau displayed an early affinity for animals. Ann laughed at the memory of the family's German Shepherd (Alsatian) often found sleeping on Beau's bed each morning.
"We could not figure out how he had got inside ... it turns out Beau was sleep-walking and letting him in!"
She remembers being "really nervous" when he made his race-riding debut, but over time the tension has lessened. "If I worried every time he rode, I'd be a nervous wreck.
"It is completely different watching your child ride than watching your husband. There is more fear, more concern. But you just have to trust that he knows what he is doing and that he has been well trained."
* Beau talks about his mum: "She has been there for me from day one, and I can easily say that, without her, I would not be where I am today and who I am today."
KELLIE LEONARD and JAKE and REGAN BAYLISS
Queensland born and bred, Kellie Leonard has for the last few months called Melbourne her home, the lure of living closer to her children - two of whom are valued members of the local riding ranks - proving too strong.
With her former husband Jamie Bayliss a jockey who rode 250 winners during his ten-year career, her sons Jake and Regan were pretty much born in the saddle.
"Ever since they were little they wanted to ride," she recalled, "and every day after school they'd be on their ponies.
"Even before then they were on horseback, they probably hadn't even turned four yet."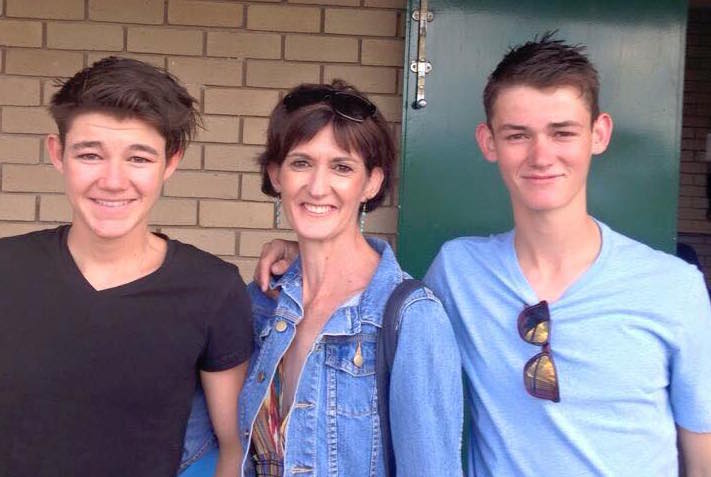 The older (by two years), Jake was just six weeks old when his father was injured in a fall that saw him airlifted from Caloundra racecourse in Queensland to hospital. Retirement followed, though Jake and Regan would not only see their father ride again, they would ride against him.
Making a comeback three years ago, Jamie was one of three Baylisses to contest a Geelong 1510m contest in May 2014. Jake won, Regan was third and Jamie - first up from a two-decade spell - last on a longshot.
During his hiatus, Jamie headed to Singapore, where he was a stable foreman for Michael Kent and, during that time, his family would regularly visit.
"It was always the intention that Jake would do his apprenticeship with Mick once he returned from Singapore," Kellie said. While Regan would kick off his riding career with Peter Moody, a fellow Queenslander whom the family had known for years.
'What will be will be'
Kellie was born into a racing family, her grandfather a trainer who was tragically killed (kicked by a horse) when his son - Kellie's father - was just a baby. She was raised in Hendra, Brisbane, among trainers and horses.
Which means she knows the dangers involved and admits that at first it was hard to watch her sons ride.
"I used to worry a fair bit, to the point where I could not even watch them ride. But now I think what will be, will be.
"Of course I still worry, but they are doing what they love, what they are passionate about. I probably worry just as much about them when they are going out on a Saturday night!"
There have been many highlights for Kellie following the careers of her sons, such as Jake's first ride at Werribee ... "he was so tiny," she said.
Regan's Group 1 Newmarket Handicap victory at Flemington aboard Redkirk Warrior in March this year was also thoroughly enjoyed, even though she was watching from a pub in Ipswich (a roar ensuing as he crossed the line).
"Every time I watch them ride is a thrill for me," she said, adding that she is extremely proud of her sons' achievements and how quickly they have matured into responsible adults.
It is also nice for her to see the brothers maintain a close relationship. "They are each other's biggest supporters.
"It is also great that there is a tight circle of friends among the young jockeys; Jake, Regan, Ethan and Beau all support each other, they are a really good group of kids who know what each other is going through."
Jake fully appreciates the support of his mum. "She would watch us ride at her local pub every Saturday with her friends and she would certainly be the loudest one there! And every time I ride, without fail, I get the same text ... 'good luck today be safe, love you XX'."