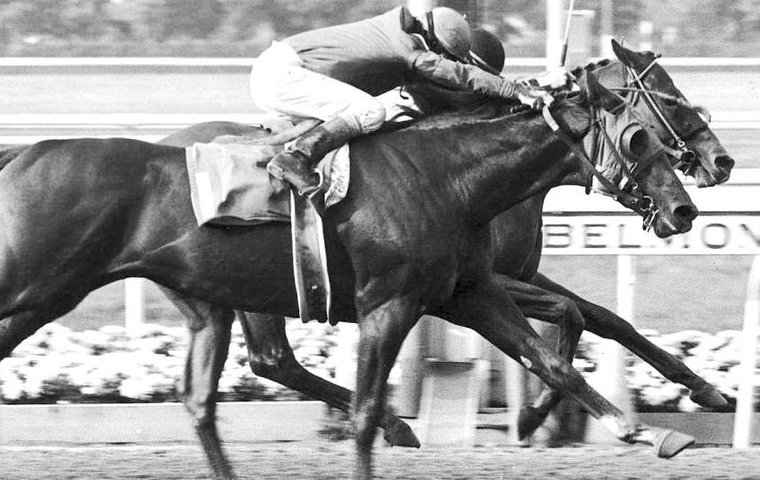 Whenever the year 1978 is mentioned to a longtime horse racing fan, three words inevitably follow. "Affirmed and Alydar."

Yet, as much as 1978 produced the greatest rivalry in Triple Crown history, and perhaps American racing as well, it can also be framed as perhaps the greatest year of racing on American shores.
Yes, there was Affirmed and Alydar, who clashed in four epic meetings that year. Yet fans were also treated in that spectacular year to the heroics of legends such as Triple Crown winner Seattle Slew, three-time Horse of the Year Forego, Spectacular Bid, perhaps the greatest horse to capture two jewels of the Triple Crown, and two-time Horse of the Year John Henry. They were among the ten horses now enshrined in the National Museum of Racing and Hall of Fame who raced during that calendar year, joining Ancient Title, Exceller, Cafe Prince and Davona Dale.
To better understand how stupendous that year was, five of the horses who raced in 1978 filled the top nine spots in TRC's poll of the top ten horses from 1967-2017. Beyond that, four of the top six vote-getters in that poll raced in 1978.
Underscoring how so many brilliant horses raced in that one year, one won six Grade 1s, and even that was not enough to earn him an Eclipse Award.
Simply put, it was just an incredible year, which also featured some outstanding horses who were just a slight cut below Hall of Fame status.
For a better appreciation of a year that surely ranks as one of the great ones, let's take a chronological tour of the races and horses that make the 40th anniversary of 1978 such a grand time for a trip down memory lane.
Flamingo, Hialeah, March 4
1. Alydar; 2. Noon Time Spender; 3. Dr. Valeri
The early months of 1978 were dominated by the anticipation of Affirmed and Alydar squaring off in the Triple Crown. While the two rivals did not meet on the Road to the Kentucky Derby, each of them did everything they could to heighten the excitement. Calumet Farm's Alydar did his part in the Flamingo, where he won by 4½ lengths in 1:47 for the mile-and-an-eighth and illustrated how he had only improved since turning three.
$14,000 allowance race, Keystone, March 25
1. Gallant Bob; 2. Insubordinate Lad; 3. Mighty Steve
If you follow the Pennsylvania Derby/Cotillion card at Parx, you've probably heard of Gallant Bob, the namesake of a Graded sprint stakes for 3-year-olds. Based in Pennsylvania for much of his career, Gallant Bob was the champion sprinter of 1975 when he prevailed in 14 of 18 starts as a 3-year-old. By 1978, the gelding was a shell of his former self, but, in this allowance race, he harkened back to his glory days, winning for the 23rd time in a 77-race career that lasted way too long.
Not only did the former champion lose his last 19 starts, but during that skein he was entered in a 2-mile-and-half-a-furlong steeplechase even though he had raced a mile or more on just five occasions in 71 races prior to that. Sent off at 5/2 in that Aug. 9, 1979 race at Saratoga, Gallant Bob fell and was finally retired five starts later.
Santa Anita Derby, Santa Anita, April 2
1. Affirmed; 2. Balzac; 3. Think Snow
Harbor View Farm's Affirmed, who won four of the six meetings with Alydar at two, continued to show his dominance as he took no prisoners in winning the Santa Anita Derby by eight lengths, a margin that he topped only in the 1979 Strub, also at Santa Anita.
Kentucky Derby, Churchill Downs, May 6
1. Affirmed; 2. Alydar; 3. Believe It
The first of the arch-rivals' three Triple Crown showdowns was the most anti-climactic. While Affirmed used his superior early speed to press the early pace, Alydar fell back to ninth, 17 lengths off the lead, then lost some momentum when he was hit in the eye with a clod of dirt. The Calumet star staged a late rally but Affirmed was already home free, winning by 1½ lengths for trainer Laz Barrera.
Preakness, Pimlico, May 20
1. Affirmed; 2. Alydar; 3. Believe It
Alydar turned in a far more typical performance in the Preakness as the two 3-year-olds staged one of their better – but not the best – duels. Alydar stayed closer to the pace at Pimlico while Affirmed took advantage of his superior tactical speed and set the early pace. Alydar surged into contention on the final turn and gradually moved to within a half-length of Affirmed at the eighth pole. Yet, in that final furlong, Affirmed's class prevailed. He never wavered in that final furlong and held off Alydar by a neck, setting the stage for an epic duel in the Belmont Stakes.
Hollywood Invitational Handicap, Hollywood Park, May 29
1. Exceller; 2. Bowl Game; 3. Noble Dancer II
Shipping cross-country was not as fashionable back then, yet an intriguing East vs. West duel took shape when Greentree Stable's Bowl Game brought a six-race winning streak on the East Coast to California to tackle a stellar field of turfers that included Noble Dancer II, the San Luis Rey winner, and the favorite, Exceller, who had captured the famed San Juan Capistrano. Bowl Game put in a solid effort, but he was no match for Exceller, who rallied from 12th and last and triumphed by 2½ lengths over the Greentree shipper, with Noble Dancer II third.
Bowl Game had his moment in the sun in 1979, when he was named the champion turf runner. As for Exceller, he won a rather big dirt race later in the year for owner Nelson Bunker Hunt and trainer Charlie Whittingham. Oh, and he is the answer to the aforementioned trivia question. Even with six Grade 1 wins to his credit in 1978, the future Hall of Famer went home empty-handed at the Eclipse Awards.
Belmont Stakes, Belmont Park, June 10
1. Affirmed; 2. Alydar; 3. Darby Creek Road
Affirmed and Alydar raced against each other ten times, often with a slim margin between them at the finish line. Yet none of them could match the Belmont Stakes. How could they? With Affirmed bidding to become the 11th Triple Crown champion, Alydar gave it everything he had. Five furlongs into the mile-and-a-half Test of the Champion, jockey Jorge Velasquez moved Alydar alongside Affirmed and Steve Cauthen and, for the next seven furlongs, they stayed that way. As the two 3-year-olds furiously matched strides, Alydar strained to move past Affirmed, but he couldn't - with the possible exception of a fleeting stride in the stretch.
In the final yards, Cauthen switched the whip to his left hand and that sparked a final surge from Affirmed that put him in front by a head at the wire, even though the margin deserved to be an inch. Perhaps Alydar's unwillingness to change leads was the difference. More likely, it was the amazing heart, courage and determination that stamped Affirmed as a great champion of 1978, or any other year. Ranked sixth in the TRC poll, he won the first of back-to-back Horse of the Year titles in 1978.
At the time, after a third Triple Crown winner in five years, it seemed illogical that there would not be another sweep for 37 years until American Pharoah in 2015. What made much more sense was that an even longer period of time will have to pass until the sport is treated to another race that can match the drama, importance and competitive spirit of the 1978 Belmont Stakes.
$25,000 allowance race, Belmont Park, June 19
1. Forego; 2. Dr. Patches; 3. Gabe Benzur
In a year dominated by 3-year-olds, there was still a moment or two for the 'old timers' to take center stage. In a decade with three Triple Crown champions, the gallant gelding Forego was as popular as any horse of that era. A troubled fourth behind Secretariat in the 1973 Kentucky Derby, the giant-sized son of Forli matured later that year and became the sport's dominant performer from 1974-76, winning Horse of the Year honors each year.
Though Triple Crown champion Seattle Slew wrested the Horse of the Year crown from him in 1977, the eight-time Eclipse Award winner still managed to win the Grade 1 Metropolitan Handicap and Woodward at seven. His 8-year-old campaign started promising enough on June 19 with a neck victory over Dr. Patches – who would make a name for himself later in the year – but it proved to be his final trip to the winner's circle. Forego was retired after finishing fifth in the 1978 Suburban Handicap, ending his career with a record of 34 wins in 57 starts and earnings of $1,938,957, less than $40,000 shy of Kelso's all-time record of $1,977,986.
Four decades later, the respect for him was reflected in finishing fifth in the TRC poll of the top ten horses from 1967-2017.
Brooklyn Handicap, Belmont Park, July 22
1. Nasty And Bold; 2. Father Hogan; 3. Great Contractor
The 1978 Brooklyn offered a mix of something old and something new. Prior to the race, there was a retirement ceremony honoring Forego. After that, the Brooklyn turned into a showcase for the strength and depth of the 3-year-old division. Though Nasty And Bold was a cut below Affirmed and Alydar, finishing third behind them in both the Futurity at two and the Travers later in 1978, the P.G. Johnson-trained runner was talented enough to beat older rivals by three-quarters-of-a-length in the mile-and-a-half Brooklyn.
$17,000 allowance race, Del Mar, July 30
1. Ancient Title; 2. Se Le Te; 3. Stained Glass
It was a routine allowance race at Del Mar, but it earned a footnote in history as the final victory in the career of the great California-bred Ancient Title. He was retired after pulling up lame in his next start, the San Diego Handicap, but his career numbers were nothing short of superb for Kirkland Stable and trainer Keith Stucki, with 24 wins and 11 seconds in 54 starts and Graded stakes wins in each of his final six years of racing.
Whitney Handicap, Saratoga, Aug. 5
1. Alydar; 2. Buckaroo; 3. Father Hogan
An even more emphatic sign of just how good the 3-year-olds were came in the Whitney. Using the then Grade 2 stakes against older horses as a prep for the Travers, Alydar crushed eight foes by ten lengths for trainer John Veitch under a hand ride in the most impressive victory of his career. J.O. Tobin, who handed Seattle Slew his first loss a year earlier and shared 1978 champion sprint honors with Dr. Patches, was a well-beaten sixth behind the Calumet star.
Travers Stakes, Saratoga, Aug. 19
1. Alydar; 2. Affirmed; 3. Nasty and Bold
The tenth and final meeting between Affirmed and Alydar was probably the most disappointing. Off Alydar's blowout win in the Whitney and Affirmed's hard-fought half-length win over Sensitive Prince in the Jim Dandy, it looked as if the stage was set for an epic duel. Instead, on the backstretch run, Affirmed drifted in, forcing Alydar to check and lose several lengths. Alydar battled back but wound up second, 1¾ lengths behind Affirmed and 3¾ lengths ahead of Nasty And Bold. Minutes later, the stewards disqualified Affirmed and placed him second, elevating Alydar to the win spot. It was a controversial win, but a rare victory nonetheless for Alydar over Affirmed.
Afterwards, there was great anticipation over the impending match-up between the two 3-year-olds and Seattle Slew in the Marlboro Cup and Jockey Club Gold Cup, but Alydar was knocked out of those races by a season-ending injury. Alydar was never the same after that, racing six times and winning only twice. He never faced Affirmed again, with the finally tally ending in a decisive 7-3 edge for Affirmed in the unparalleled rivalry.
Paterson Handicap, The Meadowlands, Sept. 5
1. Dr. Patches; 2. Seattle Slew; 3. It's Freezing
Trainer Doug Peterson needed a spot to prep Seattle Slew for the major fall stakes at Belmont Park and opted for the Grade 3 Paterson under the lights at The Meadowlands. Unfortunately for the Slew Crew, trainer John A. Nerud entered Dr. Patches in the same race. The sprinter pressed the pace of the front-running Triple Crown winner and edged past him late to win by a neck. The victory helped Dr. Patches earn an Eclipse Award, while Seattle Slew's third start in 14 months gave him the foundation he needed for a stellar duel on the horizon.
Del Mar Debutante, Del Mar, Sept. 8
1. Terlingua; 2. Beauty Hour; 3. Blowin' Wild
An exciting daughter of Secretariat, Terlingua opened some eyes when she beat males in the Hollywood Juvenile Championship. She then seemed unearthly when she demolished fillies by nine lengths as a 1/10 favorite in the Del Mar Debutante for trainer D. Wayne Lukas and owners Barry Beal and Bob French Jr.
A super filly seemed to be born, but it was not be. Terlingua suffered a stunning loss by more 12 lengths in the Frizette at Belmont Park behind longshot Golferette and It's In The Air. She then finished second in the Alcibiades at Keeneland as the undefeated Candy Éclair and It's In The Air shared the Eclipse Award as the leading 2-year-old fillies in a stunning reversal of fortunes over the final four months of the year. She finished her racing career with seven wins in 17 starts, but achieved far greater success as a broodmare, producing the champion sire Storm Cat.

Marlboro Cup, Belmont Park, Sept. 16
1. Seattle Slew; 2. Affirmed. 3. Nasty and Bold
When the Marlboro Cup was created in 1973, the idea was to bring together stablemates Secretariat and Riva Ridge in a blockbuster showdown. That initial Marlboro Cup exceeded all expectations with a legendary performance by Secretariat, and, in its sixth edition, the nation's premier race for older horses produced an even more charismatic and electrifying match-up. It was the tenth Triple Crown winner vs. the 11th Triple Crown winner as Seattle Slew and Affirmed squared off in the historic first race to have two Triple Crown winners in the field. With Seattle Slew coming off a loss in the Paterson and Affirmed getting a four-pound weight advantage over his older rival, the betting public made Affirmed the 1/2 favorite. Seattle Slew, with Angel Cordero Jr. replacing Jean Cruguet in the saddle, was sent off at 2/1, accounting for the only time in 17-race career for Tayhill Stables that he was not the favorite.
Reunited with Steve Cauthen, Affirmed found himself in a much different position from his battles with Alydar. This time, he would be in the position of having to chase a rival whose blazing speed carried him to victory in 11 of his 13 starts entering the Marlboro Cup. As expected, Cordero hustled Seattle Slew out of the gate to grab the early lead, but Affirmed, perhaps weary from his duels with Alydar, did not apply much early pressure. Seattle Slew maintained a 2½-length lead through a half-mile in a moderate 47 seconds and the race was all but over. Affirmed was game, but Seattle Slew never gave him a chance, covering the final five furlongs in a blazing 58⅘ seconds. He won the classic showdown by three lengths in 1:45 4/5 for the mile-and-an-eighth, crossing the wire just 2/5ths of second behind Secretariat's world record of 1:45 2/5 in the 1973 Marlboro Cup.
Of his 14 wins in 17 starts in a Hall of Fame career that ranked him second in the TRC poll, the 1978 Marlboro Cup may have been his most impressive.
Man o'War, Belmont Park, Oct. 7.
1. Waya; 2. Tiller; 3. Mac Diarmida
It was Ladies Day in the $125,000 Man o'War at Belmont Park, as the sensational 4-year-old filly Waya beat a collection of the year's best male turf stars. There was only a field of five (yes, they had small fields in Grade 1s 40 years ago), but the three betting choices were the outstanding trio of Noble Dancer II, Mac Diarmida and Tiller. Trained by Angel Penna and owned by Daniel Wildenstein, Waya was the fourth choice at 6/1, but, in the stretch, she overpowered the guys and blew past them to win by 1¾ lengths in what was the highlight of a 29-race career that featured 14 wins, including one in her next start, the Turf Classic at Belmont when she beat Tiller by a head.
Beldame, Belmont Park, Oct. 9
1. Late Bloomer; 2. Pearl Necklace; 3. Cum Laude Laurie
Speaking of fabulous fillies, the distaff star of the year was Greentree Stable's Late Bloomer. Trained by John M. Gaver Jr., Late Bloomer was a Graded stakes winner on dirt and turf and was named the year's champion handicap mare. She finished second or third in her first four starts of the year (including one where she was disqualified from first and placed second), but then closed the year with six straight wins. The last three victories came in Grade 1s, capped by the Beldame, where the homebred daughter of Stage Door Johnny prevailed by 1¼ lengths over Pearl Necklace to wrap up an Eclipse Award.
Jockey Club Gold Cup, Belmont Park, Oct. 14
1. Exceller; 2. Seattle Slew; 3. Great Contractor
The history books say Exceller won the 1978 Jockey Club Gold Cup. Yet anyone who was there at Belmont Park, or has watched on television, video tape or through youtube knows that the race belonged to Seattle Slew.
The JCGC was billed a rematch of Seattle Slew vs. Affirmed with Exceller as the third option who could pick up the pieces if pace became too intense in the mile-and-a-half affair. This time, Seattle Slew, who followed up his Marlboro Cup win with a four-length score over Exceller in the Woodward, was the 3/5 favorite. There was an ominous sign prior to the start when 'Slew' broke through the starting gate, but after that Seattle Slew and Affirmed rushed out for the lead with Affirmed's stablemate, Life's Hope, joining them as they quickly opened up by 14 lengths over the rest of the field in a blazing opening quarter-mile in 22⅗ seconds. Then on the first turn, the dynamics of the race were turned-upside down when Affirmed's saddle slipped and Cauthen lost his ability to control the 3-year-old Triple Crown winner. As a result, Affirmed pushed Seattle Slew through torrid fractions of 45⅕ seconds and 1:09⅖ before Cauthen was able to ease him.
On the final turn, Affirmed faded to fifth (the only time in his 29-race career he was worse than third) and Exceller rocketed into contention (see video above). The 5-year-old drew alongside Seattle Slew at the quarter pole and began to edge away from him in the stretch. Exceller led by a half-length at the eighth pole over the seemingly spent 'Slew', but in that final furlong the Triple Crown champ showed every bit of his class and courage as he dug down and took an unbelievable final charge at Exceller. In the run-out after the race Seattle Slew passed Exceller, but the finish line came a stride too soon for him as his gallant and truly memorable rally fell a nose short in a race that should serve as the Wikipedia page for the term 'Heart of a Champion'.
Maiden special weight race, Belmont Park, Oct. 23
1. Davona Dale; 2. Clef d'Argent; 3. Constant
In a scene that would happen in 11 of her 18 career starts, Calumet Farm's Davona Dale began her Hall of Fame career with a maiden win by 1¼ lengths. That would be her only start as a 2-year-old, but at three in 1979 she won eight straight races for Veitch at one point, including the 1979 Kentucky Oaks, and was the betting favorite in the Travers, where she finished fourth.
Laurel Futurity, Laurel Park, Oct. 28
1. Spectacular Bid; 2. General Assembly; 3. Clever Trick
It's uncertain exactly when racing's newest star was 'born'. Perhaps in a 15-length win in the World's Playground at Atlantic City, or maybe the Champagne at Belmont or the Young America at The Meadowlands. Yet, whatever critics Spectacular Bid had, they had to be silenced by his monstrous effort in the Laurel Futurity. Only three rivals turned out to challenge him and they probably should have stayed in the barn – like all his rivals did in the 1980 Woodward.
Owned by Hawksworth Farm and trained by Buddy Delp, Spectacular Bid cruised along on the early lead and then took off like a rocket to power to an 8½-length victory in the track record time of 1:41⅗ for 8½ furlongs. Finishing a very distant second was General Assembly, who would set a track record in the Travers the following year that would stand for 37 years. But, on this day, it was all about Spectacular Bid, the gray flash who would win 26 of 30 starts, plus four Eclipse Awards, including the Horse of the Year crown in 1980.
Spectacular Bid finished fourth in the TRC poll, explaining why he is generally considered the best horse in the Eclipse Award era who did NOT win the Triple Crown.
Chocolatetown Handicap (Div. 2), Penn National, Oct. 29
1. John Henry; 2. Scythian Gold; 3. Berlin's Burning
If you attended the races at Penn National on Oct. 29, 1978, hope you saved the program. Little could anyone have imagined it that day, but the winner of the second division of the Chocolatetown Handicap went on to be named Horse of the Year twice and ranked ninth in the TRC top ten poll with 39 wins in 83 starts and a then-record $6,591,860 earnings. Though his career would not hit top stride until 1980 and the Dotsam Stable runner won the Grade 3 Round Table Handicap by 12 lengths earlier in 1978, John Henry's Penn National win illustrated how stars can sometimes shine even the most unlikely of places.
Washington D.C. International, Laurel Park, Nov. 4
1. Mac Diarmida; 2. Tiller; 3. Waya
The battle for the Eclipse Award as the best grass horse went right down to the final race, which was the rich $200,000 Washington D.C. International at Laurel. A field of eight turned out and the 9/5 favorite was the filly Trillion, the 1978 Prix de l'Arc de Triomphe runner-up (behind the great Alleged), who was a nose and a neck behind Waya in the Turf Classic while making her U.S. debut. Waya was the 5/2 second choice, but on this day, the boys proved best.
Though Mac Diarmida was unprepared for the start and threw his head in the air at the break, he was able to overcome that mishap and engage in a fierce stretch duel with Tiller. Ridden by Jean Cruguet, the 3-year-old Mac Diarmida beat Tiller to the wire by a head for his 12th win in 14 starts that year. The lone loss on turf came in the Man o'War.
Owned by Dr. Jerome Torsney and trained by Scotty Schulhofer, Mac Diarmida started the year as a maiden but clinched the Eclipse Award as the top grass runner with back-to-back Grade 1 wins in the Canadian International and the Washington DC International to close the book on his 3-year-old season and, as it turned out, his career.
Colonial Cup, Camden, Nov. 18
1. Grand Canyon; 2. Deux Coup; 3. Cafe Prince
With the birth of the Breeders' Cup six years away, we'll close out our trip down memory lane at Camden in South Carolina with the Colonial Cup. Cafe Prince did not win the Colonial Cup, but he turned in a very game effort in finishing third by 2¼ lengths while carrying 162 pounds. Owned by Augustin Stable and trained by Jonathan Shepard, the 8-year-old finished the year with two wins, a second and third in four races over the jumps and earned a second-straight Eclipse Award as the year's top steeplechaser.
Cafe Prince raced until he was ten and, in 1985, he was voted into the National Museum of Racing and Hall of Fame, becoming part of the sport's elite group of champions – a totally fitting honor for one of the great champions who were a part of a year that set a bar for excellence so high that in 40 years no one has matched it.
The good old days? Without question, that tag fits 1978 like a glove.