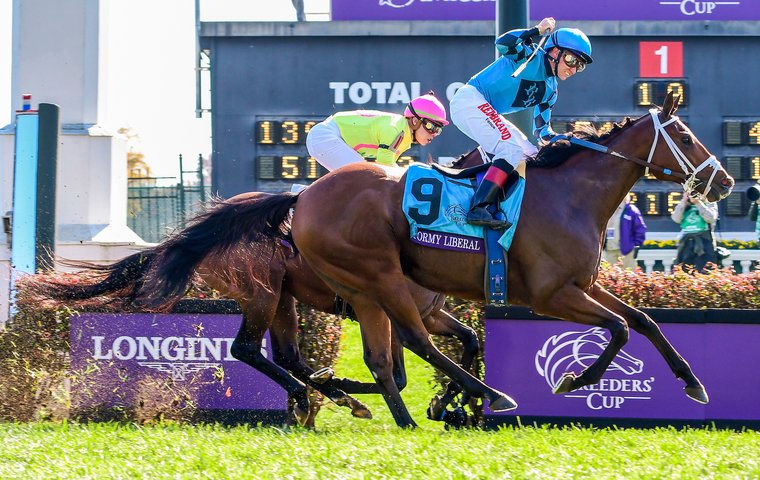 From coast to coast, Breeders' Cup to Breeders' Cup. Events on the track in the last 12 months of U.S. racing have seen a shake-up in TRC Global Rankings. Let's compare how the top ten U.S. jockeys, trainers and sires stood after last year's meeting at Del Mar, with how it looks now following the latest renewal at Churchill Downs.

In each category, we also include the results gained on U.S. soil over the past 12 months, for your consideration. Rankings changes, particularly for the sires category, incorporate evidence from all round the world.

JOCKEYS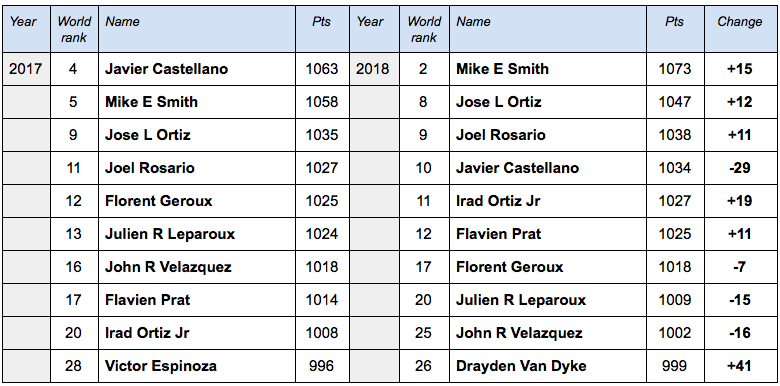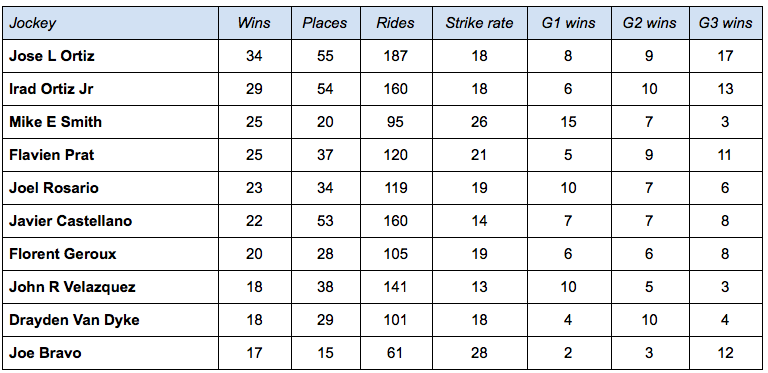 It's an Ortiz quinella! Jose and IradOrtiz are higher flying brothers than the Wrights or the Montgolfiers. A total of 63 Graded stakes between them since the day after last year's Breeders' Cup has seen significant rankings gains for both: Jose has picked up 12pts and moved from #9 to #8, while Irad has picked up 19pts and moved from #20 to #11.
Incidentally, if you wonder how Irad has gained more points despite fewer wins, the salient point is that TRC Global Rankings are predictive, so the higher the index of performance, the better a competitor has to do to stay where they are. In this case, Jose started the period we are considering 27pts higher in the rankings; Irad has simply performed further above the level we expected. Both are tremendous to watch and under 26 years old – a huge bonus for U.S. racing fans.
In the same period, our U.S. #1 has changed. It was Javier Castellano, but an unusually quiet year by the 41-year-old Venezuelan's high standards has seen him drop from #4 overall to #10. By contrast, Mike Smith has used a few-but-good strategy – powered by Justify's Triple Crown – to move up from #5 overall to #2 and claim the top spot in this domain.
Apart from the Flying Ortiz Brothers, the other young buck to note (again) is Drayden Van Dyke, who previously featured in our TRC Emerging Talent series. Half of the 18 Graded wins he has gained in the period we are considering have been gained for John Sadler (5) and Bob Baffert (4), and that speaks volumes.
TRAINERS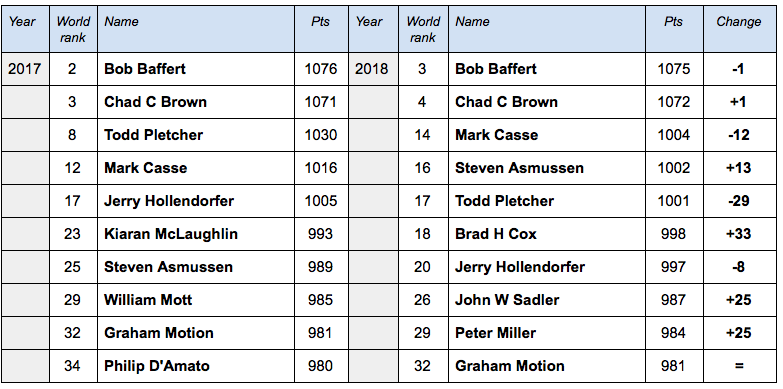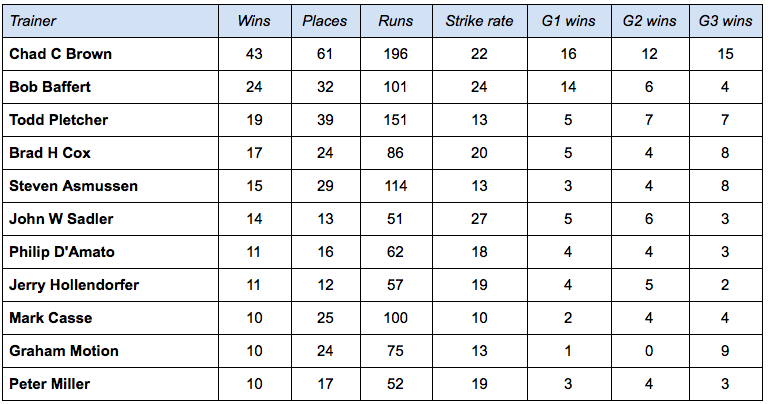 Our forecasts for Bob Baffert and Chad Brown have proved on the mark. The dominant trainers of U.S. racing are both rated within one ranking point of where we had them last year. Baffert slips from #2 to #3 overall, and Chad Brown from #3 to #4 overall only because of a fellow called Charley Appleby. You may be familiar with him.
Baffert's haul – headed by his brilliant marshalling of Justify in the Triple Crown – have been of higher quality overall than Brown's winners. We say this because of the strength of competition in the races they have won, rather than the name of the races or their grade. Brown has actually won more G1s, but in so doing has defeated generally lower-rated rivals than Baffert. Furthermore, Baffert leads Brown 18-15 on the year and 33-28 over the last three years in head-to-heads.
This is a tremendous example of how TRC Global Rankings works. We will give Baffert a small edge in races where the two trainers have runners, which would not be possible if the machine just aggregated results. Head-to-heads are important because, they use the result of a race more intelligently than just counting wins.
If one trainer has a lot more good horses than another, he or she will likely pile up better statistics, but, if the second trainer's horses defeat the first one's most times they meet, this is getting closer to the signal we are looking to model for the future. We know this because research proves head-to-head records (weighted according to their significance – first beats second is important, ninth beat tenth a lot less so) are really powerful in making predictions.
There is nothing much between Baffert and Brown, but a yawning gap back to the rest. The significant negative in this category is Todd Pletcher, who is now a staggering 74pts behind Baffert, having actually been world #1 for 102 weeks formerly, most recently in March 2016. Pletcher's index of performance peaked at 1076 in 2014, 1071 in 2015, 1063 in 2016, 1047 last year and 1023 this year.
Moving in the opposite direction are Brad Cox, John Sadler and Peter Miller. Kentucky-based Cox, 38, has been really impressive over the last 12 months. In that period, he is 8-5 against Baffert and 11-12 against Brown, but TRC Global Rankings needs more evidence in volume before going all-in on him. The Breeders' Cup Distaff win of Monomoy Girl was certainly a start.
Fellow Breeders' Cup winning trainers Sadler and Miller currently own career-best indexes. Sadler delivered Accelerate spot-on for the Classic while Miller did the same with the Sprint repeaters Roy H and Stormy Liberal. Both men can really train a racehorse.
SIRES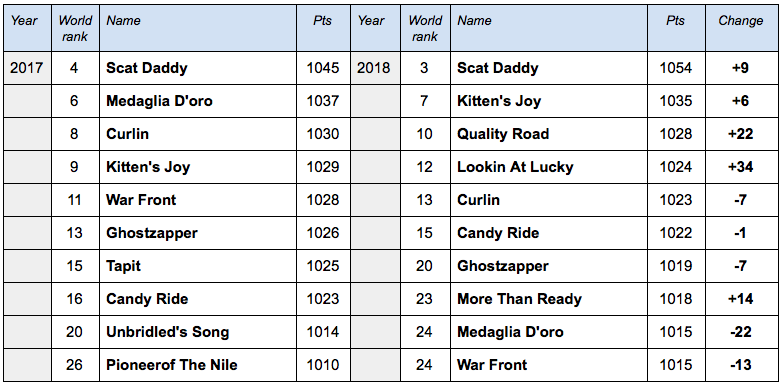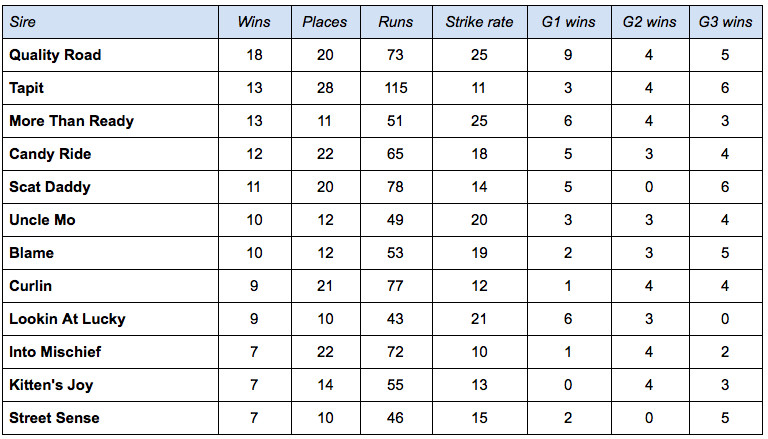 The standout sire in the U.S. this last 12 months has been Quality Road – at least as far as the rankings algorithm is concerned. The hugely impressive Florida Derby winner of 2009 has produced nine G1 wins from five different horses.
We continue to downrate Tapit's wins, mainly because they have been achieved at a low strike rate. Not only that, but Unique Bella and Synchrony account for eight of his 13 wins.
In the past, he has been an outstanding sire who we had at world #4 for 74 weeks, including as recently as September last year, but the machine does not like his 2018 numbers. (The 17-year-old's covering fee has been reduced to $225,000 from $300,000 for 2019.) There is time for a bounce back.
Curlin, Candy Ride and Kitten's Joy continue to be reliable producers. The last named, in particular, continues to offer ridiculously good value at the sales, mostly because he is turf-oriented. (See Lion, Roaring in the Classic!)
The big mover is Lookin At Lucky, who has gained 34pts and now stands on the verge of the top ten. He had a maximum of 963 when first entering the rankings in 2015, moved up to 980 in 2016, 991 last year and now 1024 – through the four-figure barrier we arbitrarily consider as elite.
Nine different horses have won Graded stakes for the 2010 Preakness winner in the last 12 months, the most notable of which is Breeders' Cup Classic winner Accelerate, of course. It is hugely important to note here that the Coolmore stallion's ranking also includes his impressive Chilean data (he also shuttles to Australia).