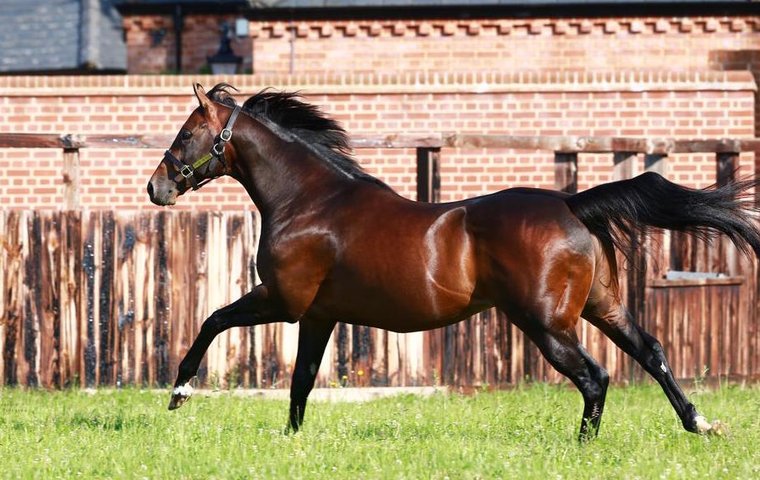 The balance between gaining commercial acceptance and the respect of the owner-breeder is one that Oasis Dream has maintained throughout his stud career. Nowhere in this industry are opinions formed more brutally than in the sales ring, but the combination of a fine stud record, the resulting powerful books of mares and a consistent ability to sire a variation of the desired sales model has seen him remain in vogue at auction while attracting the attention of many of the world's leading owner-breeders.

To remain at that elite level is quite an achievement considering Juddmonte Farm's son of Green Desert has just turned 17 and is about to commence his 14th season at Banstead Manor Stud in Newmarket.
Along the way, there have been 15 G1 winners and 49 Group or Graded stakes winners (GSW), and today, in line with his record as an influence for speed, something that remains imperative in the European commercial market, there are a significant number of sons ensconced at stud, among them leading young sire Showcasing.
Granted, Oasis Dream has never stood for below £25,000. But then it is fair to say that he has capitalised on his opportunities as the sire of good performers for a variety of operations, in particular Juddmonte Farms, Coolmore and Darley. Indeed, he is a valuable option for breeders as a high-profile yet neutral stallion; that is to say that, as a horse not affiliated with either Coolmore or Darley, breeders can support him in the knowledge that politics probably won't accompany their yearling to the sales ring.
In turn, not once since 2009 has his yearling average dipped below 120,000gns. It hit a high of 328,759gns in 2013, the year a brother to G1 winner Arcano sold for 1,100,000gns.
Bags of speed
Back in 2004, Oasis Dream began stud life as one of the most exciting recruits of his generation. As a son of Green Desert out of a Dancing Brave sister to Irish Oaks heroine Wemyss Bight, his pedigree offered a mix of speed over stamina. However, it was blatantly clear from early on in his juvenile year that Oasis Dream was a true member of his sire line with bags of speed.
Trainer John Gosden tried the colt once over 7f at two and, although not disgraced in second behind the classy Rimrod at Sandown, he showed a different level of form once sent back over 6f to cap his year with victory in the G1 Middle Park Stakes. It was a track record-setting performance and, with the likes of Tomahawk, Elusive City and Zafeen soundly beaten, one that confirmed Oasis Dream as the champion 2yo in Europe of 2002.
As many of his contemporaries geared up for the 2,000 Guineas, Oasis Dream was instead trained for the King's Stand Stakes at Royal Ascot, in which he ran an excellent third to Choisir as a 3yo against older horses. With that run under his belt, he went on to turn the tables on his Ascot conqueror in the G1 July Cup before hacking up in the G1 Nunthorpe Stakes - had jockey Richard Hughes not geared down on the colt in the closing stages, Dayjur's record mark of 56.16 set in 1990 might well have been cracked.
Oasis Dream's career did not end on a high - soft ground didn't help his cause when second in the G1 Haydock Sprint Cup while he was never in the hunt behind Six Perfections in the G1 Breeders' Cup Mile at Santa Anita - but he was without doubt the star sprinter of that season and the best to have graced Britain since Dayjur 12 years before him.
Popular from the beginning
A fast horse with juvenile form, an attractive pedigree and good looks, Oasis Dream attracted mares belonging to an array of Europe's leading breeders from the outset. However, fittingly it was Juddmonte Farms who celebrated his first stakes winner when Visit landed the Princess Margaret Stakes at Ascot.
The race is also sponsored by Juddmonte and only last year the operation pulled off a similar feat when Fair Eva became the first stakes winner for Frankel.
Oasis Dream's first yearlings had averaged close to 100,000gns and, when Visit became the first of six stakes-winning juveniles the following year, his popularity in the sale ring understandably held steady. In addition to Visit, there were two tough, fast youngsters in Captain Gerrard, winner of the G3 Cornwallis Stakes, and Starlit Sands, his very first winner at Thirsk in May 2007 who went on to cap her year by taking the G3 Prix d'Arenberg.
In all, that crop came to contain nine GSW. In a taste of how his stud career was to evolve, they were a versatile group, ranging from Captain Gerrard and Starlit Sands to Prohibit, the G1 King's Stand Stakes winner who flourished with age, and Lady Jane Digby, who landed the G1 Grosser Dallmayr Bayerisches Zuchtrennen over 1m2f as a 5yo. Aqlaam and Tuscan Evening, other members of his first crop, also developed with age, striking in the G1 Prix du Moulin and G1 Gamely Stakes respectively as older horses.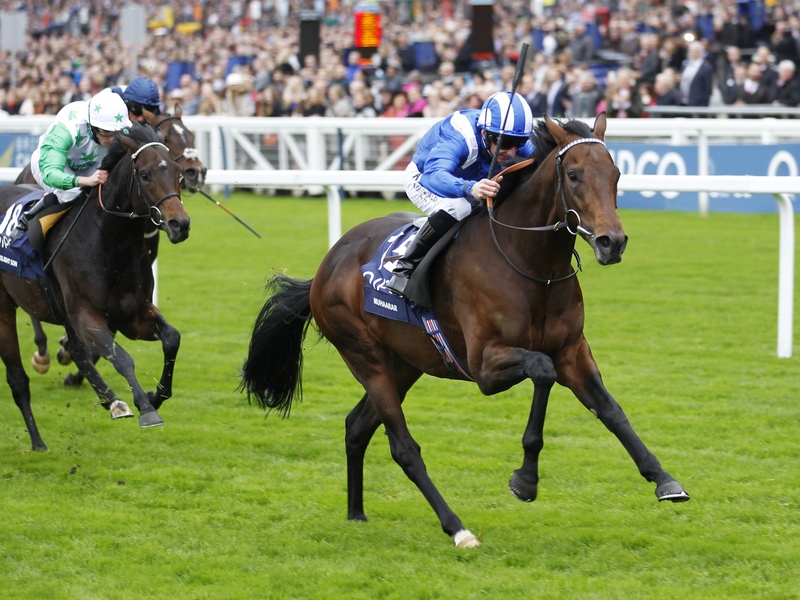 It was his second crop, however, that yielded that coveted first G1 winner. The colt in question, Naaqoos, bounded to victory in the 2008 G1 Prix Jean-Luc Lagardere at Longchamp and thus began a highly fruitful relationship with Oasis Dream and Shadwell that would come to include Aqlaam, Arcano, Muhaarar and Muarrab.
As for Juddmonte, they were rewarded within Oasis Dream's second crop by Midday. A member of their productive Mofida family, she excelled over 1m2f and 1m4f, winning the Yorkshire Oaks, Prix Vermeille, the Breeders' Cup Filly & Mare Turf and three renewals of the Nassau Stakes. She also ran a brave second to Sariska in the Epsom Oaks.
Few would have argued against the fact that, if Oasis Dream was to be successful at stud, then it would be primarily as a source of fast horses. And that is an idea that has played out as the likes of Prohibit, Goldream, Muhaarar and Jwala, who emulated her sire by taking the Nunthorpe Stakes, have illustrated. He is also an excellent sire of 2yos, an attribute that has been advertised by juvenile G1 winners Arcano, Charming Thought and Power, as well as Gimcrack Stakes winner Showcasing. Power, who trained on to take the Irish 2,000 Guineas, and Aqlaam also lead a healthy number of quality milers.
But Midday's record added another dimension to his record, one which has been subsequently enhanced by other top-level winners such as Querari and Opinion. In other words, hand Oasis Dream the right mare and he is capable of producing a middle-distance classic horse.
Emerging affinities
As with any elder successful stallion, affinities for certain lines have emerged. One of the more interesting has been his partnership with Linamix mares, perhaps reflective of how Oasis Dream's strong stature could complement the more sparely made model often associated with Linamix. The cross has yielded three stakes winners - champion sprinter Muhaarar, Albaarah and Thai Haku - from a pool of just seven runners.
Juddmonte's Main Aim, a G3 winner who ran second in the G1 July Cup, and Monitor Closely, a G2 winner over 1m4f, head a list of nine stakes winners out of Selkirk mares (from 54 foals).
Machiavellian features as the damsire of a pair of G1 winners (Goldream and Naaqoos) as does Indian Ridge (Charming Thought and Jwala). Indian Ridge isn't the only son of Ahonoora to have clicked with Oasis Dream since it was with the Inchinor mare Frappe that he sired Power.
An alliance was also quick to emerge between Oasis Dream and Nijinsky, a line more readily associated with middle-distance performers. Lady Jane Digby (out of a mare by Niniski) and Starlit Sands (Hernando), both of whom were bred by Kirsten Rausing, were early adverts as was Visit (Kahyasi). The list was subsequently enhanced by Tuscan Evening (Suave Dancer), Frozen Power (Royal Academy) and Sandbar (Hernando).
Opportunity for the line to grow
In an industry where commercial speed is king, Oasis Dream's reputation as a respected source of fast horses means that he is not short of sons at stud.
For several seasons now, Whitsbury Manor Stud's Showcasing has been the shining beacon of the group, having clawed his way from a fee of £4,500 to this year's high of £35,000. Along the way, three crops of racing age have yielded 14 stakes winners, led by champion sprinter Quiet Reflection and dual G2 winner Prize Exhibit, and he already has a son at stud in G3 winner Cappella Sansevero.
Showcasing represents exactly what the market craves - juvenile speed that often progresses with age - and he has duly become commercial catnip, especially within the pinhooking fraternity.
Power also made a good start with his first 2yos in Europe last year, siring four stakes winners, and has got off to a similarly fast start in New Zealand.
However, it is fair to say that, aside from Showcasing and Power, those with runners in Europe, among them Arcano, Approve, Aqlaam, Frozen Power and Naaqoos, have been a disappointing bunch so far. Indeed, all of that list bar Aqlaam, who died young, were swiftly dispatched elsewhere once their limitations became apparent.
Having said that, the most exciting could be yet to come. Champion sprinter Muhaarar covered 19 G1 winners and/or producers during his first season at Nunnery Stud last year and has another stellar book that includes Oaks heroine Taghrooda as well as the dams of Camelot, Tamayuz and Planteur lined up in 2017. The fourth son of Oasis Dream to stand under Shadwell's banner, he stands for £30,000.
Dalham Hall Stud, meanwhile, has welcomed Middle Park Stakes winner Charming Thought to their roster this year. A number of sons also have young stock on the ground, including the classic- placed Gale Force Ten and Frankel's half-brother Morpheus.
Oasis Dream has made a bright start as a broodmare sire, a development that was likely to occur in light of the good books he has covered throughout his career.
In 2016 alone, his daughters supplied seven stakes winners to bring the overall list to 17. The list includes last year's G2 Prix Robert Papin winner Tis Marvellous, the highlight of Harbour Watch's first crop. An Oasis Dream mare also clicked with another son of Acclamation, Equiano, to produce G3 winner Dark Reckoning.
His daughters might still waiting for that G1 winner but that omission could well be rectified shortly by 4yo Midterm. Beautifully bred by Galileo out of Midday, he looked immensely exciting when winning the G3 Sandown Classic Trial last April and later ran a good second to Makahiki in the G2 Prix Niel following a layoff.
Oasis Dream's influence will be far-reaching for some time. In addition to serving Juddmonte well, he has long held the attention of the two big superpowers, Coolmore and Godolphin, both of whom stand high-profile sons and are regular investors in his progeny at auction. He is also well known internationally, particularly in America, where the likes of Tuscan Evening and Quiet Oasis have represented him to good effect, and South Africa, where sons Querari and Main Aim stand.
Once again, he has plenty with which to go to war in 2017 with another well-connected crop of about 90 2yos on the ground. His current 3yos also include the exciting Dreamfield, a 1,100,000gns yearling purchase who is unbeaten in two starts, as well as the Wesley Ward-trained stakes winner Create A Dream.
OASIS DREAM FACTFILE
2000 b h Green Desert - Hope (Dancing Brave)
Stands: Banstead Manor Stud, Newmarket. Fee: £50,000
Won Middle Park Stakes - G1, July Cup - G1, Nunthorpe Stakes - G1
GROUP 1 WINNERS SIRED BY OASIS DREAM
| | | | | |
| --- | --- | --- | --- | --- |
| Name | Year born | Breeder | Dam (damsire) | G1 Races won |
| Aqlaam | 2005 | Granham Farm | Bourbonella (Rainbow Quest) | Prix du Moulin |
| Arcano | 2007 | Yellow Bird Syndicate | Tariysha (Daylami) | Prix Morny |
| Charming Thought | 2012 | Merry Fox Stud Ltd | Annabelle's Charm (Indian Ridge) | Middle Park Stakes |
| Goldream | 2009 | Tsega Breeding Ltd | Clizia (Machiavellian) | King's Stand Stakes, Prix de l'Abbaye |
| Jwala | 2009 | Manor Farm Stud (Rutland) | Kangra Valley (Indian Ridge) | Nunthorpe Stakes |
| Lady Jane Digby | 2005 | Miss K Rausing | Scandalette (Niniski) | Grosser Dallmayr Bayerisches Zuchtrennen |
| Midday | 2006 | Juddmonte Farms Ltd | Midsummer (Kingmambo) | Nassau Stakes (3 times), Yorkshire Oaks, Breeders' Cup Filly & Mare Turf, Prix Vermeille |
| Muarrab | 2009 | Stratford Place Stud | Licence To Thrill (Wolfhound) | Dubai Golden Shaheen |
| Muhaarar | 2012 | Shadwell Estate Company Ltd | Tahrir (Linamix) | Commonwealth Cup, July Cup, Prix Maurice de Gheest, QIPCO British Champions Sprint Stakes |
| Naaqoos | 2006 | Serge Boucheron | Straight Lass (Machiavellian) | Prix Jean-Luc Lagardere |
| Opinion | 2009 | Ballylinch Stud | Kiltubber (Sadler's Wells) | The Metropolitan |
| Power | 2009 | Norelands & Hugo Lascelles | Frappe (Inchinor) | Irish 2,000 Guineas, National Stakes |
| Prohibit | 2005 | Juddmonte Farms Ltd | Well Warned (Warning) | King's Stand Stakes |
| Querari | 2006 | Stiftung Gestut Fahrhof | Quetena (Acatenango) | Premio Presidente della Repubblica |
| Tuscan Evening | 2005 | Hascombe & Valiant Studs | The Faraway Tree (Suave Dancer) | Gamely Stakes |
Also in this series: Expect business as usual for super Dansili