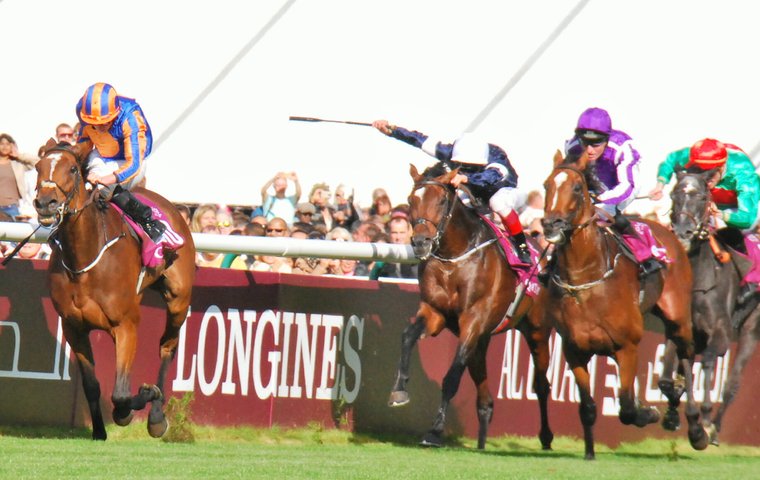 How easy is it for you, the international racing fan, to evaluate the trajectory of the game's greatest players? Nowhere else is this so readily achieved as with TRC Global Rankings.

The arrival of Qatar Prix de l'Arc de Triomphe day at Longchamp on Sunday is the perfect time to account for changes in the top ten in each of our four major categories. Because TRC Global Rankings are predictive, a high rank carries with it the expectation of world-class performance going forward, so to even maintain the same ranking and the same points total is asking a lot.
And that provides the major bullet point of the last 12 months in world racing: you may not have read it anywhere else, but the combination we call the Fearsome Foursome - trainer Aidan O'Brien, owner Coolmore Partners, jockey Ryan Moore and sire Galileo – has actually got stronger. And a lot stronger too.
It's hard to believe, given the parameters of our calculations, but O'Brien has gained 15pts, Coolmore Partners 21pts, Moore a staggering 28pts and Galileo 10pts. As with everything we do, those numbers are not abstract, but represent the actual relative gradients of their accomplishments on the world stage.
Apart from the Fearsome Foursome, there is much else to pick out
JOCKEYS: HOW THE TOP TEN A YEAR AGO STAND NOW

If you are of a mind that Moore is NOT the world's leading jockey, maybe it is time to reconsider. This isn't parochial leaning, but an unavoidable conclusion. On last year's Arc day, Moore had ridden 50 G1 winners, 26 G2 winners and 29 G3 winners over the preceding three-year-period. One year on, those numbers have increased to 54, 31 and 43. He is in a class of his own.
Australian superstar Hugh Bowman has gained 15pts and risen from world #3 to #2. Like Moore, Winx's jockey exhibits a supreme understanding of racing strategy, and he has ridden extremely well in 2017 so far.
On the negative side, JamesMcDonald's 18-month ban and sacking as Godolphin rider for his part in a betting scandal has hit the 25-year-old's career hard, which can be observed from his ranking. Irish jockey Pat Smullen drops 37 points mainly because the end of last year was a zenith in his career which he would naturally find hard to sustain.
OWNERS: HOW THE TOP TEN A YEAR AGO STAND NOW

The top six are still the top six, which is no surprise. TRC Global Rankings expects the owners' rankings to change the least. It might be worth noting that both the Qatari racing operations, Al Shaqab Racing and Qatar Racing, have lost in excess of 20 points.
With stable rider Jim Crowley patently making a difference at the margin to Sheikh Hamdan's fortunes, we are projecting the Dubaian to regain the lost ground heading into 2018.
TRAINERS: HOW THE TOP TEN A YEAR AGO STAND NOW

Despite Winx, Chris Waller has been usurped as our top Australian trainer by the phenomenal Darren Weir. With the Australian season just getting into gear, it will be interesting to see whether the situation changes into 2018.
To the debit side in Oz, John O'Shea and Godolphin went their separate ways in the spring, which is bound to impact his success in future.
In France, 24-times champion trainer Andre Fabre has widened the gap over Jean-Claude Rouget. The latter, who has headed Fabre occasionally, has had to contend with health problems to his string in 2017.
In the US, Chad Brown, Bob Baffert and Todd Pletcher remain clear of the field. Baffert has had the best last 12 months by our reckoning, thanks in no small part to Arrogate's exploits. With that equine marvel nearing the end of his run, Brown may be the better bet to be ahead a year on from Arc day 2018.
SIRES: HOW THE TOP TEN A YEAR AGO STAND NOW

Remember that top-notch horse racing is a zero-sum game: if a new shooter emerges, someone else will lose ground, even if they don't decline in terms of efficiency. That can be plainly observed in the sires' table.
In Japan, Deep Impact is under constant threat each week from his own sons and relatives. He's starting to get a few good runners in Europe which could boost his fortunes, but early 2017 could prove a high watermark for him, even so.
Shamardal is a consistent producer, but he's another competitor in our review who happened to be near his peak at this time last year.
In the U.S., the hegemony of Tapit and Medaglia d'Oro has been undermined by the likes of Curlin, Candy Ride, Ghostzapper and a host of others.
Notice how consistently we have been able to measure the impact of Sea The Stars, Dark Angel and Teofilo. The table makes it clear that they own their present lofty ranks more as a result of the dip in fortunes of those who were above them.