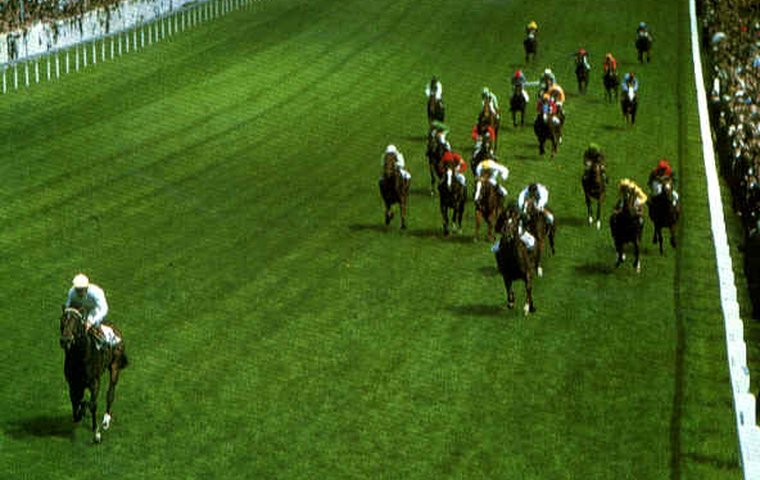 With the dispersal of stock from the historic Ballymacoll stud farm in Ireland about to get under way at the Tattersalls October Sale, which begins in Newmarket tomorrow, Willie Carson, the rider who steered many of the Ballymacoll greats to victory as stable jockey at Major Dick Hern's West Ilsley yard during the golden period of the partnership between the stud and Hern, remembers the best of them in his own words.

TROY
b c 1976 Petingo - La Milo (Petition)
One of the best we ever had, especially on Derby Day. He won the Vintage Stakes at Goodwood and then Ela-Mana-Mou beat him in the Royal Lodge Stakes. But it was that race that won us the Derby. I stuck him up behind the leader, Lyphard's Wish, that day and used up petrol and he didn't get home. I learnt then that you had to keep building him up in his races, let him warm up and then he'd be strong at the finish.
We had a strong crop that year at West Ilsley. There was the Queen's colt Milford and Lady Beaverbrook had Niniski, who would go on to win the Irish St Leger, and I had to pick between them in the Derby. We were a long way back at Tattenham Corner but, when I pulled him out, he just powered away from them. We ended up winning by seven lengths.
Then he went to the Irish Derby, which he won easily but by not quite so far. And then he went and won the King George.
We decided then to bring him back then to 1m2f at York for the Benson & Hedges Gold Cup (now the Juddmonte International). It was a bit of a struggle - he won but we only just got there. It was him telling us he needed all of 1m4f.
Even though he was a great big horse, he liked fast ground and it was hard work for him in soft. By Arc day, the ground had gone against him, but he ran very well to be third.
He was one of those old fashioned horses, very genuine and nothing ever seemed to worry him. He never sweated. Life for him was easy.
Sadly, he didn't live very long. He left behind Helen Street, a very good looking, lightish type of filly on whom I won the Irish Oaks. Of course, she went on to breed Street Cry.
Troy wasn't one of those horses with tremendous speed, but he had so much ability. He was very strong at the finish. On Derby Day, he was the best I rode.
SUN PRINCESS
b f 1980 English Prince - Sunny Valley (Val De Loir)
Possibly the most brilliant filly I rode over 1m4f. She was a bolter at home - I never rode her at West Ilsley. I remember she used to go out in draw reins because she had two speeds - walk and flat out! The team at home did a tremendous job with her because she wasn't easy.
First time out, she ran in a good race, the Blue Seal Stakes, at Ascot and finished second. It was more education than anything else, trying not to get her to go flat out from A to B. We were just trying to settle her all the time.
That was her only start at two. She came out at three in a mile-and-a-quarter race at Newbury. Ski Sailing won under Steve Cauthen and I was second, again trying to get her to settle. I was in the weighing room after the race and Cauthen had a £100 bet with me that he'd finish in front again in the Oaks. Although my filly had been beaten, I knew there was still an awful lot to come from her.
She went to the Oaks still a maiden and it was that day that we really let her go. Again she pulled - six furlongs from home I felt as though my arms had been stretched six inches, and by the 5 furlong marker I couldn't hold her any longer and she took off. We ended up winning by 12 lengths.
She ran a very good race when third to Time Charter in the King George and after that won the Yorkshire Oaks and St Leger. I remember it rained and rained before the race at Doncaster and Arnold Weinstock basically didn't want to run. It was left to me after the first race to say the ground was alright. Sun Princess coped with it alright, as I thought, and won easily. Then she ran a very good race to be second in the Arc.
PRINCE OF DANCE
b c 1986 Sadler's Wells - Sun Princess (English Prince)
He was the first foal out of Sun Princess and the start of the Sadler's Wells story too.
He was one of the best horses I ever rode, and brave. He had a lot of speed but was a rare horse in that he would have also stayed well. He was first past the post in all his races at two, including the Champagne Stakes and Dewhurst Stakes, when he dead-heated with Scenic (also from the first crop of Sadler's Wells).
He was our Guineas horse. I remember he worked brilliantly at the start of his 3-year-old year, exceptionally well - it was true brilliance. Then he started to go wrong and that was when Nashwan was rushed forward. Nashwan wasn't quite ready at the time and I don't think he would have run in the Guineas if Prince Of Dance had made it.
It wasn't long after that that Prince Of Dance started to go badly wrong, he lost co-ordination and had to be put down. Turned out he had a tumour in his back.
CISTUS
b f 1975 Sun Princess - Rosalie II (Molvedo)
She was a brilliant filly with a lot of speed. I remember she was an early favourite for the 1000 Guineas, but the yard secretary missed the entry deadline! Quite a pill to swallow. She got me out of jail one day at Newmarket in the Child Stakes - I got boxed in and only just got there in time. She also won the Nassau Stakes and Prix de l'Opera, and had a tremendous turn of foot.