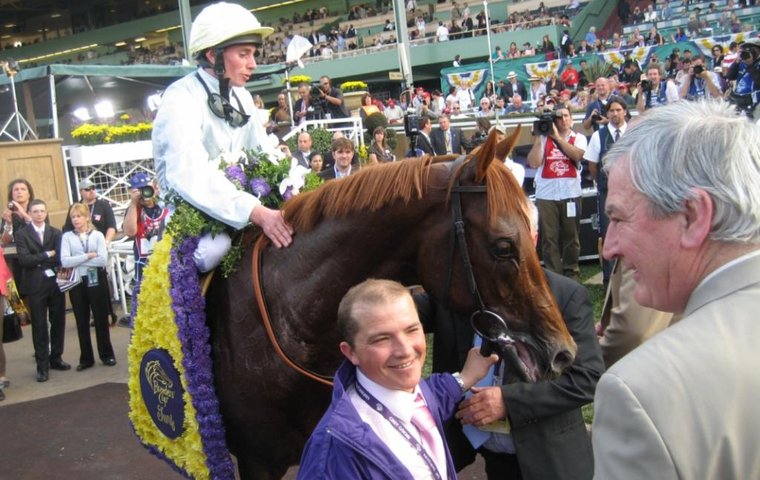 There is a poignancy to the Ballymacoll Stud special edition handbook that was published in 2010 to mark the stud's 50th anniversary.

The scene is set with a comprehensive appreciation of the stud written by Simon Weinstock during the late 1960s, just as Ballymacoll was gaining a foothold as one of Europe's largest racing entities under the ownership of his father Lord Weinstock and grandfather Sir Michael Sobell. Simon Weinstock wrote the piece as a 16-year-old pupil at Winchester School and his writing shows remarkable passion and insight into a sport that came to be enhanced immeasurably by his family's participation.
The fabulous 52: click here to read about the horses on sale in the Ballymacoll dispersal
"The main aim of the stud is to breed classic winners," he writes, "and little concession is made to the mare or a sire with a purely sprinting pedigree. On the other hand, it is desirable to maintain an element of speed in Thoroughbred bloodlines, and it is often sensible policy to mate a staying mare with a stallion who has the speed to win at a mile. The policy, therefore, produces horses to be best at one to one and a half miles …
"Thus it is hoped through constant amelioration of its bloodstock that Ballymacoll Stud will consolidate and improve its position as one of Britain's leading establishments for the breeding of high-class racehorses."
Sadness
Ballymacoll did indeed consolidate its position as one of the leading studs in Europe as racing greats such as Troy, Sun Princess, Islington and Pilsudski went on to carry the famous light blue and yellow colours with distinction. But the sadness is that Simon Weinstock, the passionate racing man within his family, died in 1996 at the age of just 44, and so didn't live to see its later achievements.
Lord Weinstock passed away in 2002, since when Ballymacoll has operated under the stewardship of long time stud manager Peter Reynolds. Today, the stud boasts a roll call of 30 G1 winners bred from a select number of mares, many of whom descend from the same Jamaica and Coventry Belle families acquired within the Dorothy Paget stock during the early 1960s.
The high points have continued to flow - 2014 Melbourne Cup hero Fiorente and this year's Lancashire Oaks runner-up Abingdon each cases in point - but now comes the time for this historic stud to move into another chapter and for the stock to be dispersed.
Paget bloodlines
In May, it was announced that the 294-acre farm, in County Meath, Ireland, would be sold at public auction and the stock sold at the various European October and winter breeding stock sales. Ballymacoll duly came under the hammer in June and was knocked down to an undisclosed bidder for €8.15 million, in the process changing ownership for only the third time in 70 years.
The dispersal of stock begins at the Tattersalls October Sale in Newmarket with a draft of nine yearlings across Books 1 and 2. From there, it shifts to a group catalogued to the Tattersalls Autumn Horses in Training Sale and then on to the winter breeding stock sales, where the champion Islington herself is set to come under the hammer.
The remarkable aspect of this dispersal is that each mare descends from bloodlines introduced by Dorothy Paget, who owned the stud from 1946 until her death in 1960.
A ferocious gambler who wasn't averse to paying great sums for horses, Paget's name is synonymous with her five-time Cheltenham Gold Cup winner Golden Miller. However, the eccentric owner also enjoyed numerous successes on the flat, notably as the owner-breeder of 1943 Derby winner Straight Deal. She is said to have possessed an excellent knowledge of pedigrees, yet never once visited Ballymacoll.
Paget installed trainer Charlie Rogers as stud manager, a position he would hold until his death in 1971. It was Rogers - nicknamed 'Romeo' by Paget on account of his looks and humour - who persuaded the owner to stand Straight Deal at Ballymacoll rather than in Britain at her Elsenham Stud. And in time, he came to be in charge of one of the largest bloodstock operations in Ireland.
"Charlie Rogers was the most amazing character," says Reynolds, who arrived at the stud in 1971. "Dorothy Paget's secretaries would turn up here and they would do a full report to send to her.
Sir Gordon's suggestion
"Danny Daly, the stud groom, had a story of how one of the secretaries came here and asked to see a particular field that, for one reason or another, Charlie didn't want them to see.
"So Charlie threw himself on the ground with a supposed heart attack. 'Oh Mr Rogers,' she said, 'will you be ok?' And he was there groaning, 'Oh I'll be fine but we best not look at that field.'"
While Paget was busy consolidating her bloodstock empire, Sir Michael Sobell and Lord Weinstock had already enjoyed a successful entry into racehorse ownership with London Cry, who had been trained by Sir Gordon Richards to win the 1958 Cambridgeshire Handicap under top weight.
"Charlie was very pally with Gordon Richards," says Reynolds, "and, when Dorothy Paget died in 1960, he rang up Gordon and said 'What am I going to do with the stud? Do you know anyone with a few bob?' And Gordon said 'well there is this man Sobell'.
"So it was him and Mr Arnold Weinstock, as he was then, and they came and bought the whole thing lock, stock and barrel.
"The place was very run down when I came here. You see, the owner [Paget] never turned up, so it was never properly maintained. I was assistant manager to Bob Jeffares and we set about a major programme of redoing the whole place - the fences, the roads and then we built an isolation block."
Guineas surprise
Industrialist Sobell, chairman of General Electric Company from 1968, and his son-in-law Weinstock, the managing director of GEC for over three decades, set about reinvigorating the Ballymacoll name. A number of the Paget mares were culled to leave Weinstock and Sobell in possession of the perceived best from each family, and as outlined by Simon Weinstock, who came to inherit Sobell's share, the production of classic middle-distance horses remained first and foremost in the brief.
"We did breed [Prix Maurice de Gheest winner] King Of Macedon but he was a freak," says Reynolds. "But we set out to breed classic winners, proper middle-distance horses. We've won the Leger a few times. And then you get lucky with a Guineas horse like Golan, which was a surprise. He was from the first crop of Spectrum - that was special. So off the back of a pleasant surprise in the Guineas, you go on to the Derby with him, hope to win but get beaten by Galileo."
The first real star for Sobell and Weinstock was Reform, a member of the aforementioned Coventry Belle family trained at Whitsbury by Sir Gordon Richards. Foaled in 1964, the Pall Mall colt was deemed too small to warrant a classic entry at the yearling stage but went on to prove his doubters wrong, sweeping six races at two and the St James's, Sussex, Queen Elizabeth II and Champion Stakes at three.
Sallust, another brilliant son of Pall Mall, followed in the early 1970s. One of the first good Ballymacoll horses trained at West Ilsley Stables by Major Dick Hern, Sallust racked up an unbeaten sequence of wins during 1972 in the Prix de la Porte Maillot, Sussex Stakes, Goodwood Mile and Prix du Moulin. His achievements coincided with those of Sun Prince, another trained by Hern who was the first horse to win on three consecutive occasions at Royal Ascot, namely when successful in the Coventry, St James's Palace and Queen Anne Stakes.
Hern association
"I joined in 1971 on the coattails of Sallust and Sun Prince," remembers Reynolds. "Sallust was sold in the summer of 1972 for Ir£600,000 to the Irish National Stud. The cheque went round so many times to different people before it cleared and by that stage Sallust had won another Group 1 in France, so Lord Weinstock wanted to cancel the sale.
"Sallust was probably a better racehorse than Sun Prince but he didn't have the pedigree. But he did very well at stud and ended being a good buy for the Irish National.
"Sun Prince was a different story. He was an outstanding racehorse but a desperate stallion."
Sallust and Sun Prince marked the beginning of an extremely successful association with Major Dick Hern that came hot on the heels of Sobell and Weinstock's purchase of the Berkshire-based West Ilsley from Jakie Astor. In later years, that association would celebrate two real stars in Troy and Sun Princess.
Troy is best remembered for his seven-length win in the 1979 Derby but he also won the Irish Derby, King George and Benson & Hedges Gold Cup and wasn't disgraced when third on unsuitably soft ground in the Arc.
Sadly he lived for just four seasons at Highclere Stud but remains influential in pedigrees today, notably as the sire of Ballymacoll's 1985 Irish Oaks heroine Helen Street, in turn the dam of Street Cry.
Continuity with Stoute
Sun Princess, a headstrong filly, won the Oaks by 12 lengths and later followed up in the Yorkshire Oaks and St Leger before an admirable second in the Arc. Another from the Sunny Cove family, she went on to foal the ill-fated Dewhurst Stakes winner Prince Of Dance and today features in the background of a number of Ballymacoll horses.
"Sun Princess was outstanding," says Reynolds. "Lord Weinstock always reckoned Dick Hern's insistence on running in the St Leger ruined her chances in the Arc."
West Ilsley was sold to the Queen in late 1982, and Sir Michael Stoute and Peter Chapple-Hyam were latterly among those added to the roster of trainers.
"The main continuity between Dick Hern and Michael Stoute was very important," says Reynolds. "Simon rang me and asked if I knew Michael Stoute. So we ended up sending him a Habitat filly, a tiny filly who was no good."
However, from there sprung a partnership that came to include Pilsudski, a typical Stoute improver whose globetrotting exploits included wins in the Newmarket and Irish Champion Stakes, Eclipse Stakes, Breeders' Cup Turf and Japan Cup, in addition to a pair of runner-up efforts in the Arc, and Islington, whose four G1 wins included the Breeders' Cup Filly & Mare Turf.
In addition, Stoute trained North Light to win the Derby in 2004 and Conduit to win the St Leger, a pair of Breeders' Cup Turfs and the King George, the latter at the expense of fellow Ballymacoll colour-bearer Tartan Bearer.
In turn, Tartan Bearer was a brother to Golan, a son of Ballymacoll's Irish 2,000 Guineas winner Spectrum who was trained by Stoute to win the 2,000 Guineas on only his second start. Kept in training at four, he went on to land the 2002 King George at Ascot.
"Dick said it will take Michael a while to get to know these families because you have to get to know the homebreds," says Reynolds. "So now Michael has had a couple of generations and he knows them very well. We saw it with Islington - he knew having trained her dam [Yorkshire Oaks winner] Hellenic. Neither have bred a 2-year-old winner, though Islington's 2-year-old Floria Tosca sounds like she could be the one to break the mould. But again, Michael never pushes them."
Two main lines
Islington's clan descends from Coventry Belle, a daughter of Hyperion purchased by Paget in 1938 whose line is responsible for 17 mares and fillies in the dispersal.
The remaining nine lots on offer descend from the Phalaris mare Jamaica, purchased as a yearling in 1931 on behalf of Paget by one of Golden Miller's trainers, Basil Briscoe.
Reynolds adds: "The wonderful thing about breeding racehorses is that it happens so quickly. I can go back four or five generations with these fillies. And you learn from your mistakes quickly.
"A lot of the families have gone, now it's just the two main lines. At one time, we were more Sun Princess/Sunny Cove, but Islington's family is coming back now. Islington was a proper racemare. Hellenic was also very good but ground-dependant. Now it's a family on a revival. What excites me really is the fact that one decent runner like Abingdon just changes the face of all the horses we're selling."
Two winners of the Derby, an Oaks winner, a 2,000 Guineas winner and two winners of the St Leger alongside international stars of the ilk of Pilsudski, Conduit, Oriental Express and Fiorente; it's a rich history for a stud that has rarely operated with large numbers or refreshed their lines by dipping their toe into the market. But that's not to say there haven't been bumps along the way.
International standing
The Arc continues to remain elusive, with the close finishes of Troy, Sun Princess and Youmzain - who was raised at Ballymacoll on behalf of Frank Dunne - just adding to that particular frustration. The loss of Prince Of Dance, who was slated to stand at Coolmore upon retirement, to cancer as a 3-year-old in 1989 was also a blow.
Of far greater sadness and consequence, however, was the death of Simon Weinstock in 1996.
"Lord Weinstock had a great enthusiasm for it and then for Simon," says Reynolds. "That was a tragic time. Simon was a different person to his father - he was incredibly shy. He took over his grandfather's share and interest in the place and would come here and look at the horses. He enjoyed the horses and the stud, he had a great knowledge of the game. Lord Weinstock was very proud of him."
He adds: "Lord Weinstock was a very fair man but difficult. I was told I'd last six months when I first came by an old engineer that had worked for him!"
There is some sadness to think that those families that have been so intrinsic to Ballymacoll will soon be leaving the land on which they have been so successful for so long. But now is the time for them to thrive in other hands.
Ballymacoll's international standing, thanks to the likes of Pilsudski, Conduit and more recently Fiorente and Sir John Hawkwood, is such that the dispersal has the right to attract players from all corners of the world.
Opportunities for breeders large and small will abound and no doubt the Ballymacoll name will live on in another guise for many years to come.