The momentum of the big end-of-year sales has been maintained and then some as the new year gets into full swing internationally, with a 21.57 per cent gain year-on-year at the Keeneland January Sale in the U.S., and the Magic Millions Sale on the Australian Gold Coast moving almost into a different stratosphere.

Yet even these stunning numbers have to take a back seat when one of the world's superstar mares steps into the auction ring. At the big broodmare sales that brought the curtain down on 2017, the figures were eye-watering.
At Fasig-Tipton's November sales, Mandy Pope's Whisper Hill Farm set the ball rolling by paying a show-stopping $9.5 million for the mighty Songbird. Not to be outdone, Coolmore then hit the headlines twice - first by forking out $8 million at Fasig-Tipton for Breeders' Cup and Royal Ascot winner Tepin and then by parting with $6 million at Keeneland for six-time G1 winner Stellar Wind.
The momentum was maintained across the Atlantic, with Coolmore once again in the limelight, paying a record-breaking 6 million guineas for star sprinter Marsha at Tattersalls in December.
Collectors of art
Pope is no stranger to laying out large sums in pursuit of quality for her Florida broodmare farm. In 2016, she paid $3.8 million for Unrivaled Belle at Keeneland's November sale - the highest-priced mare sold in the U.S. or Europe that year. In 2012, she forked out a record $10 million on U.S. Horse of the Year Havre De Grace and $4.2m for Kentucky Oaks winner Plum Pretty - both at Fasig-Tipton, then the following year she bought dual Breeders' Cup winner Groupie Doll for a further $3.1 million at Keeneland.
At Arqana in December, G3 winner Haggle topped the equivalent sale when the Wertheimer brothers paid €1.3 million for the filly, and at Goffs a month earlier Inca Princess (the dam of Melbourne Cup runner-up Johannes Vermeer) fetched €1.9 million in foal to Galileo when sold to bloodstock agent Laurent Benoit. Both these auctions equalled their 2016 equivalents by having made at least one sale of €1 million or more.
These enormous sums are a reflection of the international nature of the market. Almost like collectors of art, a handful of big players are prepared to pay these kind of numbers for what they consider rare masterpieces, like a Picasso, a Rembrandt or a Van Gogh.
Coolmore, of course, may go for a quick return. The 6-year-old Stellar Wind, with racetrack earnings of over $2.25 million, is now in training with Chad Brown with the $16m Pegasus World Cup on January 27 likely to be her final race. After that, she is to be mated with American Pharoah at their Ashford Stud in Kentucky.
Tepin (sold in foal to Curlin) and Marsha will be covered by the world's top-ranked sire, Galileo, in Ireland. Pope and her advisors are contemplating mating Songbird with Arrogate.
Do buyers get carried away in the heat of the moment? Seldom is the mare's ability on the racetrack passed on.
"At these sort of prices, breeders would be hoping a mare could produce at least one colt or filly during her lifetime capable of winning at Grade 1 level," says bloodstock agent Lincoln Collins. "Overall you have to look at this as a long-term project. Coolmore, having a number of top-quality stallions, need to maintain good-quality foundation mares to breed from. Their chances of breeding top-class racehorses through strengthening their broodmare band can only improve, with the added long-term possible value of carrying on the line at stud."
Residual value
Wealthy breeders are limiting the risk of buying a 'masterpiece' because she is invariably joining, and strengthening, a large broodmare band and will be sent to a top-class stallion. The percentage chances of the farm breeding a champion will therefore improve, if only marginally. And any filly she produces, even if she fails to make a mark on the track, will still have a high residual value as a broodmare prospect herself.
But the numbers are still against them. Great racemares since the turn of the millennium who have yet to pass on much of their ability to their offspring include Havre De Grace, Makybe Diva, Black Caviar and Zenyatta, although Preakness heroine Rachel Alexandra has produced one G1 winner, and seven-time G1 winner Ouija Board is the dam of Epsom and Irish Derby scorer Australia and Frontiersman, who was runner-up to Highland Reel in last year's G1 Coronation Cup at Epsom.
The probability of buying a future black-type horse at the sales is less than five percent - and just under one percent if you're hoping for a G1 winner.
Only around 2 percent of all colts who race are deemed good enough for breeding, although the odds are massively more positive on the distaff side. Better than 50 percent of fillies go on to be broodmares.
Of course, occasionally you get a Different League. This was the Dabirsim filly originally bought as a yearling at the 2016 Arqana December Sale for just €8,000 who was sold at Tattersalls last month to a partnership of Peter Brant and Coolmore's MV Magnier for 1.5 millions guineas, having won the G3 Albany Stakes at Royal Ascot and finished runner-up in the G1 Cheveley Park Stakes at Newmarket. She stays in training this year.
So bargain buys can still be found. At Tattersalls last month, for instance, the median showed that 337 lots were sold up to 25,000 guineas with a fair number lower than 10,000. Despite the 11 lots going for a million or more, compared to two last year, the median price was actually 2,000 guineas lower than in 2016, when 340 were sold up to 27,000 guineas.
Broodmare Sales in Europe 2017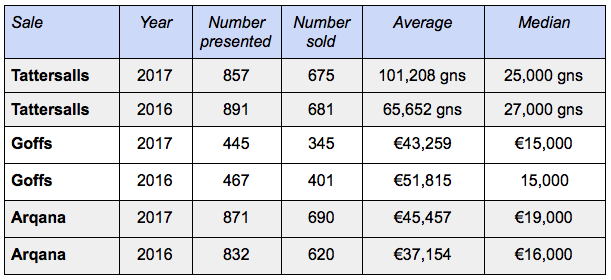 Perhaps the two greatest middle-distance fillies to retire to the breeding sheds this century have been Arc winners Treve and Zarkava.
Treve, who won the race in 2013 and 2014 for owners Al Shaqab Racing, gave birth to a Dubawi colt last February and is now in foal to Shalaa. Treve was bred at the Head family stud at Haras De Quesnay in Normandy, yet her 3-year-old full sister Terre (Motivator-Trevise), bought back for €1.2 million at the 2015 Arqana yearling sales and put into training by Criquette Head-Maarek, managed to win just one race last season.
Zarkava was retired by the Aga after winning the 2008 Arc. Her first three offspring, born from 2010-2012, never ran, with 2011 foal Zarkash having to be put down after breaking a leg in a training accident when at the age of two. But 2013 foal Zarak, by Dubawi, won the G1 Grand Prix de Saint Cloud last season, having been runner-up to Almanzor in the 2016 Prix du Jockey Club. He is now standing at the Aga Khan's Haras de Bonneval at €12,000.
In the last three years Zarkava has produced a filly by Frankel in 2015, a colt by Invincible Spirit in 2016 and last year a foal to Siyouni (see the photo at the top of this article). She is expecting a foal by Sea The Stars soon.
There is still a chance that either Treve or Zarkava could eventually become as important as the amazing Urban Sea.
The daughter of Miswaki won 1993 Prix de l'Arc de Triomphe after being bought as a yearling at Deauville for 280,000 francs (about €42,ooo) by French trainer Jean Lesbordes for owner David Tsui. Her first offspring, a filly, sold for €1.5 million in 1995. That, though, was merely the beginning. Her subsequent offspring included Galileo, Black Sam Bellamy, My Typhoon and Sea The Stars, were all G1 winners. Epsom Derby winners Galileo and Sea The Stars are both currently ranked in the world's top ten sires.