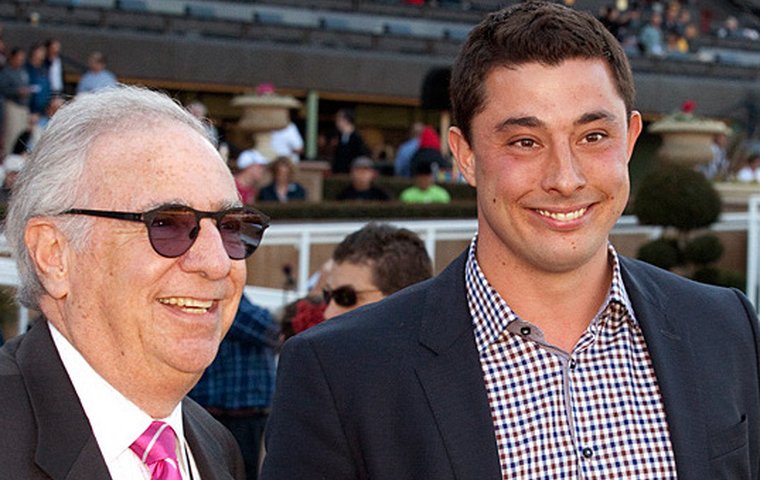 Europe or America? Britain or California? Newmarket or Santa Anita? Which has the best credentials if you want to work as a racehorse trainer? Obviously, there are advantages and disadvantages either way, but one person who has trained in both places and has a definite preference is Englishman Simon Callaghan. And he's firmly on the side of California.

"It's an easier life," he says.
"Life as a trainer here [in California, where he now trains] is quite different to back in England. I had about ten horses when I first came out [in 2010], and was given stalls at Santa Anita. You must have horses of the right quality, and commit to racing here, but once approved there is no rent to pay, no electricity or water bills either. We do, however, have other significant expenses, like workers' compensations, liability and insurance costs."
Coming up against the likes of Bob Baffert, Jerry Hollendorfer and Richard Mandella on a regular basis can't be an easy way to make a living from training Thoroughbreds, but a young trainer's life is possibly more balanced in California than it is in England. Whereas horseboxes and trainers set out from Newmarket and Lambourn yards, day-in day-out, trekking to courses that can be hundreds of miles away, Callaghan and his colleagues in Arcadia enjoy a more relaxed lifestyle.
"We ship horses for big races around America," he says, "but during most weeks I get time to enjoy my life outside of racing, like going to the gym, playing golf and tennis and having a social life. I have bought a house in Pasadena, just five miles from the course and I have no travelling. It's an easier life."
The right thing to move
Callaghan, the son of former Newmarket trainer Neville Callaghan, says it was not a hard decision to move out to California. "It felt the right thing to do. It is very difficult to get top-level horses in England. The top owners are a closed shop.
"U.S. racing is not dominated by a few big players. We have more individually wealthy owners here. It is more spread out, and we also have so many more sales to go to, which makes a big difference. More sales means more chances of actually getting the horses you want.
"If you are prepared to work hard, you can get result. Take the two Ocala breeze-up sales. They have around 600 lots in the first sale and around 1,400 in the second. We have a much better chance than, for example, at the Tattersalls breeze-up, where the top ten lots normally go to the big players. Along with bloodstock agent Ben McIlroy, I put a lot of work into the sales."
Callaghan, who saddles his Kentucky Oaks hope Abel Tasman in the G3 Santa Ysabel Stakes at Santa Anita tomorrow, had his first taste of North American racing via two six-month stints working for Todd Pletcher at Palm Meadows in Florida in 2004 and 2005, when Pletcher won Breeders' Cup events with the filly Ashado and the sprinter Speightstown, both Eclipse Award champions.
Having worked also for Richard Hannon in England, he became assistant trainer to his father and, after two years in that role, he took over the running of Rathmoy Stables in Newmarket. "I trained for two years and we had good seasons with 70 winners," he recalls.
Success with European fillies
The lure of America was probably in the back of his mind throughout this period, though, and after the 2009 season he packed his bags. Rather than heading back to Florida and Palm Meadows, however, he moved to California.
"I noticed how well a lot of European imports did out here," he recalls, "particularly fillies racing on the turf, and to begin with we bought fillies. Coming over from England, it is easy to be labelled as a turf trainer in this part of the world, but focusing on such races is also a good way to get nice winners.
"I brought Dubawi Heights with me and she won the Yellow Ribbon. Actually, she was a filly I had trained at home, and I bought her back for 75,000 guineas at the Tattersalls December Sales. She was a maiden at the time but rated 100 after finishing second in a valuable sales race at Newmarket."
Hanging on to Dubawi Heights was a smart move. Her second in the Tattersalls Timeform Fillies' 800 at Newmarket as a juvenile was solid form. She passed the winning post just over two lengths behind odds-on favourite Lillie Langtry, who took the G1 Coronation Stakes at Royal Ascot the following year and is now best known as the dam of Minding.
Thanks to Firing Line
Dubawi Heights developed into one of the best turf fillies in the U.S., capturing the G1 Gamely Stakes at Hollywood Park and G1 Yellow Ribbon at Santa Anita as a 4-year-old. In between these top-level wins, she ran second to Stacelita in the G1 Beverly D. at Arlington Park.
Callaghan holds a "01 Visa", tailored for immigrants with unique talents. Californian racing needs more horses, and well qualified trainers.
"The horse population is down," he says, "especially after we lost Hollywood Park. I now have around 50 horses, and I'm no longer labelled as a turf trainer only. I think that's much thanks to [2015 Kentucky Derby runner-up] Firing Line. The barn is now 60-40 in favour of dirt runners."
"Horses need to be pretty fit already first time out on dirt," he adds. "Most trainers here generally have them very fit for their debut on dirt, but this is not so important for turf horses."
Firm ground at the Breeders' Cup
Touching on the turf course at Santa Anita leads us to the talk about how firm it was for last year's Breeders' Cup.
"Yes, it was firm," Callaghan says. "Last autumn, it was like a pool table, but it was safe. European horses are not used to it and probably don't let themselves down on it, but we had no more turf-related issues than normal. The course is different now. They re-lay it for the winter/spring meet and it is slower. In the summer they have to put in a type of grass that stands heat, while for winter racing the grass must stand up to rain."
Surface preference 'easy to spot'
Callaghan does not believe in switching horses from one surface to the other. "We tried it but it's very rare that they act on both turf and dirt," he explains. "It's easy to spot what surface they will like and, besides, 95 per cent run to their pedigrees. Very rarely does the pedigree not shine through."
Conditioning turf horses in California does not mean working over the lawn on a daily basis. "Turf horses do most of their training on the dirt," he says. "We are only allowed to breeze them on the turf about once every three weeks. It's a different ball game. Coming here from Newmarket took some adapting."
Callaghan does have big players on his side, however.
He has enjoyed the backing of serious investors like Coolmore and Anthony Ramsden, as well as Arnold Zetcher, who raced the 2014 Santa Anita Oaks winner Fashion Plate in partnership with Michael Tabor and Derrick Smith. The daughter of Old Fashioned was bought for $240,000 at the Keeneland Breeze-Up Sales.
Another filly, Taris, owned by Tabor, Smith and John Magnier, was a top-class sprinter for Callaghan last year, winning the G1 Humana Distaff by almost six lengths at Churchill Downs on Kentucky Derby day.