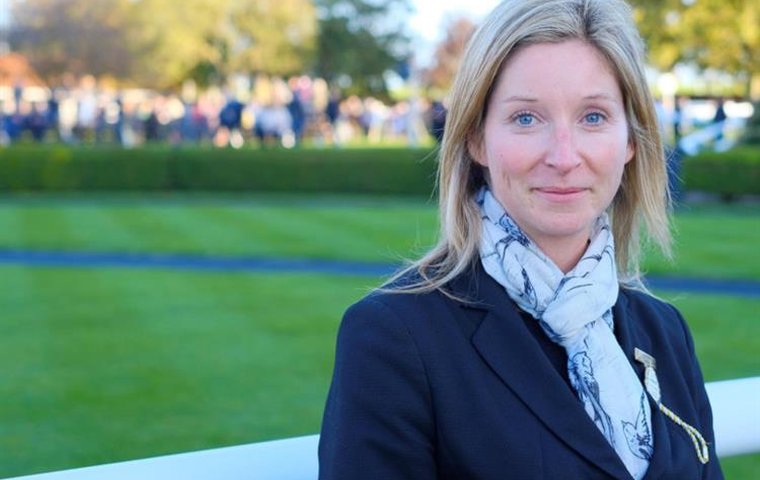 She's already successfully overseen her first Qipco Guineas Festival as the new general manager of Newmarket Racecourses, and now this week Sophie Able faces a challenge of a different kind as the home of British racing stages another of its flagship meetings, the unique Moët & Chandon July Festival.

Able was appointed to the role at the end of the 2017 season, reporting to Jockey Club Racecourses East regional director Amy Starkey, after five years as regional head of sales and previously four years as MD at Huntingdon Racecourse. Here, in this Q&A interview with George Dudley, she explains what is so special about the three-day July Festival, which starts on Thursday.

GD: As manager of Newmarket Racecourses, your remit covers the Rowley Mile and the Adnams July Course. Can you explain the fundamental difference between the two venues?
SA: There are a number of differences between the Rowley Mile and the Adnams July Course, both from a racing perspective and a customer experience perspective. The Rowley Mile, which we use for racing in the spring and the autumn, has a larger parade ring and grandstands, while the track is famously undulating and provides a true test for the Thoroughbred.
The Adnams July Course is very fitting for our summer season's racing, and while the parade ring and winner's enclosure are smaller in size, the thatched buildings and trees provide a cosy, garden-like atmosphere. The track, while not as obviously undulating as the Rowley Mile, still provides a fairly stiff uphill finish that can produce some thrilling finishes.
Both venues have a range of fantastic experiences for racegoers, including world-class hospitality and fine dining; a range of race viewing options and facilities for families and children to relax and have fun.
Off the track there is a particularly relaxed feel. How is that reflected in your media and commercial activations?
We are very lucky at Newmarket Racecourses to have such a picturesque venue at the Adnams July Course, and we endeavour to show off our surroundings whenever we are engaging with the media and our varied customer base. We have worked with a number of commercial partners to assist with filming and photoshoots at the course, and we are constantly receiving requests to film at the course due to its wonderful scenery and atmosphere, which we do our best to accommodate where we can.
The garden-like setting lends itself well to promoting our summer events, from our family-friendly Summer Saturdays to our Newmarket Nights, where some of the best music acts in the world play to the crowd after an evening's racing. Where the Moët & Chandon July Festival is concerned, racegoers have the opportunity to dress up in a less formal setting.
Each year we hold our Style Awards, which are sponsored by The Spa at Bedford Lodge Hotel [nearby], and racegoers have the opportunity to win thousands and pounds worth of fantastic prizes. The relaxed style of the July Festival contrasts well with the formalities of Royal Ascot just three weeks' prior.
What are the on-course highlights of the three-day festival?
The racing action is world-class over all three days, with Group-class races taking place each day, culminating in the Darley July Cup, one of the best sprint races in the world.
Thursday's highlight is the Princess of Wales's Arqana Racing Club Stakes, our flagship middle-distance race, which has been won by some great horses over the years, including Ascot Gold Cup winner Big Orange in 2015 and 2016, and further back in time it was won by Carroll House in 1989. He went on to win the Prix de L'Arc de Triomphe later that year.
Friday's highlight is the Tattersalls Falmouth Stakes, a one-mile Group 1 race for fillies and mares, which is a leg of the QIPCO British Champions Series. Some of the best fillies in the world have graced our turf to win this race – in the 80s we had Al Bahathri and Sonic Lady and, memorably, Soviet Song won the race in two consecutive years in 2004 and 2005 before champion mare Goldikova was successful in 2009.
Of course, Saturday is all about the Darley July Cup, which in 2017 was again rated as Europe's top sprint (jointly with the Nunthorpe at York and the British Champions Sprint at Ascot).
This year's renewal is set to be another great race, with at this stage the prospect of all the winners of the Group 1 sprints at Royal Ascot set to take each other on. It's also the first opportunity the 3-year-old sprinters have to take on their older counterparts, so it's a spectacle that's really not to be missed.
Even beyond the Group races, we have top-class handicaps on offer, including the bet365 Bunbury Cup on Saturday, which is one of Britain's Heritage Handicaps and is always a competitive race.
Saturday's July Cup is one of Britain's most valuable and prestigious sprint races and has seen many great horses take the title - such as Oasis Dream, Royal Academy and Right Boy – but which performance in the race's history stands out for you?
One running of the July Cup stands out for me and that's Dream Ahead in 2011.
It's easy to forget that, as a 2-year-old, he was rated the equal of Frankel before they diverged in their 3-year-old careers, when Dream Ahead found his niche over shorter distances. Once he found a gap in the final furlong, he responded readily to beat Bated Breath by a half a length – he showed a fantastic turn of foot. It was also a historic moment as he provided Hayley Turner with her first Group 1 victory, which meant she was the first woman to ride an outright winner of a Group 1 in Britain.
Which horse are you most looking forward to seeing this year?
I'm really looking forward to the return of Enable, who has yet to be seen this year due to a minor setback in the spring. She was an outstanding filly last year and we were all thrilled to hear she'd been kept in training as a 4-year-old, so we hope she's fit and ready to take in a race or two before defending her Arc crown.
The next generation of sports fans are perceived to be more receptive to social media than more traditional methods of communication and publicity. What are you doing to entice new fans to Newmarket Racecourses?
For racing to continue to thrive, it's crucial that we constantly find new and exciting ways to engage with a broad customer demographic. Inspiring the next generation of racegoers is at the forefront of our minds in everything that we do, and we strive to keep up with the fast-changing nature of modern communications. So much has changed in the last 10-15 years.
We have a very strong digital presence at Newmarket Racecourses and a dedicated digital team who run all our social media accounts, keeping customers up to date with news, events and offers, and responding to any queries they may have. We also produce a range of exciting content that can be accessed in a number of ways that fit in with modern lifestyles.
We also work hard to actively engage children in racing. Newmarket Racecourses is a proud partner of the Godolphin Under Starters Orders programme, which is run by Racing To School and provides interactive learning and behind-the-scenes experiences of the racing industry for local primary schoolchildren.
Initiatives such as this are a fantastic way to inspire young children. In addition, we hold a number of themed Summer Saturday meetings between June and August that provide children's entertainment and opportunities to learn about racing in a fun and stimulating way.
What in your opinion is unique about the Moët & Chandon July Festival?
There is nothing quite like the Moët & Chandon July Festival anywhere in the racing world. What it does best is combine a relaxed and fashionable atmosphere with world-class racing in a unique garden setting.
There is no other racecourse in the world like the Adnams July Course, and racegoers can get right up closer to the heart of the action. And don't forget, all this is taking place at the home of horseracing, with all the history and heritage that goes with it.
I consider myself very lucky to be able to work here, and I'm tremendously excited about this year's festival.