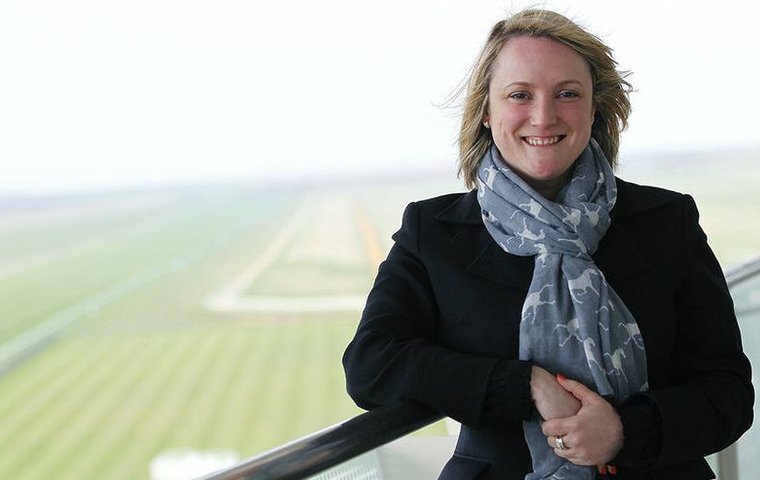 For decades immemorial, Britain's racecourses were largely run by dependable, ex-Army officers in the twilight of their professional careers. They were solid citizens, albeit a little too long in the tooth to reinvent themselves.

Since the turn of the millennium, however, a new wave of younger racecourse personnel has come to the fore. None has made as big an impression as Amy Starkey, whose talismanic role as managing director of Newmarket is part of a wider remit as director of Jockey Club Racecourses' East Region.
Newmarket's two racecourses are among 15 owned by the Jockey Club. Starkey was installed as managing director when she was 30 years old.
Now 36, Starkey was recently given a broader remit within the Club's East Region, which also includes Huntingdon, Market Rasen and Nottingham racecourses. Sophie Able's appointment as Newmarket's general manager, reporting directly to Starkey, will allow Starkey more time to devote to the group.
Endorsement
"It's about the strategic development of East Region," Starkey says. "I'll also be involved with potential projects like the Rowley Mile redevelopment, which for me would be a real game-changer, and the possible introduction of all-weather racing."
Starkey's increased prominence within East Region is one more endorsement of a woman who became Britain's youngest racecourse boss in 2006 when, aged 24, she was appointed managing director of Huntingdon. Later that year she had a private audience with the Queen when Buckingham Palace bestowed her with its Achiever of the Year accolade.
For all that, Newmarket will remain Starkey's primary focus. She has just completed her sixth year at the self-styled 'Home of British Racing', and progress is tangible.
Although Newmarket flaunts a prestige racing programme that cedes only to Ascot, the Rowley Mile racecourse was not seen as racegoer-friendly by the wider public. Occasional visitors often left with the impression they had intruded on a private gathering to which they were not welcome. Slowly but surely, Starkey and her team opened their arms in metaphorical embrace. Attendances are on the rise.
"The biggest gains have come at the July Festival," Starkey says of the three-day fixture that culminates with the G1 Darley July Cup. "When I started at Newmarket, there was a lot of debate about whether the meeting was well positioned [it morphed from a weekday fixture to one that now concludes on Saturday], but the growth in attendance speaks for itself."
Indeed, total attendance over the three days has advanced by 28 per cent on 2012, when Starkey oversaw the fixture for the first time. A double-digit percentage increase would also have been posted for attendance at Newmarket's other flagship gathering, the two-day Qipco Guineas Festival in May, but for a quirk in the calendar.
Frustrating
Sunday's 1000 Guineas is usually followed by a Bank Holiday Monday, which encourages people to go racing. Not this year. The consequence was a drop in attendance of nearly 25 per cent on the previous year.
"The last time there was no Bank Holiday after the 1000 Guineas was in 2006, when attendance fell by 42 per cent," Starkey says. "It's very frustrating, but that's the historical pattern.
"This year we had a record crowd [19,412] for the 2000 Guineas on Saturday, which was all but sold out. The plan next year is to maintain Saturday while having a massive focus on Sunday in terms of driving admission. We're looking carefully at our pricing structures; people will be able to enjoy the 1000 Guineas for as little as £15."
Attracting paying racegoers is one of the biggest challenges facing racecourse operators. Competition for leisure spend is fierce, while the sport's traditional format of starting one race every half-hour is not commensurate with the 'instant action' demands of contemporary youth.
Starkey's relative youth has helped her formulate her strategy accordingly. She was certainly bold enough when running Kempton Park, another Jockey Club racecourse. In 2009 she choreographed the first 'race to music', in which runners pelted down the all-weather track to strains of the Royal Philharmonic Orchestra.
She also organised a 'man versus horse' contest as part of her drive to return crowds to a venue that had been closed for 18 months. Needless to say, there have been no such overtures at Newmarket, traditionally the domain of racing's establishment.
"Each racecourse has its own challenges and opportunities," Starkey says. "You have to understand those concepts and play to those strengths. I have worked at seven different racecourses, all of them different, but I have applied the same formula to each one."
The biggest challenge
"The commitment and capability of the team around you is paramount. You create a vision and think about what you need to do to achieve that vision. But, to achieve that, every single member of your team has to understand the role they play. Strong teams are what make the difference."
The resolution of Starkey's team was tested by the advent of Champions Day, which saw some of Newmarket's totemic races transferred to Ascot in 2011. Having lost the Champion Stakes, Newmarket was left to construct a 'future champions' concept around its established 2-year-old races. It was a difficult time.
"It was the biggest challenge I faced when I came to Newmarket," Starkey reflects. "It was a steep learning curve. I wasn't well versed on the workings of the European Pattern Committee when I wrote my first report on the autumn programme. I must have made 100 iterations to get it where it needed to be."
Criticism of Newmarket's new autumn programme was vocal, particularly when the Middle Park Stakes and Dewhurst Stakes, both G1 races for 2-year-olds, were run on the same day. Formats were tried and discarded, sometimes after just one year, yet few appreciated how Newmarket's hands were tied by the Pattern Committee's numerous checks and measures. The canvas was anything but blank.
Logical program
Five years on and Newmarket's Future Champions Festival has found its niche. The turning point was France's decision to increase the distance of the Jean-Luc Lagardere, run on Arc day, from seven furlongs to a mile. This freed the seven-furlong Dewhurst Stakes from its calendar shackles; it is now the centrepiece of a two-day festival in early October.
Despite the impositions it made, Starkey is a firm supporter of the Pattern. "All racecourses should have respect for the Pattern," she says. "It is part of racing's history.
"So when people said, 'What is Newmarket doing?', we were actually working with all the relevant parties to maintain the Pattern and ensure it performs to best effect. We now have a logical program and the stability to build on it."
After several turbulent years, Newmarket can contemplate the future with a sense of optimism. As a venue, the vast space of the Rowley Mile retains significant scope, especially with the rapid development of neighbouring Cambridge as a fast-growing city.
Starkey, for her part, has contrived a happy professional marriage. "In simple terms, the business side of it is about maximising income and controlling costs to deliver the best possible profit," she says.
"With Jockey Club Racecourses, that profit is reinvested back into prize money and our facilities. That's why I enjoy working for Jockey Club Racecourses. I am supporting the sport I love so much."