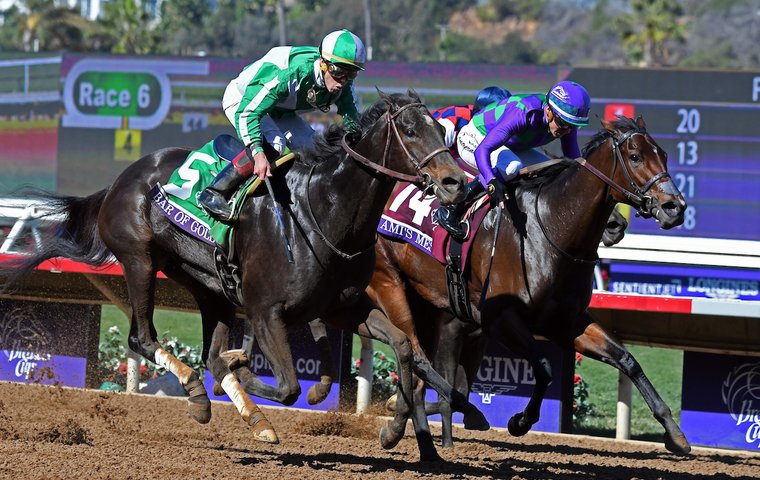 Of the 159 horses that raced in the Breeders' Cup World Championships at Del Mar last month, only three were trained by women. Their best effort came via Ami's Mesa, second by a nose in the Filly and Mare Sprint and overlooked at 18-1 despite coming off a win in the rich Presque Isle Masters. But trainer Josie Carroll didn't spend any time worrying about her own gender in a male-dominated sport, in part because she knew she had a top-class horse, and also because she's been winning major races for years.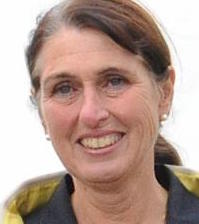 Carroll (pictured), who is based at Woodbine Racetrack, the international racing centre outside Toronto, is the third highest ranked female in the world trainers' rankings at #101 - the only ones ahead of her are Aussies Gai Waterhouse (at #20 in partnership with Adrian Bott) and Alana Williams (in partnership with husband Grant at #75).
Women trainers do historically well at Woodbine, taking eight of the top 50 spots by purse earnings this year. And in the world rankings, Carroll is the top-ranked trainer with Canada as their Modal Country (the country where they have had their most representatives in Graded races).
"I have never really concentrated on the gender aspect at all," Carroll said. "We just continue to prove ourselves as trainers and get horses to that big stage."
Ami's Mesa, a contender for this year's Canadian Horse of the Year, is the latest standout runner from the Carroll outfit, but hardly the first.
Carroll began her career in 1975, working under Canadian Hall of Fame trainer Mac Benson at the famed Windfields Farm. After spending some time in the United States, she returned to Canada to visit family. Active trainer Mike Doyle, who had known Carroll many years, suggested she "walk hots or something. So she did. I knew that if I got her in, she would stay," Doyle said. "That advanced into many years of work."
Carroll expanded her résumé as Doyle's assistant for several years. "She was very hard working, very conscientious, and quick to learn," Doyle recalled. "Then I quit training for three years and half put it in her head that she should train for herself."
Bolstered with a roster that included some former Doyle trainees, Carroll went out on her own in 1994. The following year, Tethra won three stakes for Carroll, and by 2001 the trainer had taken her success on the road, finishing both first and second in a stakes race at the Fair Grounds in Louisiana.
With only her second starter, Carroll became the first woman to win the esteemed Queen's Plate, when 16-1 shot Edenwold surprised in the $1 million event in 2006 for owners James and Alice Sapara. The moment was one of the highlights of Carroll's life. "Those owners launched my career," she said. "That was a significant win."
Most popular runner
Since then, Carroll has added another Queen's Plate with the filly Inglorious, who won in 2011. That runner had already won the Woodbine Oaks, and ultimately retired with $1.4 million in earnings.
Perhaps Carroll's most popular runner was Careless Jewel. The fleet, white-gray daughter of Tapit steamrolled through a maiden and allowance race at Woodbine before heading to the States as a sophomore. She won the G2 Delaware Oaks by 7¼ lengths, then gave Carroll her first G1 victory in the $600,000 Alabama Stakes at Saratoga. After winning the G2 Cotillion Stakes, Careless Jewel went off favored in the Breeders' Cup Ladies Classic but bolted to a nine-length lead early and faded around the far turn. She was another to earn more than $1 million.
Since then, Carroll has saddled a parade of top performers, including Sovereign Award winners Serenading and Leigh Court, Gulfstream Park G1 winner Luke's Alley, and Prince of Wales hero Ami's Gizmo, a six-time stakes winner who returned to training this fall.
Carroll credits her owners as the driving force behind her success. "I've been really fortunate over the years with the number of great clients I've had," she said. "I have a patient philosophy, and owners appreciate that we put the horse first. And some of our tremendous success comes from the fact that I have some employees that have worked for me since I started, and many have worked for me for ten years. Whenever you have a team like that, you can concentrate on other things and not worry."
Arguably the most renowned partnership at Woodbine right now is Carroll and owner Ivan Dalos, who breeds under the moniker Tall Oaks Farm. "I think she's wonderful, great, and really caring," Dalos said of his trainer. "She's a nice lady to work with."
They teamed up with Ami's Mesa, a half sister to another stakes winner they had, Ami's Holiday. After winning her first two starts as a juvenile in 2015, Ami's Mesa returned this year with four wins in five starts. She took the G3 Ontario Matron Stakes, routing on Woodbine's synthetic surface, then cut back in distance to take the G3 Seaway Stakes by 6¼ lengths. She set a new track record in the $400,000 G2 Presque Isle Masters Stakes, defeating New York shipper Bar Of Gold.
Those two slugged it out in the lane of the Breeders' Cup Filly and Mare Sprint, with Bar of Gold rallying to win by a nose. Ami's Mesa had the wider trip, breaking from the outside, post 14. "You can always be disappointed if you lose a race," Dalos said. "If it weren't for that lousy post …"
Ami's Mesa has been turned out in Florida, and will race again in 2018.
Until then, Carroll – who has over 750 wins and $42 million in career purse earnings - will continue to train without worrying about any preconceived notions about her gender. "We are fortunate that in Canada there isn't a whole lot of bias," she said. "Your success up here, and ability to attract owners, is based on results over gender. If you can get results, the owners will want you."