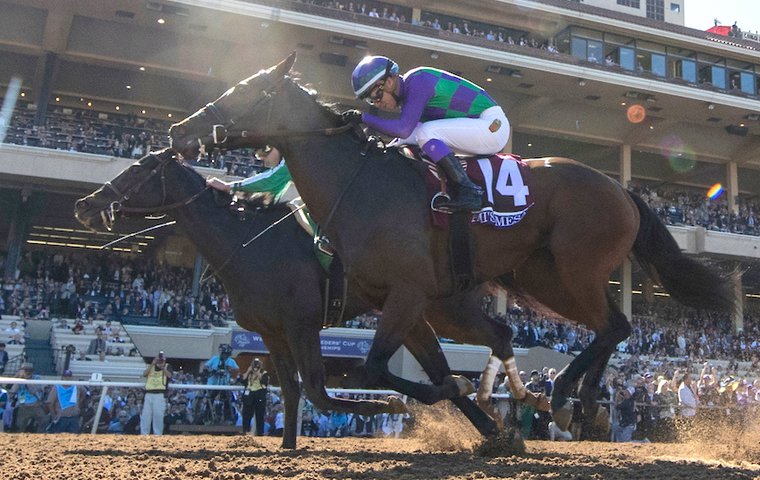 One has an unprecedented seven-race stakes streak, the other missed by a nose at the Breeders' Cup. Both are leading contenders to be Canada's Sovereign Award Horse of the Year, an honor that is often torn between horses that perform well at home all year, versus those that go on the road to the United States.

In all, five horses have a chance to earn the title this year, with the chief two being the gelding Pink Lloyd and the filly Ami's Mesa.
To be under consideration for a Sovereign Award, a horse must have made at least three starts in Canada, or two in the case of a juvenile. In 2015, 2-year-old filly Catch A Glimpse was named Horse of the Year over local heroine Academic. While Academic's four wins included the prestigious Woodbine Oaks and the G3 Canadian Derby over males, Catch A Glimpse won the Breeders' Cup Juvenile Fillies Turf.
A victory in a race of that stature in the United States earned her the nod over the local horse.
Unprecedented streak
But in 2016, four-time stakes-winning filly Caren was given the award over Breaking Lucky, who ran well in Graded stakes at Keeneland, Saratoga, and Churchill Downs. Because of his lack of wins, Breaking Lucky ended up without any Sovereigns in favor of horses that won regularly in Canada. Depending on the year, voters can favor either type of performer.
"Voters will agonize over the Horse of the Year voting this year," said Keith McCalmont, Manager of Communications at Woodbine Racetrack outside Toronto. "Pink Lloyd has a chance to run the table with eight wins, all in stakes, including a Grade 3 and a Grade 2 triumph should he return to take the Kennedy Road [at Woodbine this Saturday] and complete a perfect season. His stakes win streak is unprecedented at Woodbine."
Pink Lloyd, a 5-year-old Ontario-bred gelding, did not debut until last year, but he won his first three starts. This year, he won the Jacques Cartier Stakes on Woodbine's opening day, April 15, and has gone on to win seven stakes in a row. The only knock against his record is that Pink Lloyd has only faced Graded company once, in the G3 Vigil Stakes in July. He will look to add his second graded win in Saturday's G2 Kennedy Road Stakes, a race that could seal his Horse of the Year bid.
The streak means even more when considering the adversity Pink Lloyd overcame this year. Trainer Bob Tiller said, "To get any horse to win seven stakes in a row is awfully difficult, and he has stayed good through all seasons: cold spring, hot summer, and now it's back to cold. All horses have their little issues, and he's had them and survived."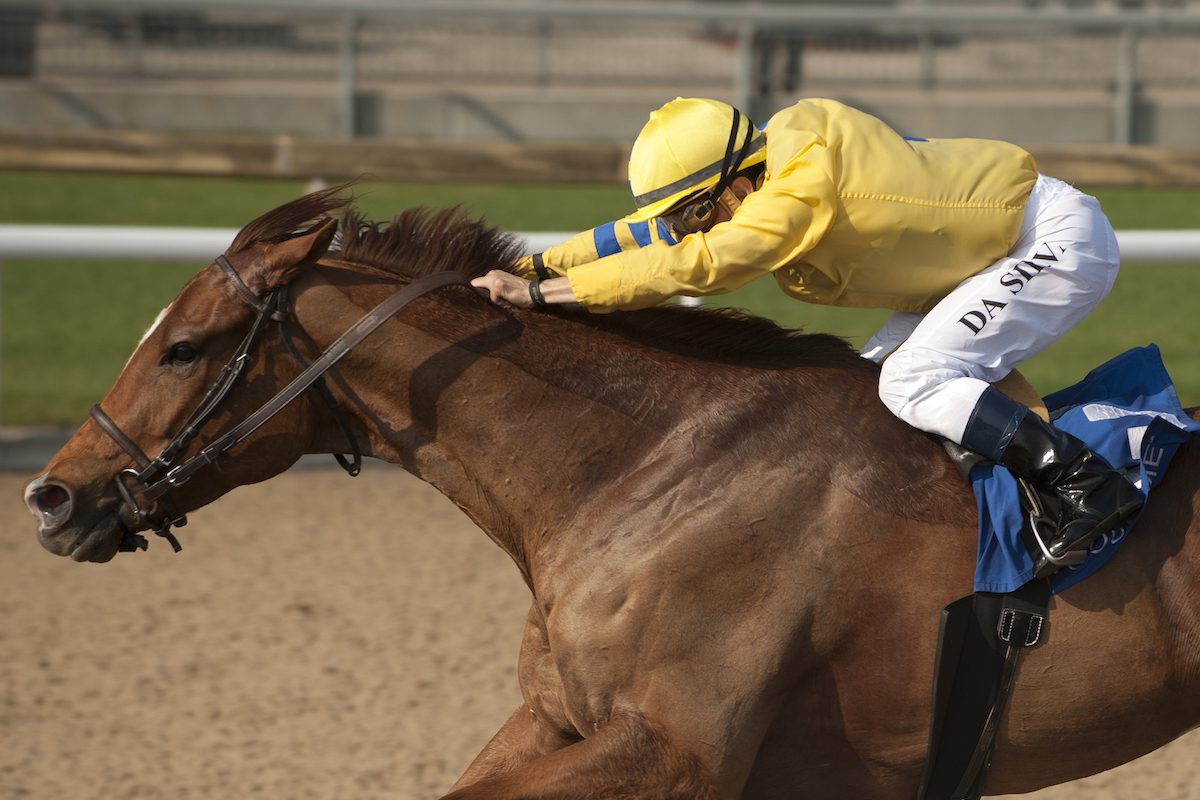 Tiller noted that Pink Lloyd broke through the gate prior to the start of the Achievement Stakes, which he won by 5¼ lengths. "He missed ten days of training after that one. How many horses break through and go on to win like he did?"
Then, during the Kenora Stakes in August, Pink Lloyd tore open a quarter and lost his right front shoe. He still held on to win by threequarters of a length.
"He's overcome everything with a lot of heart and desire," Tiller said. "He's my champion, that's all I can say."
Frank Di Giulio, who heads the Entourage Stable partnership that owns Pink Lloyd, added, "I'm not going to belittle other horses, but there are no records of any horse doing what he has. If a horse stays at the top of his game and does something that no-one else can remember, that makes him Horse of the Year."
'Up against the best in the world'
Pink Lloyd's competition is the versatile Ami's Mesa, a four-year-old filly who won four of five starts in 2017, sprinting and routing on both dirt and synthetic tracks. Ami's Mesa won a pair of G3s at Woodbine before hitting the road, winning the $400,000 G2 Presque Isle Masters in Pennsylvania before the Breeders' Cup, where she missed by just a nose at 18-1.
"Ami's Mesa has three Graded wins, including a Grade 2 win at Presque Isle, in what turned out to be the key race in the North American division when a length better than Bar of Gold," McCalmont said. "And, while Bar of Gold nosed out her rival in the return bout at the Grade 1 Breeders' Cup Filly and Mare Sprint at Del Mar, the tenacity shown by Ami's Mesa in that race will resonate with many voters."
Ami's Mesa has been turned out in Florida and will not race again this year. Trainer Josie Carroll said, "Pink Lloyd has been a tremendous horse here, but Ami's Mesa went up against the best of the world. It would be a great honor if she could win Horse of the Year."
Owner Ivan Dalos simply noted, "I'd like to think she's done enough to be Horse of the Year, but I don't have a vote and it's out of my hands."
The other contenders
The only horses that could upset the voting are Melmich, Gigantic Breeze, and Holy Helena.
After winning his first five starts of the season, Melmich looked to be on track to receive his own share of Horse of the Year nods, but he lost the Autumn Stakes on November 12 by a length after a five-wide trip. He will have one more chance to redeem himself, in the December 10 G3 Valedictory Stakes. The horse who defeated him last out, Gigantic Breeze, could draw his own share of support.
Since being gelded, Gigantic Breeze has become a standout. He won three straight allowance races to start the season, then finished behind Melmich twice. "He beat us twice, so we tried to get away from him," trainer Sandy McPherson said. Gigantic Breeze responded by winning the $200,000 Presque Isle Mile in Pennsylvania by four lengths, then turned that tables on Melmich next out. "There are pros and cons to voting for either of them," McPherson said. "But my horse has come a long way and I'm delighted."
The last horse in the debate is Holy Helena, a filly that won both the Woodbine Oaks and the $1 million Queen's Plate over colts this year. She finished last in Saratoga's G1 Alabama Stakes but returned to Canada to finish second against males in the G3 Ontario Derby. That effort made her eligible for a Sovereign by being her third start in the country. In 2014, Queen's Plate-winning filly Lexie Lou was named Horse of the Year.
Several voters weighed in with their thoughts on the debate. John Siscos, Woodbine's Director of Communications, said, "Ami's Mesa will get a lot of credit for her Breeders' Cup effort, but the voting is generally based on accomplishment at Woodbine. Pink Lloyd will get a ton of support - as he should - because of his consistency at high levels around here."
The Daily Racing Form's writers Ron Gierkink and Alex Campbell have different views.
Gierkink said, "Last year, I thought Breaking Lucky was a standout for Horse of the Year off a second to Gun Runner in a Grade 1 and neck loss [when fourth] in another Grade 1, but many were turned off by him winning just one race, which was a good one locally. He was unquestionably a much better runner than Caren, who won a bunch of restricted races and bombed at Churchill Downs at the end of the year.
"This year, I'll side with Pink Lloyd if he runs the table and wins the Kennedy Road to go unbeaten on the year. His speed figures are higher than Ami's Mesa, but I might vote for her if he doesn't win out."
'It will show how voters weigh restricted races'
Campbell said, "I try to evaluate the full campaign as best as I can, and, while the location of those races certainly has an impact in the class discussion, I think a horse with a very strong Canadian campaign can defeat a horse that has a couple of good starts in the United States. I think the Queen's Plate does have a big emphasis for voters, but for me, I'm also evaluating the campaign as a whole.
"In another year, I think Holy Helena would have a strong chance at Canadian Horse of the Year based on the Woodbine Oaks - Queen's Plate double. This year's main contenders to me are Pink Lloyd, Melmich and Ami's Mesa, and I think the result of the vote is really going to show how voters weigh restricted races versus open company, and the strength of a good Breeders' Cup result."
Tom Cosgrove, a senior official and Woodbine historian, said, "Assuming that Pink Lloyd actually wins [or] runs very well in the Kennedy Road, it will greatly boost his status in my mind. While his race consecutive win streak is certainly impressive and to be admired … doubly-restricted races are exactly that."
Writer Jennifer Morrison, who works for the Toronto Star among others, summed up the debate: "A Horse of the Year, in my opinion, is a horse that dominated his or her division throughout the season in Canada with any good efforts other than on the home track being an added bonus. In the end, dominance by a horse in a division is what I look for. Hopefully this year, for Horse of the Year, and all categories, voters will take their time and try to make solid decisions."