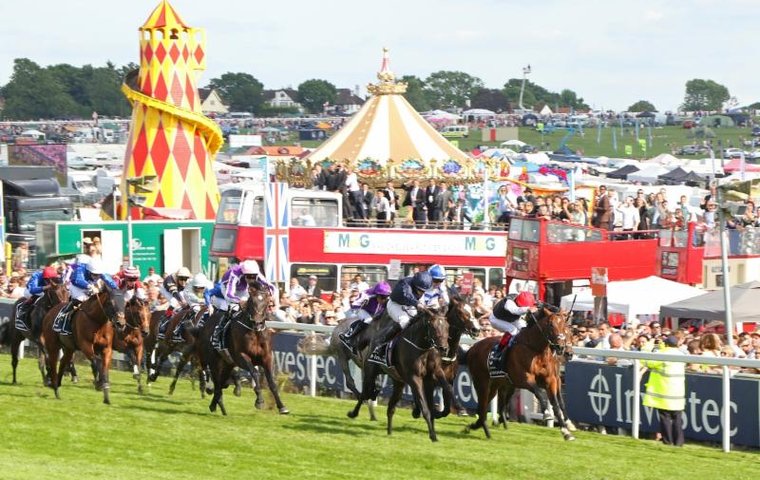 Tomorrow's Investec Derby will be the subject of unprecedented media attention in Japan, thanks to the participation of hot favourite Saxon Warrior, whose sire is the Japanese legend, Deep Impact.

Deep Impact is a former champion racehorse in Japan, who won seven G1s, including the Triple Crown. He stands at Shadai Stallion Station in Japan, where he commands a fee of ¥40m (around £275,000), making him the second most expensive stallion in the world.
Racecourse Media Group (RMG), the UK-based media rights organisation that produces and distributes top-class racing around the world, and Jockey Club Racecourses (JCR), owners of Epsom Downs Racecourse, have facilitated widespread coverage in Japan, where Deep Impact has a mammoth following.
The Investec Derby itself will be shown live for the first time on Japan's specialist horseracing channel, the Green Channel, while Saxon Warrior's performance will be the focus of Sunday's edition of Good Morning Japan, broadcast on NHK (Nippon Hoso Kyokai - Japan Broadcasting Corporation).
Japan's only public broadcaster is also filming at Epsom this weekend. The programme regularly attracts an estimated 10 million viewers and, should Saxon Warrior win, the story will also be run on NHK's news bulletins.
Fuji TV, the leading commercial broadcaster in Japan, will be airing a one-hour documentary dedicated to Saxon Warrior's bid for victory in Britain's richest race, which is expected to be viewed by a 6-8 million audience. The documentary team have been based in the UK and Ireland over the last month and have captured footage at Newmarket and Ballydoyle, the base of Aidan O'Brien, trainer of Saxon Warrior.
A number of other Japanese broadcasters are on standby to access the Investec Derby footage should Saxon Warrior triumph.
Stephen Wallis, the Jockey Club Group's International Director, said: "Saxon Warrior's participation in the Investec Derby has triggered an explosion of media coverage in Japan. The interest is a result of the Japanese's high regard for the tradition and heritage associated with the race, blended with their fanaticism for Saxon Warrior's sire, Deep Impact.
"The Japan Racing Association has been a huge help in facilitating the media coverage in Japan, which will result in around 20 million viewers there being able to follow the story of Saxon Warrior's bid for Investec Derby glory."
Two-hour TV slot in the U.S.
The £1.5-million race has attracted other leading broadcasters from around the world, including NBC Sports in the U.S., which will be broadcasting a live two-hour programme.
European broadcasters taking live coverage include ITV, Racing UK (UK), TV3 (Ireland), National Sports Channel (Russia), Equidia Racing (France), Unire (Italy), TV Maritim Norge AS (Scandinavia) and TVP (Poland).
Live coverage will also be provided by broadcasters from further afield, including Canadian Broadcasting Corporation (Canada), SuperSport (South Africa and Sub-Saharan Africa), Tellytrack (South Africa), Racing.com and Sky Racing Thoroughbred Channel (Australia), NZ Trackside (New Zealand), SportsMax (Caribbean) and Eleven Sports (Singapore).
The MENA (Middle East and North Africa) region will be served by live pictures from Dubai Racing Channel, while Yas TV will also be broadcasting a dedicated Derby programme in Abu Dhabi.
Delayed coverage will be widely available to news outlets across the world via the sports news video agency SNTV, while Trans World Sport, the leading global sports magazine programme, affords the fixture added exposure.
CNN is covering the race for its World Sport and Winning Post programmes, while Sina Sports will also be promoting the raceday in China.