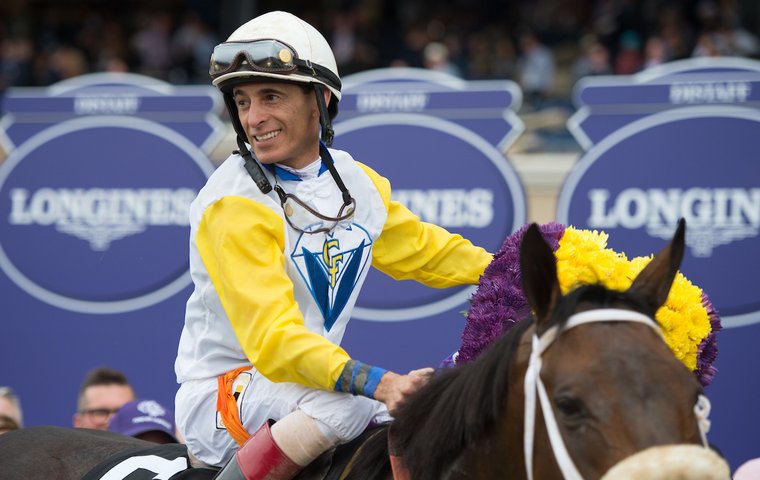 When an athlete is compared with both Tom Brady and Derek Jeter it usually fits quite neatly into the realm of hyperbole. Except if you're talking about John Velazquez.

In that case, all you have to do is ask prominent members of the horse racing industry about him. In response, you will hear unbridled respect for the talents and character of a Hall of Fame jockey closer to 50 than 40 who has seemingly discovered the long-lost Fountain of Youth.
"You see [New England Patriots quarterback] Tom Brady winning a Super Bowl at 39. [Cleveland Cavaliers star] LeBron James is in the [National Basketball Association] for 15 years and he's still the best player in the league. Johnny Velazquez is just like them," said owner Mike Repole, who has used Velazquez as his No. 1 rider since entering the sport in 2009.
"He's battling down the stretch with jockeys half his age and he's out-riding guys that could be his kids. It's as much to fun to watch him now as it was ten years ago."
Success can often breed criticism, yet Velazquez stands as that rare individual who can command respect across the board from those riders, both young and old, who compete against him on a daily basis. They fully understand why he was voted into the Hall of Fame in 2012 and has won 5,853 races (through Jan. 14) in his illustrious career and commands enough respect to finish tenth in a recent TRC industry poll to find the top ten jockeys from 1967-2017.
Friend and leader
"We call Johnny 'The Captain'. He's like [former Yankees star and team captain] Derek Jeter. Whatever he says is what we'll do. There's such respect for him. He's our leader," said 24-year-old Jose Ortiz, who led all jockeys in earnings last year and views Velazquez as a mentor and friend. "He's a great friend and he'll help anyone he can. He has helped me with so many things at the racetrack and even more things in life in general."
Ortiz says all the respect he has for Velazquez is matched only by the way he marvels at what the four-time leading jockey in New York (2001-04) continues to accomplish at an advanced age for a rider and the character and the concern for others that personifies the veteran jockey.
"I'm a huge Mets fan and no matter how much you hated the Yankees, you could never hate Derek Jeter," Repole said. "He did everything right. It's the same way with Johnny. As much as Johnny might beat these young jockeys, when he wins there's just mad respect for him because of the person he is."
Though Velazquez was not a finalist for an Eclipse Award, 2017 was one of the better years in a career that started in the United States in 1990 and has seen him become the sport's all-time leading money-winner with mind-boggling career earnings of $378,285,468. And he's still high in the world jockeys' rankings.
In May, he won the Kentucky Derby with Always Dreaming, posting his second win in the Run for the Roses and the first with Todd Pletcher, the trainer who has been synonymous with Velazquez for the last two decades.
"Watching the Derby, other than winning a race myself, that was the happiest I felt while watching a race," Repole said. "To see Johnny and Todd win the Derby was awesome. It was the last piece in their puzzle."
In November, Velazquez won a pair of Breeders' Cup races - the BC Distaff with Forever Unbridled and the BC Mile with World Approval – to give him 15 wins at the World Championships, tying him for second with Jerry Bailey for the second-highest total in series history.
Modesty
He finished 2017 with five other G1 wins and a total of 25 Graded stakes victories. All told, he rode in 906 races, winning 206 of them and earning $20,780,733, the fourth-highest total among all jockeys.
And he did all of that in a year when he turned 46.
Yes, 46, a time when some jockeys close to him in age might ride one race to Velazquez's three and others are pondering retirement.
Yet, at the present time, it seems as if Velazquez is faring as well in his race against Father Time as he has been in his daily battles on the racetrack in his home base of New York against a crew of the nation's best jockeys.
Velazquez might modestly play down all that, saying, "I was very blessed that I had a great year. I had a lot of opportunities to ride some great horses and was fortunate to ride such good horses at this stage in my career. Staying healthy is the most important thing. I eat right. I drink very little. I don't smoke and getting the opportunity to ride good horses encourages you do to all of that."
Yet others, especially those who have shared so much of his success with him, have a better understanding of what he accomplished.
"The way Johnny is riding now would be impressive at any age, but to do it at 46 is incredible," said Pletcher, who, like his longtime No. 1 rider, is the sport's all-time leader in earnings. "I thought he might be slowing down by now, but he's as good as ever. He's still riding at the highest level, which is something that is really special. What he has accomplished for so many years puts him among the sport's all-time best riders and yet he still gets better and better and smarter and smarter with each year."
Most satisfying moment
As stellar as 2017 might have been, Velazquez can quickly relate his most enjoyable and satisfying moment. As momentous as a Kentucky Derby victory can be for any jockey, what made the win aboard Always Dreaming even more special for Velazquez was teaming with Pletcher to add an exclamation point to what stands as perhaps the most successful partnership of a trainer and jockey in U.S. history.
"There's no secret the Derby was the highlight of my year. The Derby is the race everyone in the sport and outside the sport talks about. I had won it before (with Animal Kingdom in 2011), but to do it with Todd brought everything we have done together full circle," said Velazquez, who teamed with Pletcher to win the 2007 Belmont Stakes with the filly Rags To Riches.
"We have been together for so long and have won so many big races together. We're a great team. We each have great confidence in the other and that comes from being together for so long and having so much trust in each other."
Stability and continuity are hallmarks of success in any part of life and they have catapulted Velazquez to the very top of his profession and explain achievements like a record total of 904 wins at Saratoga.
The stability comes from his family life. His wife, Leona, is the daughter of trainer Leo O'Brien, a former steeplechase rider. She understands the pressures placed on a racing family and together she and her husband have built a strong and supportive family with their two children, Lerina and Michael Patrick, and numerous relatives who are involved in the racing industry.
"John is a great husband and son-in-law," Leo O'Brien said. "You couldn't ask for a better family man. He cares so very much for everyone."
The continuity began after Velazquez came to the United States in March 1990 from his homeland of Puerto Rico as a promising 19-year-old rider and was taken under wing by Hall of Fame jockey Angel Cordero Jr.
The bond with Cordero
Cordero was in the twilight of his career and he quickly became a mentor to the young rider, turning his home into Velazquez's home. As fate would have it, Velazquez was also injured in the Jan. 1992 four-horse spill that ultimately ended Cordero's career.
Cordero embarked on a career as a trainer later in 1992 but met with limited success and then became Velazquez's agent six years later in what would become a fabulously successful partnership.
"God blessed Johnny with so much talent and energy. People say they want to get better every year but only Johnny and a select group jockeys can do that every year over 20 years," said Cordero, who finished third in the TRC poll of the best jockeys from 1967-2017. "Talent-wise he's as good as Eddie Arcaro or Laffit Pincay Jr. or Jorge Velasquez or anyone who has ever ridden."
Jockeys are known to change agents as often as fashion models change ensembles, yet the bond between Velazquez and Cordero has withstood the test of time like few others in the sport. In February, the duo will mark the 20th anniversary of the day when they first joined forces.
"Without Angel, I wouldn't be riding in New York. He wanted me to ride here and he gave me a place to live when I got here. I was very green and didn't know much but I learned so much from him. My career exploded when he became my agent. It was a great thing for both of us," the two-time Eclipse Award-winner said.
Prophetic words to Pletcher
"There's a special relationship with Angel. We're like father and son. We have our disagreements but you work through them and the ups and downs. It's a unique relationship we have and that makes it different from other jockeys and agents. Others might jump around a lot, but for me he's been with me since Day One, and we're still as close as ever."
Without question the best move Cordero made on Velazquez's behalf was approaching Pletcher in 1998 about using Velazquez as his primary rider.
Pletcher, who started training in 1996, was using a variety of riders at that time, including Velazquez. It was actually Velazquez who rode Pletcher's first New York winner on April 12, 1996, a first-time starter named Rare Rock, who was owned by the trainer's father, Jake.
But the careers of both rider and trainer sky-rocketed when Pletcher heeded some prophetic words from Cordero and began using Velazquez more and more.
"I told Todd, if he used Johnny more, the two of them would conquer worlds together," Cordero said.

Twenty years later, Cordero's words have become amazingly clairvoyant. Velazquez and Pletcher have surely conquered the racing world.
According to statistics through Jan. 8 provided by Equibase.com, Pletcher has put Velazquez on 6,422 mounts and has been rewarded with 1,686 wins, 1,018 seconds and 798 thirds with earnings of a staggering $139,359,352.
"Johnny has been so fortunate to be associated with Todd for so long," Cordero said. "I was never lucky enough to have a trainer who stood behind me for that long with so many good horses. There is so much respect between them."
Included in those totals for the $139 Million Men are 438 stakes victories, adding even more glitter and gold to numbers unprecedented in a what-have-you-done-for-me-lately sport such as horse racing.
Rare loyalty
"I'm in a lot of businesses, but of all the businesses this is the one with the least loyalty. There's no loyalty among owners, trainers and jockeys. One bad race and people want to get rid of the jockey. That's what makes Todd and Johnny unique. They have been a team for like 20 years," Repole said.
"It's always fun to win a race, but it's more special when it's with Todd and Johnny. For me, to be associated with one of the greatest trainers of all time and one of the greatest riders of all time, I'm just along for the ride. And, best of all, it's more than a racing partnership. We're all good friends."
Since entering the sport in 2009, Repole himself has been an integral part of Velazquez and Pletcher's success. Equibase.com statistics through Jan. 8 show that horses owned by Repole, trained by Pletcher and ridden by Velazquez have made 370 starts with 117 wins, 30 of them in stakes, and earnings of $9,093,103 in less than ten years.
"Mike has been great to me since the beginning," said Velazquez, who recorded four of those stakes wins for Repole on the owner's best-known horse, Uncle Mo, the champion 2-year-old male of 2010. "I am blessed that he gives me so many of his good horses. It's a great plus when you have someone like Mike behind you. It makes my job easier."
Fittingly, this past summer, when Pletcher captured his 13th Saratoga training title, he credited Velazquez and Repole for playing major roles in the feat.
The fight against bullying
"Johnny rode so well at Saratoga," Pletcher said. "It was very special for our team to win the Saratoga training title and there were two keys factors in it. One was Mike Repole, who let us place his horses at the right level, and the other was Johnny for giving us some special rides."
Yet for all of Velazquez's great moments on the racetrack, what says more about the man than the rider came last year when he rallied behind his nephew, Liam O'Brien, at a time of extreme need.
Thirteen-year-old Liam was victimized by bullying and was hospitalized for five weeks due to depression and an eating disorder.
As a Facebook post by Liam's mother, Deirdre Fell-O'Brien, the wife of trainer Keith O'Brien, one of Leo's two sons, and a hashtag #WeStandWithLiam gained national attention, Velazquez also embraced the cause. After his win on Forever Unbridled in the Breeders' Cup Distaff at Del Mar, the Hall of Fame rider said the victory was dedicated to his ailing nephew and raising awareness of the awful problems bullying can cause.
"Liam is dear to my heart," Velazquez said. "He's my nephew and I love him. I think parents and teachers have to do a better job of communicating with their kids. Bullying happens in a lot of schools, and schools have to do a better job of teaching kids about the harm bullying can do.
Role model
"The more awareness we can bring to the problem and educate everybody about it, the better. We have to protect our kids. We can't let kids suffer through it. It's not fair to the kids. I know it's hard these days with both parents working in some families, but that's not an excuse to let their kids do whatever they want. It's not right."
A month after the Breeders' Cup, during the Dec. 2 Cigar Mile Day card at Aqueduct, Velazquez worked with New York Racing Association officials to name the second race 'A Salute to Liam O'Brien'. Throughout the day, jockeys wore orange armbands in honor of Liam and, after the second race, the entire jockey colony turned out in the winner's circle to support Velazquez and the O'Brien family.
"We were all hurt by what happened to Liam," Ortiz said. "We all know Johnny, Leona, Keith, Leo and the O'Brien family. We saw that these things can happen to any of our kids, so I'm glad Johnny came out and took a stand, not just for Liam but for all kids. Bullying is a sad part of our lives now, and it was inspiring to see what Johnny did for Liam."
For those who know Velazquez best, his actions in supporting young Liam came as no surprise at all.
"The work Johnny does for the disabled jockeys fund and Liam shows that he's a role model for not only every jockey in that jockeys' room in New York but for everyone in the industry," Repole said.
Transition year
"He's an all-around good guy. I'm privileged and honored every time he puts a leg up on one of my horses."
Looking ahead to the new year, Velazquez says he expects 2018 to be a transition year. After riding in at least 946 races in each of the last three years, the 2009 George Woolf Award recipient expects to cut back a bit.
"I definitely will try to slow down. I'm not looking to ride every race, every day. I want to keep my customers happy, but I also want to limit things a little bit. We'll see how it goes," said Velazquez, who plans to visit Italy in February with his family.
Of course, people like Pletcher know that "slowing down" will not change any of the skills that Velazquez still brings to each and every one of his mounts.
"Nothing he does going forward will surprise me," Pletcher said. "We've been together for so long and accomplished so many things together and it's been very gratifying. He's such a class guy and what he has done in his career, and continues to do, is just unbelievable."
Indeed it is. Just like Brady, James or Jeter - athletes who have stood the test the time and handled it with the same amazing aplomb as John Velazquez.