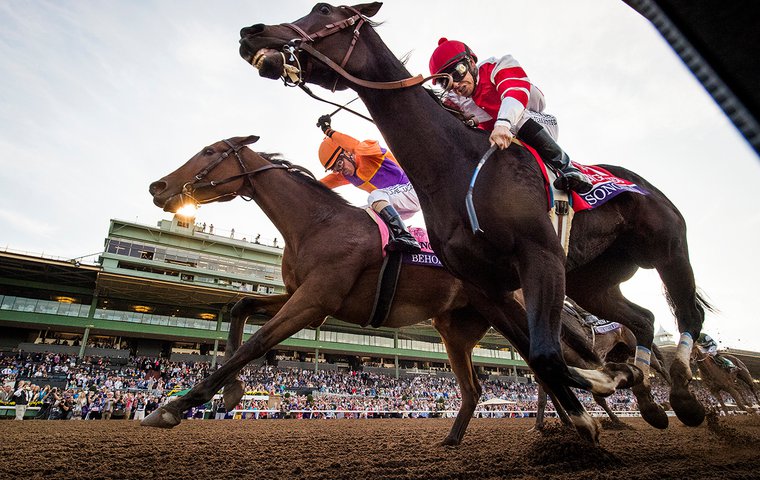 Award-winning writer Bob Ehalt, who has been covering American racing for more than 30 years and is a senior contributor for TRC, names his champions in each of the 16 main divisions for the 2016 U.S. Eclipse Awards, starting off with the big one - does he go for Arrogate or California Chrome to be Horse of the Year? The awards are presented at Gulfstream Park, Miami, on January 21.

In some ways the race for 2016 Horse of the Year honors is akin to the never-ending debate in professional sports about the best player and the most valuable player.
For some people in sports such as baseball or football, there's a belief that the league's best stats are the prime ticket to an MVP award. Others argue that stats alone do not tell the whole story of a player's value and that where a team finishes in the standings plays a major role in determining a player's value.
In horse racing, this year's battle for the America's top prize comes down to a question of whether it should go to the horse that can be considered the best and fastest in training at the end of the year or a horse who put in a full year's worth of outstanding work.
In this case, the two horses in question are, of course, Arrogate and California Chrome.
After winning the Travers for trainer Bob Baffert in track-record time with the rest of the field an area code behind him, and then beating California Chrome by a half-length in the $6 million Breeders' Cup Classic, a very strong case can be made that Juddmonte Farms' Arrogate rates as the nation's best horse in training as the year comes to an end.
Yet, even with a record of five wins in six 2016 starts, it's only the Travers and Breeders' Cup Classic that matter on his resume. Admittedly, that's an amazingly powerful 1-2 punch from the only horse to ever win both of those races, but in his first four races – a span covering mid-April to early August – he ran in nothing more than maiden and allowance races.
The Travers, as spectacular as it may have been, was his stakes debut.
In contrast, California Chrome had a campaign that lasted from January through December with eight starts and seven wins. The lone blemish on that record was the runner-up finish to Arrogate.
By the time Arrogate smacked around his foes in the Travers, California Chrome had already raced in five stakes and had victories in the Grade 1 Pacific Classic and the $10 million Dubai World Cup by a combined 8 ¾ lengths.
California Chrome may have lost the big showdown in the Breeders' Cup to his main rival for the Horse of the Year, but there's no faulting his accomplishments: seven wins in eight starts, with three of them in G1 company and two in G2 stakes, with earnings of $8,180,000 for trainer Art Sherman. That makes California Chrome the top all-time U.S. money earner - and the sixth highest on the world list.
He also had the intangibles that are woven into the Horse of the Year chase. While division championships should be won or lost on the racetrack, Horse of the Year is a horse of a different color since it often pits rivals who have never faced each other.
In California Chrome's case, with American Pharoah at stud, he entered the year as the nation's most popular horse and his charisma created a huge buzz for each of his races. His ownership group, California Chrome LLC, also deserves praise for keeping the 2014 Horse of the Year in training at five and extending his career long beyond the term of most Kentucky Derby winners.
In the final National Thoroughbred Racing Association poll, taken a few days after the Breeders' Cup, it was California Chrome who came out on top with 30 first-place votes to 16 for Arrogate, and that's how it should also play out in the Eclipse balloting for Horse of the Year.
As much as Arrogate had the kind of breathtaking late summer and fall that we may not see for decades, it was California Chrome who had the better year in terms of all 12 months and had the biggest and most positive impact on the sport during the time.
When my Eclipse Award ballot is submitted, it will be California Chrome who gets the checkmark for Horse of the Year.
As for the rest of that ballot, here's a look at my choices for the champions in each division:
2-year-old male
The battle for this came down the final furlong of the Breeders' Cup Juvenile, with the top two candidates for the prize slugging it out. John C. Oxley's Classic Empire held a two-length lead at the eighth pole, but Not This Time was closing stoutly. At the wire, it was Classic Empire holding on by a neck to win the BC Juvenile and clinch the Eclipse Award as the champion 2-year-old male.
In his five 2016 starts, Classic Empire's lone loss came in the G1 Hopeful, when he wheeled at the start and tossed his jockey.
The bigger question involves what happens on the first Saturday in May. Earlier this year, Nyquist was able to overcome the BC Juvenile jinx and win the Kentucky Derby. Now we'll see how trainer Mark Casse fares in his quest to turn Classic Empire into the third horse in 33 tries to win both the BC Juvenile and the Run for the Roses.
2-year-old filly
Unlike last year, when there was a budding superstar in Songbird, this division was pretty mediocre. Heading into the Breeders' Cup Juvenile Fillies, no one had more than one G1 win and that mile-and-a-sixteenth test at Santa Anita became the test of a champion.
It was won by a 33-1 shot, but in a year without a standout that victory that is enough to earn Champagne Room the bubbly as the queen of the division. After all, she did beat the winners of the G1 Chandelier, Del Mar Debutante, Alcibiades, Frizette and Spinaway at the Breeders' Cup and she had a win in the G2 Sorrento for trainer Peter Eurton prior to that.
As for Lady Aurelia, she will not be on my ballot. She started her career in the United States, winning by 7 1/2 lengths in a maiden race at Keeneland, then was shipped overseas and won a G1 in France and a G2 stakes at Royal Ascot.
Recently she was named the Cartier Champion 2-year-old Filly in Europe, and that's exactly where she should be honored: in Europe.
While in the past I've voted for Europeans who started once in the U.S. - Goldikova, for example - that came after a championship-level victory on these shores in a setting such as the Breeders' Cup. To be a champion in North America, you have to perform like a champion in a North American race, and a maiden win here doesn't fit that criteria.
3-year-old male
In the Horse of the Year section, it pretty much explains why Arrogate will breeze to the award in similar fashion to the way he overpowered his foes in the Travers.
Aside from his unprecedented Travers-Breeders' Cup Classic double, the upper echelon of the division crumbled as the year went on. Nyquist, Exaggerator and Creator, who accounted for all three legs of the Triple Crown, were a combined 1-for-9 after those classic wins.
3-year-old filly
This should be a unanimous sweep for Songbird. The Fox Hill Farms filly won seven of eight 2016 starts for trainer Jerry Hollendorfer, including four G1s and defeated her fellow 3-year-olds by a combined margin of more than 38 lengths.
Her lone loss came in the Breeders' Cup Distaff, where she was beaten by about an inch by a three-time (and soon to be four-time) champion in Beholder in one of the greatest races in the 33 editions of the event. As heartbreaking as her first defeat in 12 career starts might have been, like many great champions before her, that loss and her fierce determination in an unforgettable stretch duel only reinforced her brilliance.
Older dirt male
Anyone who doesn't vote for California Chrome has some explaining to do.
Older dirt female
Spendthrift Farm's Beholder was third-choice in the Breeders' Cup Distaff wagering behind Songbird and Stellar Wind because, in three previous 2016 meetings, Stellar Wind had beaten Beholder twice. Though the Distaff evened the score between them, that mesmerizing stretch duel between Beholder and Songbird – with Stellar Wind winding up fourth – plus a runner-up finish behind California Chrome in the Pacific Classic is enough to swing the vote in the direction of Beholder and make her division champ for a second straight year and a four-time Eclipse Award winner.
Male sprinter
This was the toughest category. Heading into the Breeders' Cup Sprint, Lord Nelson had won three straight G1 sprints and seemed poised to lock up an Eclipse Award. But an infection in his right foreleg knocked him out of the race and ended his career, and opened the door for his stablemate in Baffert's powerful barn, Drefong, to win the Breeders' Cup Sprint for Baoma Corporation over favored Masochistic.
That was only Drefong's second G1 win of the year – and his second stakes appearance – but the field he defeated in the World Championships was better than anything Lord Nelson faced in his trio of G1 triumphs, so by virtue of winning the year's most important stakes, my vote goes to Drefong.
Female sprinter
With a dearth of a major sprints for fillies and mares, the Breeders' Cup Filly and Mare Sprint is usually the acid test for a champion and this year was no exception. Finest City prevailed in the Breeders' Cup at 8-1 odds for trainer Ian Kruljac, but it was only her second win in eight 2016 starts, joining a triumph in the G2 Great Lady M.
While that was a worse record than 2015 BCFM Sprint winner Wavell Avenue, who won four of nine starts that year, Seltzer Thoroughbreds' Finest City did not have a rival in the division as formidable as La Verdad, who was named last year's champion female sprinter with a record of five wins from eight starts and a second in the BCFM Sprint. The only other major contender with a 2016 G1 and G2 win to her credit still in training in the fall was Haveyougoneaway, who finished seventh in the Breeders' Cup, sealing the deal for Finest City.
Male turf
Highland Reel, who won the Breeders' Cup Turf and was second in the Prix de l'Arc de Triomphe, might have been the best male turfer to race in the United States this year, but the Breeders' Cup marked his lone appearance in this county. In a weak year for U.S. candidates that would have made him a worthy candidate for a championship, but there was a quality runner based on these shores who was deserving of the title.
Juddmonte Farms' Flintshire was a three-time graded stakes winner for trainer Chad Brown, two of them in G1s, and was second in a pair of G1s in his other two starts. That last race came in the BC Turf, where he was second to a loose-on-the-lead Highland Reel, but his overall body of work made Flintshire a champion in these eyes.
Female turf
She might have finished second in her final two starts of 2016, but Tepin did everything else right. Owner Robert Masterson's reigning female turf champion won her first six starts of 2016 – a streak that included a win in the G1 Queen Anne Stakes at Royal Ascot – and was the dominant performer in her division.
A loss in the G1 First Lady at Keeneland was a shocker, but there was no shame for the Casse-trained mare in finishing second while bidding for back-to-back Breeders' Cup Mile wins as she was hurt by a wide trip while ending up a very game runner-up to Tourist.
Steeplechase
Won't claim to be an expert in this category, but two wins and a second in G1s out of three tries puts owner Irvin Naylor's Rawnaq over the top in this category.
Top trainer
This year officially put to rest the notion that Chad Brown is just a superior turf trainer. He's a superior trainer period.
He'll probably add to his list of Eclipse Award-winning turf stars with Flintshire. The care and diligence he and his staff put into getting distaff turf phenom Lady Eli back to the races and winning a G1 with her after she developed laminitis and nearly died was nothing short of remarkable. Yet this year, Brown also thrived on the main track with G1 wins in the Cigar Mile from Connect and Hopeful and Champagne from Practical Joke.
He also ended Todd Pletcher's six-year reign as Saratoga's leading trainer by posting a record 40 wins, and with 2017 less than a week away he's a lock to be the leader in total 2016 earnings with a current figure of $23,098,814 (through Dec. 26).
Brown is now world #2 in TRC Global Rankings, and clear top among U.S.-based trainers. A pre-Breeders' Cup breakdown by the TRC algorithm of Graded results on both dirt and turf just in 2016 showed the extent of his current status as America's #1.
Yes, it's no longer just the grass that's greener for Brown.
Top jockey
A case could be made for Hall of Famer Mike Smith, who was the regular rider of Arrogate and Songbird and has 10 G1 wins (through Dec. 26), or Florent Geroux, who has 10 G1 wins and 30 Graded stakes wins overall, or even three-time reigning champ Javier Castellano, who leads all riders with 35 stakes wins.
But the hardest-working and most successful jockey throughout the year was Jose Ortiz, who is on pace to lead all jockeys in wins despite competing on the ultra-tough New York circuit, and has 23 graded stakes wins to boot.
Winning the riding title at Saratoga is a prestigious accomplishment in any year and Ortiz's crown at the Spa, coupled with more 2016 wins than anyone else are definitely credentials good enough to earn him an Eclipse Award.
Ortiz stands fifth among U.S.-based riders in TRC Global Rankings, which measures performance in Group and Graded races over a rolling three-year period.
Top owner
As much praise as the California Chrome crew deserves for racing him in 2016, this time it's Juddmonte's turn to accept a trophy.
If my votes are reflective of the final outcome, they campaigned not just the Breeders' Cup Classic winner but two champions in Arrogate and Flintshire and the runner-up in the Horse of the Year vote. Despite sending out just 100 starters in 2016 (through Dec. 26), they have earnings of $7.3 million and are just $28,000 behind the national leaders in that category, Ken and Sarah Ramsey, who have more than 600 starters.
When you can win back-to-back, $1 million G1s on the same card, as Juddmonte did with Flintshire in the Sword Dancer and Arrogate in the Travers, it's hard to deny them an Eclipse Award.
Juddmonte are firmly established as world #5 in the owners' standings in TRC Global Rankings.
Top breeder
WinStar Farm has a commanding lead in earnings with more than $10 million (through Dec. 4) and deserves the award, but honorable mention should go to Clearsky Farms, which has just 40 starters compared to 1,323 for WinStar but has earnings of $6.3 million thanks to turning out Arrogate, Lord Nelson and multiple graded stakes winner Mohaymen.
Top apprentice
This is traditionally a difficult category to rate but we'll give the nod to Luis Ocasio, who has 104 wins (through Dec. 26) and earnings of $2.7 million, over Lane Luzzi, with 88 wins and $2.2 million in earnings, in a tight, photo finish.