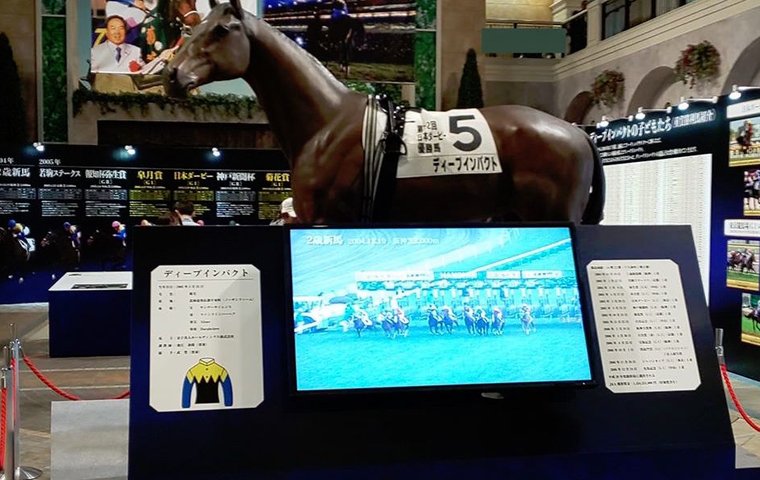 While racing is of course a hugely popular sport across the world, there a few more impassioned racegoers than those in Japan.

They sleep overnight outside the track on the eve of feature race days, sprinting through the gates to get a prized position. They queue at souvenir stands to purchase plush toys of their favourite horses, they hang banners of support over the parade ring fence and they take photos ... lots of them.
When champion Australian jockey Darren Gauci rode Shaftesbury Avenue in the 1991 Japan Cup, the first thing that struck him as he mounted the big chestnut was the light ... from the flashes of thousands of cameras. "I felt like I was in a scene of Star Wars!" he laughed.
The connection to the horse is such that there is genuine mourning when a much loved horse passes away. This writer was at the Dubai Cup won by Singspiel in 1996 during which the Japanese mare Hokuto Vega broke down badly. I returned to the press tent to see rows of Japanese journalists and photographers in tears, their heads hung low, some inconsolable.
When superstar stallion Deep Impact died aged 17 in late July, bouquets of flowers appeared at tracks and totes. Recently at Fuchu racecourse a tribute to the great horse was erected while those who loved him spoke of him in such emotional terms, staff at Shadai Stallion Station, where he stood, declaring themselves "extremely heartbroken", while his jockey, the great Yutaka Take cancelled a scheduled trip to make his way to the farm to pay his respects.
"I put my hands together [in prayer] in front of an empty stall without its owner," he said. "He was truly a special horse to me. Only I know how he ran like he was flying in the sky. I told him, 'thank you' ... he was the precious treasure."
Japanese turnover on horse racing is the highest in the world. True, they do not have as many gambling opportunities as many other countries, but it has to be said the focus on the horse in regards to promoting the sport is working.
A person - like Noriko Tanaka - becomes a fan of a particular horse. The interest expands, they go to the races, they have a bet. Punting turnover increases, which leads to higher levels of prize money, which in turn encourages trainers, owners and breeders to improve the quality of their stock.
Competition increases, champions emerge, attracting more fans. Some of those horses venture overseas, creating further engagement. It is interesting to note that, when first permitted to bet on overseas racing in 2016, the Japanese spent twice as much on the Prix de l'Arc de Triomphe (contested by the Japanese Derby winner Makahiki) as the French!
Perusing marketing policy online, there is barely a mention of betting. It is horse-centric, and the focus is not just on Thoroughbreds, with the idea that a general passion for horses can lead to a love of horse racing.
For example ...
JRA initiatives to promote equine culture
To disseminate and promote horse-riding and equestrianism
For operating the Equine Museum of Japan, the JRA Racing Museum and other facilities
For conferring the Equine Culture Award in the JRA Awards
To preserve native Japanese horse breeds
To preserve traditional horse-related events
There is an appreciation that engagement with horses is vital. While Noriko and her fellow racing fans may not have the direct access to heroes of the day, there are ample opportunities to spend time with horses, noting that Noriko is now taking riding lessons, and loving it.
One memory this writer has of attending the 2010 Japan Cup was the long lines of people waiting to pat a retired racehorse, another of excited children waiting to ride a pony. And the numbers of people reading about their favourite horses in the racing museum. Each experience was an educational one, learning above all to love horses ... to love horse racing.
Spirit of the sport
"We like horse racing to be a common leisure activity and entertainment for a large variety of people to enjoy in Japan," said Tsutomu (Tom) Sekiguchi, the JRA's Chief Representative, Sydney Office.
"However resistance to betting remains deeply rooted in Japanese culture," he added, noting that there are "regulations to restrict advertising that may encourage betting".
And so the spotlight on racing, on the horse.
"We believe that focusing on the spirit of the sport as well as on the fascinating talent of Thoroughbred horses attracts a wider range of people rather than does focusing on the betting side of horse racing. We have been taking approaches in such a way for a long time."
"We are still searching for the best ways to promote racing and learning from trial and error," he continued. "However, we understand that it is essential for people to watch horse racing at the racecourse.
"We have been promoting people to visit an actual racecourse by announcements and advertisements [television commercials, advertisements on public transport, brochures, information via the internet, etc], and also by holding events which attract crowds. We can see the results of these promotions."
A concept noted on the JRA website is ... "to promote understanding of horses and create more opportunities for contact with horses," an idea that has led to the running of such events as 'Hippophile Day' and 'Horse Familiarity Day'.
"We hold these events at racecourses, training centres and farms every year to share the beauty of horses," Sekiguchi said. "Many families, along with racing fans, have visited these events, which support promoting a culture respecting horses in Japan."
Respect leading to adoration!
"Horse racing is a sport and also betting entertainment, leading to champion horses being loved by their fans in the same way as any other sporting champions," said Sekiguchi.