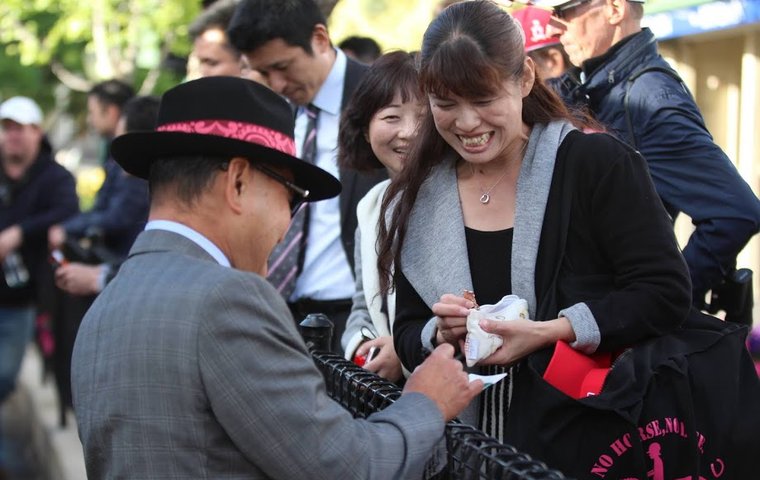 Japan's Cox Plate heroine Lys Gracieux put up one of the performances of the year today in the $5.6m Arima Kinen at Nakayama, leaving a star-studded field, including the outstanding Almond Eye, trailing in her wake. It was to be the 5-year-old mare's final race, so there were distinctly mixed feelings for one member of the six-figure crowd watching what is the world's biggest betting race. Kristen Manning reports.

There may not have been the hordes of fans surrounding Lys Gracieux's stall after her barnstorming victory in the W.S Cox Plate at Moonee Valley in late October as there were in support of Winx 12 months previously ... but what she lacked for in numerical support she more than made up for in passion.
For loyally taking her place on the fence in front of Lys Gracieux throughout the day was Noriko Tanaka.
Lys Gracieux's biggest fan.
In order to make her way to Moonee Valley, Noriko endured a five-day journey from her home in Osaka, Japan, flying to Australia via Hong Kong. She was in Melbourne for just two days, understandably tired for most of that time.
But it was worth the effort, Noriko emotional as her beloved equine heroine rounded up her Cox Plate rivals to win going away by a convincing 1½ lengths. Despite not hailing from a family with any interest in horse racing, Noriko has for 25 years been fascinated by Thoroughbreds.
Her first great love was T M Opera O, Japanese Horse Of The Year, JRA Hall Of Fame member ... the winner of 12 of his 20 starts, including the Japan Cup and a Tenno Sho.
There was a gap in Noriko's life after the retirement of that outstanding chestnut. "I couldn't meet a horse who could get me hooked for a long time," she said. Until three years ago, when the filly with the sweet name (Lys Gracieux meaning Graceful Lily) made her debut in the 1600m Newcomer Stakes at Niigata racetrack 333km north of Tokyo.
"She was not a strong horse from the beginning. She was a petite 432kg and I was interested in watching the race," Noriko recalled.
While Lys Gracieux, third that day, was able to win her next two, including a G3 at Fuchu, she did for a while find it difficult to make her way into the winner's circle - between December 2016 and February 2018 racing seven times, placing on five occasions.
"Unfortunately, she came to be called a 'silver medal collector'," Noriko said, "and I became very regrettable. But she became stronger, and I started to support her in the hope that she could win a big race."
------------------------------
Where a passion for horses, not betting, is the key to racing's popularity
------------------------------
That day came in November last year. Lys Gracieux - who had won a second G3 nine months previously - taking out the G1 Queen Elizabeth II Cup at Kyoto. Next time out she was a game second to Exultant in the Hong Kong Vase, beating home subsequent Prix l'Arc de Triomphe winner Waldgeist.
Exciting moments for Noriko, who declared: "I always get courage from her!"
Such as the courage to make the trip to Melbourne, her first day at the track away from Japan. And what a day it was, one that will be forever etched into this passionate fan's memory.
"I spent a lot of time with Lys Gracieux at Moonee Valley," she enthused, thrilled to have close access to horses Australian racegoers take for granted but which is rarely the case in other countries.
"In Japan, television is the best way to see Lys Gracieux up close. At the races, we can only see them in the paddock."
But, at Moonee Valley, Noriko was right there with her idol, her awe of Lys Gracieux apparent as she spent two hours at her stall - taking over 500 photos and moving away only to watch the race. "I was able to see her various expressions, which I could not experience in Japan. It was wonderful. I was very moved."
The race itself was not so easy to see ... "because I went to the front of the track and because Japanese people are short, I could not see the race! I could not understand the call very well but my sister yelled 'Lys is winning!' and I was so excited."
All the more so when she was able to find a position on the fence as Lys Gracieux made her triumphant return to scale. "Miraculously, the front row was empty. When I cheered, the jockey [Damian Lane] looked at me. It was a lot of excitement, something I could never have experienced in Japan."
Noriko was back at Lys Gracieux's stall after the race and did not leave until the horse did. She was thrilled to meet trainer Yoshito Yahagi, to get his autograph, to have photos taken. No such opportunities in Japan, where vast racetracks are attended by tens of thousands of keen racegoers.
"I would like to be able to see the horses closer up in Japan," Noriko said, "then I would want to go to the racetrack more and more!"
While attending race meetings only a few times a year - her favourite is her local track, Hanshin ("the cherry blossoms bloom in spring at Hanshin Racetrack and are very beautiful"), Noriko watches on television week in, week out and has also been to the courses at Kyoto, Chukyo and Nakayama.
That's where Noriko was planning to be for the Arima Kinen today - up early to secure her place on the parade ring fence.
To say Noriko was saddened when it was announced that it was to be Lys Gracieux's last start, was an understatement. "I felt so miserable," she said. "However, I will continue to love her indefinitely."