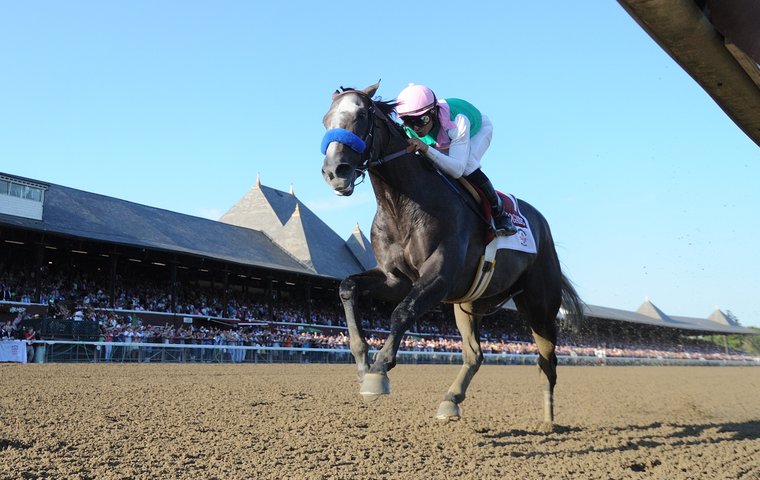 It was a typical early August afternoon for Tom Robbins, the Executive Vice President for Racing and Industry Relations at Del Mar Race Track. He was sitting in his office, talking with David Jerkens, Del Mar's racing secretary, when Hall of Fame trainer Bob Baffert walked in.

A day earlier, on Aug. 4, Baffert had won an allowance race at Del Mar with Juddmonte Farms' Arrogate, a then 3-year-old colt who had prevailed by a length and three-quarters in a miniscule three-horse field for his third win in four career starts.
"Bob had asked us to get an allowance race to go for Arrogate. He told us, 'You've got to make this race go, you have to make this race go,' and initially we couldn't get it to fill. But we held it over for a day and we got five horses, so we carded it, though two horses scratched," Robbins said. "Bob came in the next day to thank David and I for getting the race to go, and in that conversation he said, 'I think I have the best 3-year-old in America.'"
The best 3-year-old in America? A horse who had just won a three-horse allowance race and had yet to even start in a stakes? Hearing those words from a young, inexperienced trainer would have caused Robbins to chuckle. Yet coming from Baffert – the country's most famous trainer and someone who guided American Pharoah to Triple Crown and Grand Slam sweeps a year earlier – Robbins was taken aback.
Upping the ante
"Bob generally doesn't say those things," Robbins said. "For him to just casually walk in, say thank you and oh, by the way, I think I have the best 3-year-old in the country, it meant something."
About a week later, Baffert upped the ante. While attending the yearling sales at Saratoga, he was one of the Juddmonte trainers who was asked to make a video for owner Prince Khalid Abdullah, detailing the progresses of the stable's horses.
"In that interview on the sales grounds," Juddmonte's General Manager of U.S. Operations, Garrett O'Rourke, said, "Bob told Prince Khalid he thought this might be the horse we've been waiting for since we started buying horses together."
A few weeks later, Baffert brought Arrogate to the $1.25 million Travers, but the Juddmonte colt was not alone. He was joined in the trip to Saratoga by Gary and Mary West's American Freedom, who was thought to be the stronger half of Baffert's uncoupled entry off a runner-up finish in the G1 Haskell.
Baffert knew better, but was hesitant to speak publicly about racing's best-kept secret.
A moment of doubt
"I didn't want to talk a lot. I like coming in a little stealth. There's a lot of pressure with the heavy favorites, because I know what the disappointment feels like," said Baffert, who suffered through American Pharoah's lone 2015 loss in the Travers. "We quietly knew we had the best horse in Arrogate, but I wanted to enjoy it and not jinx myself."
The toteboard at post time for Travers reflected the conventional thinking about the race. Exaggerator, the Preakness winner, who had beaten American Freedom in the Haskell, was the 5-2 favorite. American Freedom was the second choice at 5-1. Arrogate was 11-1 and Baffert, noting how his colt was "dead on the board", wondered momentarily if he had overestimated the $560,000 Keeneland yearling buy.
"Right before the race I was in the owners' boxes with Dr. John Chandler (Juddmonte's President). He tells me, 'All right, I came up here for the race because you said he couldn't lose.' He smiles at me and adds, 'So he better win!'
"I told him, 'You got it', but I was feeling the pressure. I was looking at the odds and was getting worried. I thought he'd be one of the favorites, but he didn't even get the California money."
Scorching a hallowed track
What happened next was one of the most astonishing moments in the glorious 148-year history of Saratoga Race Course. Arrogate did not just win the Travers, he made jaws drop from one end of the grandstand to the other. He took the lead at the start under jockey Mike Smith and did not stop pouring it on until he had scorched the hallowed racetrack in an unforgettable manner.
Facing almost all the top 3-year-old males in training (Kentucky Derby winner Nyquist was the lone notable absentee), Arrogate turned a mere two-length lead with a quarter of a mile left into a lopsided 13 ½-length victory while shattering a 37-year-old track record with a final time of 1:59.36.
"When Arrogate took the lead and was putting up fast fractions (six furlongs in 1:10.85) on a deep track, I didn't know if he could do it," Baffert said. "But then turning for home, he kicked into a different gear. My wife, Jill, was telling me he was going too fast. Well, he went from going too fast to Holy Moly look at this. [American Freedom] was running great, and I know he's a good horse, but Arrogate was pulling away from him. It was like, wow. He's something else."
At a famed racetrack known as 'The Graveyard of Champions', a champion was born in one of the sport's most auspicious stakes debuts.
Bigger test
"I don't think we're any different than the general public in terms of our surprise over how good he's become," O'Rourke said. "I felt as a 2-year-old we had a nice horse. But we've been lucky to have nice horses before and they've fallen by the wayside or they just stay nice horses. When he started winning, we thought he could potentially become a Grade 1 horse, but get to the Wow Factor, that didn't happen for us until Travers Day. He saved it until then to show all of us, including the public, how good he was, and boy, did he do that in a grand style."
Yet, for all of the brilliance Arrogate put on display at Saratoga, it was indeed a single victory, and racing history is filled with tales of one-hit wonders and horses whose moments of greatness fade from sight as quickly as a shooting star.
A bigger test awaited Arrogate in the $6 million Breeders' Cup Classic, where, without the benefit of a prep race, he would face the North America's all-time earnings leader, a former Horse of the Year and the odds-on favorite to be named 2016 Horse of the Year, the mighty California Chrome.
This time, the public bought in and made Juddmonte's son of Unbridled's Song the 8-5 second choice in a field of nine. Yet, at Santa Anita in the Breeders' Cup, the Classic unfolded in dramatically different fashion for Arrogate. Breaking from the outside post, Smith did not rush out for the lead as he did from the rail in the Travers. Arrogate tracked in third on the backstretch as California Chrome sailed along with a seemingly comfortable lead.
Duel to the wire
"When you have a horse cruising on the lead like California Chrome was," Baffert said, "if you had access to exchange wagering during the race you would have been punching tickets on Chrome as fast as you could."
Reflective of Baffert's remark about the way the BC Classic was unfolding, Betfair U.S. officials said exchange wagering on Arrogate soared as high as 7-1 during the race, while the front-running California Chrome, who was 4-5 on the toteboard, dipped below 2-5 at times.
Then it all changed. Approaching the quarter pole of the mile and a quarter test Arrogate kicked into high gear and charged at California Chrome.
In the stretch, it was a thrilling two-horse duel to the wire, with California Chrome holding a length and a half lead at the eighth pole. Yet in the final 16th, it was no contest. Arrogate surged past California Chrome in the final few strides and posted a half-length victory over the 2014 Horse of the Year. It was another 10¾ lengths back to 2015 Travers winner Keen Ice in third.
All-time top-five race
"He's a super horse, like American Pharoah," Baffert said. "You watch what he does and you keep saying, 'Wow.' You can't believe the things he does. To beat such a solid horse in California Chrome, who was just cruising along, was pretty incredible. That's why that race will go down as one of my top five races of all-time. We saw something special. Like when people saw Zenyatta beat the boys in the [2009] Breeders' Cup Classic."
Smith has ridden Arrogate only in the Travers and BC Classic, and marveled at the way such a newcomer to G1 competition somehow managed to top the Travers with an even more outstanding effort in the BC Classic.
"I thought he could win the Travers, but I didn't expect the manner in which he won it," Smith said. "When I got to the wire and looked back, I couldn't believe he opened up that much. And then, when I came back and saw the time, it was incredible. But the race that impressed me more was the Classic. To run down a horse like California Chrome, who had everything his own way during the early part of the race with a nice, easy lead, that was really something. He wasn't beating a bunch of 3-year-olds, he beat the best horse in the world."
Now Arrogate and California Chrome are scheduled to clash once again, with no less than $12 million up for grabs, when they headline the inaugural Pegasus World Cup at Gulfstream Park a week on Saturday.
Baffert's masterful work
Before post positions are drawn, the identity of 2016's Horse of the Year will be known, and California Chrome is expected to win American racing's top prize off seven wins in eight starts and a resume that included a victory in the $10 million Dubai World Cup.
Yet, regardless of who is voted racing's biggest star of 2016, the Pegasus presents an opportunity for Arrogate to add another laurel to a career virtually unprecedented in its rapid ascent to glory.
That Arrogate became the first horse to ever win the Travers and the Breeders' Cup Classic attests to the magnitude of winning both of the prestigious G1 stakes and the colt's immense talent. But to capture the Travers and BC Classic with such a limited body of work makes Arrogate unique and speaks volumes for the masterful work by Baffert in preparing his inexperienced horse for two monumental tests.
"I can really appreciate the work Bob has done with Arrogate," said Bill Turner, who trained 1977 Triple Crown champion Seattle Slew. "He's done a marvelous job, though I wonder if ten years ago Bob would have been as successful with him. With each great horse you get more confident and you see things more clearly. You learn from your mistakes and put those things in your memory. You feel more comfortable.
Glowing compliment
"Most trainers might be scared because they think of what went wrong last time and what will go wrong this time. But, after you win the Triple Crown, that all goes way, and you can see that confidence in Bob's great work with Arrogate."
History also offers a glowing compliment for Baffert's work with Arrogate. In looking back over the list of Travers winners since 1970, Arrogate is the only one who captured the Mid-Summer Derby without a prior appearance in a stakes and the lone winner with five or less career starts heading into race.
Analyzing Travers winners since 1975, the average for each of them is three stakes wins, seven appearances in stakes and about 12 career starts heading into the race. Arrogate had no stakes wins, no stakes appearances and five career starts.
The numbers for Breeders' Cup Classic winners since 1984 paint an even more impressive picture of what Arrogate has accomplished in a limited body of work.
Patient handling
While he matched Concern (1994) as the only Breeders' Cup Classic winner with just one previous stakes win, none had less than five starts in a stakes. The average for BC Classic winners is five stakes wins, 11.7 starts in stakes and 17.5 career starts. Arrogate's totals were just one stakes win, one stakes appearance and six career starts.
Based on those accomplishments in such a brief span, it's not surprising that Arrogate's raw talent has Smith, a Hall of Famer who has ridden champions such as Zenyatta, Songbird, Shared Belief, Holy Bull and Skip Away, talking in the most flattering terms about him.
"He's one of the most talented horses I've been on, if not the most talented," the 51-year-old Smith said.
As much Arrogate was well-regarded from his first day of training, it took patient handling by Baffert and Juddmonte to bring out the best in him.
After being sent to Baffert's barn at two, he came down with sore shins and a minor dental problem that slowed his progress. Instead of pushing forward, Baffert recommended sending him back to Juddmonte's farm to rest and O'Rourke agreed, even though the move essentially ended any Triple Crown thoughts for the promising but unraced colt.
An honor and a privilege
"Training for Juddmonte and Garrett O'Rourke, the horse comes first," Baffert said. "They let you go with your process. When you don't have any added pressure, it makes it easier to do the right things. You can go by your gut feeling or experience, and when you have that kind of management behind you it's great. They're just first-class management. That's why, when I got the call to train for Juddmonte, it's like being a football coach and getting a call from USC or Alabama. I feel it's an honor and privilege to work for an outfit like that."
Arrogate returned to Baffert's barn in December of 2015, about a month and a half after American Pharoah left it, and the rest is a short but thrill-packed chapter in racing history.
"Arrogate is a big horse, and we needed to let him grow," O'Rourke said. "I credit Bob for sending him back to us and letting that happen. He had a tooth that needed removing as well. We took care of everything and sometimes things happen for a reason. The shin healed on its own and since he came back from the farm he's never taken a bad step. Everything was forward, forward, forward. That's when his development into a special type of horse took place."
What turned Arrogate into a star has been described as a rare blend of stamina and speed.
Incredible stride
"His stamina is phenomenal," Smith said. "I don't think I've been on a horse with that much stamina."
Baffert, currently the third-ranked trainer in the world, said Arrogate's long, graceful stride puts the gray colt among an elite group of runners.
"He jumps farther than anyone I've ever trained," Baffert said. "I've never measured it, but his stride is incredible. That's his weapon. He has speed and he's light on his feet, but his stride is incredible."
Arrogate's long-awaited debut came on April 17 at Los Alamitos and he carried the heavy expectations of a 1-2 favorite. But, much like American Pharoah, Arrogate had an eventful first start while closing quickly to finish third, just three-quarters of a length off the victorious Westbrook.
"Even before his first start at Los Alamitos, my assistant, Mike Marlow, said he could be any kind of horse, and Mike's been around Pharoah. When I worked him, I saw he could really run. I didn't want to run there but he needed a race. It was like American Pharoah's first race. It was just a disaster. He had a bad experience with the blinkers, but he finally figured it out and came flying late for third."
Baffert removed the blinkers for Arrogate's second start and was rewarded with a 4 ½-length win in a June 5 maiden race at Santa Anita.
'Something crazy'
A 5 1/4-length score in a June 24 allowance race against older horses at Santa Anita followed and the white-haired trainer began to toy with the notion of running Arrogate in a stakes.
"I almost ran him in the Affirmed (on July 2) but I also had Danzing Candy, so I put him in there instead," Baffert said. "If I had run Arrogate there, he would have won and people would have seen what he really was. But I followed my instincts and decided to wait."
Baffert then considered tackling California Chrome in the G2 San Diego at Del Mar on July 23.
"I was going to get brave and run him in the San Diego, but when I shipped him down there [to Del Mar] he got a little temperature. He wasn't really sick, but he was off his feed a few days. So I backed off. Garrett sent me a text saying, "Are we going to try something crazy?" because I had told him we might try something crazy and run against California Chrome. I told him, 'No, I'll run my other horse.'"
After sending out the 4-year-old Dortmund to finish second to California Chrome in the San Diego, Baffert looked for an allowance race to serve as the Travers prep for Arrogate.
Detecting a trainer's excitement
"Bob did a very creditable job with Arrogate coming up to the Travers. What was hidden from the public's view, who saw he had no stakes performances before the Travers, was that he had run against older horses," O'Rourke said. "He probably faced sounder opposition than he would have faced against 3-year-olds. The foundation Bob puts underneath them at peak speeds is also a key. Maybe it's an old fashioned way. It's definitely the quarter horse way. Most horses can't stand it, but the good horses are no different than the good athletes who push themselves to the limit to reach peak fitness."
After that Aug. 4 win under Rafael Bejarano, the rider in the colt's first three wins, and some sharp works in company with stablemate Drefong, who would later win the G1 King's Bishop on the Travers undercard and then the Breeders' Cup Sprint, Arrogate was on edge for the Travers. At the same time, Baffert's rising confidence was telling to those closest to him.
"I've been lucky enough to be around some great trainers and usually the trainers we employ have trained great horses for other owners as well. I've learned to detect the excitement in trainers' voice when they have something special, whether for us or someone else," O'Rourke said. "I remember Bobby [Frankel]'s excitement when Empire Maker came along for us, but I also remember him talking about another horse who turned out to be Ghostzapper and he said he could be even better than Empire Maker.
"Trainers can't contain that excitement and I heard that from Bob last year with Arrogate. I heard him talk the same way the year before with American Pharoah. I understand how Bob does not want to compare Arrogate and American Pharoah, but I detect the same emotion in his voice when he talks about Arrogate as he did with American Pharoah. For me that's exciting."
Fastest number
Since Bejarano was committed to ride American Freedom in the Travers, Smith was brought in to ride Arrogate, a turn of events Bejarano will no doubt rue.
"Bejarano was a big part of this horse's development," Baffert said. "It's unfortunate he couldn't ride him in the Travers and I didn't want to make another switch after that. Rafael told Mike how fast he was a few days before the Travers. When Mike came back after the race, he said, 'You guys were right. He can really run.' I told him, 'No kidding, dude.'"
To understand how fast Arrogate ran in the Travers, Brisnet.com gave the Juddmonte colt a 122 speed figure, the fastest number it has ever assigned since its launch in 1990.
As eye-opening as that performance at Saratoga was, it also set an incredibly high bar and daunting challenge for the Breeders' Cup. Most horses usually regress after a highly demanding and draining performance, a phenomenon commonly known as a 'bounce'.
According to Ragozin Data & Publishing speed figures, where lower numbers are faster, Arrogate made a huge jump from a 6 ¼ in the Del Mar allowance race to a negative 1 ¼ in the Travers.
Overmatched rivals
To put that perspective, in his monstrous 14 ¼-length win in the Metropolitan Handicap, Frosted jumped from a 5 3/4 to a Ragozin figure of a negative 2 1/4. Then he slipped back to a 4 while winning the Whitney off eight weeks rest.
If Arrogate had made a similar decline off 10 weeks rest, he would have been hard-pressed to beat a horse as good as California Chrome, who had posted a 0 in two of his last three races. Instead he broke the mold, side-stepped the bounce and ran a negative 1 to register back-to-back gems.
"I was surprised at the way Arrogate ran in the Breeders' Cup but not astonished," said Len Friedman, a longtime partner in Ragozin Data & Publishing. "Baffert is one of the strongest trainers around."
In Baffert's mind, the jump would not have been as big if Arrogate had been facing stakes competition instead of overmatched allowance rivals.
"What people missed when he won the allowance at Del Mar was that he was just galloping," Baffert said. "No one picked up on how good he is because Bejarano wouldn't let him run, he'd shut him down."
Thumbs-up text
As much as speed figures paint an imposing picture of Arrogate, the mind-boggling part involves the possibility that he has yet to reach his full potential.
"He's done things in his last two races that we haven't seen horses do. He's still young and there's room to grow. Imagine that," Smith said. "He hasn't reached his potential yet and that's a scary thought. He's still learning how to run and he's got plenty of room to get better. Without a doubt he's in the best hands. A great owner, one of the greatest trainers of all-time. It's the whole crew. He's got the finest behind him."
It's that possibility of a maturing and developing Arrogate that makes the Pegasus such a highly anticipated rematch. The shorter mile and an eighth distance might favor California Chrome. The 6-year-old also had a race after the Breeders' Cup, galloping to a 12-length rout in the Winter Challenge Stakes at his home base of Los Alamitos on Dec. 17.
Meanwhile Baffert's plans to run Arrogate in the G2 San Pasquale at Santa Anita on Jan. 1 were scrapped due to a wet track, but his newly turned 4-year-old put in a sharp six-furlong, 1:11.94 workout on Jan. 8 that has him feeling quite confident once again.
"Bob was very happy with the work. He texted me about the work with thumbs up [emoji] that Arrogate was back on track and ready to roll," Smith said. "The best part of the work was that he galloped out like a machine. All systems are go."
Racing luck needed
As much as Arrogate thrives at a classic distance, Baffert believes neither running nine furlongs instead of ten in the Pegasus nor Arrogate's 12-week layoff will work against his new star.
"He'll be ready. I used to win a lot of races off layoffs with my quarter horses. I feel comfortable doing it. It's a challenge but I'm confident I'll have him ready," said Baffert, who gave the Juddmonte runner a 1:12.29 six-furlong work on Jan. 15. "A mile and an eighth, mile and a quarter, it will all be the same. He has a lot of speed. He broke a track record in the Travers. In a race like the Pegasus, you need some racing luck at the break."
What happens after the Pegasus remains to be seen. If all goes well, O'Rourke says the main target will become a return trip to the Breeders' Cup Classic.
"Prince Khalid wants a fresh horse for the Breeders' Cup Classic. We'll run in the Pegasus and Bob will work out a plan that will work backward from the Breeders' Cup Classic," O'Rourke said. "If the horse is fresh, he may add something but, if it's just two or three races before the Breeders' Cup, so be it. The main goal is Del Mar in November and we'll leave it to Bob to get there."
Dubai 2018 unlikely
O'Rourke said it was unlikely Arrogate would run in the Dubai World Cup and added that a return trip to the Pegasus may not be in the cards for a colt who will head to stud in 2018.
"Dubai hasn't been totally ruled out, but I don't want to put pressure on Bob, given that we want a fresh horse at the end of the year," O'Rourke said. "We don't want to put any pressure on him. If we go from the Travers to the Breeders' Cup to the Pegasus and then the Dubai World Cup and then fatigue sets in, we'd have no-one to blame but ourselves. I'm not saying no to Dubai. We just have to let the horse dictate it and Bob will be the judge.
"Our crystal ball has an expiration date of November 2017. We haven't thought that far ahead and we probably won't for a while. He will stand at stud at 2018, but, before discussing next year's Pegasus, let's get to the Breeders' Cup first. That's traditionally the end."
Whenever that end comes, it will be an emotional moment for everyone involved with such a magical tale, especially Baffert, even though the 64-year-old Hall of Famer knows what to expect. He had a once-in-a-lifetime experience with American Pharoah and admits he sometimes shakes his head in disbelief how fate gave him another great horse on the heels of a Triple Crown champion.
Back-to-back greats
"After Pharoah, there was this huge void and you're thinking how am I going to top that? Then to get a horse like this? I could never compare him with American Pharoah because American Pharoah was a super horse but to get two great horses back to back, I'm just lucky and fortunate," Baffert said.
"There are so many ups and downs in this game, but when you get a great one like this you forget about the other things going on. Something shined down on me that gave me all this good fortune. Going through the American Pharoah years with the Zayats was a lot of fun and so is this with Juddmonte, which makes it so enjoyable."
American Pharoah followed by Arrogate. In some ways, it may prove to be similar to Riva Ridge followed by Secretariat (the 1972 and 73 champions were both trained by Lucien Lauren), as laughable as that may have seemed in early August. But not any more. Bob Baffert's secret is out and racing has a new star in Arrogate, whose road to glory has been remarkably short by conventional standards. So short indeed.