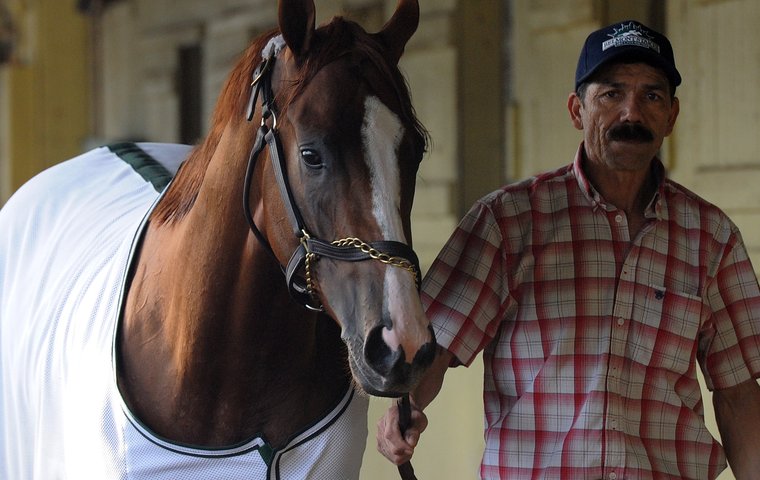 Legend has it that winged Pegasus was "unwearying of flight, sweeping through the air swift as a gale of wind". Where his hooves struck the earth, fresh springs broke through the crust - a horse "beyond all mortal creatures" with a "subtle mind and heart".

If you speak to trainer Art Sherman, you'd be forgiven for thinking the horse that inspired the great Greek poets all those millennia ago has returned in the guise of a bright copper-colored colt whose odyssey has corralled the kind of worship reserved for those divinely-touched heroes of lore.
"[California Chrome's] put us in a different atmosphere - stratosphere, actually," Sherman said, one chilly morning at Los Alamitos racecourse, the kind that shoots mushrooms of steam from horses' nostrils. We were perched inside — thankfully — in the warmth of the stable cafeteria, coffee bubbling in the background and the Puente Hills framed by the windows looking snow-powdered in the distance.
"The horse is just the smartest horse I've trained - he knows he's a star," Sherman added. "It's different being around him. He ripples with muscles and looks at you with those eyes wide open – he's got that look to him that a lot of horses don't have. He's just something special, there's no doubt about it. And he's going to go down in history as the best that's ever raced."
Poetic justice
There's more than a little poetic justice therefore in how California Chrome's last race will be the Pegasus World Cup at Gulfstream Park on January 28 – the richest race in the world at $12 million, and the one that, should California Chrome win it, will shove him to the top of the pile of highest-earning racehorses ever to ply their trade.
But records are set and broken and broken again – it's the stories behind them that tend to last longer in posterity, and the Pegasus World Cup will turn the chapter on a horse racing fable with few equals.
A horse bred with small change who conquered the world. A hard-scrabble trainer who had to wait until his 77th year to break into racing's high society. First time owner-breeders known as much for their abrasive opinions as the unlikely fulfillment of their wildest dreams. This is paint-by-numbers stuff for Hollywood's scriptwriters.
For Sherman, California Chrome's next and final race will be tinged bitter-sweet.
"I sure would like to see him go out a winner," he said, his voice caught in his throat. "You've got to enjoy it – it's coming to an end. It'll be a big void in my barn, not seeing him everyday."
Espinoza's call-up
A certain misty-eyes melancholy echoed through Sherman's recollections of a four-year soap opera that began when a gangly little chestnut with four white feet, "kinda green", arrived at his barn in Los Alamitos early in 2013.
"He didn't have the body he does now, but he developed, like a young kid going to school." The body might not have been there then, but the latent talent was. "We knew he could run, but he just didn't have the maturity."
From the get-go, California Chrome was kept busy at two, winning a couple of races, including a listed stake at Del Mar, but not reaching the heights thought possible of him.
"He should have won two or three more races. We had some bad routes – one bad ride." That one bad ride came in the $200,000 Golden State Juvenile Stakes at Santa Anita in November of that year. "He got shut off three times, [jockey Alberto Delgado] pulled him up. That's why I changed riders."
Enter stage left Victor Espinoza for the King Glorious Stakes on the night of Hollywood Park's farewell gala. "That changed everything. He was training like a bullet right before the race. I said to myself, 'if they beat this horse today, maybe I'm being too high on him.' He didn't let me down."
'All of a sudden, he just went the other way'
And so began an unlikely string of victories that showcased a young horse racing through adolescence towards adulthood: the California Cup Derby, the G2 San Felipe Stakes, the Santa Anita Derby (his first G1 win), the Kentucky Derby - "it's every trainer's dream to win the Derby" - and the Preakness Stakes. "The Preakness was great, too."
Then came the kidney punch of the Belmont Stakes defeat, which marked the beginning of California Chrome's blue period. Sherman is noticeably — and understandably — reticent about this stretch of Chrome's career, but the events have been well charted.
Co-owner breeder Steve Coburn's prime-time, dejection-fueled broadside against the Belmont Stakes winner set the tone for how the subsequent months would unravel. On the track, a lackluster return in the G2 Pennsylvania Derby was followed by another defeat in the Breeders' Cup Classic.
A top-flight turf victory in the Hollywood Derby mitigated things somewhat, but that was followed by more losses in the G2 San Antonio Stakes and the Dubai World Cup. Then came his abortive trip to England, where he was stabled at Newmarket in anticipation of a Royal Ascot appearance.
"I wasn't training him them – I thought it would be best for me to step back," Sherman said. "Going up and down them hills, it's different. Newmarket's a beautiful place to train, but he's never done that. All of a sudden, he just went the other way." Which is when injury intervened.
"I was so happy to get him back, but he'd lost so much weight. You didn't know if he was ever coming back when he was dead lame after getting the bone bruise."
Standout moments
After two-and-a-half years, 17 races and 19,000 air miles as a 4-year-old alone, California Chrome was finally packed off on an extended vacation to Taylor Made Farms in Kentucky, which had bought Coburn's 30 percent share of the horse. This should have been a sad but predictable epilogue to the racing portion of this story.
But the blue grass nectar of Kentucky was clearly the antidote he needed, for the horse that was sent back to the Sherman stable later that year was in every way a transformed version of the sorry figure that had alighted the plane at Arlington in July.
"When I first saw him this time when he came back, I thought, 'he's a different horse'." And California Chrome's done little since to dent that impression. "This year especially, he's towering over everybody."
On his return, California Chrome's undefeated run stretched from the G2 San Pasqual Stakes last January to the G1 Awesome Again Stakes in October, with two victories in Meydan — including the Dubai World Cup — along with a win in the G1 Pacific Classic, in between.
From this new and improved iteration of the California Chrome story, two races stand out for Sherman. One is the saddle-slipping, gravity-defying fireworks of the Dubai World Cup.
"When your horse comes back to the winner's enclosure and you get a standing ovation from 60,000 people, and they don't even have gambling, that was quite a spectacle. They just had that much respect for the horse."
The other is the Pacific Classic at Del Mar, when California Chrome dispatched a field comprising the likes of Beholder and Dortmund with gruesome disdain. "I knew it was all over at the three-eights poll," he said.
"He just blew them away, and the field was probably the best field I've ever seen in any Pacific Classic. Mind-boggling. You had Beholder, she ran her eyeballs out. [Richard] Mandella told me, 'that horse, you had him so good. There's no shame getting beaten by him.'"
Losing to Bob Baffert's Arrogate in the GI Breeders' Cup Classic took the wind out of Sherman's sails, he said. But should Arrogate reappear, as planned, in the Pegasus World Cup, Baffert's sinewy and steely grey will need to be each and every bit as tightly wound as he was for the Classic to prevail again, Sherman thinks.
"I just want a rematch so bad. I've just got this gut feeling, when he challenges Chrome this time, it'll be a different race." Espinoza's over-confidence — and top-of-the-stretch rubber-necking — had perhaps cost them the Breeders' Cup, Sherman admitted.
"He should have just got the horse opened up. But I think he knew it – when I talked to him this time, he said they won't beat him again."
For his part, Espinoza acknowledges the role he played in California Chrome's defeat last November.
'I'm not going to ride him again like that next time'
"If things didn't work out the way I rode him before, I'm not going to ride him again like that next time," he said, one morning recently, high up in the Santa Anita grandstand.
"I'm never going to ride the same when I get beat. I believe this time it's going to be tough for Arrogate to beat California Chrome. I'm confident. Arrogate is an incredible horse, but Chrome is good too. I'm really excited and interested to see how these two face off against each other, and I'm ready for it.
"It's hard for other horses to keep up with Chrome," he added, alluding possibly to what tactics he might use in Florida. "When I turn him loose, he's so quick, he leaves everyone like they're standing still."
Of course, the Breeders' Cup hasn't been the only time Espinoza has faced criticism for his rides on California Chrome – criticism that has come even in the fresh zest of post-race celebrations.
During the press conference after their Pacific Classic rout last year, for example, co-owner breeder Perry Martin proceeded to skewer Espinoza for the wide berths he had taken the horse in previous races.
"When they ask about Chrome's legacy, I just hope that they put everything into perspective," he said, at the time. "If we'd been running him different, I think he would own several records."
Espinoza's response?
"Sometimes it really is brutal, but I've learned over the years just not to listen to it. I know what I did – hey, I'm a winner. They can say whatever they want. But over the years, I've grown a really thick skin that nothing can go through."
Taylor Made's crucial role
But that impenetrable thick skin and resiliency has been a trait of horse as much as jockey.
"A lot of great horses, believe it or not, they win a lot of races, but they only take once to get beat," Espinoza said, about the fragility of the equine ego. "And the moment they get beat, for some reason, they take a little to come back as normal, if they do at all."
Both Espinoza and Sherman agree that much of the plaudits concerning California Chrome's renaissance and enduring form since should go the way of Taylor Made Farm, whose eponymous president, Duncan Taylor, pointed in turn to the farm's no-stone-left-untouched approach of tending to California Chrome's mind, body and soul in 2015.
Back then, their farrier worked hard on California Chrome's foot troubles, Taylor said, and put special pads on his feet for cushioning. Acupuncturists and chiropractors saw to the horse, who was given much needed quality alone-time out in the paddock for the first time in eons.
All of this, said Taylor, was done with a view to stimulating the blood circulation throughout the horse's legs.
'That purse there is the sole reason he stayed in training'
"If you don't give horses time off, then that bone at the bottom of the cannon bone begins to become unhealthy," he said. "When we bought him, that's what he had."
For his part, Taylor is keen to give credit to Sheikh Mohammed for conjuring a race like the Dubai World Cup, richly endowed and a vital incentive for keeping horses in training longer – indeed, the World Cup is "the sole reason" he stayed in training beyond four, Taylor said.
The World Cup victory certainly cemented California Chrome's legacy on the track. But what's still up in the air is the legacy he will leave on the breed as a whole.
Taylor, understandably, is thinking big. And he sees parallels between California Chrome — a horse whose pedigree has come under tough scrutiny in some quarters — and an emerging star in the world of bourbons, Pappy Van Winkle.
"If you go back 15 to 20 years ago, nobody knew what Pappy Van Winkle was. Nobody knew the story. But over the past 20 years, it's become the world's premier bourbon. And I think in Chrome's pedigree, nobody's looked and understood this pedigree. But it's one of the things that attracted me to the horse."
"It's not an easy business – it's something you've got to work at," he added. "And hopefully, he'll be the sire that I hope he can be."
'One day I'm going to have a book'
The notion of legacy is an important one to Sherman, too – for himself, one feels, as much as for his horse.
At one point, Sherman reached into his pocket and took out a solid gold money clip. He won it for being leading apprentice at the old Caliente racecourse in Tijuana, Mexico. The C of Caliente is in the shape of a horseshoe, a ruby the size of a small biscuit crumb is nestled in the center, and the object serves as a totem for the trajectory of Sherman's career in racing.
"It's been in my pocket a lot of years. There wasn't a lot of money in it a lot of time - sometimes it was empty," Sherman said, laughing the sort of easy laugh that comes when hindsight is viewed from a place of comfort.
For when he first started in racing, at owner Rex Ellsworth's eponymous Ellsworth Ranch in Ontario, Southern California, the education he got was of the hard knocks kind for small recompense.
He made $75 a month during his first year in racing, $170 a month the next, and $250 a month the year after that. "There were times when I went hungry. There was a woman who had a drive-through hamburger place who used to feed me when I ran out of money."
The work was backbreaking – most new apprentices buckled under it and quickly slunk away. But, in working for Mesh Tenney, Ellsworth's trainer, Sherman was surrounded by horses like 1955 Kentucky Derby winner Swaps, and by care-worn, hard-drinking old cowboys who shared with him the secrets of horsemanship passed down around the campfires and rodeos of generations before them.
"A lot of people couldn't believe it when I brought Swaps to Kentucky and I figure-eighted him between the barns bareback. The hard boots went crazy. They said, 'look at these cowboys - they're going to beat our horses doing that?'"
The trainers he typically rode for as a jockey were the ones struggling to eke out a living nursing horses with crooked knees, ankles the size of footballs.
Teary-eyed frustration
"I'd warm them up, they'd be on the choppy side, then they'd smooth out. The trainers worked on those horses themselves – they didn't have veterinarians in those days. Now, these vets park at your barn."
And when he took to training himself, Sherman - now world ranked 96 in the global trainer standings - plied his trade for decades largely with similar sorts of horses – those that would reward hard work and patience with disappointment and teary-eyed frustration.
Sherman had gone out of his way to emphasize how easy California Chrome has been to train. "If every horse was like him, you wouldn't make any mistakes," he told me soon after we had first sat down. "You don't have to worry – he just goes forward. You lead him over there, you know he's going to run."
And so, I mentioned how ironic it is that he should receive the greatest accolades of his training career — the Eclipse and Vox Populi awards, the Jewish sports Hall of Fame induction — for a horse that has, in many ways, required him to delve into his encyclopedia of training tricks and skills the least.
"A lot of people used to say, 'jockeys don't make great trainers,'" he replied, not so much in answer to what I asked but to questions that he has carried around for a while, evidently, gnawing at the subconscious.
"I rode for 23 years. I know horses. I know how they feel underneath you, how they're doing, how they're breathing. It's a different feeling being on top of them, riding a race, going head to head, and knowing they're giving it all they can. Training, it's a combination of everything you've done in your life – from 16-years-old until you're 80.
"One day I'm going to have a book," he added. "You'll see a lot of interesting facts about my whole life. There's a lot of good stories, things people don't know. It's not just a case of a guy suddenly getting a good horse - we've been around a lot of good horses. My career was always good. We won a lot of graded stakes, but nothing like until Chrome came along."
'Love affair' with Raul Rodriguez
Because of this lifetime in racing, Sherman understands as well as anybody the team-effort that underpins any success in the sport. His son, assistant and barn mainstay, Alan, has been an indispensable part of the story not just through the Chrome years but long before that.
Then there's the 'love affair' that has blossomed between California Chrome and Raul Rodriguez, the horse's groom since those gangly 2-year-old days.
"The horse loves him. When you've been around horses everyday of their life you know their personalities, what they like, how to handle them and everything. They've had quite a journey, but here we are. It's heartwarming."
Here we are indeed, coming to the end of one long tumultuous journey quite unlike any other undertaken in racing.
A journey that has seen a blue-collar Cal-bred bring more than 100,000 flocking to Belmont Park in hope of savoring the sweet ecstasy of a Triple Crown victory. That their dreams weren't delivered meant not a jot. He got just close enough to give them a taste that kept them going for one more year.
'There's always hope'
A journey that brought Saudi royalty to their collective feet in worship of a hero that has defied his mortal odds. A journey that breathed new life into a run-down and forgotten racecourse called Los Alamitos in Orange County, where, for the champion's penultimate race, thousands flocked to say their final farewells.
Boy, did he give them a send-off.
It's not surprising then that Sherman expects life to be distinctly quieter after the dust has settled on this inaugural running of the Pegasus World Cup. "I'll be more emotional when I see the stall empty – that'll really bother me."
But racing is a sport that suffers nostalgia only in careful doses.
He has ten new 2-year-olds waiting in the wings (only a few days after we spoke, it was announced that owner Kaleem Shah would be sending six horses to Sherman previously trained by Baffert).
And in March, California Chrome's brother will join the barn.
"I told them I'm saving the stall for him. You always think, 'I wonder whether he'll run any good as Chrome.' He's not quite as mature, but he really has a nice way of going. You just don't know until you start breezing them.
"I'm hoping," he added, touching upon arguably that one most potent symbol for so many of California Chrome's remarkable, truly remarkable rise from obscurity to transcendence in a sport that plays a wicked game of keeping you grounded.
"There's always hope."