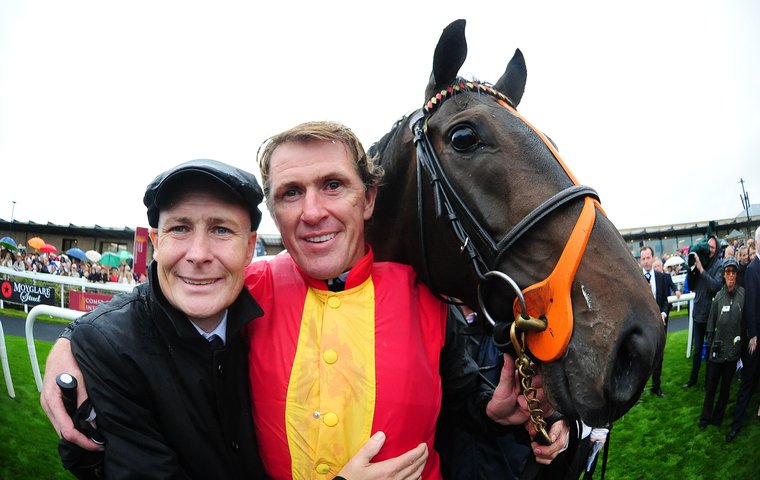 The weekly TRC industry digest - a round-up of international racing news from the past week.

Huge boost for cancer charity after Pat Smullen initiative
Europe: More than €2.5m has been raised for Cancer Trials Ireland as a result of the fundraising effort spearheaded by Pat Smullen over Irish Champions Weekend.
As well as an online auction, there was a gala dinner in Dublin at which where Sheikh Hamdan Bin Maktoum contributed €500,000. Highlight of the weekend was the Pat Smullen Champions Race for Cancer Trials Ireland, which was won by 20-time British champion jump jockey Sir Anthony McCoy.
Last month nine-time Irish champion jockey Smullen was forced to withdraw from riding in the race himself after hitting a setback in his recovery from pancreatic cancer, but he was in attendance at the Curragh on Sunday.
Smullen said, "I never dreamed we'd reach a figure like this and it's a tribute to the kind nature of everyone in the racing and breeding industry. I'm overwhelmed.
"Sunday at the Curragh was a special day and a huge thank you to everybody who came along. I don't think we'll see a race like that again and I owe so much to my good friends, the nine champion jockeys who came out of retirement to ride in it, as well as the race sponsors, owners and trainers who made the race possible."
Fravel leaving Breeders' Cup for role with Stronach Group
North America: To general surprise, Craig Fravel, chief executive of the Breeders' Cup, will leave his current role to join The Stronach Group (TSG) as chief executive of racing operations after the Breeders' Cup at Santa Anita on November 1-2.
The former Del Mar COO, who has been with the Breeders' Cup since 2011, paid tribute to board members Bill Farish and Fred Hertrich – "whose support has been invaluable". Along with tackling "new and important challenges" with TSG, Fravel confirmed that the "chance to join my family back in California" was also a great pull.
Fravel will assume management and supervision of all racing operations across TSG-owned tracks and training facilities, as well as enforcing global best practices and integrity standards for horse and rider safety, in collaboration with key industry stakeholders in the wake of the 31 horse deaths at Santa Anita this year.
Aidan Butler, recently named acting executive director of California racing for TSG, will continue to be in charge of day-to-day operations at Santa Anita. However, it is not yet clear if this leaves a role for Tim Ritvo, who is the chief operating officer and until recently was running Santa Anita.
"I'm delighted to have Craig join our company at this pivotal moment in our sport," said Belinda Stronach, TSG chairman. "Craig's stellar reputation and proven track record of leadership will enable us to further our goal to become North America's pre-eminent horse racing organization."
The Breeders' Cup board of directors is evaluating the appropriate next steps to fill Fravel's position.
Magical top in horse of the year race
Europe: Aidan O'Brien's Qipco Irish Champion Stakes winner Magical has regained top spot in the Cartier Horse Of The Year standings, 40 points clear of the John Gosden-trained Stradivarius and Enable, although the dual Arc winner has beaten the Coolmore filly both times they have met this season.
Standings
Magical 168
Enable 128
Stradivarius 128
Crystal Ocean 112
Hermosa 112
Too Darn Hot 112
Japan 108
Blue Point 106
Circus Maximus 88
Advertise 80
There is a four-way tie for the lead in the 2-year-old colts division, with Charlie Appleby's National Stakes winner Pinatubo joining A'Ali, Siskin and Threat. WH Stayers Million winner Stradivarius leads the way in the long-distance division, while the now-retired Blue Point, dual 2019 winner at Royal Ascot, remains at the top of the sprint standings.
The points are just one of the factors that count towards the awards. They account for 30 percent of a runner's total. The opinions of a panel of racing journalists/handicappers count for 35 percent and votes from readers of the Racing Post and The Daily Telegraph plus ITV Racing viewers for another 35 percent.
Hong Kong card called off amid protest worries
Asia: Wednesday night's Happy Valley race meeting was cancelled just hours before it was meant to start because the Hong Kong Jockey Club (HKJC) feared local protesters could compromise the safety of its staff, customers and horses.
Over the summer there have been weekend protests on Hong Kong streets as the public react to China's now-abandoned extradition bill and its potential ramifications. However, as JA McGrath wrote in TRC, Hong Kong racing had been largely unaffected by the political and social chaos.
It was nonetheless the inclusion of Hong Kong Bet – part-owned by polarising pro-establishment lawmaker Junius Ho Kwan-yiu – on Wednesday's card that is believed to have attracted the protestors, who have started a campaign to have Ho's HKJC membership rescinded.
The neutral HKJC is believed to have asked Ho about potentially withdrawing Hong Kong Bet from the race, but he was insistent his horse was going to run. The race was moved to the start of the card before the eventual decision to cancel the meet was ultimately taken.
Circus Maximus keeps the Moulin
Europe: Connections of Romanised, the narrow runner-up in the G1 Prix du Moulin at ParisLongchamp 12 days ago, have failed in their appeal against the decision to allow Circus Maximus to keep the race.
It was argued that Circus Maximus had drifted to his right in the final furlong and a half, taking Romanised off his true line. It was also asserted a bump had caused him to change legs before rallying in the final strides to go down by just a nose.
In summing up, the appeal panel found that "there was no evidence that the colt Romanised had been deprived of a winning chance through interference which would have necessitated the demotion of Circus Maximus".
British target lucrative Stockholm Cup card
Europe: Trainer Marco Botti's Crowned Eagle leads a ten-strong British challenge at Bro Park's valuable Stockholm Cup Day on Sunday. The five-year-old gelding, who will be ridden by Luke Morris, finished second to David Menuisier's Canadian International runner-up Thundering Blue in the £140,000 G3 last year.
Ed Dunlop saddles Amazing Red, a listed winner last time at San Sebastian in Spain, who is among 12 runners who will line up for the Stockholm feature, which will be broadcast live by RacingTV.
The fixture boasts total prize money of almost £500,000 over 11 races, and the strength of the British contingent has delighted Svensk Galopp's Head of Racing, Dennis Madsen, whose recent initiatives to further internationalise Scandinavian racing appear to be paying off.
He said, "We are delighted to see such a high level of interest in our international meeting, which continues to show great potential. With the right results in the Group 3 Stockholm Cup this year, it wouldn't be overly ambitious to aim at Group 2 status in the future as the race reached the required parameter for a Group 2 last year."
Jockey Club's genomics partnership
North America: Irish equine science company Plusvital has announced it has been engaged by the Jockey Club on an ongoing consultancy basis. It will provide the U.S. regulator with its expert genomics advice and services as it examines breeding trends in the Thoroughbred.
"We are delighted to have the opportunity to work with the Jockey Club," said Plusvital's Professor Emmeline Hill. "We welcome the Jockey Club's proactive approach to addressing this critical issue.
"We believe that genomics should be at the core of measuring the extent of inbreeding in the Thoroughbred as it has the potential to provide solutions beyond pedigree. This partnership is further evidence of the potential to use genomics for the benefit of the industry."
New general manager for Weatherbys Ireland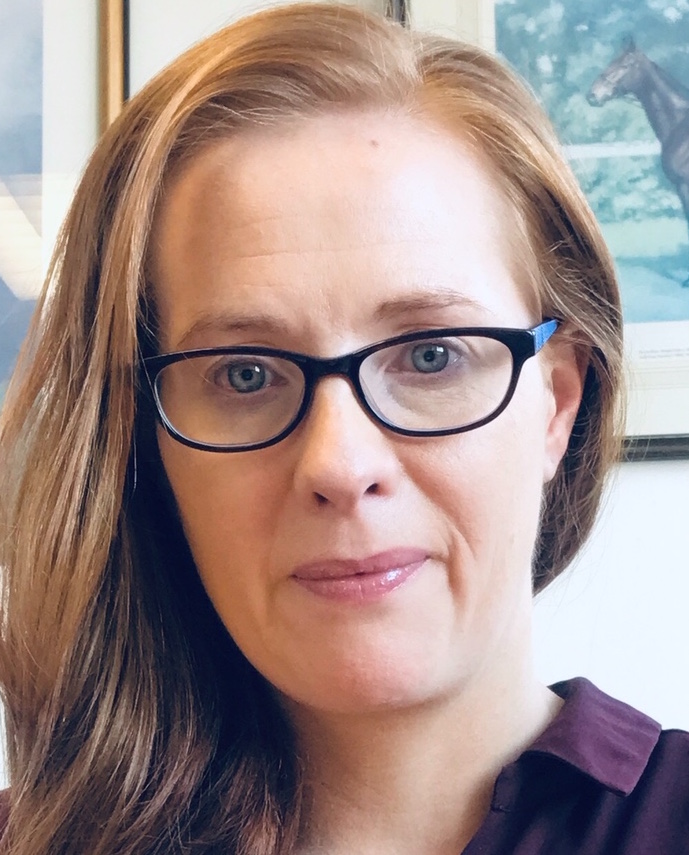 Sharon O'Regan (left)has been appointed general manager of Weatherbys Ireland, succeeding Russell Ferris, who has recently become Weatherbys new CEO.
O'Regan is well known within the main industry bodies in Ireland and has been a key figure within the Weatherbys Ireland team for several years. In the last 18 months, she has been deeply involved in the digital transformation of the General Stud Book where customer engagement and experience has been key.
Russell Ferris commented, "Sharon's understanding of and relationships within the industry make her perfectly placed to take the business to the next level."
O'Regan said, "This is an exciting time for Weatherbys as we look to deliver new digital technologies and solutions, whilst at all times remaining focused on our commitment to do everything we can to help support the Thoroughbred breeding industry."
Elsewhere …
North America: Into Mischief, one of the leading sires in North America, will stand in 2020 for a fee of $175,000 S&N and has been booked full. "We genuinely believe he's the best sire in the world," said Ned Toffey, general manager at Spendthrift Farm. More here
Europe: In spite of equine influenza, turnover has increased in the first half of Newbury Racecourse's financial year, with chairman Dominic Burke saying he is "pleased with the continued progress made in the first six months of 2019". More here
North America: The Stronach Group has announced that Mike Lakow has been appointed Vice President of Racing Operations at Gulfstream Park. More here
North America: Santa Anita Park has installed a new state-of-the-art LED infield video board, which will be debuted on its opening day for its 23-day Autumn Meet. More here
Oceania: Betfair Australia will no longer be offering markets on Hong Kong racing following a September 1 'cease and desist' letter from the HKJC, which claimed the online bookmaker's offer of backing horses to lose raised integrity issues. More here