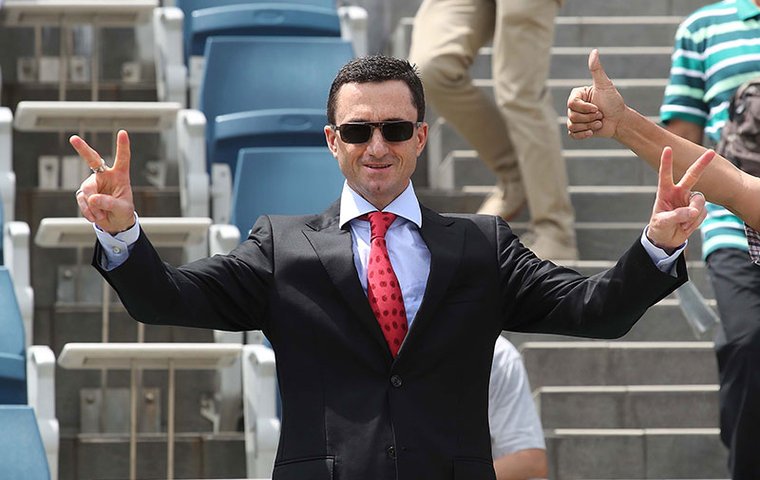 Newspaper headlines and international television coverage paint a horrifying picture of the social unrest in Hong Kong at present, yet the new racing season kicked off at Sha Tin without a hitch on Sunday (September 1).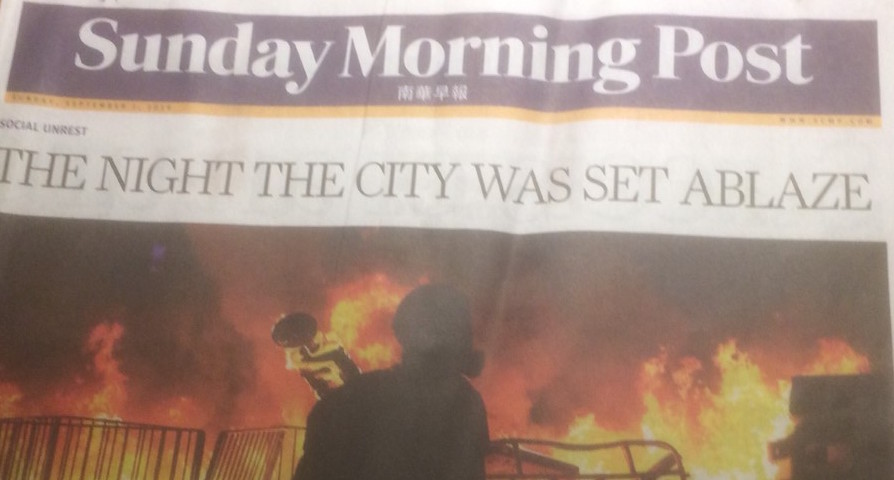 Not surprisingly, the total crowd figure 68,271 was down 8.6 percent on last year's curtain raiser, but remarkably, betting turnover was up 2.8 percent, with HK$1288m (US$165m) wagered on the ten races.
The waving of a giant China flag in the public enclosure at one point between races mid-afternoon was the only expression of nationalistic or political sentiment. Otherwise, punters went about the daily challenge of trying to back winners with their customary zeal.
Unlike in the illegal protest marches that took place at various locations in Hong Kong on Saturday night, any chanting on track came from those urging on their fancies in the closing stages of races.
Winfried Englebrecht-Bresges, the Hong Kong Jockey Club's CEO, praised local punters for "their support and resilience". He added, "We have got the first race meeting off the ground with a positive start and that emphasises the strong support we have from our fans.
"I would also like to thank our staff for their dedication to make this happen. I was really surprised that we could hold up the attendance to this level, which is similar to the crowd we had here on opening day in 2017. I hope this shows Hong Kong racing is strong and we hope we can continue with this positive momentum."
Englebrecht-Bresges also reported a HK$50m (over US$6m) hike in turnover from international partners through commingling. "That shows the competitiveness of the overseas market," he added.
"We know we are in challenging times here in Hong Kong, but I found it very encouraging to see the positive energy that was created at the racecourse today. The atmosphere and anticipation displayed by racegoers was extremely good."
Less than ten miles from Sha Tin, protesters had forced the cancellation of the Airport Express rail service that links the terminal, one of Asia's biggest hubs, to Kowloon and Hong Kong island, and blocked access roads.
On the racing front, the season began in much the same vein as most expect the entire term to play out — in Race One, champion Zac Purton, on the 22/10 favourite Good Runners Way, held off the late challenge of arch rival Joao Moreira, on Regency Gem, to win the opening contest.
And could we have seen the dawn of a successful new career for Douglas Whyte, the former 13-times champion jockey, who saddled his first winner as a trainer, Adonis, ridden by Australian Regan Bayliss? It was only Whyte's second runner, following Le Panache, who finished fourth in the opener.
Whyte said he derived great satisfaction from winning with Adonis, who had been refusing to settle in his work but had learned to relax. The same dedication that made him a dominant force as a jockey can be detected in his approach to training.
Whyte's fellow South African, jockey Lyle Hewitson, who was featured on this site last week, was out of luck on his first day riding in Hong Kong, with one place, a third, from five mounts.