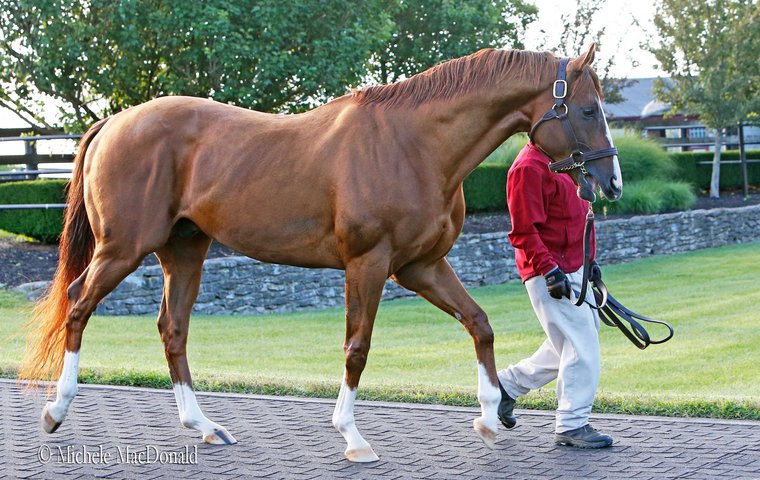 The weekly TRC industry digest - a round-up of the international racing news from the past week.

Chrome is off the mark as a sire - in Russia
Asia: Two-time Horse of the Year California Chrome was represented by his first winner in Russia when Sunkar Time won a 1,400-metre race at Krasnodar Racetrack for owner Rustam Mantikov and trainer O.S. Samokhina.
Bruce Ryan bred the colt in Kentucky, selling it for $14,000 to Mikhail Yanakov's Olympia Star at the 2019 Keeneland September Yearling Sale from the Lane's End consignment.
California Chrome completed his first breeding season at Arrow Stud on Hokkaido, Japan, this year. The 9-year-old son of Lucky Pulpit entered stud in 2017 at Taylor Made Stallions and shuttled for two seasons to Sumaya Stud in Chile. During his first three seasons at Taylor Made, California Chrome bred 473 mares. He's sired three North American starters through July 21, who have all placed.
The stallion previously stood at Taylor Made in Kentucky, which holds a lifetime right of first refusal once he is retired as a stallion internationally. He now resides at Arrow Stud on Hokkaido.
Read Nancy Sexton's report on Why California Chrome is so appealing to Japanese breeders.
Sydney rider faces ban over betting offences
Oceania: Racing NSW stewards have issued guilty verdicts in 30 of 31 betting charges faced by Sydney jockey Adam Hyeronimus, who could be handed a minimum two-year ban from the sport.
Hyeronimus' cousin, stablehand Blake Paine was also found guilty of betting offences. The pair pleaded not guilty but were cleared of only one charge.
Hyeronimus – known affectionately as 'The Hippo' - deposited money into Paine's bank account on 22 occasions, which was then transferred to a betting account. In total, Hyeronimus paid A$30,000 (£16,670) into Paine's account between June 2016 and November 2018.
Gary Barber's support for WHOA effort
North America: Leading international Thoroughbred owner Gary Barber is the latest major player in racing to "stand in solidarity" with the Water Hay Oats Alliance (WHOA), the grassroots movement that supports the passage of federal legislation to prohibit the use of performance-enhancing drugs.
The Hollywood mogul – whose involvement in racing spans three decades – said it was a "critical time in our industry where we need to be united in our quest for uniformity", adding that it was "vitally important for the health and safety" of all competitors to "vocally show our collective support toward this urgent effort".
Barber's distinctive pink silks have been carried to victory by Canadian champions Wonder Gadot and Lexi Lou, 2019 Preakness hero War Of Will, 2019 Breeders' Cup Turf Sprint-winning mare Belvoir Bay, 2016 Breeders' Cup Mile winner Tourist and 2015 Breeders' Cup Juvenille Fillies Turf winner Catch A Glimpse.
Treve's first foal is a winner
Europe: Dual Prix de l'Arc de Triomphe heroine Treve's first foal, Qous, opened his account at Chantilly by winning the Prix du Mont Alta over 1m 2½f last Friday.
The Andre Fabre-trained 3-year-old stayed on well under Vincent Cheminaud to claim the lead close home and prevail by a short neck in a four-horse blanket finish.
The Al Shaqab homebred is by world #1 sire Dubawi and is one of four foals so far produced by the mare, who was trained by Criquette Head-Maarek.
She also has a 2-year-old filly in training with Fabre, portentously called Paris, by Shalaa. She recently gave birth to a daughter of world #4 sire Sea The Stars and was among a host of star mares in the 2020 book of Juddmonte stallion Kingman (ranked world #13).
No spectators for Irish Champions Weekend
Europe: Two of Ireland's biggest September fixtures, the Longines Irish Champions Weekend (ICW) and the Listowel Harvest Festival, will be staged behind closed doors because of continued uncertainty surrounding the Covid-19 pandemic.
It had initially been hoped crowds of up to 5,000 might be permitted by September. However, Paul Dermody, CEO of HRI Racecourses, said, "With less than eight weeks to go before Longines Irish Champions Weekend, it was the committee's view that this was the optimum time to give people certainty."
Last year, an aggregate 23,508 attended ICW, and Listowel's seven-day festival attracted 89,076 fans.
'That's enough' says Jones after crashing fall
North America: Three-time Kentucky Oaks-winning trainer Larry Jones has conceded that his days of exercising his own horses have come to an end after he was thrown from an unraced 2-year-old colt he was galloping last Saturday at Ellis Park in Kentucky.
Jones, 63, suffered nine broken ribs, a broken collarbone, and a fractured vertebra in the accident. The 185-pound trainer often cut a unique sight exercising his charges, but he told Daily Racing Form, "That'll be the last one I ride. I've gone out in style."
"Every time I'd get hurt, all I'd think about was getting back up," said Jones, who was placed in a medically induced coma in 2014. "But not any longer. I'm drawing this as the line. I've looked for the end of that racetrack for 40 years now, but I'm done looking."
He did, nonetheless, admit that he may consider training from a stable pony "or on the ground like some of the other guys".
Elsewhere in racing …
North America: Tizbud, a G1 stallion at Harris Farms in California and full-brother to Hall of Famer Tiznow, was euthanized on July 20. More here
Europe: The share price of GVC Holdings, parent company of Ladbrokes and Coral bookmakers, has fallen as authorities have widened a tax investigation. More here
North America: Jockeys are to resume riding at Del Mar from Friday (July 24) without undergoing new Covid-19 tests. The track didn't race last weekend after 15 riders tested positive. More here
Europe: The British Horseracing Authority has announced that more owners will be allowed at British tracks from July 28. More here
North America: Colonial Downs will race without spectators this summer. More here