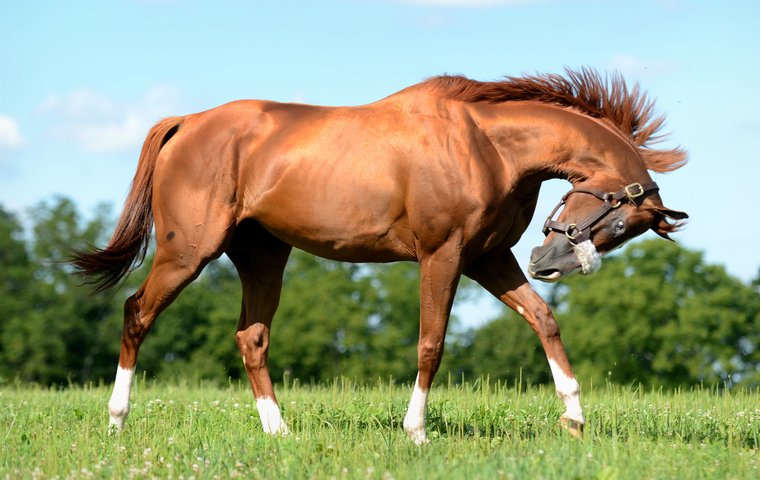 Much fanfare accompanied the retirement of California Chrome to Taylor Made Farm in Kentucky in 2017. His was a story that had resonated with the casual American racing audience; the inexpensively produced California-bred who had taken on the world with venerable trainer Art Sherman at his side.

In an era where a brief racing career has come to be considered nothing out of the ordinary, California Chrome was almost a throwback to another time, his 27 starts consisting of 16 wins, including seven in G1 company. A $14.8 million earner, the son of Lucky Pulpit came close to ending the Triple Crown drought, with victories in the Kentucky Derby and Preakness Stakes preceding a fourth in the Belmont Stakes. There was also that winning raid on the Dubai World Cup while a foray onto turf yielded a win in the G1 Hollywood Derby.
Horses like California Chrome, especially ones so tough and versatile, don't come along very often. Indeed, co-owner and breeder Perry Martin was quoted in late 2016 as boldly stating, "I hope and expect that he's going to displace Tapit as the top United States sire."
Martin had just dropped close to $3 million with Taylor Made on potential mates for California Chrome at that year's Keeneland November Sale. Meanwhile, outside the bubble of his own connections, interest was understandably running high, with a number of high-profile breeders seemingly happy enough to forgive his modest background and support the horse at an opening fee of $40,000.
Yet four seasons on and California Chrome resides in Japan. What happened?
Last November, The California Chrome Syndicate reached an agreement with the Japanese agency JS Company Ltd to purchase California Chrome for stud duty at Arrow Stud on the island of Hokkaido. Although no official price has ever been disclosed, it was evidently an offer too good to refuse, and so it was that California Chrome was on his way to Japan before he had even had a runner and much to the disgruntlement of his fan base. (As part of the agreement, the California Chrome Syndicate has the first right of refusal if California Chrome is ever sold, and upon retirement from breeding, he can live out the remainder of his life at Taylor Made).
Look back to the Keeneland September Sale, however, and the foundations for such a move was in place. California Chrome might be by far the richest-earning horse among this group of freshman sires but, when it came to commercial appreciation, he fell in the shadows of Frosted, Nyquist and Runhappy, to name but a few.
As it was, he returned an average at Keeneland of $92,833 for 30 sold, a figure that was fuelled by deep interest from Japanese buyers. The list includes Shadai Farm (paid $180,000 for a filly out of the G1-placed Right There), Capital System Co. ($200,000 for a filly out of stakes winner Somethinaboutbetty), Kanayama Holdings Co. ($260,000 for a filly out of G2 winner Warbling) and Ryotokuji Kenji Holdings ($235,000 for a filly out of stakes winner Celtic Chant).
In fact, Japanese buyers accounted for four of the stallion's top six yearlings at that sale.
Important factor
California Chrome possesses many of the assets appealing within Japanese racing, notably soundness, durability and versatility to go with his immense talent. And, while some American investors may have eyed his pedigree - by Lucky Pulpit out of a Not For Love mare - warily, his background is at least free of Sunday Silence and Halo, an increasingly important factor to a Japanese industry that is saturated with such blood.
For those reasons, California Chrome's sale to Japan could work out well for all involved. In addition, as Keisuke Onishi, of the JS Company, outlines, he is set to gain strong support in his first season at a fee of 4 million yen ($37,000).
"Our company has been looking for the new stallion, a 'big name' such as him, and I noted a number of his yearlings were bought by Japanese buyers at the Keeneland September Sale," says Onishi.
"He will cover at least 150 mares. He has been very popular with breeders. They are impressed with him. We need good support from breeders to help him succeed earlier on the track in Japan, and therefore we need large numbers of mares to breed in the first three years here."
He adds, "I have seen lots of his yearlings and weanlings at the sales in the U.S. I have an image that they could be more successful in Japan than other countries. Most of their details were quite average - they are not so heavy or light, not so strong or narrow. I think this characteristic probably suits the Japanese racing style."
The announcement of California Chrome's purchase in November prompted such a volume of traffic to the JS Company website on the day that it went down for several hours.
Since then, the JS Company have kept fans well informed of California Chrome's movements via social media, including his arrival to Arrow Stud on January 29. Unfortunately, several weeks later the horse developed minor enteritis - an inflammation of the small intestine - but recovered quickly.
California Chrome joins a wide-ranging roster at Arrow Stud that includes Japanese Classic winners and some familiar American names.
Arrow already boasts one Japanese Derby hero in the 2014 winner One And Only and last year added another Derby string to its bow in Roger Barows. The son of Deep Impact won last year's iconic event in a fast time and was on course for a crack at the Arc when injury curtailed his career.
"He is very popular because he is by Deep Impact and has a good female pedigree - he is closely related to Horse of the Year Gentildonna," says Onishi of the horse, whose fee has been set at 1.2 million yen ($13,000). "The breeders are also remembering how Roger Barows won the Derby - in an incredible race record, a faster time than Duramente."
Another level
European breeding is represented by Neoattraction, a winning son of Montjeu bred by Floors Stud out of their brilliant miler Attraction, while a collection of names familiar to an American audience includes Sinister Minister, the 12¾-length winner of the 2006 G1 Blue Grass Stakes at Keeneland, Lani, the 2016 Belmont Stakes third whose American campaign took in each of the Triple Crown legs, and champion 2yo Shanghai Bobby.
The latter was purchased by the JS Company from Coolmore for the 2019 season and was warmly received at a fee of 2 million yen ($18,500).
"One of the stud directors is very interested in the Harlan's Holiday line," says Onishi. "So I was looking for the chance to buy a good horse from his line, for example Majesticperfection, Goldencents and Shanghai Bobby - especially Shanghai Bobby as he was champion 2yo, which was very attractive for us.
"Also his U.S.-breds have been running well in Japan [where he is the sire of seven winners from eight runners], which helped. So he was very popular last year, breeding over 100 mares."
In California Chrome, however, Arrow Stud have taken it to another level.
As you would expect, the majority of his 105-strong first crop are based in the U.S. and include several well-connected types, including Unexpected, a half-brother to last season's G1-winning 2yo Bast who cost $325,000 last September. Several have also made their way to Europe, notably a half-sister to G3 Acomb Stakes winner Valdermoro and a colt out of Summertime Friend; both were bought at Keeneland as breeze-up prospects by Tom Whitehead of the Irish-based Powerstown Stud, also the pinhooker of this year's G2 Fountain Of Youth Stakes winner Ete Indien.
And, of course, there are those currently preparing to race in Japan. Their movements will be keenly watched across that jurisdiction and with any luck, they will go on to justify the faith shown in California Chrome by his new owners.