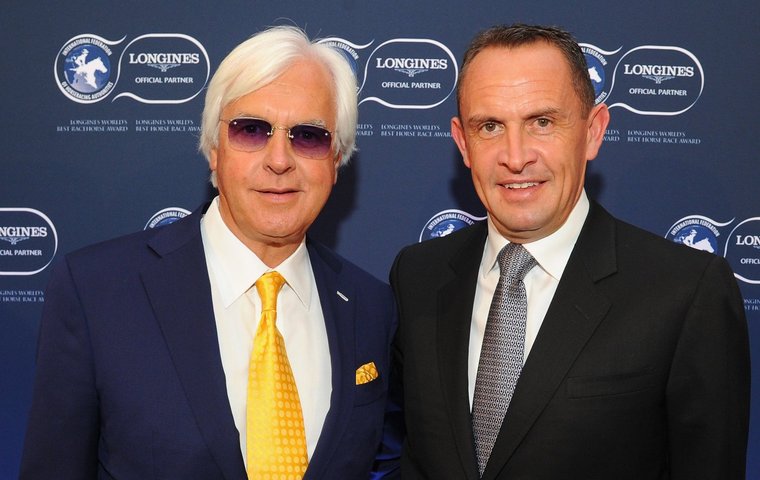 You've got to hand it to Longines. Their apparent determination to make the world of Thoroughbred horse racing a smaller place, despite the notorious insularity of fans in virtually every jurisdiction, has rarely been better illustrated than at their World's Best Racehorse Rankings presentation ceremony in London on Tuesday.

There has probably never been an opportunity before for the men who are currently the third and fourth ranked trainers in the world on TRC Global Rankings to say hello to each other. American Bob Baffert, the #3, is not known for having runners in Australia, or anywhere else outside the U.S. for that matter, and Australia-based Chris Waller, ranked just one place behind him at the moment, tends to steer clear of shipping his horses to North America.
But Longines made the meeting happen.
This was the occasion where the Baffert-trained Arrogate was officially recognised as 2016's world champion by the ratings experts of the IFHA (International Federation of Horseracing Authorities), thanks largely to his stirring late victory surge against California Chrome (see below) in that monumental Breeders' Cup Classic at Santa Anita last November (which was named as the world's best horse race for 2016).
Even though his horse was just four days from Saturday's Pegasus rematch with Chrome in the richest horse race ever to be staged, Baffert flew across the Atlantic to pick up the trophy - and another Longines wristwatch - alongside Lord Grimthorpe, European racing manager for owners Juddmonte (joint world #4 in the owners' standings). It was the second world champion in a row for Baffert after American Pharoah last year.
Flying in from the other direction was Chris Waller. And the Southern Hemisphere's leading trainer wasn't on his own. The Waller-trained Winx has been rated the third best horse on the planet (California Chrome is second) and the New Zealand-born Waller travelled halfway across the world to collect his own watch - and a trophy - together with two of Winx's owners (ranked #12 in the owners' standings as 'Magic Bloodstock Et Al') and rider Hugh Bowman (who has only Ryan Moore ahead of him in the TRC jockeys' standings).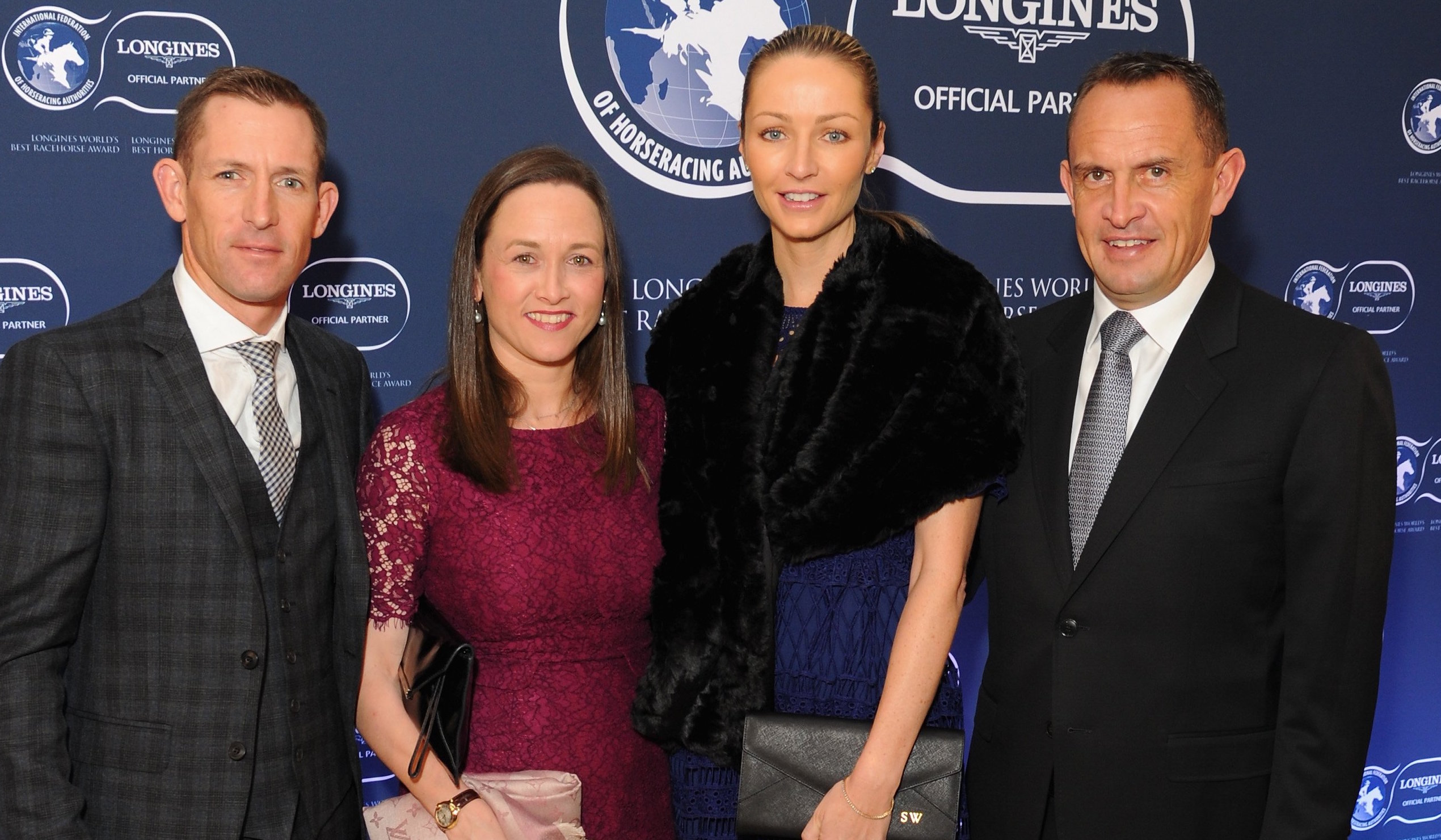 There was plenty of mirth on the presentation stage. First up was Waller. Asked by interviewer Liz Price about the chances of Winx competing in Europe, the trainer said: "I don't know about Europe, I'm looking at the Breeders' Cup Classic. Then [she'll be] the best horse in the world."
A little later it was Baffert's turn. "I didn't know much about Winx before," he told Price, referring to video footage of the mare's 2016 performances, particularly her rampant victory in the Cox Plate (see below). "She's some racemare. Stay home Winx!"
But, when they spoke privately, Baffert had nothing but encouragement for the Australian. "Bob Baffert said to me her racing style looks like a dirt horse and being by Street Cry he'd be surprised if she wasn't," Waller was quoted as saying in the Sydney Morning Herald.
Certainly one of the best pieces of news at the event - as far as international competition goes - concerned plans for Winx. "The pinnacle would be for Winx to win a third Cox Plate [next October]," said Waller. "And, after that, we will take her onto the world stage." She would become just the second horse to win three Cox Plates - after Kingston Town (1980-82).
Waller added: "If she is where she is now and with another Cox Plate behind her, she'll come over here [to Europe] for sure. But it won't be for just one race, it will be for four or five."
Her best distance down under is a mile to ten furlongs (1600 to 2000 metres), but Waller thought she might be tried over shorter in Europe. "She'd be competitive early in her preparation over 1400 in Europe and may have a bit of an edge over that distance because of her speed." Which probably points to Royal Ascot's one-mile G1 Queen Anne Stakes in June 2018 as a major target.
The mare is due to reappear on February 11 in the G2 Apollo Stakes at Randwick.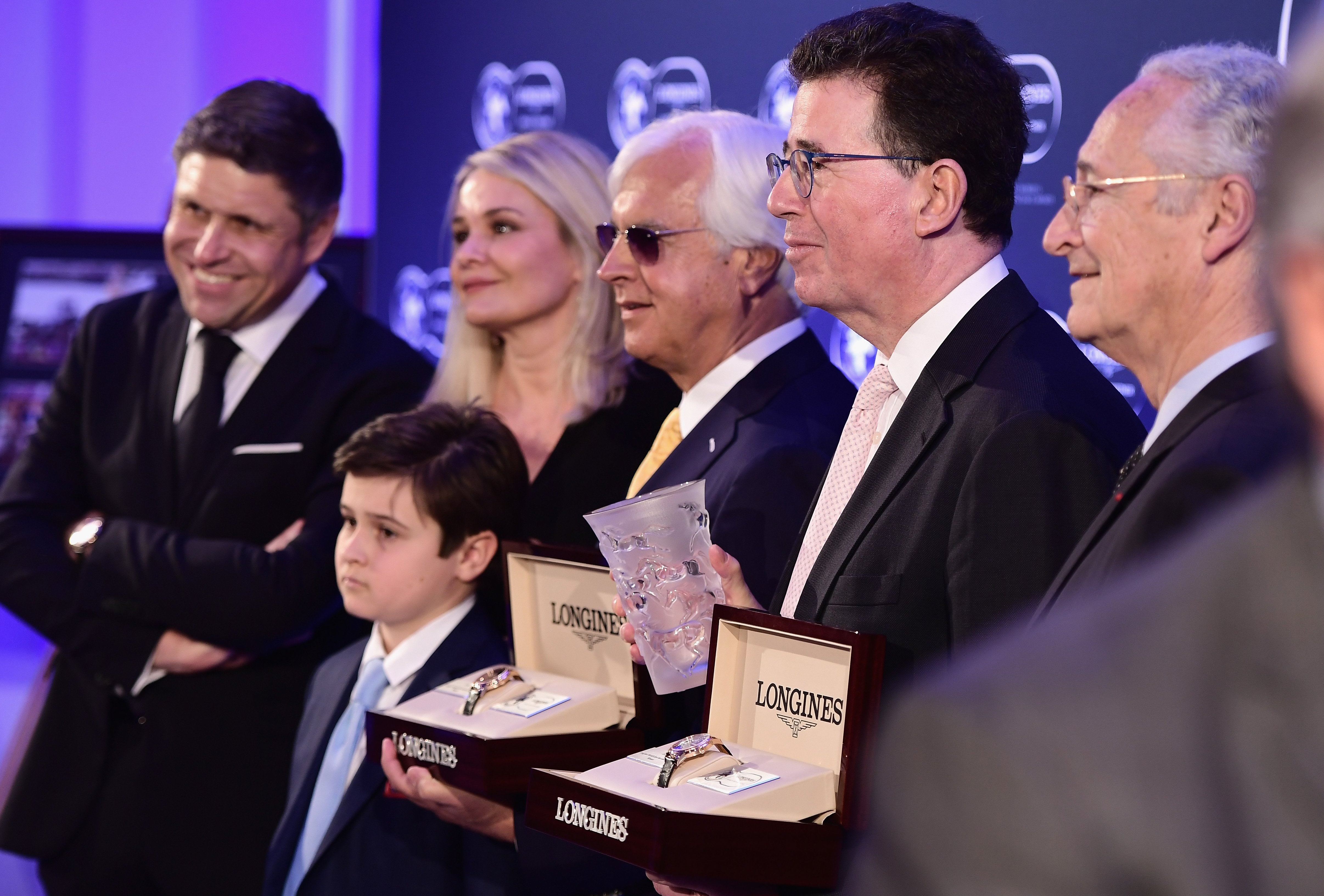 Arrogate's world-leading mark is 134 (the same figure as American Pharoah last year), with California Chrome on 133, Winx the highest-rated turf horse in the world on 132 (the same mark given to Black Caviar in 2012), and French-trained Almanzor, the highest-rated European, fourth on 129. Click here for the full list of horses rated 115 and better.
Kelly Martin, daughter of California Chrome's co-owner Perry Martin, was at the ceremony with Robin Sharratt to pick up the trophy for second best horse in the world. Breeders' Cup president and CEO Craig Fravel was presented with the award for 2016's Longines World's Best Horse Race (the aforementioned Breeders' Cup Classic).
The Cox Plate was one of three races tied for second (with the Irish Champion Stakes, won by Almanzor, and the Pacific Classic, won by California Chrome). Click here for the full list of the top 100 races worldwide in 2016 according to Longines-IFHA ratings.
Thirty five different racecourses in 11 different countries are represented in the list, which consists of 105 races because of a six-way tie at #99. Australia and the U.S. have 23 races each, followed by Britain (19), Japan (12), Hong Kong (11), France (7), UAE (4), Ireland (3), Canada (1), Germany (1), and South Africa (1).
TRC Global Rankings: significant points gainers this week
JOCKEY: Colm O'Donoghue (Modal country: Ireland). Highlight of the week: rode Championship to win a G2 at Meydan last Thursday; 4pt gain; climbs from 111 to 103.
TRAINER: Hidetaka Otanashi (Japan). Highlight: trains Mikki Rocket, winner of a $950,000 mile-and-a-half G2 at Kyoto last Tuesday (at 117 the highest-rated performance of the week on RPR); 4pt gain; climbs from 43 to 39.
OWNER: W S Farish Et Al (USA). Highlight: owners of Guest Suite, winner of a G3 at Fair Grounds on Saturday; 4pt gain, climbs from 123 to 76. (Click here for James Willoughby's analysis in his Road to the Kentucky Derby series.)
SIRE: Deep Impact (Japan). Highlight: nothing happened on the racetrack, in fact he lost a ranking point over the week, but that was two fewer than Dubawi lost and it means that the Japanese colossus is back to world #2 (from 3).
Click here for a list of the week's biggest points gainers.