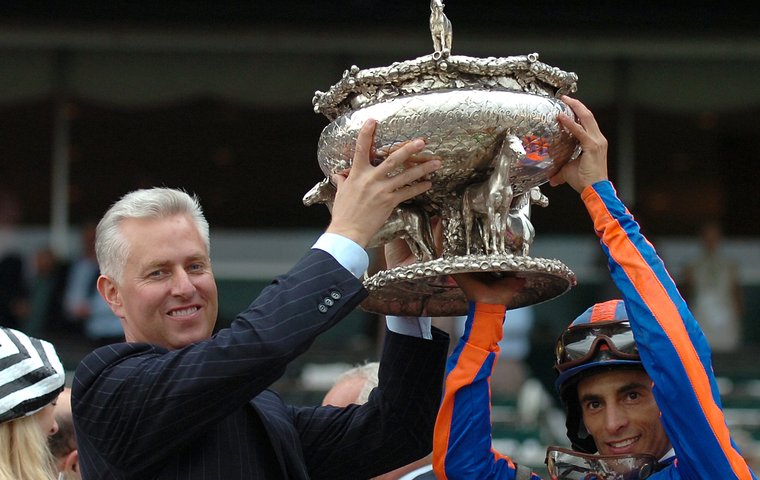 Welcome to a new fortnightly TRC series of short Q&A sessions with leading figures in Thoroughbred racing. In What They're Thinking, we will be putting the same five questions to each subject, and it should take you no more than two or three minutes to read what they have to say. We start with one of America's greatest trainers. Seven-time Eclipse Award-winning Todd Pletcher ranked tenth in a racing industry poll of the top U.S. trainers of the last 50 years last December. The country's all-time leading money winner, he is currently #10 in the TRC Global Rankings.

Who do you think is the most important figure in racing history?
It's hard for me to answer in regards to the history of horse racing, but in the last 20-25 years you would have to say it's John Magnier because of his international presence in the breeding industry and the stallions he has developed through Coolmore and Ashford. He also has a big presence in Australia.
Which is your favorite venue and race?
The Kentucky Derby is certainly the race. I've been fortunate enough to be in Dubai and Royal Ascot and numerous other places, but to me there's no race event like the Kentucky Derby. It's something very, very unique. I think the atmosphere at the Kentucky Derby is the equivalent of what you'll find in any other sport.
In terms of a venue, you would have to say Churchill Downs on Derby Day is the best, though Saratoga still has great historical ambience. The New York Racing Association has been able to maintain that historical feel while staying with the times, which is really great to see.
What is your fondest memory in racing?
I've been blessed with a lot of great moments, but I would have to think the win of Rags To Riches in the 2007 Belmont Stakes (video below) was the most exciting one and the one I hold in very high regard. I take every opportunity I can to promote her for the Hall of Fame. I'm so stunned she's not in the Hall of Fame and I'll use this opportunity to give her a plug once again.
What do you see as the biggest challenge racing faces today?
I think racing faces the same challenges that the entertainment industry and sports leagues face. We're trying to appeal to the next generation. I have children who are 19, 18 and 15 and they never have to be home at a certain time to watch a sporting event or television show. Everything is on the phone or on their iPad and is accessible. Trying to generate interest from that demographic is vital for the sport.
If you could change one thing in racing, what would it be?
We need racing to promote itself in a positive manner. We have one of the most exciting sporting events there is in the Kentucky Derby and there is an immediate gratification in that most of the races are done in less than two minutes. It's a very, very exciting sport and we need to promote it as such, showing people how clean it is and focusing on all the positive aspects of it.
A lot of times we sabotage ourselves by not promoting all the good things we do. We're a sport where every one of our winners is tested, so instead of focusing on the negative, let's focus on how great of a sport it is and how clean it is. Compared to other sports, let's say it's the cleanest and most exciting.
Let's all work in the same direction to promote the well-being of the sport and help it to grow.