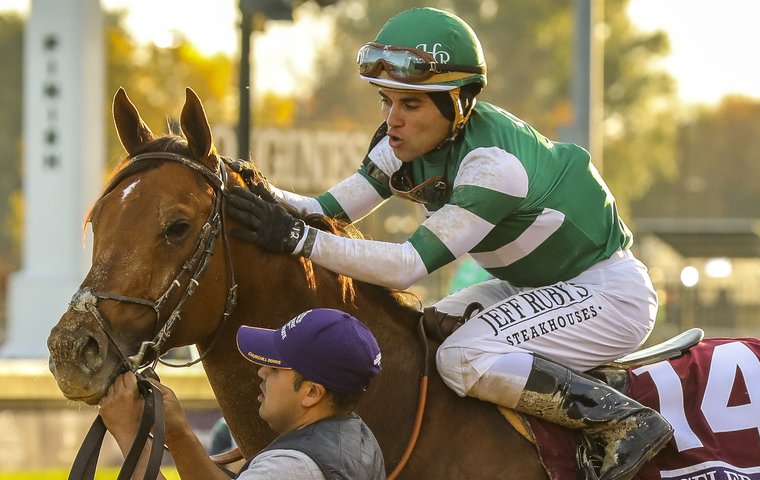 For a while now, Kosta Hronis been hearing a particular line of thinking that did not sit well with him. But there was little he could say in response. All of his contentions were cloaked with the highly meaningful word "if".

Then on Saturday, at the 35th Breeders' Cup World Championships, after his 5-year-old champion-in-the-making delivered rather a statement about who should be the 2018 U.S. Horse of the Year, Hronis was in a mood for some chatter.
No longer can people discuss Accelerate's Horse of the Year possibilities with the words "if he wins the Breeders' Cup Classic".
Now it's a done deal.
Accelerate did his part to fuel some debate about Horse of the Year as he registered a one-length victory over Gunnevera in the $6 million BC Classic (see video below), which closed out the Breeders' Cup's two-day run at Churchill Downs during its 35th season.
Notching five G1 wins in a single year, capped by the BC Classic, is usually game, set and match when it comes to Horse of the Year. Yet 2018 is not your typical year. It's one of those 13 times when a horse achieves legendary status by winning the Kentucky Derby, Preakness and Belmont Stakes in one fell swoop.
To many, Justify wrapped up Horse of the Year honors on June 9 when he crossed the finish line in the Belmont Stakes to complete the sweep and push his record to a perfect 6-for-6.
There's a strong sentiment that little has changed since June, but Justify's retirement in late July has emboldened some cynics to voice contrarian viewpoints.
All of which leads us back to Hronis.
"I think he's done something no-one has done before. He swept all the California Grade 1s and he was undefeated (4-for-4) at a mile-and-a-quarter," he said after the Classic. "I read somewhere where it said maybe he did all of this in the wrong year, well, maybe Justify won the Triple Crown in the wrong year."
Clearly, it's the wrong year for someone, and while Accelerate faces tough sledding in the Horse of the Year race, he surely helped his cause in front of 70,423 fans on Saturday at Churchill Downs.
Breaking from post 14, having never won outside California, being trained by someone who was 0-for-44 in the Breeders' Cup before the race and lost with a 4/5 favorite earlier in the card, were probably the main reasons why Accelerate ($7.40) was a luke-warm 5/2 favorite instead of a much lower price based strictly on his past performances. Yet that didn't matter in the least to Accelerate, who is a no-brainer to be named the champion older male.
He simply went out and beat a collection of the world's best horses in the richest of the 14 stakes that comprise the Breeders' Cup to win for the sixth time in seven starts this year.
"This horse is special," Hronis said. "He showed up every time. He's danced every dance. He's been solid. This is Horse of the Year. It's a body of work, what he has done in the last 12 months. I think he's well deserving to be of that honor. There's no doubt."
Trainer John Sadler, when asked for his thoughts, admitted he's quite biased.
"That's for sportswriters. But for me, I'm prejudiced. To me, he's Horse of the Year, no doubt," Sadler said. "He's won all those great races. For me, to win the Santa Anita Handicap was probably one or two on my bucket list. I've been a California guy my whole life. The Classic is a newer race but a great race, and he won that so smashingly. He's just a great horse and had a great year."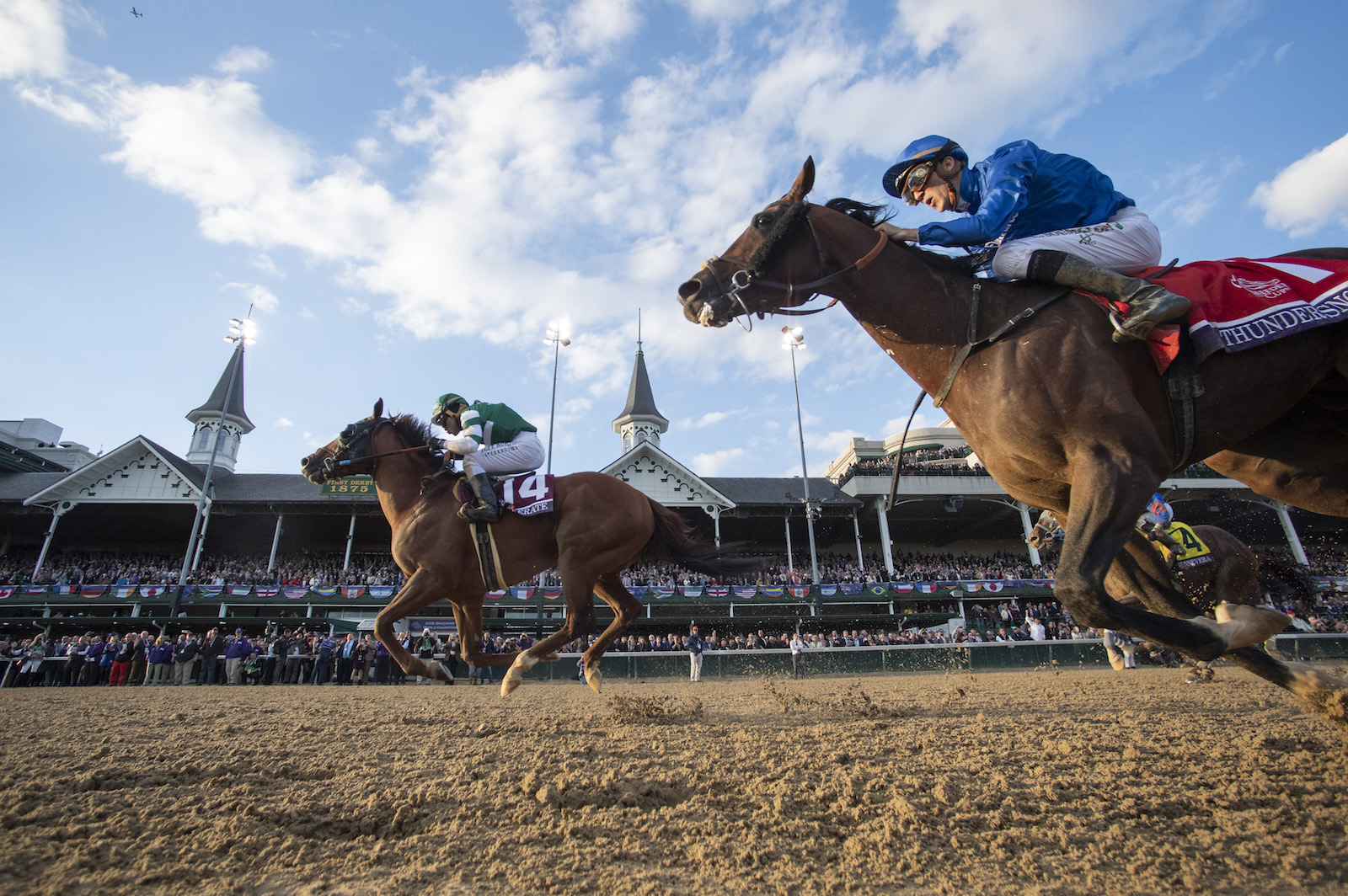 But was it the kind of campaign that can obscure a Triple Crown sweep?
That's the question that Eclipse Award voters will have to answer for themselves. Accelerate is expected to race for the final time on Jan. 26 in the Pegasus World Cup at Gulfstream Park before retiring to Lanes End Farm in Kentucky – exiting the stage much like Gun Runner did earlier this year. So, all of the evidence is in.
In one corner, there's Accelerate, with the five G1s topped by a victory at the World Championships over 13 rivals whose past efforts include wins in the Dubai World Cup, Jockey Club Gold Cup, Travers, Pennsylvania Derby, Woodward, Stephen Foster, Golden Shaheen and runner-up finishes in the Pegasus World Cup and Dubai World Cup.
In the other, there's the history and tradition of the likes of Secretariat, Seattle Slew, Affirmed and American Pharoah and nine other horses, all of whom have plaques in the National Museum of Racing and Hall of Fame in Saratoga.
The money line favors Justify, but a sneak peek of what to expect in January could come tomorrow (Monday), when the final National Thoroughbred Racing Association (NTRA) Top Ten poll is released.
With the "if" about winning the Breeders' Cup Classic removed from the equation it could offer some insights into the way voters are looking at the Justify vs. Accelerate debate.
Last week's poll had Accelerate on top, even though Justify had a 27-6 edge in first-place votes. Several voters have been leaving Justify off their ballot because of his retirement in the summer and a 10-9-8-7-6-5-4-3-2-1 sliding point scale explain how the points and the first-place votes tell such a different story.
So, in the final poll, it will be interesting to see if Accelerate's heroics allow him to close the gap in first-place votes by an appreciable margin.
What should we expect?
Justify will probably win. There's nothing wrong with considering Accelerate and taking a long look at his resume. Yet when you consider how the sport in America is built around the Triple Crown and the quality of the horses who have pulled off the spring classics trifecta, he gets the nod. Even if he raced only from mid-February until early June, what he did in those 111 days-plus, has been accomplished only once before. Seattle Slew emerged from the 1977 Triple Crown undefeated, but then he lost in his very first race after the Belmont Stakes.
That's definitely historic and quite compelling.
On Friday, this TRC story addressed the Horse of the Year question and found that several prominent members of the racing industry had already made up their minds about how they intend to vote.
Justify an all-time great?
One astute thought came from Justin Zayat, the President and CEO of Racing and Bloodstock for Zayat Stables. Not surprisingly, since his father owned American Pharoah, he's in the Justify camp, yet his reasoning seemed quite fair and logical.
"You have to respect Accelerate, but if he wins the Breeders' Cup Classic it's not like you are going to rate him among the sport's all-time greats. He's a very, very good horse. I'm taking nothing away from him. But a case can be made that Justify is one of the all-time greats because he is an undefeated Triple Crown winner. To me, the case is closed," he said.
Perhaps it is. Time will indeed tell.
Yet, as the 35th Breeders' Cup World Championships is now a part of history, there was indeed something entirely new for the sport. Never before had there been a Breeders' Cup without the current year's Triple Crown winner in it.
This year broke that mold and may have turned the Breeders' Cup Classic, a race that often crowns or derails a champion, into an afterthought in that regard.
In January, we'll know for sure "if" that is the case.