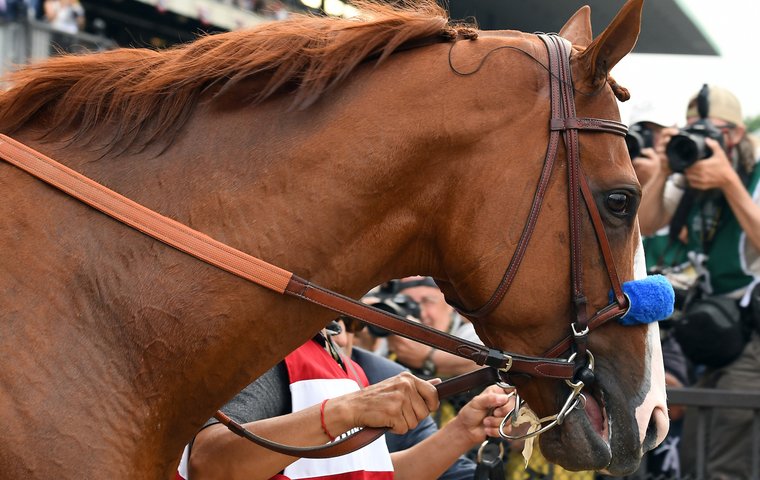 There's a bigger shadow hanging over the Breeders' Cup than anything Mother Nature can conjure up. In a word, it's Justify.

In most years, the World Championships stand as the proving ground for Eclipse Award winners and Horse of the Year honors. But in late July, when undefeated Triple Crown winner Justify was retired, Horse of the Year became a done deal.
Or did it?
As much as the last four Triple Crown winners in the Eclipse Award era (Secretariat, Seattle Slew, Affirmed and American Pharoah) were all hailed as Horse of the Year, there's a segment of the Thoroughbred industry that has its eyes on Saturday's $6 million Breeders' Cup Classic, believing that someone just might supplant Justify as Horse of the Year.
Blasphemy?
To many it is.
Just ask Steve Cauthen, the famed jockey who was aboard Affirmed for his Triple Crown sweep in 1978.
"In my opinion, it's game over when you have a Triple Crown winner. Nothing but great horses have won the Triple Crown in my mind. I didn't see the horses in the 1930s and 1940s but the ones in the 1970s and American Pharoah and Justify were exceptional. Any Triple Crown winner is very special," Cauthen said. "Justify was undefeated and he won the Triple Crown in an impressive way. It trumps everything else."
The case for Catholic Boy
Yet there's no denying that what certainly looks like another no-brainer on paper for a horse with a perfect 6-for-6 record has its doubters. It will take a victory by either Accelerate or possibly Catholic Boy in the BC Classic to intensify the debate, yet as the days until the World Championships - day one is at Churchill Downs today - have dwindled away, there are surely some partisans hanging on to what was unthinkable going into the year.
Robert LaPenta, the majority owner of Catholic Boy, knows it will be a steep, uphill battle to wrest the Horse of the Year title away from Justify. Yet, if his ridgling, who is listed at 8/1 in the morning line for the BC Classic, can add a victory over older horses at the World Championships to his previous impressive G1 wins for trainer Jonathan Thomas in the Travers and on turf in the Belmont Derby, he believes there should be at least a lively discussion.
After all, winning G1 at a classic mile-and-a-quarter or more on turf and dirt at three is something that probably has not happened since Secretariat in 1973.
"If Catholic Boy can win the Breeders' Cup Classic, it will make the Horse of the Year race interesting. People are saying you should look at whole year, not just six races," LaPenta said. "He would definitely be in the conversation. I think that maybe this is the year when both 'The Curse of Apollo' (Justify was the first horse since Apollo in 1882 to win the Kentucky Derby without racing at two) and the notion that if you are a Triple Crown winner you are automatically Horse of the Year can go by the wayside."
The case for Accelerate
Accelerate, the 5/2 morning-line favorite in the BC Classic, has enjoyed a more traditional, yet sensational and practically perfect campaign. He's already won three G1s in his last three starts, the Awesome Again, Pacific Classic, by 12½ lengths over G1 winner Pavel, and the Gold Cup at Santa Anita. Plus, he captured another G1 earlier in the year in the Santa Anita Handicap and also triumphed in the G2 San Pasqual. In a 2018 campaign that features five wins in six starts, his only setback was a neck loss to City Of Light in the G2 Oaklawn Handicap, his lone start outside California in a 21-race career.
Add in a victory in the Breeders' Cup Classic for trainer John Sadler and Hronis Racing and it would give Accelerate five G1 wins, one more than the four Justify racked up in six starts during his Feb. 18-June 9 career.
"If Accelerate wins the Breeders' Cup Classic, I believe he should be Horse of the Year, but I'm biased," Sadler said. "We'll worry about that afterwards. My job is to keep him good until Saturday and right now he's looking excellent."
Jeremy Balan, a West Coast-based writer and online editor for The BloodHorse, is also in the Accelerate corner.
"My issue with Justify is two-or three-pronged," said Balan, an Eclipse Award voter through the National Turf Writers and Broadcasters (NTWAB). "He really didn't have a season and he never faced open company. I believe Horse of the Year should be the best horse and it can't be the best horse in one race. It has to be the best horse over a period of time. If Accelerate can beat this field, I don't think there's any doubt in my mind that's he's the best horse in the country. Justify might have been able to beat older horses, but I can't speculate that he's anything more than the best 3-year-old.
"Maybe because I didn't have to cover racing during the (37) years between Triple Crowns, it's not as important to me as it is to others, but I just wish the tunnel vision about the Triple Crown will be diminished. I mean, we're talking about the Breeders' Cup with such great horses and such great fields, and after all this we will probably crown a horse who stopped racing in early June. I'm conflicted about it, but if Accelerate wins that's the end of the story for me."
Justin Zayat's view
Ed DeRosa, director of marketing for brisnet.com and an Eclipse Award voter through the NTWAB, looks at the situation from a much different perspective. DeRosa's ballot for the Horse of the Year has already been filled out in permanent ink.
"To me, it's over. There's nothing that can happen on Saturday that will change my mind about a Triple Crown winner being Horse of the Year," DeRosa said. "I might have been open to Monomoy Girl had she won the Cotillion and beaten boys in the Classic, but that's not happening. If Accelerate wins the Classic, we'll have some chatter about him being Horse of the Year, but it won't be from me."
Justin Zayat, the President and CEO of Racing and Bloodstock for Zayat Stables and son of Ahmed Zayat, who owned American Pharoah, does not have a vote, but as part of the Triple Crown fraternity, he's squarely in Justify's corner.
"When you win the Triple Crown, you are one of 13 Thoroughbreds in the sport's history to do something. Maybe because Justify came just three years after American Pharoah and only raced six times, people look at him differently, but those were six pretty sensational wins," Zayat said. "He's definitely the Horse of the Year. When people talk about horse racing this year, the No. 1 horse everyone talks about is Justify. He's the most popular horse, he achieved the most and he deserves the award.
"You have to respect Accelerate, but if he wins the Breeders' Cup Classic it's not like you going to rate him among the sport's all-time greats. He's a very, very good horse. I'm taking nothing away from him. But a case can be made that Justify is one of the all-time greats because he is an undefeated Triple Crown winner. To me, the case is closed."
Interestingly, in this week's National Thoroughbred Racing Association (NTRA) Top Ten poll, Accelerate celebrated an 11th-straight week atop the voting. He had 329 points to 322 for Justify. Mind Your Biscuits was third, followed by Monomoy Girl and Catholic Boy.
Yet in terms of first-place votes, Justify had a huge 27-9 edge over Accelerate. So how did Accelerate grab the top spot? The intent of the NTRA poll is to rank horses in training, which would seem to preclude Justify - except that NTRA officials who have conducted the poll say it should also be a snapshot of the Horse of the Year race. That would seem to put Justify back in the picture.
And so, since four of the nine Accelerate voters did not list the retired Triple Crown winner in their top ten, and the point structure in the poll is ten points for first and nine for second, Accelerate slipped past Justify in the voting.
Disappointing retirement
A more pertinent question involves what's at the heart of the discord. Is it infatuation with the other horses or bad taste over some aspect of Justify's career.
Clearly, Justify has not been embraced as passionately as past Triple Crown winners. Even DeRosa admits, "I don't know anyone who says Justify is their favorite horse."
Balan says he understands why there has not been the same level of love for Justify as American Pharoah and California Chrome, or Zenyatta and Rachel Alexandra before them.
"It takes time for people to fall in love with a horse," he said.
The shortness of his career is surely a prime factor in the anti-Justify sentiments.
"His career lasted three months, so people are eager to rave against that machine and send a message with their vote. They want to say if you want the award, you need a campaign that stretches through the whole year. I get it. It was disappointing he retired so soon," DeRosa said
Yet to some, what he accomplished in a year and career that lasted an approximate time frame of 111 days, two hours and 48 minutes, only adds more glitter to his accomplishments.
Questions over the quality of the crop
"What he did in a short amount of time was amazing. He was impressive in the Derby, then supposedly hurt his foot and missed a few days but he still won the Preakness and he just cruised in the Belmont. Accelerate is a good horse, but to me, to think Justify didn't run at two and then overcame that obstacle to be a Triple Crown winner, hands down he's Horse of the Year."
Questions have also been raised about the quality of the horses Justify beat. While this year's crop of 3-year-olds was considered impressive heading into the Kentucky Derby, since then, the Triple Crown veterans have done little to distinguish themselves.
Good Magic, who was second in the Kentucky Derby and gave Justify a fierce battle on the front end in the foggy Preakness before dropping back to fourth, won the G1 Haskell, but then finished ninth in the Travers and was retired. Gronkowski, who was second in the Belmont Stakes, has since fumbled the ball, finishing eighth in the Travers and sixth in the Jockey Club Gold Cup.
Only three horses in the 14-horse BC Classic field started in a Triple Crown race, and between the trio (Bravazo, Mendelssohn and Lone Sailor) they have a single G3 win to their credit since the spring classics.
Yet Bob Baffert, who trained Justify, put all of that into perspective by saying, "Justify left a lot of carcasses behind and they were good horses."
Translation: Running against Justify wore down some good horses.
Belmont controversy
"All you can do is beat what's in front of you," Cauthen said. "Good Magic was a good horse. He was a champion at two. He might have had too many hard races with Justify, especially in the Preakness, when he hooked Justify, and he basically paid for it. By the time he got to the Travers, he was probably past his best days. I thought running all those tough races against Alydar may have caught up with Affirmed in the fall."
And there was also the post-race controversy after the Belmont Stakes over the way stablemate Restoring Hope raced wide in the early stages of the mile-and-a-half 'Test of the Champion'. Skeptics say that was orchestrated to prevent a rabbit from running with Justify and it tainted the Triple Crown sweep, but Cauthen, a Hall of Fame rider, isn't buying that one.
"That talk about the Belmont was sore-loser stuff. A horse can run wide and he didn't move in or out to block anyone. Nothing illegal happened," Cauthen said. "No one was beating Justify that day. What I admire about Justify is that he was out there on the firing line the whole way in all three Triple Crown races. He was out there to be shot at in every race and he was just too damn good for them. It's as simple as that."
In the final analysis, the best insight might some from the one man with a vested interest in both Justify and one of his main rivals for the title. Sol Kumin owned a 15 percent share of Justify's racing rights through his Head of Plains Partners stable. He owns a larger share of Catholic Boy, plus breeding rights, through his Madaket Stables partnership, giving him a bigger financial stake in the Travers winner and BC Classic hopeful. Yet Kumin believes the Horse of the Year title belongs to Justify and Justify alone.
"It's tough. Even though I own one of the other horses in the mix, my vote would go for Justify. Historically what he did was so special," Kumin said. "It's a fair debate, especially with Catholic Boy. He won the biggest 3-year-old turf stakes of the year in the Belmont Derby and beat Europeans there. Then he won the Travers, which I consider the second-best dirt race for a 3-year-old, and he might win the BC Classic, which is the championship race against older horses. Yet, even with all that, the Triple Crown is so unique and so hard to do in that short period of time and all that pressure surrounding it, that it's really hard not to be Horse of the Year."
One thing is for certain, come Saturday, the discussion will either become a moot point or grow in intensity after the Breeders' Cup, illustrating how Justify has more than an undefeated record and Triple Crown sweep to his credit. He still can cast a large shadow, even in retirement.