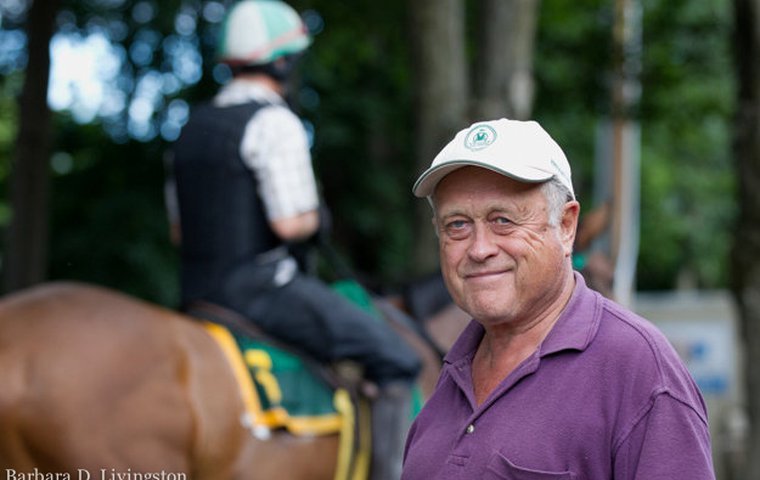 As Bob Ehalt reported in this TRC article just two weeks ago, Jonathan Sheppard has enjoyed one of the most successful training careers U.S. racing has ever seen. The English-born 77-year-old has won more than 1,000 steeplechase (jump) races and 3,000 flat races, trained two Breeders' Cup winners (as well as a Breeders' Cup steeplechase champion) and led all U.S. jump-racing trainers in earnings for 18 straight years (1973-1990). And he won at least one race at Saratoga from 1969 through 2015 - a streak of 47 straight years.

Who do you think is the most important figure in the history of racing around the world?
I'd have to go back to the great breeders of yesteryear and say it's Lord Derby, who had so many great stallions. He had such a major impact on the breed.
Which is your favorite venue and race (anywhere in the world)?
In the United States, it's a toss-up between Saratoga and Keeneland. I've always loved Keeneland. As far as the race goes, I would say the Breeders' Cup Turf because of my love for long-distance turf races.
What is your fondest memory in racing?
It would have to be my run with Flatterer in the 1980s. He set records for the highest weights carried to victory in a handicap stakes. He was second in the Champion Hurdle at the Cheltenham Festival. He won the Colonial Cup four years in a row and was a homebred. He was such a great horse.
What do you see as the biggest challenge racing faces today?
It would be integrity and trying to convince the public that there's a level playing field and it's a properly policed sport. Everyone thinks half the trainers are scoundrels and we need to clean up that image.
If you could change one thing in racing, what would it be?
I'm in favor of uniform medication rules. It has to be done. We don't need someone to tell us what to do, like in the Olympics, but we have to clean up our act. If we keep letting states go their own way, we won't go anywhere.
I wish Lasix was never invented, but it was and they are going to have a really hard time getting anything pushed through because of Lasix.
It's a two-step process. We need uniform medication rules and then, if we can get that nailed down, then we can take a shot at Lasix. Lasix may not be as harsh as people think it is, so we have to convince the public that it is kind to the horse and that it's a preventative medication, not a performance enhancer.