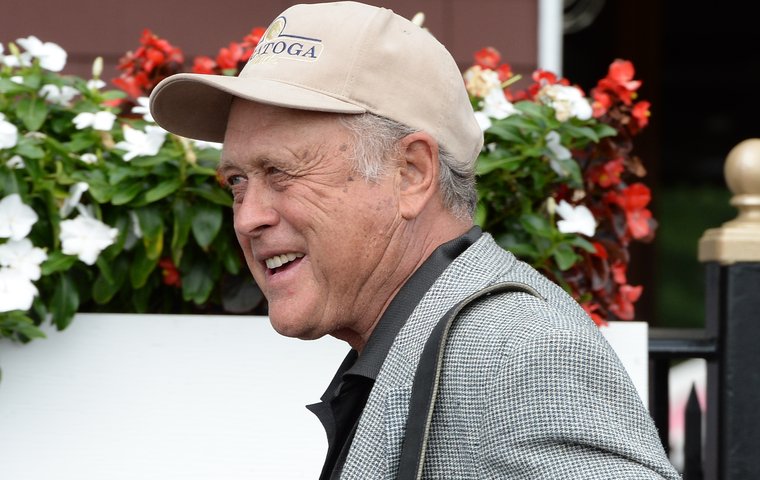 Baseball has never been Jonathan Sheppard's strong suit. Yet to understand what he has accomplished in more than 50 fabulous years of training Thoroughbreds, it's best to reference the great American pastime of baseball and records that figure to stand for decades to come or may never be broken.

Consider Joe DiMaggio's 56-game hitting streak, which has been a standard since 1941.
Or Cal Ripken Jr.'s mark of playing in 2,632 consecutive games that has been unchallenged since 1998.
The same can be said about Sheppard and some of his amazing feats in training jumpers and flat runners. They may never be equaled or, at the very least, promise to be unrivaled for the next few decades.
"A lot of talent. A lot of hard work and a lot of observational skills have gone into everything he has accomplished over so many decades," said Don Clippinger, the Director of Communications for the National Steeplechase Association.
Unassailable achievements
Still spry at the daunting age of 77, Sheppard's résumé contains such rare and unassailable achievements as:
Winning more than 1,000 steeplechase (jump) races and 3,000 flat races.
Training a Breeders' Cup steeplechase winner and a Breeders' Cup dirt sprint champ.
Standing alongside Sid Watters Jr. as the only trainers who produced flat and jump champions.
Leading all U.S. jump-racing trainers in earnings for 18 straight years (1973-1990).
There's also one more record that becomes even more noteworthy as mid-July passes and Saratoga Race Course once again opens its gates.
Sheppard holds the distinction of winning at least one race at Saratoga from 1969 through 2015, giving him a mind-boggling streak of 47 straight years in which the native of Ashwell, Hertfordshire, England, has graced the winner's circle at the Spa.
"It's amazing what he's done," Clippinger said, "and he's done it all on his own. He never had a mentor. To his credit, he's done it with so much class that no one could ever be jealous of him."
Yet, ever since Outsider Art won the second race at Saratoga on August 26, 2015, not even the timeless surroundings of Saratoga could save Sheppard from being collared by Father Time.
After losing longtime owners George Strawbridge Jr., of Augustin Stable, and William L. Pape, who had been sending him horses since the 1960s and gave him his greatest stars, in recent years Sheppard has relied on a smaller cluster of owners and homebred runners to remain in the game he loves so dearly.
He still has a stable of 60 jumpers and flat runners based primarily at his farm in West Grove, Pennsylvania, but missing are the Graded stakes winners that were a hallmark of his stable for decades.
Since Outsider Art's victory, Sheppard saw his winning streak at Saratoga come to an end in 2016 and, with the Spa's 155th season just a few days old, he owns a far less glorious streak of 41 straight losses at the track where he was the leading trainer in 1984 and 1985.
Never one to let his ego get the better of him during his glory days, the unflappable Sheppard will not allow himself to bemoan a cruel twist of fate in a Hall of Fame career.
"Saratoga is a place where I've had a lot of luck, but I have conditioned my mindset to let the past be the past and to concentrate on what I have as well as moving forward," Sheppard said. "I may not have the strength and quality I once had in my stable, but I'm 77 years-old and I've had a good life and a good career and I'm not going to cry over spilled milk. We still have a few nice horses to run and we win our share of races here and there, so I'm not complaining."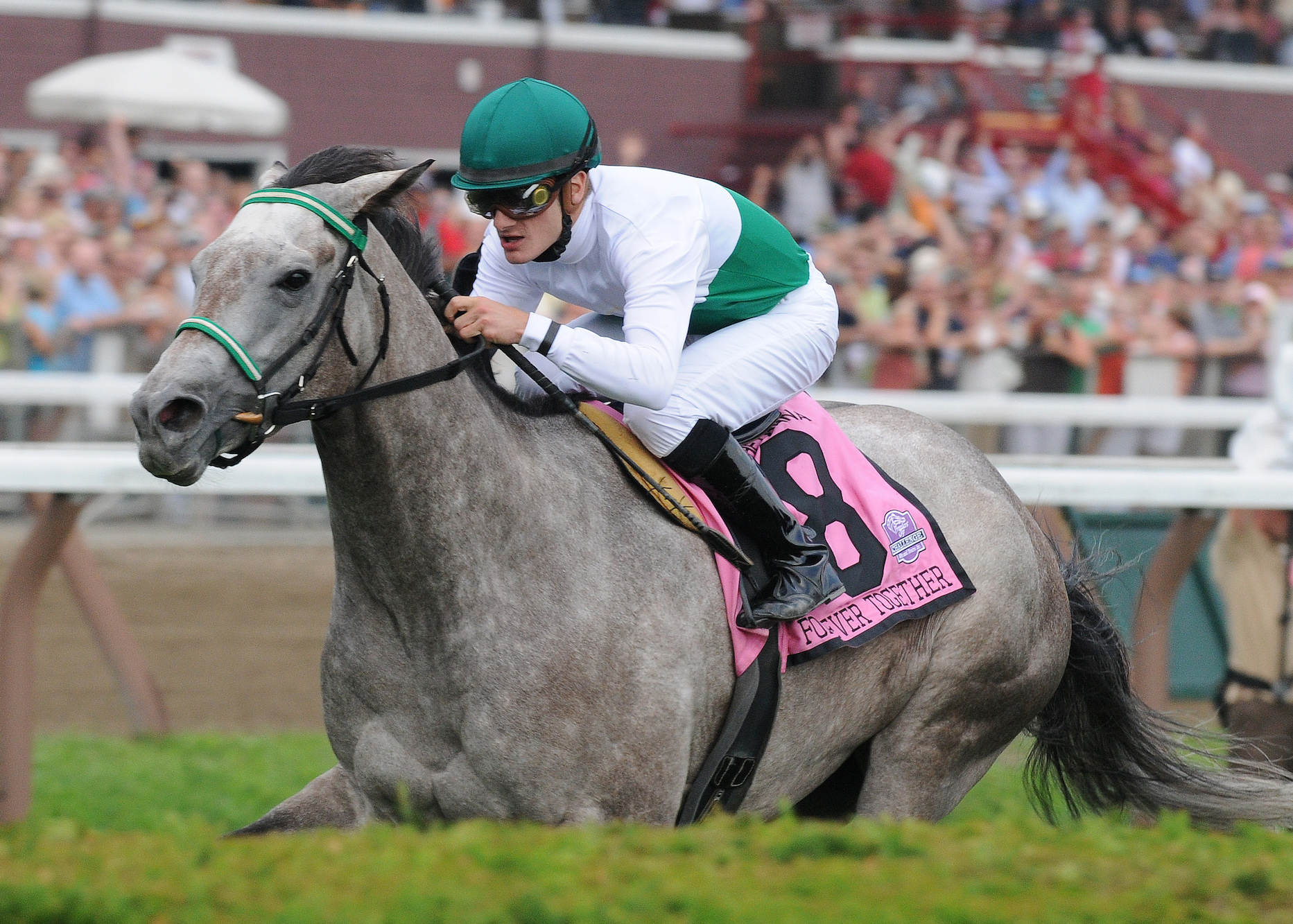 As recently as 2013, Sheppard won 95 races and posted earnings of $3,253,627. Then, as the Augustin horses in his barn dwindled down to first a precious few and then none, he won just 37 races last year, his lowest total since a 36-win campaign in 1973. His earnings checked in at just $1.2 million.
"I trained for George Strawbridge for about 50 years and for Bill Pape for about 45 years and lost both of them," Sheppard said. "It's a rough situation. It's not the same as a divorce with your wife but it's not that different. You have to suck it up and get over it."
Relying on owners such as Ed Swyer, of Hudson River Farms, who has been with him for about 25 years, and a relatively new addition in Rod Moorhead, of Buttonwood Farm, Sheppard has been able to win 22 races this year (through July 19) and remain quite active in a sport that has given him a lifetime of wonderful memories.
"I still really enjoy what I do. I have a lot of homebreds that I train for different owners and, with about ten mares in foal, I can't very well get out of the game now," Sheppard said.
For that new corps of owners, the opportunity to work with a Hall of Famer and learn from him, has been a treat.
"It's been great," said Swyer, who has about ten horses with Sheppard. "We've had great years. We've had mediocre years. I don't think we've ever had a year when we didn't win anything, but we came close. Jonathan has so much energy and I don't know how he does it. He defies his age. I haven't seen a change in him. His interest in the game and his abilities look to be unchanged to me."
Special category
Aside from Sheppard's remarkable ability bring out the talent in a racehorse, Swyer says Sheppard's honesty puts him in a special category.
"One of Jonathan's great qualities is that he's honest," Swyer said. "We once had a horse with great potential. Jonathan put him in a race and he came out of it with a bowed tendon. After the race, Jonathan told me, 'To be honest, I think I ran him too early.' Imagine a trainer saying that. He's very unique. He'll tell you the truth right up front."
The truth about Sheppard is that he's a rare breed who cannot be placed in a single mold.
As a flat trainer, Sheppard's accomplishments are remarkable with 3,342 wins and earnings of $86,124,739.
He was in his late 60s when he won Breeders' Cup races in successive years for Augustin. First he won the Filly and Mare Turf in 2008 with Forever Together, the champion female turfer of that year who earned $2.9 million in her career. Then he captured the 2009 Filly and Mare Sprint with Informed Decision, who was honored as the champion female sprinter.
He also trained the multiple Graded stakes winner With Anticipation and Storm Cat, who became a pre-eminent sire.
Training a champion sprinter takes on a different glow when you consider how Sheppard also developed a legion of a steeplechase stars who could handle distances of two miles or more.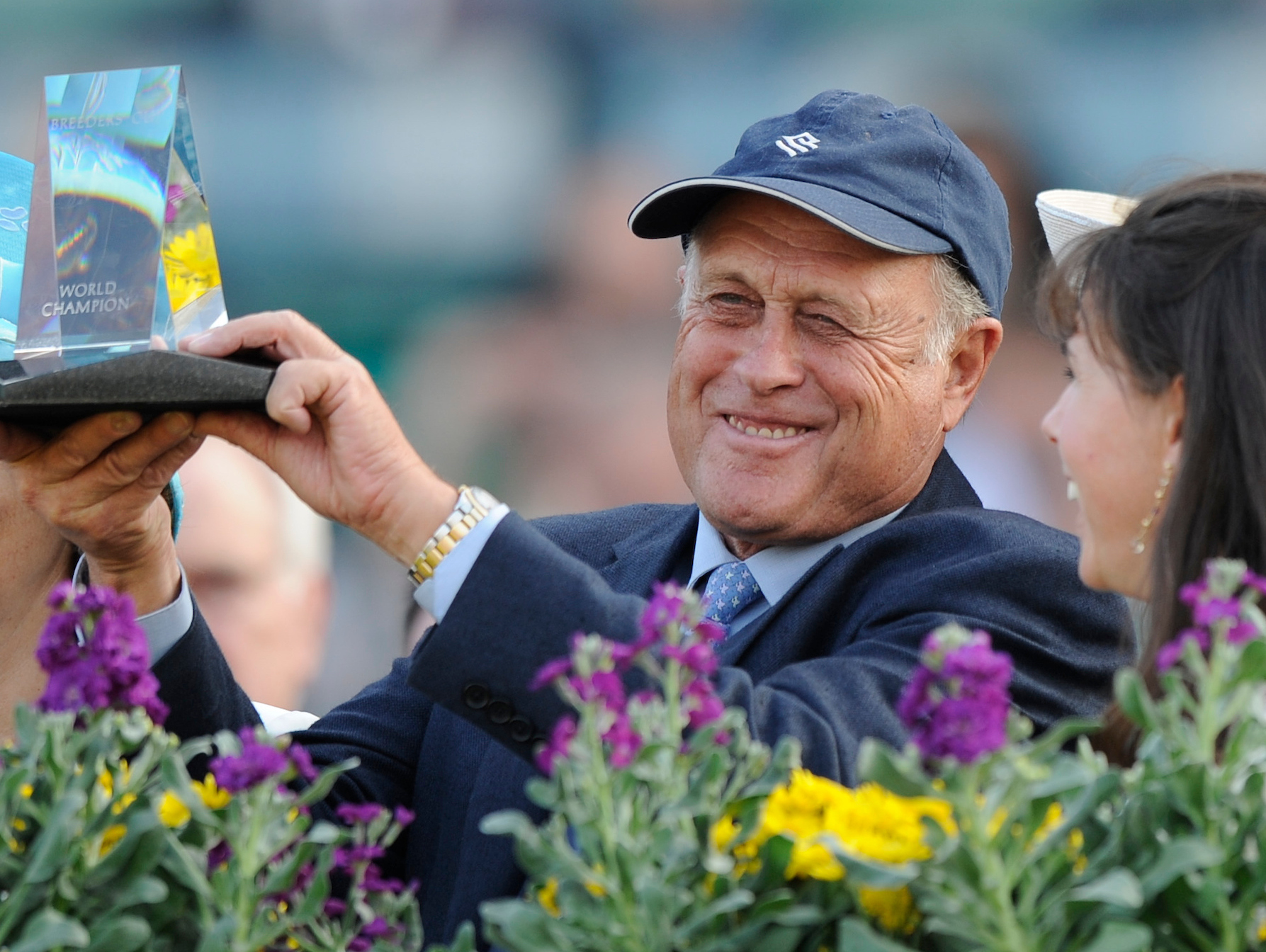 Café Prince, Highland Bud and Athenian Idol are just some of the champions who brought Sheppard's love of jump racing to new heights.
"I guess if someone put a gun to my head and said you have to train either flat horses or steeplechasers the rest of your life, I'd go with the jumpers. It's more fun," said Sheppard, who was inducted into the National Museum of Racing and Hall of Fame in 1990. "When you train a flat runner, you go to the track for that race and leave. With a steeplechaser on a Saturday, I'll stay for the entire day. It's a fun day out. I'll see friends and we all hang out together and we have a common bond. While you try to beat each other, it's a friendly rivalry.
"They get big crowds, and are very well organized with a lot of volunteer help. A lot goes into them for just one day and it's fun to be a part of them."
Sheppard had much more than fun with his greatest jumper, Flatterer.
The Pennsylvania-bred son of Mo Bay won four straight Eclipse Awards as the champion steeplechaser from 1983-86 and registered a victory in the prestigious Colonial Cup in each of those years. Owned by Pape, Flatterer won 24 of 52 starts and entered the Hall of Fame in 1994.
Flatterer also brought Sheppard back to the United Kingdom in 1987, when he finished second in the most prestigious hurdle race in Europe, the Champion Hurdle at the Cheltenham Festival. He failed by just a length and a half to overhaul See You Then, who was winning the race for the third straight year (see video below).
"That was tremendous, it really was," Sheppard said about Flatterer's effort. "Even though Flatterer got beat, he ran an incredible race and people over there were very appreciative of his performance and effort."
Today, a little more than 30 years later, Sheppard has a much different focus. After enjoying so much success at Saratoga, he's philosophical about trying to win a race at Spa for a 48th year, knowing he's heading there with six horses that he says "are not much of a string".
A reduction of steeplechase races from nine to six at this year's meet only adds to the challenge of reaching the winner's circle.
"It was disappointing when we didn't get a win in 2016 and the streak ended at 47 years," Sheppard said. "But now that it's over, it's not such a big deal if we do not win one this year. It wasn't even until the last few years that I realized the streak was that long. I'm sure someone else will break it somewhere down the road, but I guess I'm safe for a few years."
Yet among those six horses are a couple who are talented enough to end the drought at the Spa.
Buttonwood Farm's All the Way Jose won the G1 Lonesome Glory Handicap at Belmont Park last year and is the 5/2 second choice in a field of seven for the G1 $150,000 A.P. Smithwick Memoriall tomorrow (July 26).
Sheppard has another exciting candidate for the Smithwick, a race he has won five times since it became a stakes in 1996, in Hudson River Farms' Iranistan, a speedy 4-year-old who is undefeated in three steeplechase starts and is the 3/1 third choice in the morning line.
Illustrating Iranistan's versatility and ability, he is coming off a 1¾-length victory in a mile-and-a-half maiden race on the turf at Delaware Park on July 4.
"He rallied from the back of the pack at a mile and a half on the turf and did it quite easily," Swyer said. "The jockey [Andrew Wolfsont] never used his whip. It was just a little jog for Iranistan. He did it so effortlessly."
After all Sheppard has done for him, Swyer says he would be thrilled to help his long-time trainer return to the winner's circle at the historic Spa.
He played a role in one milestone for Sheppard when his jumper Arcadius triumphed in the 2010 Helen Haskell Sampson Stakes at Monmouth Park and gift-wrapped the trainer's 1,000th jumps win. Now he's eager to be a part of what would be a highly emotional page in the diary of the legendary trainer's storied career.
"The winning streak was broken so now he has to start a new one," Swyer said. "It would really be great to see him get it and be a part of it."