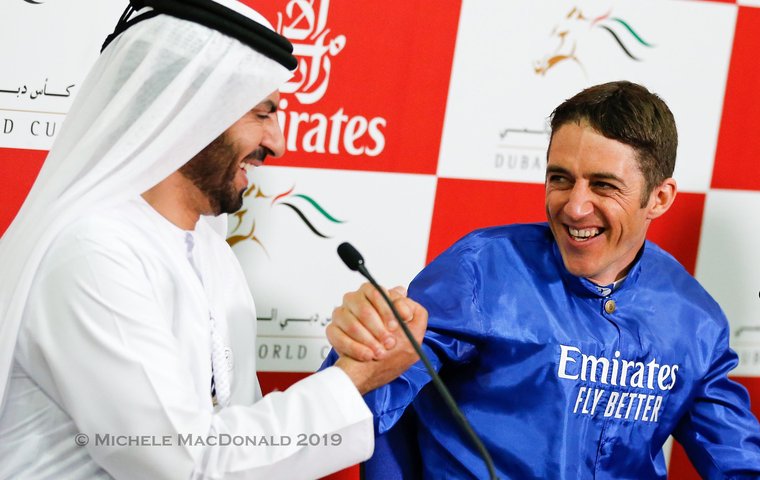 In many ways, he is a horse like no other. Godolphin's Thunder Snow has stormed the gamut of racing, putting the strange and unique chagrin of his Kentucky Derby bucking episode far behind him to make glorious history as the only runner ever to capture two editions of the world's richest race, the Dubai World Cup.

Already a Group 1 winner over European turf as well as Dubai dirt, he can respond to challenge like a tiger, as he proved when answering jockey Christophe Soumillon's emphatic urgings to thrust his nose in front of Gronkowski with a figurative roar at the finish of the $12 million Meydan showcase event.
Now only a little more than $1 million behind record-setting North American earnings leader Arrogate, Thunder Snow again will be dispatched to the United States this season on a mission to add to his current bankroll of $16.39 million and to his one-of-a-kind storyline.
"I love this horse very much," trainer Saeed bin Suroor exclaimed with a flourish of affection for the 5-year-old, who he occasionally has described with the word "cheeky", as he looked forward to the next chapters.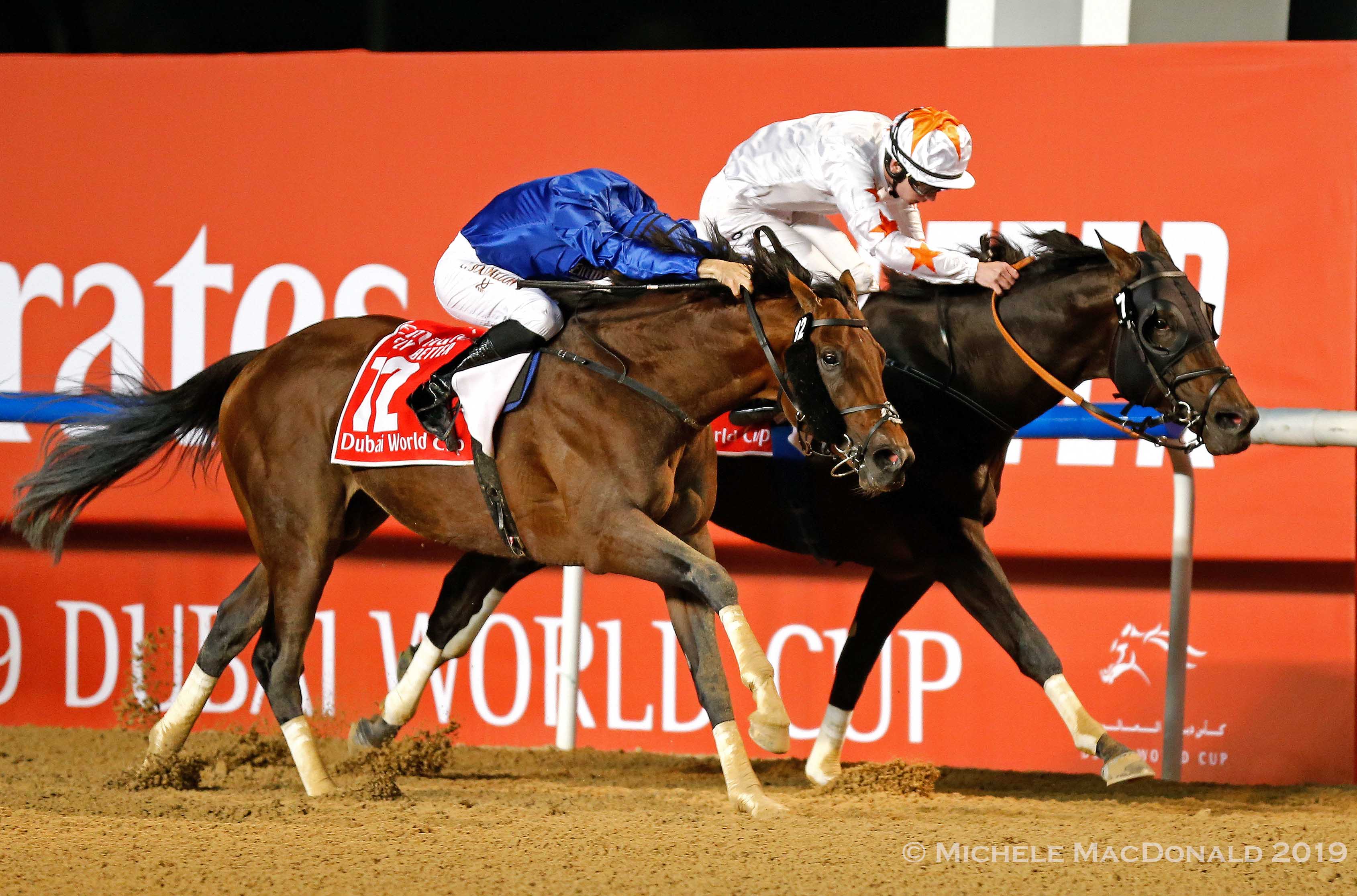 Thunder Snow's win marked the record ninth Dubai World Cup victory for his trainer, and Suroor showered the runner with praise for his tenacity.
"He is very brave and always tries very hard," Suroor said while comparing Thunder Snow to the brilliant but star-crossed Dubai Millennium in terms of what the horse means to him.
Since Thunder Snow has now won Dubai World Cup program races for three consecutive years, having also triumphed in the UAE Derby in 2017, his latest score by whiskers is even more significant to his connections and adds to feats not previously accomplished by any other horse.
Even though he had not won between Dubai World Cup efforts, Thunder Snow had placed in two prestigious U.S. Grade 1 events in 2018, and, with all that history behind him, his success was the headline story that emerged from the 24th running of the Dubai World Cup program.
However, an array of other sagas unfolded on the mild evening breeze at Meydan, including some that will continue to have an impact on this year's major racing scenarios, in addition to the focus that Thunder Snow will draw when he arrives back in America.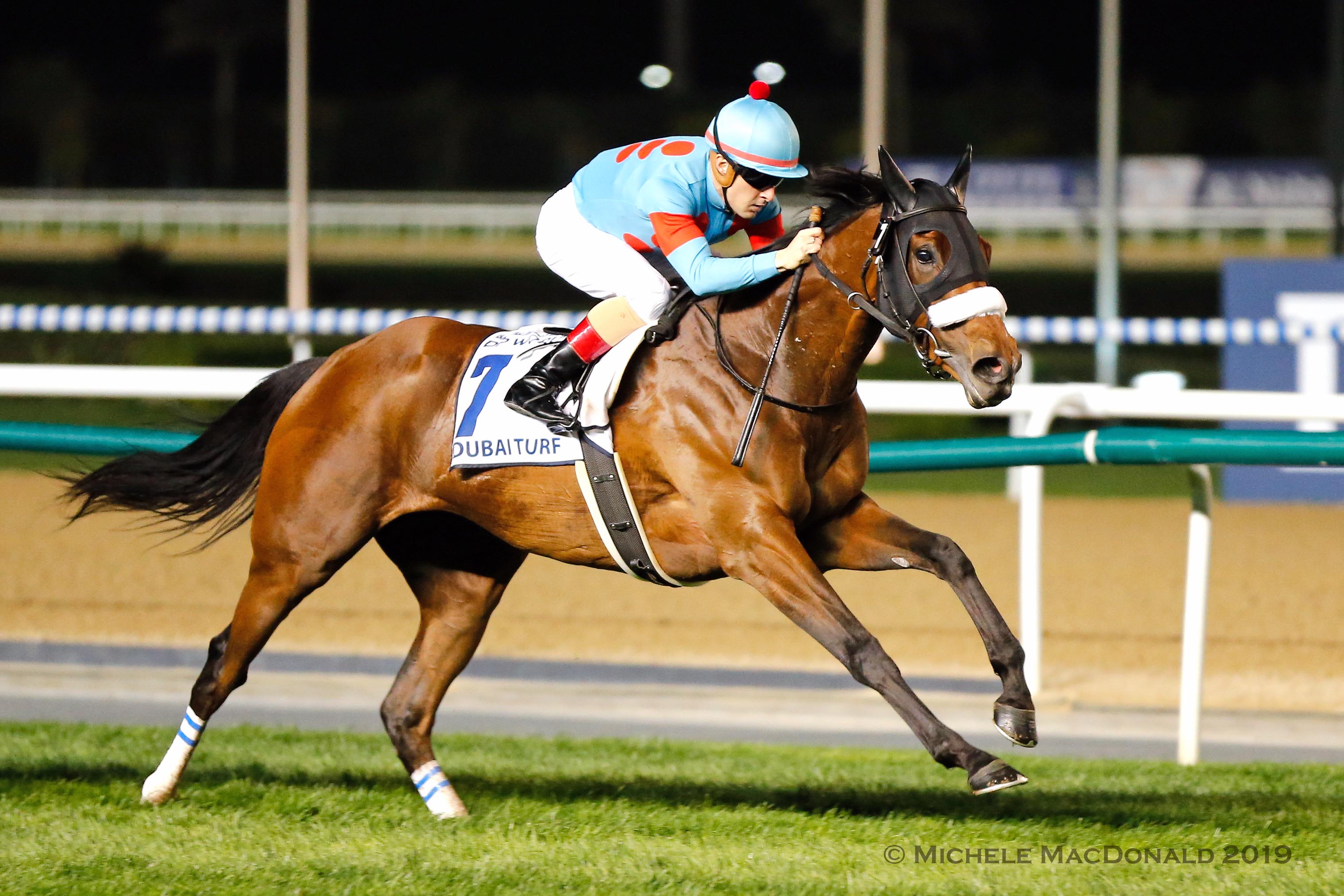 Playing second fiddle to no one, even a two-time Dubai World Cup winner, Japan's reigning Horse of the Year, Almond Eye, demonstrated with a smooth rush that she is a global force with which to be reckoned.
Racing kindly for jockey Christophe Lemaire in the middle of the 13-horse field in the $6 million Dubai Turf, Almond Eye shifted to high gear when asked and cruised to victory in admirable time of 1:46.78 — third fastest in the race's history — for the 1800m, even though not pushed hard.
"I'm very glad the job is done — let's look forward now," said Lemaire, who suggested the race for Almond Eye's seasonal debut rather than the 2400m Dubai Sheema Classic since he felt it would not take too much out of her and could be an ideal stepping stone to for main goal of the season: the Prix de l'Arc de Triomphe.
"She broke well and I could take a good position. She was very relaxed and used her powerful stride at the end. She was brilliant," Lemaire said.
Almond Eye's future appears to be heading toward a potentially electrifying showdown with Juddmonte's European champion female Enable, who is, at this juncture, being aimed for her third consecutive Arc trophy. The prospects of this match-up at Longchamp in October are breathtaking, at the least.
With her $3.6 million payday, Almond Eye now has banked $10,065,261 and has won all but her debut in eight career starts. The 4-year-old filly by Lord Kanaloa swept Japan's Filly Triple Crown last year and then set a world record time of 2:20.60 for the Japan Cup's 2400m while defeating older male rivals.
Trainer Sakae Kunieda exclaimed that "my head was spinning" as he watched Almond Eye in the Dubai Turf. His goal, he said, is to ensure that the filly has every chance to "get better and better".
Almond Eye likely will have only one other race, a European prep, prior to her Arc bid, he said, and the owners, Silk Racing, will help make the decision about a specific goal.
Even before the sun went down at Meydan, another star shone in the form of Godolphin's Melbourne Cup winner, Cross Counter, who delivered one of three Dubai World Cup program victories for trainer Charlie Appleby and jockey William Buick when he sauntered home in the $1.5 million, G2 Dubai Gold Cup at 3200m.
Showing no sign of rustiness after his global jaunts or the marathon distance, Cross Counter crossed the finish line with his ears up and eyes bright.
"Cross Counter is a special horse for His Highness Sheikh Mohammed bin Rashid al Maktoum and Godolphin," Buick said. "I was very happy with the way he travelled and he finished off well. It is a great effort when you consider he has been off since the Melbourne Cup."
A tested warrior
But despite all the subplots and outstanding efforts (including those by the American contingent), this day in Dubai — which began with moderate sand storms and concluded with Gwen Stefani singing hits like It's My Life after the horses had returned to their barns — belonged to Thunder Snow.
He isn't everyone's concept of a super horse. He is far from undefeated, with a current record of eight wins in 23 starts, but he is a tested warrior who does not faint in battle; he also has placed ten times and raced in five countries - UAE, Britain, Ireland, France and the U.S.
Suroor said he recognized quickly when Thunder Snow was sent to him as a yearling that the horse had the potential to be something out of the ordinary.
"I liked the way he looked — he was a beautiful animal — and, after that, the way he trained in the morning. He showed his class. I was confident he would win big races."
Suroor doesn't like to talk at length about Thunder Snow's Kentucky Derby debacle, which followed a week that featured a few fits of bucking during morning training at Churchill Downs. Exercise rider Daragh O'Donohoe referred to Thunder Snow at that time as just a "big baby".
"He is very easy to train. He likes to play in his box and he is a very happy horse," said Suroor, who has hinted to reporters about what happened after the start of the Kentucky Derby but never confirmed any details.
"He never did that afterward. We ran him next and he finished second in the Irish 2000 Guineas [to Coolmore's Churchill]," Suroor said.
"Nobody knows," he added when asked what caused the Derby bucking.
Thunder Snow offered no such antics when he finished third in last year's Breeders' Cup Classic at Churchill Downs, behind only champion Accelerate and runner-up Gunnevera. The latter ran on from far back to be third in the Dubai World Cup yesterday but was no threat to Thunder Snow.
Soumillon reflected that he had to work very hard to keep Thunder Snow charging at Gronkowski in the latter stages of a race that had featured constant strategizing by the riders, with his comments offering a bit more insight into the horse.
"I was looking more like a Cheltenham jump jockey in the end instead of an American-style jockey, but you need to keep [Thunder Snow] going and do something different," said Soumillon, who repeatedly went to the whip in the stretch drive prior to urging his mount forward with his upper body.
Yet Thunder Snow seemed generously willing for Soumillon, who has been the horse's partner in 17 races, at all stages. Sent towards the front from his slot at the outside of the gate in a field reduced to 12 by the late scratch of Japan's K T Brave, Thunder Snow then obligingly let North America and Gronkowski battle early.
Credit to Soumillon
Stuck between rivals down the backstretch, Thunder Snow did not quit or sulk, and then swung to the outside at Soumillon's direction for the protracted fight with Gronkowski. Even after feeling the whip multiple times down the long stretch, he kept trying.
"Christophe needs to take a lot of the credit, as he has formed such a wonderful relationship with [Thunder Snow]," Suroor said. "The two of them get along so well, and from his stall on the outside, Christophe knew the only way he could win the race was to become competitive straight away."
Soumillon joked that he had promised to let Suroor take the jockey and trainer prize money earned by Thunder Snow if he could just have the Dubai World Cup trophy. Therefore, the jockey added, he will have to come back and win the race again in 2020.
Suroor's goals are narrower, in some respects, and broader in others. He believes there is more to come from the horse he cherishes.
"We will send Thunder Snow to America again this year. I want to see him win a Grade 1 race there," Suroor said. "He is something special, and it would be great to see his name in more record books."