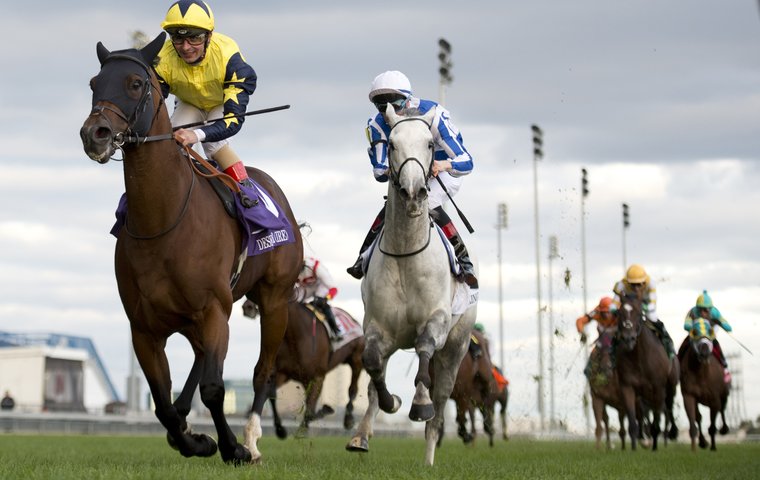 Finishing second can produce a variety of reactions, but few runner-up finishes carry the sting that accompanied Thundering Blue's second-place finish in the Pattison Canadian International Stakes at Woodbine last month.

For his connections, there were more than two million reasons to walk away from the race seething with frustration.
Most of them involve the $2 million that could have been available to Thundering Blue for winning Sunday's $5.8 million Japan Cup at Tokyo Racecourse had the 3-1 favorite won the G1 Canadian International. Instead, after being bumped at the start and lacking room in the stretch, Thundering Blue and jockey Fran Berry settled for second, missing out on the lucrative bonus structure tied to Japan's premier race.
"I have to be diplomatic," trainer David Menuisier said during a Thursday press conference at Tokyo Racecourse. "At the time I wasn't feeling quite so about getting beat in the Canadian, but there's no crying over it. It didn't happen. The best thing you can do is lick your wounds and try to do better next time. I really don't focus on prize money. We got beat by several things. There was a slow pace and he couldn't find a gap. I can't blame anyone for that. It was circumstances. I think he was the best horse, but it's a horse race."
'Absolutely thriving'
For the Southern England-based Thundering Blue, atonement can come on Sunday when he breaks from post six in a field of 14 that also includes fellow European Capri in the 38th edition of the G1 mile-and-a-half (2,400 meters) turf classic on a left-handed course.
Much like his running style, Thundering Blue came from nowhere to become a Group winner. Owned by Clive Washbourn, Thundering Blue was racing in the handicap ranks in England until he finally turned a corner and won the G2 Sky Bet York Stakes on July 28.
Since then he has registered three solid efforts that figure to have him primed for another strong showing in G1 company.
"Even though he hasn't won a Grade 1 yet, I think he showed in the past that he has the potential to do so," Menuisier said. "The horse is absolutely great and he's absolutely thriving at the moment. He can run straight, left-handed or right-handed. He's very flexible. I just want him to run a good race and try to run as best as possible. Hopefully he will run to his best and we will see what his best can be."
Following the York Stakes, Thundering Blue charged from last to finish third in the G1 Juddmonte International behind Roaring Lion and Poet's Word and then traveled to Sweden, where won the G3 Stockholm Cup prior to his effort in the Oct. 13 Canadian International.
With his runner-up finish at Woodbine, Thundering Blue has six wins in 21 starts and earnings of $596,053.
"His main strength is his turn of foot," Menuisier said. "He's a horse that can travel and quicken dramatically in the final stages of the race. His Group 2 win, obviously, he won with his heart that day because the ground was soft and he got checked two furlongs out and still he managed to grab the bridle and rally strongly in the last 200 meters of the race, which to me was absolutely exceptional because it was a strong Group 2. To be able to do that on soft ground shows plenty of ability.
"His best race was in the Juddmonte against very, very high-class competition and he just traveled for the fun of it. When he quickened, he took third place, but nearly second, because he was closing very strongly on Poet's Word. His turn of foot is definitely exceptional."
The Canadian International was one of 24 international G1s that put the winners in line for Japan Cup bonuses of $2 million for a win, $400,000 for second, $250,000 for third and $100,00 for fourth. And, for a few moments, it seemed as if Thundering Blue would be racing in Japan with all of that added cash on the line. The stretch-running grey/roan 5-year-old gelding overcame traffic issues and a leisurely pace of 51.12 seconds and 1:16.17 on good turf to rally from eighth and grab a half-length lead at the eighth pole. But in the final furlong, he could not hold off the late rally of Desert Encounter, who had a smooth trip on the outside.
Formidable rival
Now, Thundering Blue will have to contend with another formidable rival with a potent stretch kick in the most popular horse in Japan, the Filly Triple Crown winner Almond Eye, who drew post one and is expected to start favorite. A winner of five of six career starts, she is attempting to become the second 3-year-old Filly Triple Crown winner to triumph against males in the Japan Cup (after Gentildonna in 2012) and continue the Japanese run of success in one of the world's richest races.
The last foreign runner to win the Japan Cup was the Luca Cumani-trained Alkaased in 2005, while the lone American starter since 2010 was Mission Approved, who was 14th in 2011.
"She looks leaner than she did before her last race as there has been less time between races, but she's relaxed and her responses are good," trainer Sakae Kunieda said about Almond Eye, who captured the G1 Shuka Sho in her last start last month (see video below - she's No. 11) to become the fifth filly to sweep the Triple Crown. "She was even in racing shape last week. In the Japanese Oaks [two starts ago], she was a bit keen in places but, now that she's matured, I think she'll run more smoothly and more in tune with her rider. She'll be up against colts and older horses but she'll have the weight advantage and the change to a wide-open course will be a plus."
The daughter of star second-season sire Lord Kanaloa turned in a breathtaking, wide rally from about tenth in the stretch to surge to victory in the Shuka Sho at Kyoto, and the running style of Thundering Blue could lead to a game of cat-and-mouse between Berry and Japan's leading rider, the world #5 Christophe Lemaire, on Almond Eye. Yet Menuisier believes there's little point in trying to plot out riding strategy with a one-dimensional horse in a race with so many variables.
"You can't predict how the race unfolds. We might be five lengths behind her," said Menuisier, who came out of the York Stakes confident enough to plot a campaign for the Kentucky-bred son of Exchange Rate ending in the Japan Cup. "One little thing that plays against him in his races is he can be a bit slow away. He jumps out well from the starting stalls but then, for the first few furlongs, he just wants to find his action. So, I believe he will probably be at the back of the field until he finds his stride and he will really run."
While Almond Eye has generated much of the attention in advance of the Japan Cup, Menuisier is more than willing to tackle the talented filly, even on her own grounds.
"You don't know what she beat and that's why you take a chance," Menuisier said. "To me, the main thing is for [my] horse to be feeling great and healthy. And then he will run his race. If he gets beaten, that's fine, and if he's better than them, that's better."
Though Tokyo is nine hours ahead of London, it would be no surprise if Thundering Blue's army of digital fans in England are early risers for a race that starts at 3:40 p.m. in Japan.
"He has a huge fan club that supported him on Twitter," Menuisier said. "It's been fantastic to have this experience with him. I think it's his style of running that makes him so popular. He's like a ghost who appears out of nowhere."
Capri might not have Thundering Blue's Twitter presence, but has the potential to be a main contender in the Japan Cup.
Owned by Coolmore Partners and trained by Aidan O'Brien, the 4-year-old is looking to re-visit his 3-year-old form when he won the Irish Derby and the English St Leger.
His 2018 campaign has been marked with disappointment after an injury sidelined him for five months following a season-opening win in the G3 Alleged Stakes at Naas in April. He returned to finish fifth behind Enable in the Prix de l'Arc de Triomphe after assuming a brief lead entering the stretch, but then made a quick return to the races and finished fourth behind Cracksman 13 days later in the Champion Stakes at Ascot on Oct. 20.
Ryan Moore: Capri's 'exceptional form'
"He ran a very credible race in the Arc and I feel that the race in Ascot was too short of a turn around," jockey Ryan Moore said Thursday about the winner of six of 15 career starts. "He didn't run badly, this horse very rarely runs a bad race, so his form is very good. When you look back when he won the St. Leger, he beat Crystal Ocean and Stradivarius, Rekindling. When he won the Irish Derby, he beat Cracksman, Wings Of Eagles and Waldgeist, who are all Group 1 winners. He needs to come back to that to be involved against some high-class horses and show the exceptional form that he had last year."
The ground at Tokyo Racecourse figures to have less give than the courses Capri has traveled in Europe, but the world's #1 rider is confident the Irish-bred son of Galileo will handle the conditions.
"We're very happy with him. He's traveled and settled in very well. He moved well [Thursday]. He seems to be in good shape," said Moore, who will break from post 12 with Capri. "Most of his races have been in Ireland, maybe on softer ground. When he won the Irish Derby, it was actually quick. The Tokyo track is very fast, but at least it's flat and it's stable. He's coming here freshened up and he was moving well this morning, so I think he'll be okay."
Whether okay will be enough to handle Thundering Blue as well as Almond Eye and other top Japanese runners such as Satono Diamond, Sauve Richard and 2017 Japan Cup winner Cheval Grand is what adds to the allure of a race with some international intrigue woven into it.
"I've looked at the form of others, but it's really hard for Europeans to gauge the form of Japanese horses," Menuisier said. "To me, the main thing is for this horse to be feeling great and healthy. And then he will run his race. If he gets beaten that's fine and, if he's better than them, that's better."