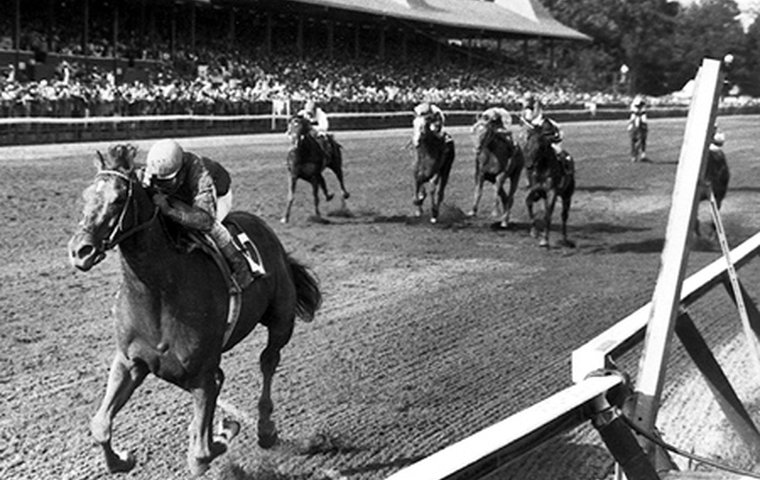 There's really no way around it. As much as Alydar will usually be mentioned in the same sentence as Affirmed, he will never escape the shadow of his arch-rival from Harbor View Farm. He will always be remembered as the horse who was second to Affirmed by a length-and-a-half in the 1978 Kentucky Derby, a neck in the Preakness and finally by a head in the Belmont Stakes after an epic duel that still rates as one of the greatest horse races of all-time.

He was, to some, the other horse. Yet in reality, he was so much more than that.
"Training Alydar was one of the great highlights of my life," John Veitch said. "He had as much courage as anyone I ever trained and he had such great ability. I was so proud of him and being a part of so many great races with him. What else can you say?"
Without question there's plenty that can be said about the Calumet Farm homebred who deserved much more than second billing 40 years ago in one of the sport's greatest rivalries.
While it's common knowledge that Alydar was second to Affirmed in all three legs of the Triple Crown and finished behind him in seven of their ten meets, what's often obscured is the brilliance Alydar displayed on those days when Affirmed was not on hand. It underscored just how special both the son of Raise A Native and his tag team partner in racing lore, Affirmed, were.
'The best horse I ever rode'
Alydar started 16 times in races devoid of Affirmed and posted 11 wins. In those races, he was favored 15 times (the 1979 Carter Handicap was the exception) and on 13 occasions, he was a 3/5 favorite or less.
Enhancing those numbers is that four of those losses came at four after he suffered a foot fracture. Prior to that 4-year-old campaign, only five different horses finished in front of him in 20 starts.
"He was a great horse," said Hall of Famer Jorge Velasquez, who was Alydar's regular rider at three and four. "He was the best horse I ever rode."
Overall, his career numbers were 14 wins in 26 starts, with nine seconds and earnings of $957,195. In Bloodhorse magazine's poll of the greatest racehorses of the 20th Century, he was 27th, and in TRC's poll of the best horses from 1967-2017 he placed 15th.
Unlike Affirmed, Alydar beat older rivals at three, winning the 1978 Whitney Handicap by an astonishing ten lengths in the most impressive victory of his career.
Steve Cauthen's verdict
"Alydar was seriously good. He had a lot of heart. A lot of horses give up when they get beat, but he never gave up. He kept coming back," said Hall of Fame jockey Steve Cauthen, who rode Affirmed in the three Triple Crown races and four of the other meetings with Alydar.
"They were 6-8 lengths better than anyone else of their generation. Affirmed only won by two lengths when he wasn't facing Alydar because that was the way he ran. It was a good year and they beat some good horses. It wasn't like they were beating garbage by six or seven lengths."
Veitch and the betting public thought enough of Alydar from day one that he made his career debut in the 1977 Youthful Stakes at Belmont Park and was sent off as the 9/5 favorite.
Ridden by Eddie Maple, the Calumet runner broke sluggishly, trailed by 12 lengths in the early stages and rallied belatedly to finish fifth. The winner on that June 15 afternoon was a lightly regarded maiden winner trained by Laz Barrera by the name of Affirmed.
Nine days later, Alydar retuned in a maiden race and, for the first – but not the last – time, he showed just how great a solo act he could be. Veitch's colt scored by 6¾ lengths over Believe It, a horse from trainer Woody Stephens' barn.
In his third start, Alydar had a rematch with Affirmed and avenged his defeat in the Youthful by posting a 3½-length victory over the Harbor View colt in the Great American Stakes at Belmont.
The rivalry gathers pace
Affirmed headed west after that and won a division of the Hollywood Juvenile Championship as an odds-on favorite. That allowed Alydar to flex his muscles as New York's top 2-year-old by winning the Tremont at Belmont over Believe It by 1¼ lengths and the G1 Sapling at Monmouth Park by 2½ lengths.
Affirmed returned to New York and won the Sanford at Saratoga, but when the two foes squared off in the G1 Hopeful at the end of the Spa meet, it was Alydar who was sent off as an even-money favorite by virtue of a four-race winning streak.
Affirmed turned the tables on Alydar by a half-length in the Hopeful and then beat him by a nose in the longer Belmont Futurity.
Alydar notched a second win over Affirmed, taking the one-mile Champagne with Velasquez riding him for the first time, and Veitch considered giving Alydar the rest of the year off after that. But he elected to tackle Affirmed once again and in the race that settled the 2-year-old championship, Affirmed prevailed by a neck over his persistent rival in the Grade 1 Laurel Futurity.
A month later, Veitch entered Alydar in the Remsen Stakes for his 10th and final start at two, and the colt's first race around two turns, and Believe It beat his multiple Grade 1 winner by two lengths. It was the first time someone other than Affirmed won a race with Alydar in the field. "I didn't manage Alydar's 2-year-old campaign as well as I should have," Veitch said. "I was 31 or 32 and was inexperienced, but the horse overcame me. If I had put some thought into it, I shouldn't have run him after the Champagne."
Alydar rebounded from the two losses that brought the curtain down on his 2-year-old campaign and thrived as the calendar turned to 1978.
He prepped for the Kentucky Derby in as sensational of a manner as anyone could.
He started with an allowance win at Hialeah by two lengths and then romped by 4½ lengths in the Flamingo Stakes. Next, in the Florida Derby at Gulfstream Park, he continued to stamp himself as an exceptional 3-year-old by posting a two-length victory over Believe It as a huge 1/5 favorite.
"His races in the Flamingo and Florida Derby were impressive," Veitch said.
Dominance led to Derby favoritism
What happened afterwards, in the Blue Grass at Keeneland, was labeled by Veitch as "exceptional".
Alydar didn't just win the Blue Grass, he turned it into a tour de force as he trailed by 11 lengths early but then gained momentum with a powerful force on the turn and then ran away and hid from eight rivals in the stretch.
The margin was six lengths at the eighth pole and 13 lengths at the wire in another amazing display of Alydar's superb talent in a race that was more of a sentimental choice for the 1/10 favorite than a logical stepping stone to the Kentucky Derby, which was just nine days later.
Veitch had leaned towards running Alydar in the Wood Memorial at Aqueduct but opted for the Blue Grass out of respect for Calumet's elderly owners. Eighty-two-year-old Admiral Gene Markey and his 81-year-old wife, Lucille, lived near Keeneland and were eager to see the latest in the farm's long and storied list of equine stars.
"I had some reservations about the Blue Grass," said Veitch, who entered the Hall of Fame in 2007. "But, in particular for Mrs. Markey, the Blue Grass was such a historic race for Calumet and it gave her the opportunity to see Alydar in action. Keeneland was so gracious in helping her and the Admiral see it by giving them a spot on the rail to watch. Sometimes you do things you shouldn't do, but I didn't mind that for Mrs. Markey and the Admiral."
Off such a dominant slate of prep races, Alydar was sent off as the 6/5 favorite over Affirmed in the Kentucky Derby and suffered the first of his three heartbreaking losses in the American classics.
The Derby marked Affirmed's fifth win in seven battles with Alydar, but Veitch believed there was at least a small explanation for why Alydar trailed by as much as 17 lengths at one point in the mile-and-a-quarter stakes and fell a length-and-a-half shy at the wire.
No excuses
"During the running of the race, something hit Alydar in the eye and he dropped back momentarily," Veitch said. "When he got back to the barn the eye was partially closed. I called Mrs. Markey that night and told her about the eye and she asked if I had told anyone else. I told her no and that I had a vet look at the eye and there was no permanent damage. She said, 'Don't tell anyone. At Calumet Farm we don't make excuses.'"
Alydar was significantly closer in the early stages of the Preakness, but once again could not surge past his bitter rival in the final furlong.
Three weeks later, in the Belmont Stakes, Affirmed and Alydar staged their greatest battle with no less of a prize than the Triple Crown on the line.
"It was a blessing for racing," Cauthen said. "To have those two horses in the same year and to have the great rivalry they developed at two and then to have it continue in the biggest series ever was incredible. I don't think there's ever been a race better than that Belmont when you consider what was on the line. The drama and all the characters that were involved on both sides, it was something that was meant to happen."
The Belmont Stakes was not the tightest finish between the two colts, but it was the most spectacular meeting. With seven furlongs left in the mile-and-a-half Test of The Champion, Velasquez moved Alydar alongside Affirmed and for the rest of the grueling race they remained locked together. It wasn't until the final yards when the fatigue of running on the same lead for a mile-and-a-half caught up with Alydar and Affirmed was able to dig down and register a narrow and unforgettable victory (video below).
"I was disappointed because I thought we had Affirmed, but in hindsight I was so pleased to be a part of it. Even now you cannot mention one horse without the other and that means a lot to me," Veitch said.
The 1978 Triple Crown not only gave the sport one its greatest edition of the famous series, but heightened interest for the major summer and fall races when Affirmed and Alydar would square off again.
The ultimate summer target for both horses was the Travers and Veitch opted for a difficult path to get there. He decided on the Whitney Handicap against older horses as a springboard to the Travers. Yet before that August 5 race, he found that he could not keep Alydar idle in the barn that long.
"I had the Whitney in mind from the very beginning. I thought the timing and the distance was better for him. I thought he could get a real taste of what I wanted for the Travers. I wasn't worried about him facing 4-year-olds and it taking too much out of him," Veitch said. "I had planned to rest Alydar until the Whitney, but he wouldn't let me. He couldn't stand it when I tried to freshen him. So we went to Chicago and Arlington Park and he was so impressive there."
That trip to the Midwest was for the Arlington Classic on July 22, when Alydar breezed to a 13-length win as a 1/20 favorite and paid the minimum $2.10 to win.
That set the stage for the Whitney at the Spa, a race with an emotional meaning for Veitch.
Emotional significance of the Whitney
"My father [Sylvester] had trained for C.V. Whitney and he was wonderful to my father as well as my mother and me. It was a very special race for me and my father who was there that day with me," Veitch said.
The 1978 Whitney – the 2018 edition of the famed G1 takes place this Saturday - was also the setting for an extremely special performance by Alydar.
Among the eight older horses lined up to face him was J.O. Tobin, who handed 1977 Triple Crown champion Seattle Slew his first loss in the Swaps Stakes and would share honors with Dr. Patches as the champion sprinter of 1978. But he and everyone else in the field were simply overwhelmed by Calumet's 3/5 favorite.
Watch the video of the Whitney and on the final turn you'll see Buckaroo and J.O. Tobin battling on the front end with Alydar nowhere in sight. Then, as track announcer Chic Anderson said, "Alydar comes like a shot into third," the son of Raise A Native moved like a blur along the rail while gobbling up the ground between him and the dueling leaders. In a flash, Alydar caught them leaving the quarter pole and drew clear under a hand ride with each powerful stride.
Getting better as the year went on
"People forget how many great races Alydar won," Velasquez said. "He was so impressive."
At the wire, Alydar was ten lengths ahead of Buckaroo and any thoughts that he and Affirmed were overhyped faded away in the mountain air of Saratoga.
"For a 3-year-old to beat older horses at time of year was something very special. He blew the doors off a good seasoned rival in J.O. Tobin," Veitch said. "Coming into the Travers, Alydar was better than he ever was. Alydar was getting better and better as the year went on."
The 1978 Travers at Saratoga marked the final and most controversial meeting of Affirmed and Alydar.
After passing the half-mile pole, Alydar made a strong move along the rail at the same time as jockey Laffit Pincay Jr. began angling in with Affirmed from the three path. Affirmed came over so far that Velasquez checked Alydar hard enough to prompt to Anderson to say during his call, "Alydar has dropped back so suddenly that he appears to be out of the race."
Alydar quickly regained his best stride and gallantly took aim at Affirmed but could only get as close as 1¾ lengths at the finish line (see video below). Not long afterwards, a stewards inquiry led to the disqualification of Affirmed and Alydar's third win in ten meetings with the Triple Crown winner.
Disappointed by how the race played out but happy with the outcome, Veitch looked forward to the fall when the 3-year-olds would meet up with Seattle Slew. He reasoned that with the two Triple Crown winners battling on the front end, it would be a perfect scenario for Alydar in the rich Marlboro Cup and Jockey Club Gold Cup.
"I had a great deal of confidence," Veitch said. "Alydar was getting better and I didn't fear anyone, not Seattle Slew or Affirmed."
Those plans crumbled when Alydar fractured the right coffin bone in his left front foot while training for the Marlboro Cup. The injury ended his 3-year-old season and nearly brought down the curtain on his career, but, after Veitch talked to the Markeys, it was decided to race Alydar at four.
"Mrs. Markey thought Alydar might be the last great horse she would have, though we had Davona Dale the next year," Veitch said. "She said if it wouldn't hurt the horse, she would like to see Alydar run at four."
Alydar ran six times at four but could not match his brilliant form of 1978. He won his 4-year-old debut by seven lengths in a Hialeah allowance race, but then was second by a nose in the Oaklawn Handicap and by a neck in the Carter Handicap to 1979 sprint champ Star de Naskra.
He was then sixth in the Metropolitan Handicap as a 2/5 favorite, finishing off the board for the only time in his career other than his debut, before he rebounded to win the Nassau County Handicap.
Finally, following a third-place finish in the Suburban Handicap as the 3/5 choice, the decision was made to retire Alydar after another injury flared up.
Mysterious death
"At four, Alydar was not the same. I had to compromise on his training. The injury healed, but I don't think he was ever as comfortable running as he was before the injury. He also ran in a bar shoe and I don't think he could get the real feel of a racetrack," Veitch said. "He wasn't the same, but Mrs. Markey wanted to try it and I would do anything for her as long as it didn't put the horse in jeopardy. The Markeys were special people who had a special horse."
Retired to stud at Calumet, Alydar proved to be a tremendous stallion. His offspring included Hall of Famers Easy Goer and Alysheba and he was North America's leading sire in 1990. Yet, even at stud, he was star-crossed. In November of 1990, he was found in his stall with a shattered right hind leg and had to be euthanized two days later. There was speculation that Alydar was killed to save Calumet's new owner from financial ruin, but nothing was ever proven.
Yet, in the end, the mystery of his fatal accident stands in contrast to his unquestionable career on the racetrack. He may have been the supporting actor in an unforgettable edition of the Triple Crown, but a dazzling body of work, especially at two and three, explains why the Hall of Fame opened its doors to him in 1989 and why, even 40 years later, his most devoted fans still have fond memories of him.
"Training Alydar was a high point of my life. It's something I'll always carry with me," Veitch said. "He had so much courage and I'm still proud to say I trained him."