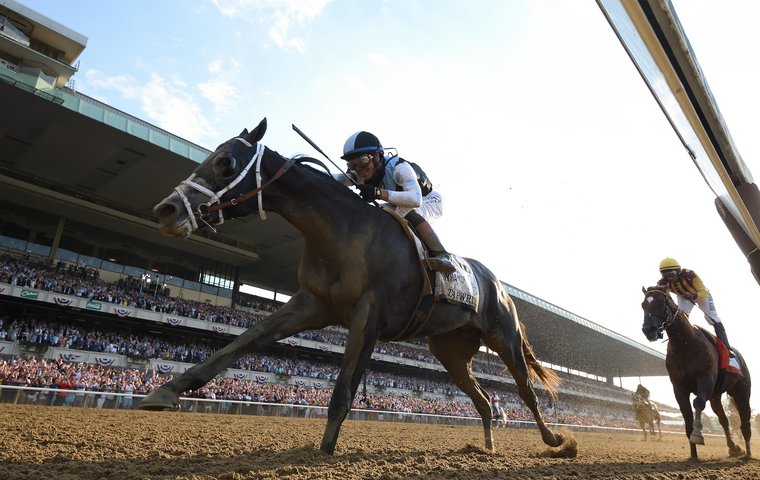 The 2017 Triple Crown pretty much ended like it began. Standing in the winner's circle after the 149th Belmont Stakes was trainer Todd Pletcher.

The very same Pletcher who five weeks earlier captured the Kentucky Derby.
The differences?
Well, Pletcher's goatee, which was considered a source of good luck when he won the Derby with Always Dreaming, has given way to his more familiar clean-shaven look.
"We were goatee off for this one," Pletcher joked.
A much more meaningful change involved the horse that gave America's all-time leading money earner his third victory in the Belmont Stakes and fifth win overall in the Triple Crown.
This time victory (see YouTube video above) belonged to Tapwrit, the $1.2 million Saratoga yearling buy owned by a partnership of Eclipse Thoroughbred Partners, Bridlewood Farm and Robert LaPenta.
Tapwrit ($12.60) was last seen finishing a troubled sixth in the Kentucky Derby and used five weeks of rest to bounce back and return fresh enough to post a two-length win over 5-2 favorite Irish War Cry, ironically the same rival who veered into him at the start of the Kentucky Derby.
"We got him back today," said Eclipse President Aron Wellman.
Yes, there was payback along with a nice payoff for Tapwrit's connections who dug deep into their pockets to acquire the son of Tapit and were richly rewarded for it.
"This is what we bought this horse for," said Wellman, who also owned the Pletcher-trained Destin, the hard-luck loser of last year's Belmont Stakes by inches. "To win a classic, and to be able to execute that game plan, an ambitious game plan, like Todd said, we couldn't have drawn it up any better."
Who's leading the Eclipse Award race?
Yet, after three Triple Crown races and three celebrations by three different groups of horsemen, little has happened to separate a crop of horses who keep playing musical chairs in major races.
In Pletcher's eyes, Always Dreaming, the victorious betting favorite in the Derby, holds a slim lead at the halfway point of a race for an Eclipse Award. He might be biased, but considering he saddled the Derby and Belmont winners as well as the third-place finisher in the Belmont in the lightly raced Patch, he figures to have a keen insight into the strength of the guys in the Class of 2017.
"I'd say Always Dreaming has a slight lead through winning the Derby and the Florida Derby," Pletcher said about the crop's lone two-time Grade 1 winner in this calendar year. "There's still some major races that will sort things out … We'll enjoy this for a while and I really hope I'm in a position that there will be decisions to make on where all these horses are going to run this summer. Who's going to the Haskell? Who's going to the Jim Dandy? I think the Travers is on everyone's mind, so it's a fortunate position to be in."
Perfect ride
Where Tapwrit, a winner of four of eight starts, fits in remains to be seen. He is LaPenta's second Belmont winner (joining Da'Tara in 2008) and the first for Eclipse and John Malone's Bridlewood Farm.
He also was clearly the best of the 11 horses in the Belmont as jockey Jose Ortiz, in claiming his first Triple Crown victory, gave him a perfect ride. Patiently ridden in third along the inside for much of the race, Ortiz moved the Tampa Bay Derby winner outside of the pace-setting Irish War Cry on the final turn, then seized the lead approaching the sixteenth pole and drew clear.
"I was sure he could handle [the distance]," Ortiz said. "It was a great training job by Todd. I always liked [Tapwrit] and had a lot of faith in him. Today he showed up."
As understandable as all that euphoria might be, what cannot be ignored is that Saturday's Belmont was hardly a robust edition of the 149-year-old classic.
A great day for Baffert, Smith - and Songbird
As a crowd of 57,729 left Belmont Park after a 10-stakes extravaganza, what no doubt dominated conversations were the four stakes wins (Easy Goer, Acorn, Woody Stephens and Metropolitan Handicap) on the card by trainer the world's second-ranked trainer Bob Baffert – who did not have a starter in any of the Triple Crown races – and jockey Mike 'Big Money' Smith.
There was also a huge buzz over the heart of champion belonging to Songbird, who battled back to win the G1 $750,000 Ogden Phipps by a length (see YouTube video below) in her first start since her first-ever loss in the Breeders' Cup Distaff by a nose.
The Belmont?
Well, when the big story is about who wasn't there – namely Always Dreaming, Preakness winner Cloud Computing, 2-year-old champion Classic Empire, who was withdrawn from the race Wednesday, and Japanese star Epicharis, who was scratched on Saturday after a New York Racing Association veterinarian found inflammation in his right front hoof – it reflects a $1.5 million race strong on quantity but weak on quality.
So does a bland final time of 2:30.02 for the mile and a half.
'Beaten up' at Churchill Downs
Yet, in a way, that might have been the perfect vehicle for Tapwrit, an under-appreciated horse who had been trying to justify his seven-figure sales tag, until Saturday.
"The horse got no respect and he's a tremendous horse. I think the fact that he cost so much money turned a lot of people off," LaPenta said about Tapwrit, who became just the fourth million-dollar yearling to win a Triple Crown race. "Classic Empire got all the credit for a rough trip in the Kentucky Derby and we got beat up worse than he did and we only finished a length and a half behind him."
While Tapwrit pointed to the Belmont after his sixth-place finish in the Run for the Roses, Classic Empire returned two weeks later in the Preakness and finished second as Always Dreaming faded to eighth, ending his Triple Crown bid.
The 2-year-old champ's Belmont hopes evaporated when he developed a foot abscess in the hours before the post position draw, but he might have been facing an uphill climb in a race known as the Test of the Champion.
A powerful lesson to come out of Saturday's final jewel of the Triple Crown is that apparently the road to victory in the Belmont starts in Louisville and ends in Elmont, New York, with no stops all the way.
The advantage of missing the Preakness
Each of the first four finishers in the Belmont had last raced in the Kentucky Derby, where they were sixth or worse. Beyond that, seven of the last 11 winners of the Belmont – a group that includes the Pletcher-trained Rags To Riches in 2007 and Palace Malice in 2013 – came into the race with five weeks' rest.
What seemed to be a trend is suddenly looking like an irresistible force of equine nature.
"I don't think it's any secret that some extra time between races will benefit any horse as they prepare for the Belmont," Pletcher said. "Being here at home, it's a big advantage. That's what makes winning the Triple Crown so difficult. It's coming back in two weeks and then facing fresh horses in the Belmont. [Five weeks off] is a proven method that works. Five weeks gives you time to recover and build back up after a tough race."
Considering that the three horses who ran in the Preakness were no better than fifth in the Belmont and that the last 30 Belmont starters who ran in the Preakness own just win – a victory belonging to Triple Crown champion American Pharoah in 2015 – Saturday's race figures to be referenced quite often a year from now when horseman ponder their next step after losing in the Kentucky Derby.
"Horses are not built to do what horses have done over the last 100 years," LaPenta said. "They were bigger in past years. Their bones were bigger. Today's horses are built for speed. They don't have the stamina or the physical structure to race three times in five weeks against demanding competition. I don't know how it changes. It's a complicated thing."
Complicated. A nice choice words after five weeks on the Triple Crown trail that proved little and brought the sport full circle with the only constant being images of Todd Pletcher in the winner's circle – provided you recognized him without the goatee.