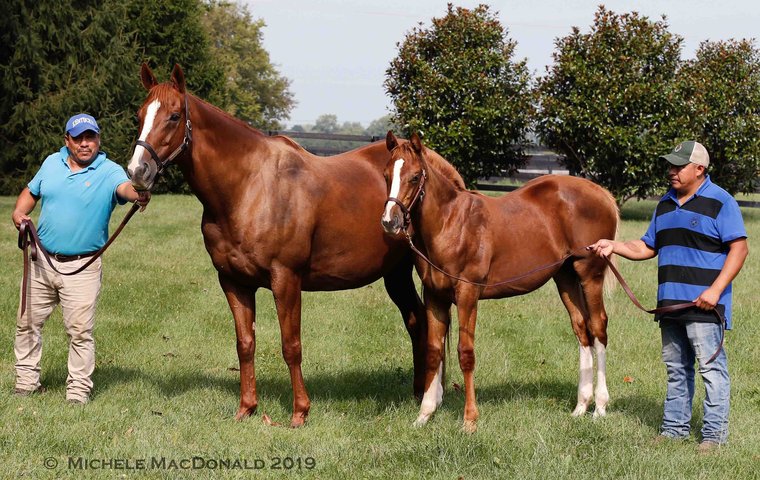 They are the rarest of gems in Thoroughbred breeding, a pair of glistening rubies born just a year apart and visually so similar with their bold blazes and sculpted shoulders that they might be mistaken for sisters.

As the only active producers of Triple Crown winners in the Northern Hemisphere, Littleprincessemma, dam of the beloved American Pharoah, and Stage Magic, who foaled unbeaten hero Justify, are without equal among broodmares.
Living only about 25 miles apart in Central Kentucky, both 'Emma', as she is fondly known at Jane Lyon's Summer Wind Farm, and Stage Magic, the queen of John Gunther's Glennwood Farm, are poised on the threshold of opportunity, each with a chance to create a dynasty that could influence the sport for decades.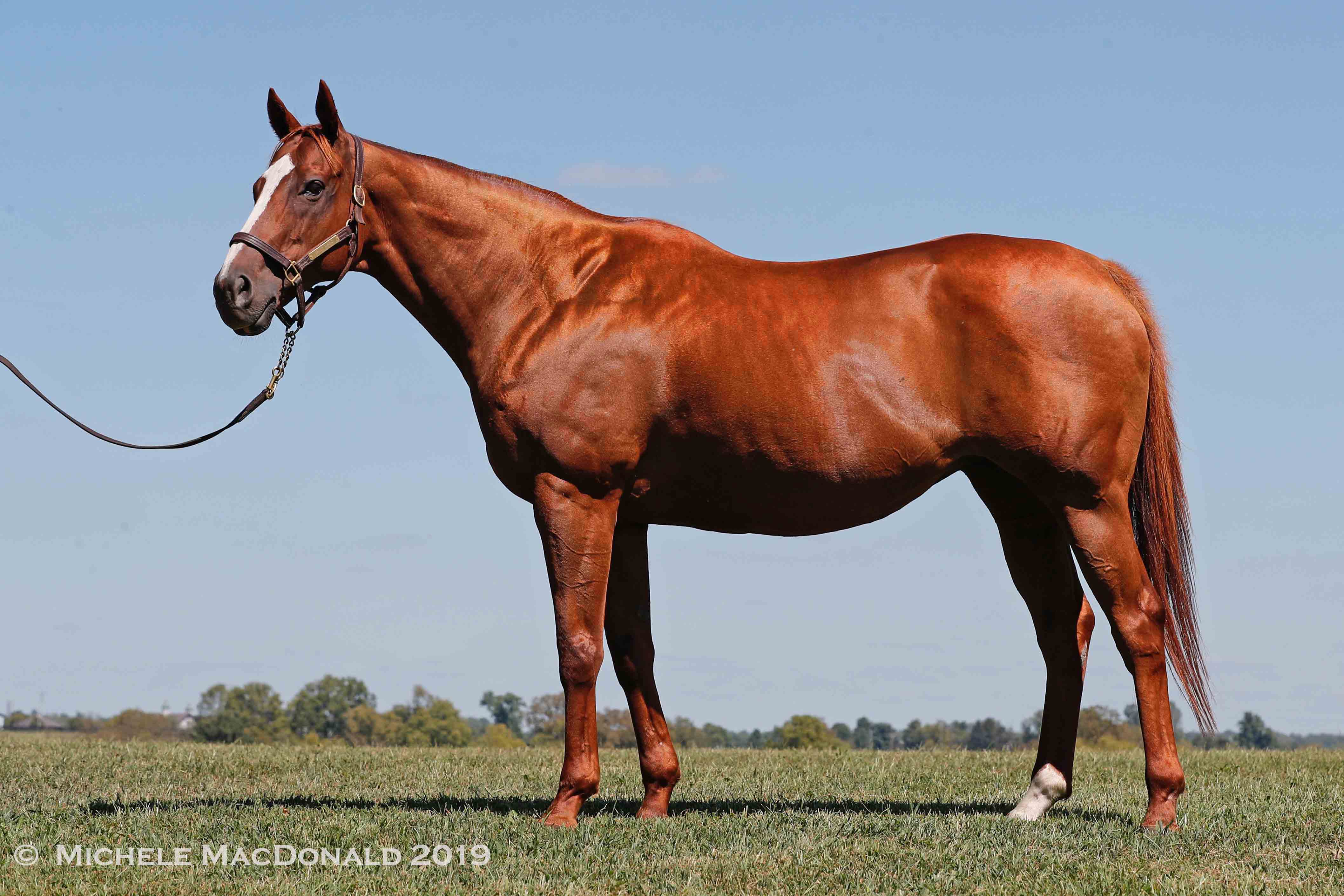 As the stud careers of their history-making sons are launched by Coolmore at nearby Ashford Stud, both dams are still youthful and robustly healthy.
They each have an exciting yearling colt, with Justify's half-brother by American Pharoah's sire, Pioneerof The Nile, set to enter the Keeneland sale ring tomorrow (September 9) as Hip 106 and Littleprincessemma's Tapit colt due to race in Lyon's colors.
Each mare also has a juvenile colt preparing to race for the breeders and each mare is in foal for 2020, thus they seem to harbor unbounded potential for years to come.
Both Lyon and Tanya Gunther, who oversees the Glennwood mares for her father, are awaiting the future with keen anticipation and, as foaling draws nearer month by month, a few more nerves because of what these mares have come to mean as premier producers and as individuals.
"The sense of worry was big before, but it becomes bigger," Gunther said. "Just taking care of them, and hoping for foaling to go right, and taking care of the siblings to a Triple Crown winner — you feel like you're dodging landmines all the time. We're worrying about them from the time of making the right mating decision throughout the 11 months of pregnancy, hoping everything goes right and watching for signs that it might not and trying to catch any problem early — and that's just the pregnancy."
Stage Magic and her accomplishments as a broodmare, which include her Graded stakes-winning son The Lieutenant, are particularly meaningful to Glennwood as the 12-year-old by Ghostzapper is a homebred who gained multiple stakes placings while racing.
The Gunthers planned Stage Magic's mating to Justify's sire, the late Scat Daddy, and then raised the strapping chestnut colt who grew into a near 17-hand phenom. He proved to be the ultimate kind of validation of their program and a primary factor in John Gunther receiving the Eclipse Award as outstanding breeder of 2018.
"Sometimes I still just think, 'Wow.' It's still not really sunk in yet, because the Triple Crown is such a big thing you can't really get your hands around it," Tanya Gunther said.
Lyon speaks of Littleprincessemma much as she would a family member and said any pressure she may feel about managing the career of American Pharoah's dam revolves around "how spectacular and special she is and how much she means to me".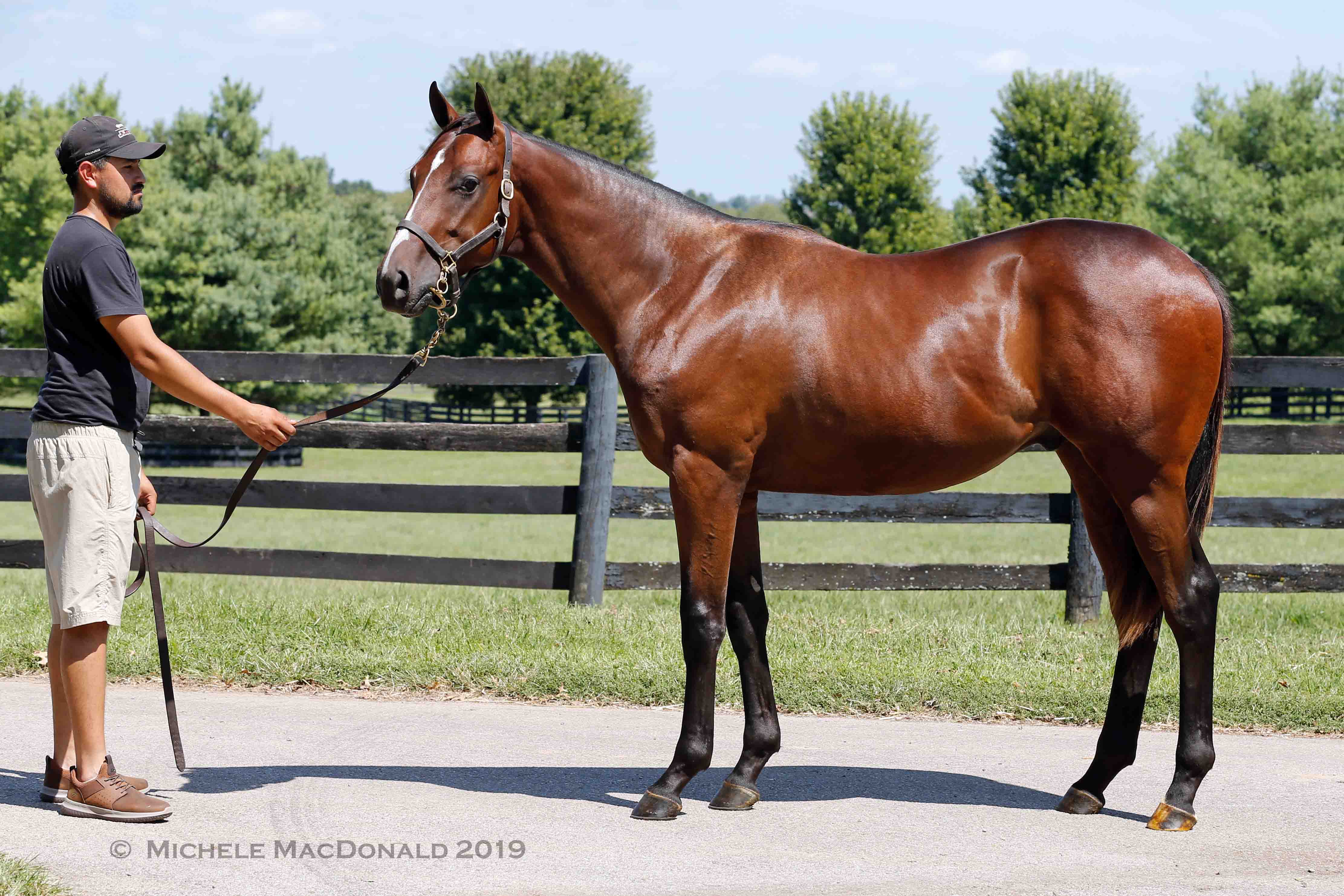 A now 13-year-old by Yankee Gentleman, Littleprincessemma has not only made her own chapter of racing history through her son, she also has given Lyon two incomparable life experiences.
Lyon fell in love with the mare virtually at first sight at Fasig-Tipton in November 2014 and bought her for $2.1 million from Zayat Stables six months before American Pharoah began his Triple Crown sweep.
Through that run, which closed a 37-year gap since Affirmed had reigned as the last Triple Crown winner, Lyon shared the victories with her husband, Frank Lyon, as they traveled to the races to cheer the colt on while Frank battled cancer prior; he passed away in November 2015.
"That whole year with American Pharoah — I know he meant the world to so many people and the equine world had been waiting a long time for him, but what he meant to me and to Frank and to us in our last time together was probably one of the greatest blessings I will ever experience," Lyon said.
Lyon named Littleprincessemma's second foal at Summer Wind, a Tapit filly, Chasing Yesterday in memory of her husband. The filly in turn provided Lyon with her first elite victory as an owner.
"A filly like that, with all the history with Frank, was just the greatest gift. She was the very first Grade 1 winner that I ever owned, and it could not have been a better experience or a better horse for it to happen with than Chasing Yesterday," Lyon said.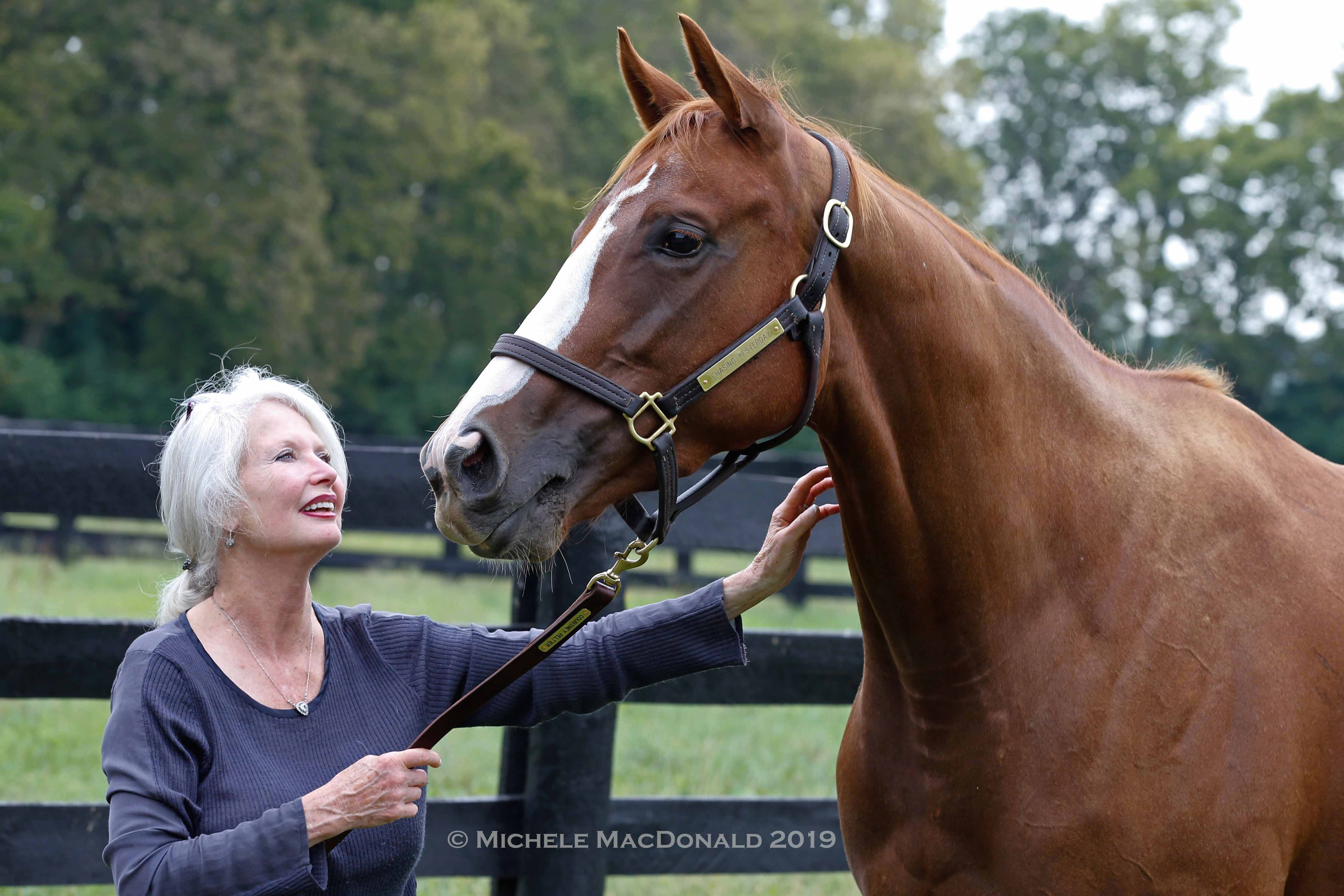 The broodmare careers of Littleprincessemma and Stage Magic always will be extraordinary for what each already has accomplished. But there also have been moments of disappointment and heartbreak, which are inevitable for breeders.
As their stories continue to unfold, what could still be on the road ahead in the form of their foals still to race and still to be born are the very dreams that have drawn breeders and owners into the sport since the first horse races were conducted centuries ago.
At Summer Wind, Littleprincessemma was facing separation from her 2019 filly by Tapit, a striking chestnut with a white stripe and three stockings who was to be weaned a few days before the Keeneland September sale would begin.
That filly, who Lyon said may just be the finest foal, physically, that Littleprincessemma has produced to date for her farm, is the fifth that Lyon has bred and raised from the mare and the third by Tapit.
Littleprincessemma was bred back to Tapit this spring and has been determined to be carrying another filly, and Lyon said she plans to keep both the 2019 filly, who has been named Lasting Tribute, and the expected 2020 filly, as well as Chasing Yesterday. Her long-range plan is to add the trio of half-sisters to American Pharoah to her already blue-chip broodmare band.
Lyon also has retained a pair of colts produced by Littleprincessemma, a now 2-year-old full brother to American Pharoah named Theprinceofthebes and a yearling by Tapit named Triple Tap. Both are part of her new strategy to race a few select colts with hopes of developing top stallion prospects.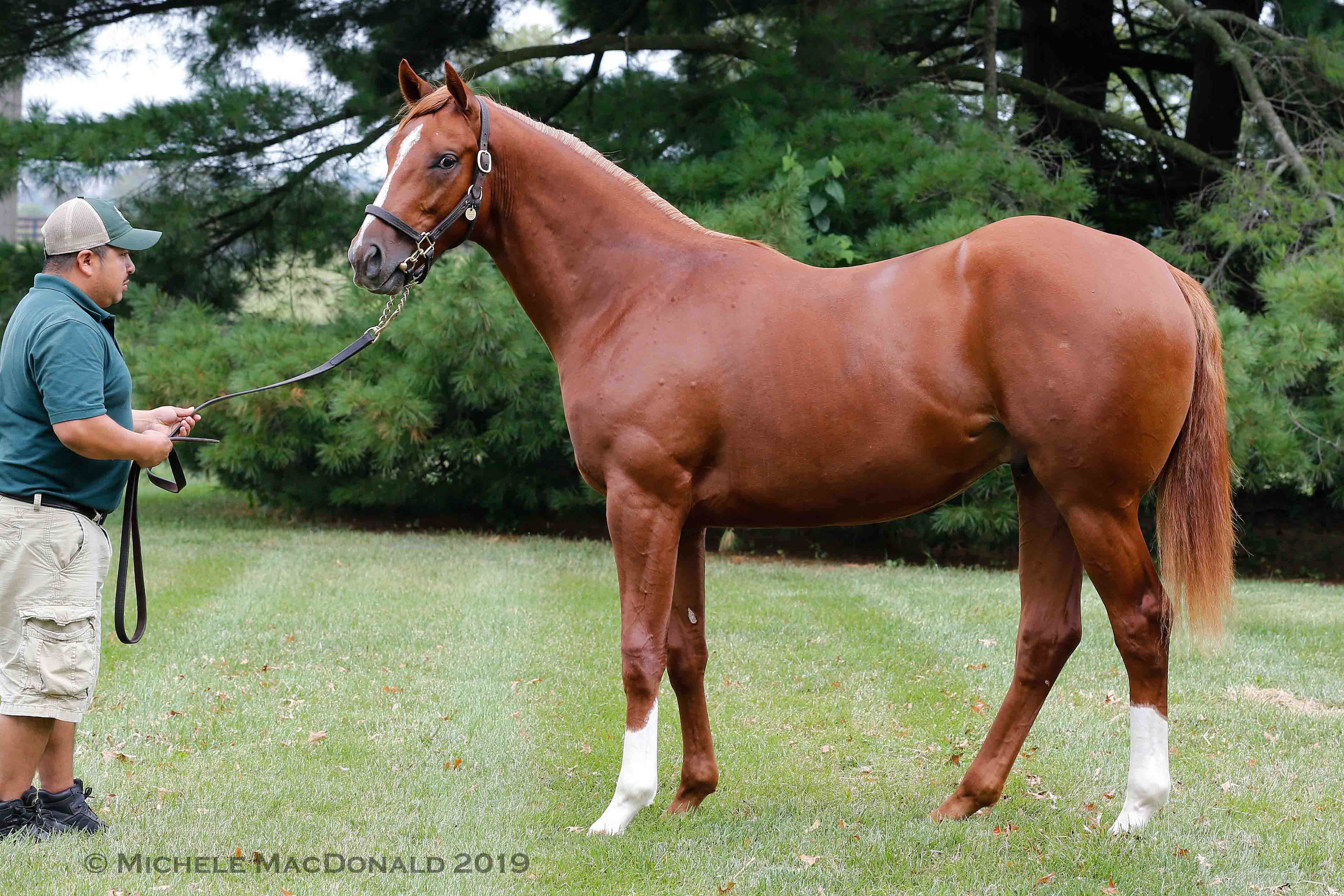 Theprinceofthebes, however, did not have a flawless beginning to life. In fact, Lyon said she had reconciled herself to the fact that he might only ever be a "lawn ornament".
"When he was a young colt, he was a little crooked in front. We tried some correction that worked a little bit, but somehow he crushed a growth plate in his ankle. When that happened, I decided that he was going to be a nice lawn ornament and that he wouldn't go to a sale," Lyon recalled.
"But he always had a gorgeous body type, a great attitude and a good nature. He just glided around the field. And with a little work and correction, he straightened up a good bit," she said. "Dr [Bob] Hunt [of Hagyard Equine Medical Institute] felt like he should be given a chance to see if he could hold up to training, so I sent him to Eddie Woods, with the request that he go very, very slowly and at the first sign of anything going the wrong way, put him on a van and send him home."
In a storybook chapter of his life so far, Theprinceofthebes drew upbeat assessments from Woods, and from his training center in Ocala, the colt was sent to Bob Baffert, who developed both American Pharoah and Justify.
Through early September, Theprinceofthebes had recorded two timed workouts at Los Alamitos Race Course under the supervision of Baffert's assistant Mike Marlow. When he is ready, he will join Baffert at Santa Anita Park.
"So far, apparently there has not been a single issue," Lyon said. "Visually, he really looks very, very much like Pharoah. He's got a body like Adonis. And he apparently is a phenomenal mover, like his brother."
The first foal Lyon bred from Littleprincessemma also was a full brother to American Pharoah and also a bay, but he was born flashy, with a blaze like his dam's and four white feet. Lyon sold the colt privately to Coolmore and, subsequently named St Patrick's Day, he was a winner and Group-placed.
Chasing Yesterday followed St Patrick's Day. The blaze-faced chestnut, a lovely feminine type, was trained by Baffert to four stakes wins, including the G1 Starlet at Los Alamitos, and she finished third in the Santa Anita Oaks in April, even though she incurred an entrapped epiglottis.
Lyon brought Chasing Yesterday home to Summer Wind after that race and the filly will not race again.
"Yesterday did everything she needed to do for me. She tried her heart out; she gave everything she had," Lyon said. "When she entrapped her epiglottis, I knew she was out of the Kentucky Oaks, which she had qualified for, so I brought her home, and the more I looked at her, the more I realized that she didn't owe me anything. She needed to have a chance to be a horse, and she is growing and maturing and filling out and she seems extremely happy."
Chasing Yesterday spent her summer with, as Lyon describes it, her "foal-hood friend" and fellow Summer Wind-bred Shadow Play, the Galileo half-sister to Breeders' Cup Juvenile Turf winner Hootenanny.
"They picked up like the day they left off more than two years before. They get along beautifully, they're great playmates in the field. They are just happy to be back together. So, I'm happy seeing Yesterday living a good life," she said.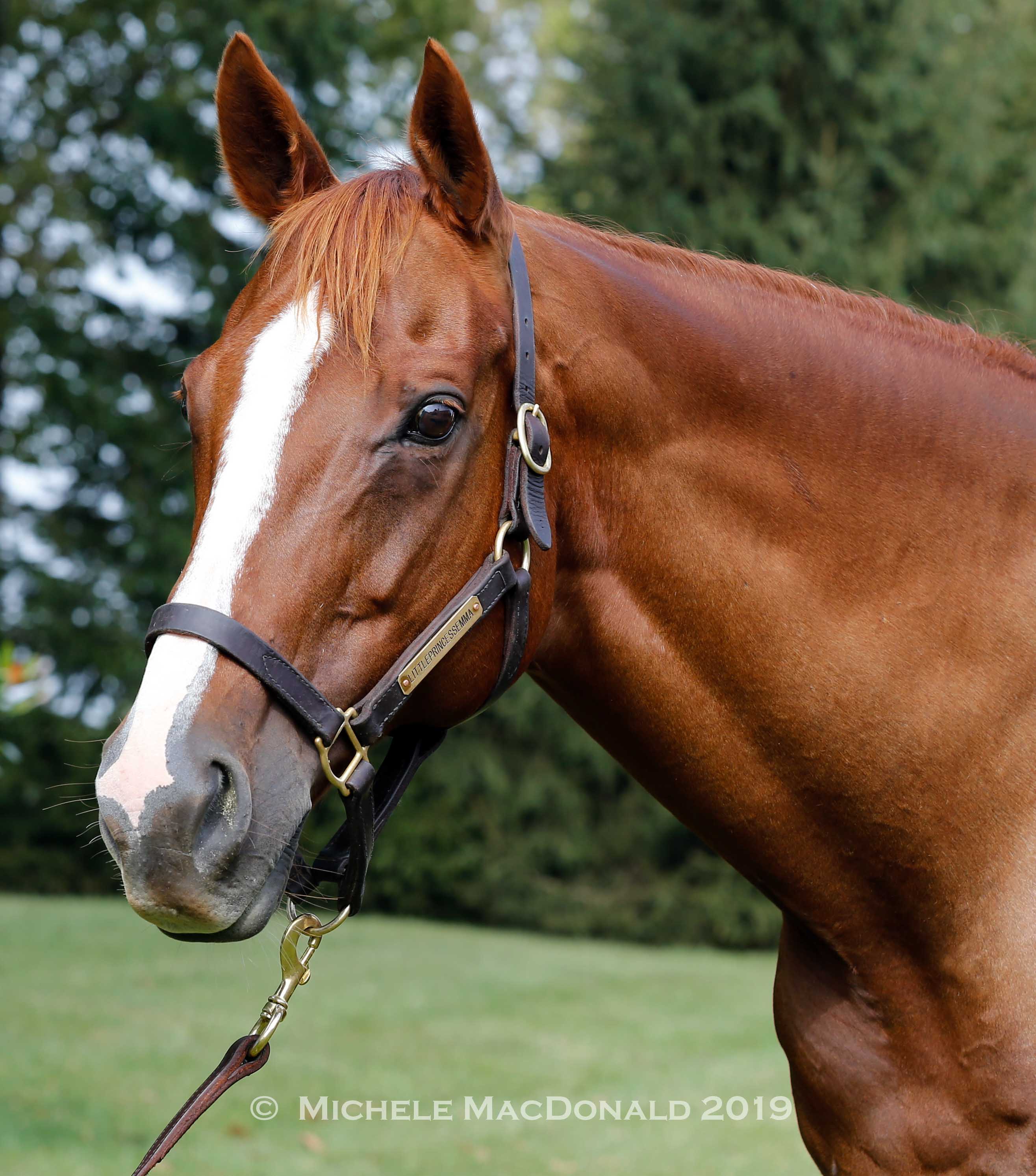 Lyon plans to breed Chasing Yesterday in 2020, although "who we are going to breed her to is still a little bit up for discussion", she said. "We'll definitely go to a proven stallion."
Meanwhile, Littleprincessemma's yearling colt Triple Tap, who earned his name because he shares his February 27 birthday with both his sire Tapit and dam Littleprincessemma, has not only been difficult to fault since birth, he also has an extremely appealing personality. Like American Pharoah, he seems to enjoy interacting with people and is unfailingly confident.
While Lyon has received persuasive interest in the colt, she elected not to offer Triple Tap at a yearling sales. Initially, she thought she might take a partner in racing him, but she has decided to campaign the colt herself, with hopes he could become a significant stallion prospect.
"This horse has always acted like he owned the world. He knows he is special," Lyon said. "There's just that air about him.
"It is not generally my policy to keep colts. But I thought maybe I'll hang onto him and I'll sell half of him. But, as time went on, and the more I thought about it, the more I thought, 'No. I'm just going to go for it.' And, if he doesn't run, you know it will have been a bad decision. But if he does, then we'll talk about who wants him [to stand at stud]," she said.
Credit to Tapit
Looking back over Littleprincessemma's foals, which also include the Zayat-bred G1-placed American Cleopatra — who produced a 2018 Uncle Mo filly named Mo Emma and a 2019 Tapit colt for Hill 'n' Dale Equine Holdings and Stretch Run Ventures before being bred to Justify this spring — Lyon said they seem to share some key characteristics.
"I remember being told years ago that the really great ones do everything right and that would describe Emma. The way is she is to be around in the stall, she is very, very intelligent, she's very kind, and she's kind to the other horses, she's kind to the other foals. She imparts to her babies that same intelligence and kind attitude, at least in all of them that we have foaled here.
"I've never seen Emma put her ears back, certainly not to me. She has never been aggressive with anybody in the stall with her, whether she had a foal or not. She's just a dream to be around," Lyon said.
Gainesway's Tapit also gets plenty of credit for the foals he has sired out of Littleprincessemma.
"I don't know what the magic ingredient is with these foals, but it's sort of like Emma with a little more. She is very, very prepotent — her foals' bodies look like her, but these last foals are a little bit longer, a little bit taller, a little bit more elegant. Whatever that is, I can thank Mr Tapit for it," Lyon said.
'Can it be any better than this?"
Lasting Tribute, she added, is very impressive at this stage, being "a little longer, stretchier, and perfectly balanced".
"She has got a tremendous shoulder, a tremendous hip and long, beautiful legs; I think she'll be taller than either Yesterday or Triple Tap, maybe even a touch scopier. I look at her and I know Emma is carrying another foal, a filly, by Tapit, and I just wonder can it be any better than this? And Lasting Tribute has a fabulous attitude too. She is as sweet or sweeter than any of them.
"They all know they're special, they know they are royalty. And they are as royal as I will ever come close to."
Meanwhile, over at Glennwood, Tanya Gunther also feels that she has been in the presence of something special as she has watched over Stage Magic's yearling colt prepare for his moment in the Keeneland sale ring spotlight.
"He's a very classy horse," she said. "You try to look at them in comparison to other yearlings rather than as a sibling [to a Triple Crown winner] and you try to be objective about it. He's perhaps not your typical Pioneer—I always think of the Pioneers as kind of big, gangly types, and he's not that. He's very well balanced, well put together, and a classy horse to be around. I quite like him. I hope that other people will as well.
"If I compare him to Justify, I would say Justify was a bigger yearling. The Pioneer is a nice size but he is not a huge horse. What they do have in common is that both are very well balanced."
Easier to be around than Justify
The Pioneerof The Nile colt, a rich bay with a narrow stripe down his face, is not as aggressive as Justify was and thus has been easier to handle than his famous half-brother, who was sold at Keeneland for $500,000 to China Horse Club and WinStar Farm's Maverick Racing.
"Justify was always like an in-your-face kind of colt. I wouldn't say this horse is a pushover by any sense, but he's a little bit easier to be around, for sure. And that's a welcome difference. He's very intelligent. I've always thought Justify is a very intelligent horse and this horse is as well, which is nice. A classy horse is usually one who is intelligent and moves well and acts well," Gunther said.
The colt's life so far has been relatively straightforward, except for a rare reaction to his mother's milk that he developed shortly after he was born on April 19 last year.
"There's a condition called thrombocytopenia. It's a long word for a blood-related problem," Gunther said. "You need to restrict the foal from nursing from the mare. We had never had an issue with the mare before in terms of the foals nursing. There was no way of knowing until we saw certain signs that things weren't going right. If we hadn't caught it early enough and if he hadn't responded to antibiotics and so forth, we might have had to do a blood transfusion. He spent a few days at the clinic right around the time Justify was going for the Derby. That was a pretty sweaty moment.
Big boy
"Scary, painful," she added, underlining the worry endured while the colt was being treated. Happily, however, the colt rebounded quickly and has not had any other problems.
While breeding and raising horses can be a roller coaster of highs and lows, Gunther noted that sales can be particularly grueling in so many aspects, including emotionally testing. Breeders work so long and with so much dedication to raise good horses, and parting with them, even at excellent prices, can be bittersweet.
"I wish he wasn't going to the sale," she said of Justify's half-brother before adding with a smile: "But maybe he won't meet his reserve."
Last year, the Gunthers elected to take home Justify's now-juvenile half-brother they named One More City, a son of Will Take Charge who did not meet his reserve price on a bid of $1.75 million at Keeneland. One More City now is learning his lessons at a pre-training center.
"He's a big boy, so we're just taking our time with him. He's developed well — he's added muscles to his big frame, so we're just taking our time. We never expected him to be an early horse and we didn't want to push him," Gunther said. "He's a nice horse so far but we haven't sent him to a trainer yet and that decision still remains to be made, but he's coming along."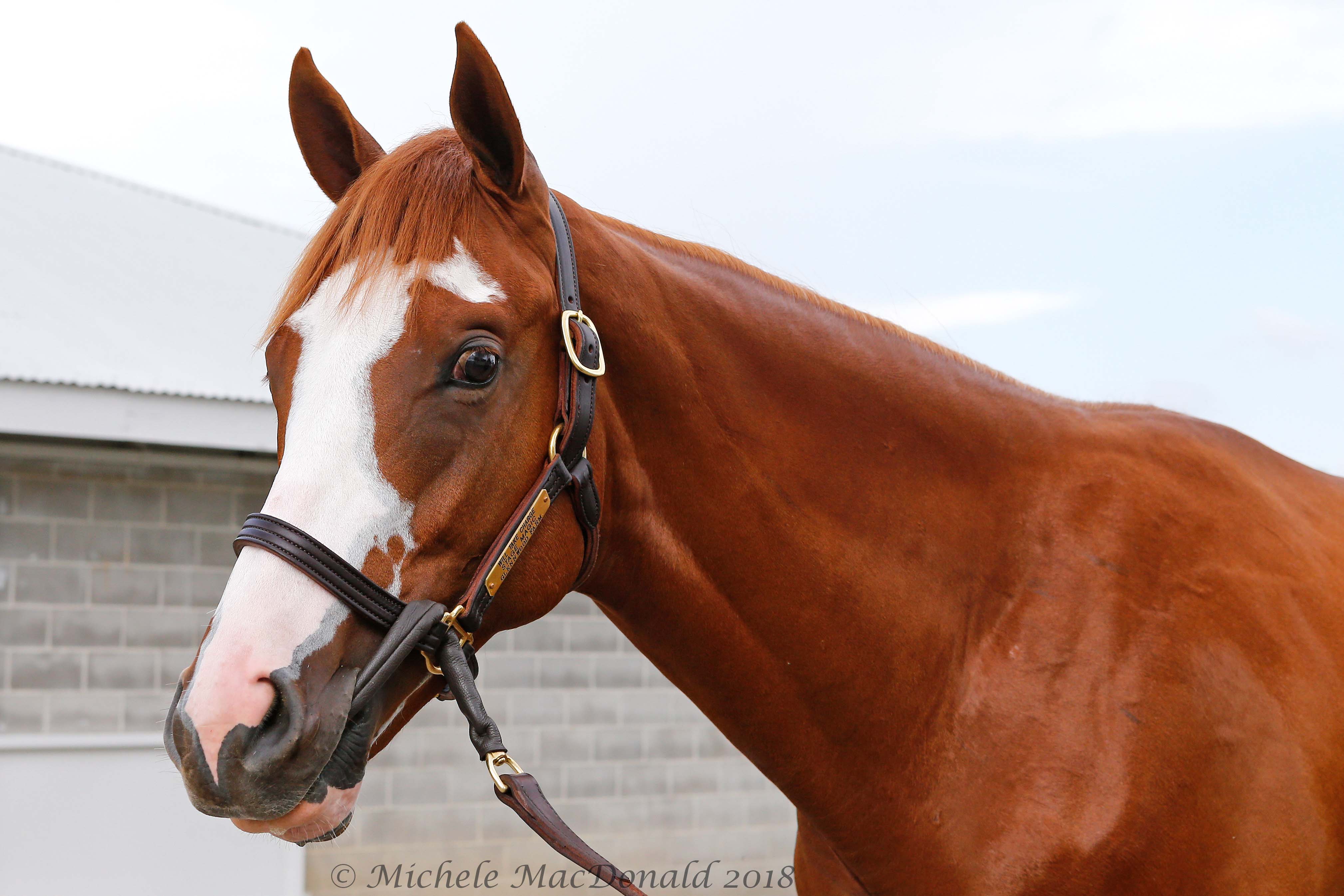 Stage Magic — who also was an RNA when she was not sold at $70,000 at the 2008 Keeneland September sale in what now seems to be a highly fortuitous turn of events — has produced six foals to date. Her first, produced in 2013, was The Lieutenant, a Street Sense colt who was sold as a yearling for $50,000.
The Lieutenant wound up earning $345,882, and he stood his first season at stud this year at Sequel Stallions New York.
Holiday Music, a filly by Harlan's Holiday, was Stage Magic's next foal, and she was sold as a yearling for $60,000. She wound up winning two races and placing four times in nine starts before being claimed, brilliantly as it turns out, by trainer Neil Pessin for $30,000 at Fair Grounds in January 2018.
As Justify was rising to prominence, Holiday Music was sold privately to Summer Wind, where she now resides with Littleprincessemma. In an intriguing melding of Triple Crown bloodlines, Lyon bred Holiday Music first to Pioneerof The Nile, to whose cover she produced a filly this March, and then to American Pharoah.
Stage Magic's only other foal prior to One More City was Egyptian Storm, a 2016 filly by Pioneerof The Nile who was sold as a yearling at Keeneland in 2017 for $230,000 to R. S. Evans and West Point Thoroughbreds. Unplaced in one start, Egyptian Storm was bred to Quality Road this spring.
The Gunthers also had chosen Quality Road for Stage Magic's mating in 2018. In a cruel twist of fate, they lost the foal, which was a filly, this spring.
"That was just was a heartbreaker," Tanya Gunther said. "To lose one like that, it's hard to mentally recover. Emotionally, it just drains you to have those things happen. I suppose every year something can happen, but it was just really sad when it happened to be her.
"I don't think we would have sold her — we were very keen on getting a filly. You almost wish you didn't know [what the gender of the lost foal was]. This was just heartbreaking," she said.
Personality trait
Stage Magic is back in foal to Curlin now, and since he has become such a strong influence in American classic races as well as the current leading sire of sale yearlings, the resulting foal will have so much potential.
Of the foals that Stage Magic has produced so far, Gunther said the mare — just as with Littleprincessemma — seems to pass along her nature.
"There's definitely a personality trait with them. I'm not saying they're all the same, but there's a little bit of toughness in them, in a good way," Gunther said.
"I would say Justify was mentally quite tough. There are not many horses that would be able to handle the Triple Crown, having such little experience as he did, but he was just kind of tough that way and he was able to handle it. There's an element of that in her foals. She's got that toughness herself and it will come out in varying degrees in the different foals, but I do see a common personality trait there, which I think is a good one.
"In order to be a top racehorse, they need to be able to handle a lot, and I think they need a little bit of toughness and resilience and desire. They need to be able to handle the stress and they need to focus and they need to be able to want it, so hopefully Justify is not the only one she imparts that to. The Lieutenant was a good horse and it shows she's put something into her other foals as well. So, fingers crossed for the future."
Both Stage Magic and Littleprincessemma also have left their stamp on many of their foals physically. Lyon said each of the Tapits produced by Littleprincessemma look like their dam, and Gunther noted that Justify very much resembles his dam.
Incredible athletes
"If you see Stage Magic, you will see the resemblance that Justify has to her. There is no doubt in my mind that she played a significant role in him. I did love Scat Daddy and it was a powerful combination, but she definitely left her imprint on him. You can see it in how they look and in certain mannerisms and personality.
"Genetics is a wonderful thing; you just never know how it's going to play out," Gunther added. "For me, it's so fascinating to think about the pedigree and matings and so forth and then what the result will be. It's just an incredible thing to be trying to do.
"I do think people will look back on horses like American Pharoah and Justify and then appreciate them even more. That's always the way, I guess — you look back and go, 'Oh wow, that was something special.' With Justify being so close after American Pharoah, it was maybe easier for the odd critics to come out, but what [Justify] did was unbelievable.
"You don't win the Triple Crown without being an incredible athlete. And he did it so incredibly — bouncing back in the Preakness after having that foot issue after the Kentucky Derby — most horses don't go on and succeed in the next race when they have a little blip. And he had a blip at a very critical moment when there is very little recovery time."
Raising more champions is the aim of both Gunther, who plays a major role in arranging Glennwood's matings, which also have produced the likes of G1 winners Vino Rosso and Without Parole, and Lyon, who bred 2018 juvenile male champion Game Winner and current championship contender McKinzie.
Both have sent mares to the Triple Crown winners that their own best producers delivered and there would be a degree of enhanced satisfaction from success of those matings.
Yet nothing might top another high-caliber runner, or an eventual stallion or prolific broodmare, from Littleprincessemma, the 2015 Broodmare of the Year in America, or Stage Magic, the 2018 Broodmare of the Year.
But, even if such success is not what destiny has ordained, both mares already have done what so few others ever have and ever will, and having the chance to breed more foals from them is the most exclusive kind of privilege.
As Lyon said of Littleprincessemma, "She has certainly been everything — and more — that anyone could ever dream for."