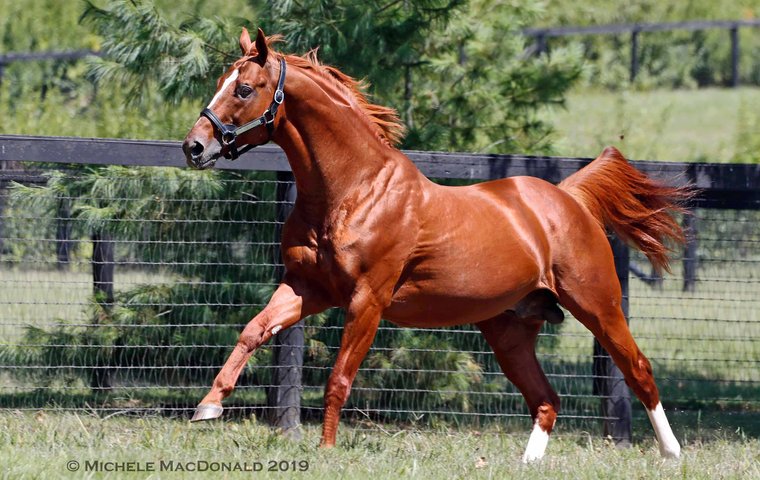 Within the arched passageways of the tree-lined courtyard at Hill 'n' Dale Farms' stallion complex, they call him Big Red. He walks with a confident swagger, his massive shoulders and hindquarters gleaming like liquid fire in shades of crimson and gold in the late summer sun.

While some might find it tantamount to sacrilege to employ the moniker legendarily applied to racing immortals Secretariat and Man o' War, Curlin not only looks the part, he has earned the distinction for this era, continuing to excel in every category.
With the Keeneland September yearling sale, the world's largest marketplace of young stock, set to begin on September 9, Curlin currently stands as the leading sire of auction yearlings by average price among those with at least three sold this year at an eye-popping $835,000.
That ranking follows the racing success of his best progeny, which overall has been so brilliant, particularly in recent years, that Hill 'n' Dale has been able to promote Curlin as the leading lifetime sire by average earnings index.
He is also the leading dirt sire in the world according to the TRC Global Rankings.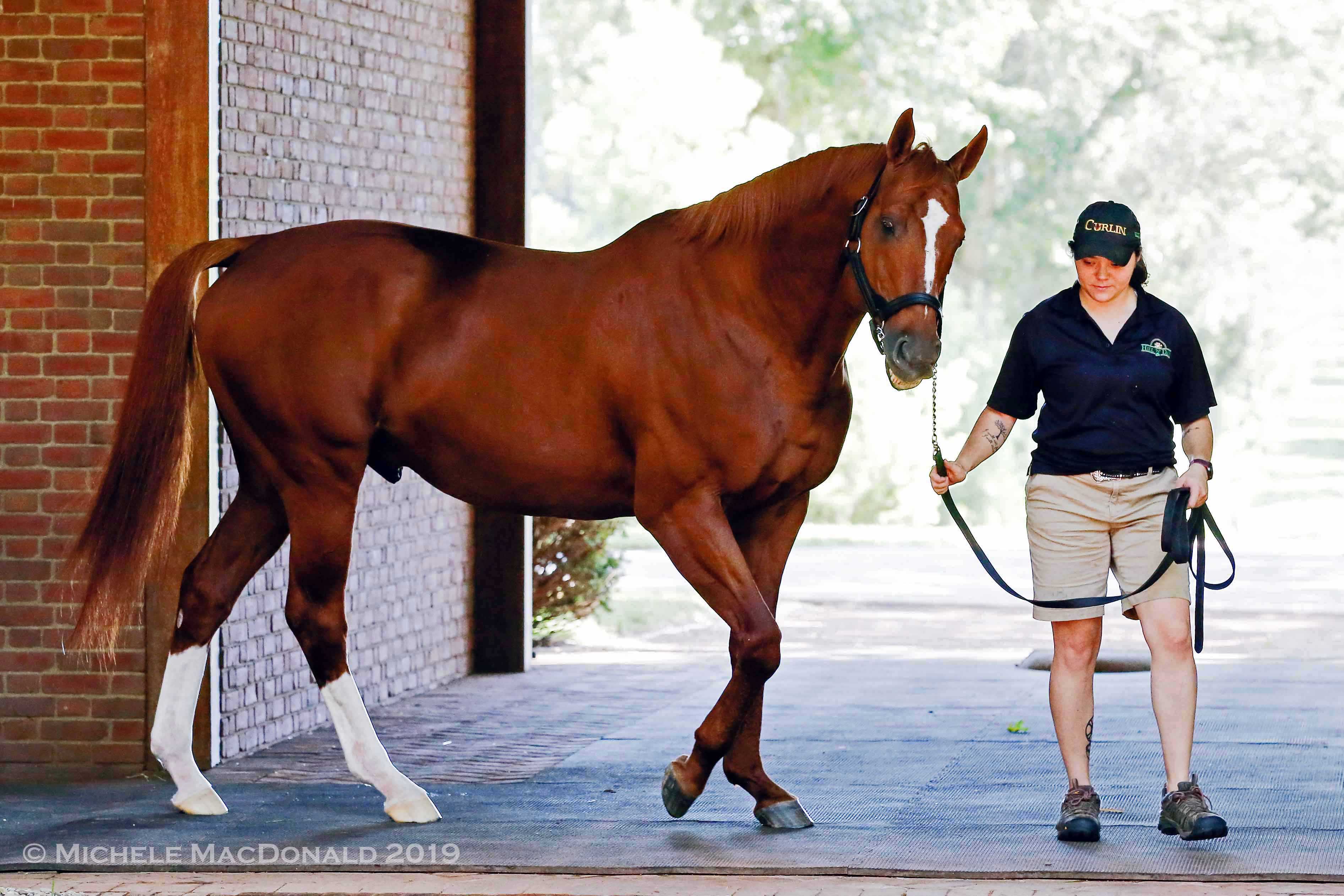 Although not as highly regarded by the commercial market earlier in his stud career, Curlin has powered upward dramatically over the past five years to attain his kingly status.
After falling to a nadir in 2014, when he stood for only $25,000 at Lane's End, sired a crop of only 40 foals and recorded a yearling average sale price of $134,375, the now 15-year-old currently is a leader in almost every category, including commanding a $175,000 fee per mating this season.
Hill 'n' Dale Farms president John Sikura is quick to point out that "the horse has done all the work and the achievement is his".
With his offspring now encompassing multiple Classic winners and champions, Curlin has superbly fulfilled Sikura's most idealistic goals when the farm acquired a 20 percent interest in the two-time Horse of the Year and moved him in 2015 with the support of Stonestreet Farms, which retains majority ownership.
"It was a bet well in front of his achievements at the time we invested in the horse — we were three steps in front of his current value. We hoped and thought and had a belief that the achievement would catch up to the investment and surpass it, and fortunately that is what has happened," Sikura reflected.
"The opportunity presented itself and we bid boldly, and if it didn't work out, it would have been a hard hole to climb out of, but you take a position and make bets," Sikura said. "Curlin has certainly been very rewarding and we think that the best is yet to come. He really is just now into the heart of his stallion career."
Judging by the quality of mares visiting his court at Hill 'n' Dale in the last few seasons and by his yearlings being offered at 2019 auctions, Curlin could indeed just be finding his best stride as a sire.
Only a few examples are needed to reveal the level of mares he is covering, many due to strong support from Stonestreet and Hill 'n' Dale, with other breeders including Coolmore, Godolphin, Shadwell, Juddmonte and 2018 Eclipse Award winner John Gunther.
This spring, Curlin was bred to the dam of Triple Crown winner Justify and champions Judy The Beauty, Indian Blessing and Lady Aurelia; G1 winners such as Eskimo Kisses, Midnight Lucky, Round Pond, Marketing Mix, Hard Not to Like, Lear's Princess, Dreaming Of Julia, Cavorting and Rachel's Valentina, as well as to the dams of champions Accelerate, Shared Belief and Close Hatches.
In 2018, Curlin's book included champions Beholder, who produced a filly this spring for Spendthrift Farm, and Rags To Riches, who delivered a colt in April for a Coolmore partnership. Champion Tepin, who was purchased by Coolmore for $8 million while in foal to Curlin in 2017, subsequently foaled a filly.
With such abounding quality in his mates, as well as the ongoing success of his progeny in racing, it's no wonder Curlin is now siring top yearlings in the auction ring.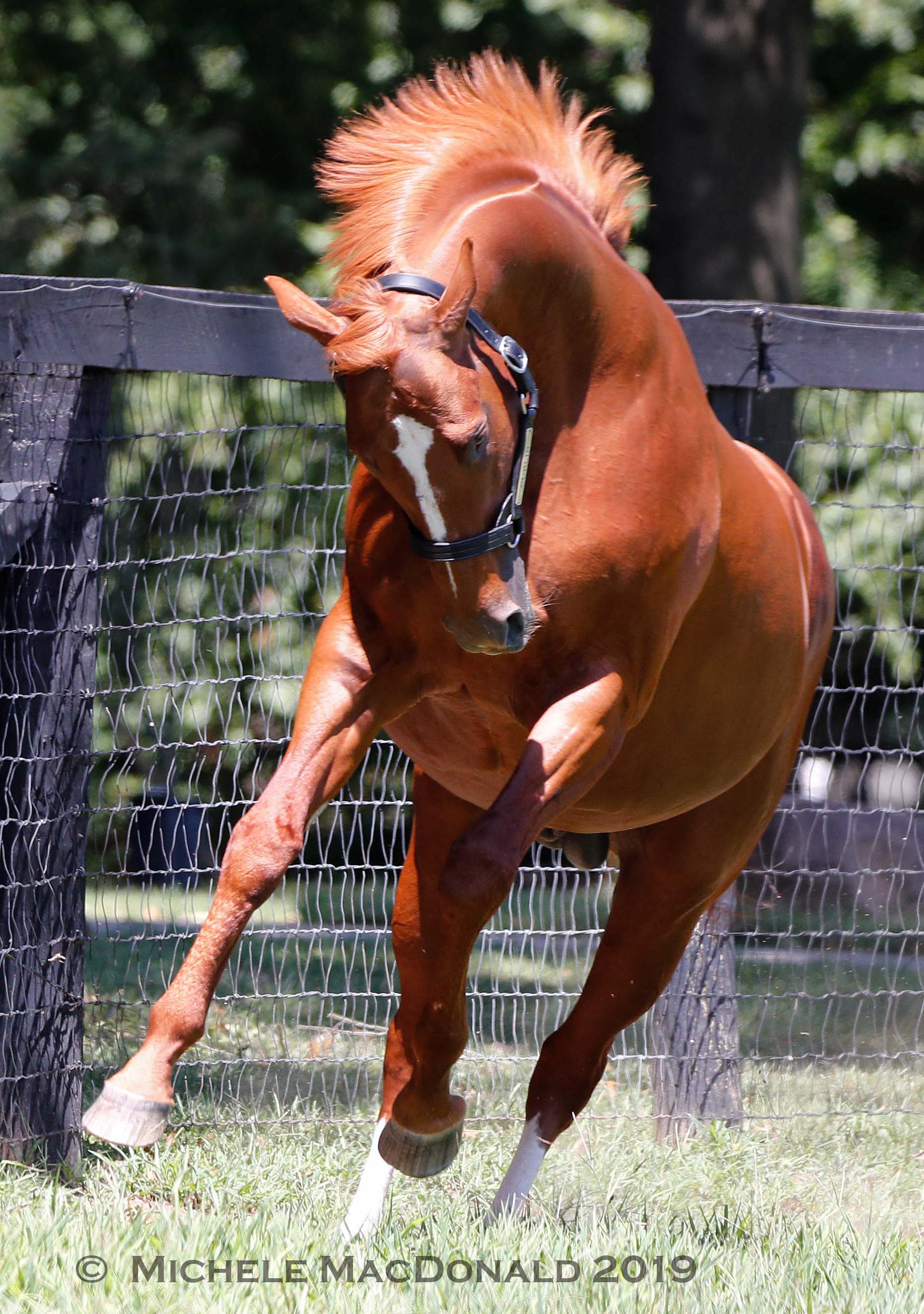 At the recent Fasig-Tipton Saratoga selected sale, Curlin sired the top three highest-priced yearlings, with a pair of colts going for a sale-topping $1.5 million each and another for $1 million, with the latter price also achieved by a Tapit colt. Another Curlin colt was close behind while selling for $950,000.
The Curlin ranks have never been stronger at Keeneland, where the stallion has 60 total yearlings in the September catalog, with 41 included among the cream of the crop in Book 1's three stellar sessions. Only Triple Crown winner American Pharoah, who has 90 total individuals from his second crop in the entire catalog, has more yearlings in Book 1 at 42.
"The fact that Curlin is top heavy in Book 1 just shows what people think of him," Sikura noted.
What Curlin tends to add to matings are qualities most top breeders are seeking.
"He throws his big shoulder in his foals, and good bone and a lot of body — he puts himself in a lot of his offspring, and that's a plus," said Hill 'n' Dale stallion manager Larry Walton. "He's your true American dirt horse. He's got everything you could want, the short cannons, big shoulder, big hip. He's perfect, in my opinion."
Stonestreet bred 11 of the Curlin yearlings consigned to the September sale, with six in Book 1 including a colt out of Horse of the Year Rachel Alexandra's G1-winning daughter Rachel's Valentina, a half brother to G1 winner Tara's Tango, a colt out of New Zealand champion Bounding, and fillies out of G1 winners Cavorting and Dreaming Of Julia.
The Hill 'n' Dale consignment includes five Curlin yearlings in Book 1, led by colts out of champion Blind Luck and G1 winner Got Lucky and a filly produced by G1 winner Sam's Sister.
While the fortunes of Curlin have never been higher, he is the epitome of a horse who has made his own way in the fickle world of racing and breeding, eclipsing skepticism just as easily as he did rivals on the racetrack and rising to become a pre-eminent influence on the American Classics.
Bred by Fares Farm, the son of Smart Strike and the Deputy Minister mare Sherriff's Deputy was sold for the relatively modest sum of $57,000 at the 2005 Keeneland September sale. Trainer Ken McPeek signed the ticket as agent and later related that Curlin "had a little vet issue as a yearling".
While Curlin did not start until February of his 3-year-old season, he immediately flashed lightning-in-a-bottle kind of talent, winning a seven-furlong debut at Gulfstream Park by 12¾ lengths for the Midnight Cry Stable of lawyers Shirley Cunningham Jr and Bill Gallion and trainer Helen Pitts, previously McPeek's assistant.
Eventually, in the only ugly chapter connected to Curlin's life, Cunningham and Gallion would be disbarred and sent to prison after being convicted of taking millions of dollars owed to clients from a $200 million settlement regarding the anti-obesity drug Fen-Phen. The federal government seized their assets, including their ownership of Curlin, which by that time had been reduced to 20 percent — and that was the share that Hill 'n' Dale ultimately was able to purchase.
Regardless of the stormy controversy with Gallion and Cunningham, Curlin just kept on running.
Classic jewel
By the colt's second start, the Rebel Stakes at Oaklawn Park, Stonesteet had become controlling owner, with Padua Stables and George Bolton taking minority interests in the overall deal reported at $3.5 million, and Steve Asmussen had taken up training duties. Curlin racked up another impressive victory and then went on to a 10½-length romp in the Arkansas Derby.
Regarded so highly that he was sent off the close second choice behind champion juvenile Street Sense in the Kentucky Derby, the inexperienced Curlin was steadied early before making a five-wide bid and finishing third to the favorite at Churchill Downs.
The chart of the race shows the depth of his generation as winner Street Sense and runner-up Hard Spun both have gone on to strong stud careers for Darley. Among the also-rans in the field was multiple G1 winner Scat Daddy, who sadly was injured but would become legendary as a Coolmore sire of international acclaim with Triple Crown winner Justify to his credit.
In the Preakness, Curlin earned his classic jewel. After stumbling at the start, he again rallied five-wide and persevered, digging in to gain a hard-fought head victory over Street Sense in the final stride as Hard Spun finished third.
While Curlin proved best of all the males in the Belmont Stakes, tenacious champion filly — and future mate — Rags To Riches refused to yield in an epic stretch battle, defeating Curlin by a head. But Curlin went on to capture the Jockey Club Gold Cup Stakes and the Breeders' Cup Classic and seal his first Horse of the Year title.
Formidable physical force
By the end of that 2007 season, Stonestreet founder Jess Jackson had acquired the interests of Bolton and Padua.
As Curlin turned four, he matured into a formidable physical force, and he crushed his rivals in the Dubai World Cup by a record-setting 7¾ lengths under Robby Albarado. The stunning chestnut returned to action quickly, capturing the Stephen Foster Handicap at Churchill Downs before finishing second in the G1 Man o' War Stakes on turf.
Curlin subsequently secured victories in both the Woodward Stakes and Jockey Club Gold Cup, but did not seem to relish the synthetic surface at Santa Anita Park in 2008, finishing fourth behind Raven's Pass in the Breeders' Cup Classic.
That race marked the only time in his entire career that Curlin finished worse than third, but it did not keep him from a well-deserved second Horse of the Year title. He retired to Lane's End as North America's all-time earnings leader with $10,501,800, a mark that later would be broken first by California Chrome and then by Arrogate and Gun Runner.
Curlin began his stud career in 2009 with a fee of $75,000 while standing alongside his sire, who was advertised at $125,000. As the effects of the global economic crash chilled bloodstock markets, Curlin's fee was lowered to $40,000 for his second season and remained at that level through 2012 prior to being reduced to $25,000 for 2013 and 2014.
Yet, with his initial crop, Curlin showed the first flash of what he would become known for as a sire. His son, Palace Malice, proved he was the rare kind of individual who could excel at the highest level over varied distances, capturing the 1½-mile Belmont Stakes from Derby and Preakness winners Orb and Oxbow before brilliantly prevailing over Goldencents in the one-mile Metropolitan Handicap at four.
Unassailable status
Curlin's second crop included Preakness runner-up Ride On Curlin, and his third crop starred champion filly Stellar Wind, multiple G1 winner Curalina and Keen Ice, who would win the Travers Stakes and become the only colt to defeat American Pharoah in the year of his historic Triple Crown.
Preakness winner Exaggerator followed in Curlin's fourth crop, joined by Cigar Mile Handicap victor Connect; Belmont runner-up Irish War Cry was in Curlin's fifth crop, and juvenile champion Good Magic followed in the next crop along with G1 winner Vino Rosso and Preakness third Tenfold.
To date, there can be little argument that Curlin has become America's most reliable sire of Classic performers, yet he also can get precocious 2-year-olds and scintillating milers. He also has sired a strong group of turf performers, with Graded winners on the grass in Texas Ryano, Diversy Harbor, Moulin de Mougin and Current.
While his status now is unassailable, Curlin was just beginning to become consistently prominent with his offspring when Sikura made his move to acquire the stallion for Hill 'n' Dale. The deal was announced just after Keen Ice had bounded home in the Travers but prior to Stellar Wind being honored as a champion and a season before Exaggerator's Classic triumph.
"I felt very strongly that Curlin was going to be an important sire. He was on the cusp of so many great things," Sikura said in looking back, noting that Curlin's stud fee was boosted from $35,000 in 2015 to $100,000 for his initial Hill 'n' Dale season prior to rising first to $150,000 and then to $175,000. "The fact that it's come to fruition is very rewarding for myself and the work we have done with [Stonestreet owner] Barbara Banke, having a shared belief in the horse that has now come true.
Top, top mares
"You really don't know that you have a specific expectation other than a belief that the horse can be a great stallion and will be a great stallion," Sikura added in considering how Curlin's stud career has soared. "As you achieve those milestones with progeny, the market gets on board and you're rewarded in the sale ring. Those things really work hand in hand.
"One of the commitments we made to Barbara Banke when we bought into the horse and relocated him was to support him with top, top mares, and we did that. I bred our best Hill 'n' Dale mares before it was widely accepted that he was a sire of this magnitude," Sikura continued. "He was a $35,000 stallion who enjoyed a good year when he came. When he went from $35,000 to $100,000 the first year here, he got all of our best mares and has continued to do so.
"The first crop, of those bred at Hill 'n' Dale since the horse has stood here, are now 2-year-olds. His prior achievement we had nothing to do with; that really set the table for his success here. But we're hopeful and expecting that the follow-through will be great," he said.
Curlin is like "a family member" to Banke, she has said. Along with Rachel Alexandra, Curlin gave Banke and Jackson a sweep of the Horse of the Year titles from 2007 through 2009, firmly establishing the nascent Stonestreet operation as a major force in American racing, and both horses are now enshrined in the National Museum of Racing and Hall of Fame in Saratoga Springs, New York.
"My husband, Jess Jackson, loved this horse," Banke said when Curlin gained his place in the Hall of Fame in 2014, three years after Jackson had passed away at age 81. "[Curlin] took us on a magnificent ride. For two years, it was unbelievably exciting."
Special visiting times
While there have been many changes in racing and breeding and in the lives of the people close to him since those heady days, there are many similarities for Curlin in his daily life today, although obviously he no longer has to endure the stress of racing competition.
He still projects the confidence that Asmussen so often cited during his racing days and he still has legions of fans, some of whom send him gifts and some of whom regularly visit, Walton said. Hill 'n' Dale tries to accommodate those who are passionate about Curlin with special visiting times, and Walton said the stallion handles the attention well, often posing nobly for photos with fans patting his shoulder.
In his new line of work, Curlin remains a superior performer.
"He's pretty easy to get along with, and he behaves himself pretty well," Walton said. "In the breeding shed, he's very good. He knows his job and gets his job done. He's really fertile, which is good. He got 94 percent [of the 128 mares that he covered] in foal this breeding season."
Hill 'n' Dale's stallion grooms ply Curlin with peppermints and other candies because they like "to spoil him a little", but Walton said even with sweets, the stallion displays a range of moods and notions about what he wants to do.
"Every day is different when you bring him out to show him. Some days he'll stand there like a statue and not move, and then some days he'll sidestep and he just doesn't want to stand still. You really can't do much about it; you just have to put up with it," Walton said.
"Turning out, he's easy. We give him a little grain when we turn him out; we kind of baby him a little bit. He deserves it. We try to keep him happy," he added.
No pushover
While Curlin is mostly a model citizen and enjoys robust health with no special needs other than persistent attention to keep his white socks sparkling, he is no pushover and demands respect.
"He's a big horse and he knows his size. He weighs over 1,400 pounds and he's 16.2½ — that's a lot of horse," Walton pointed out.
When Curlin is set free in his paddock, even in the hot sun of a summer afternoon, he does not hesitate before bounding off in a free-flowing gallop, covering the ground as few runners have been able to do in recent decades, the earth trembling under his feet.
Challenging his neighbor in the adjoining paddock, champion Midnight Lute, Curlin flags his tail and tosses his head before taking off again. The briefest sight of him in motion, a flame across the Kentucky bluegrass, would be enough to sway any doubters.
Another strong statement for Curlin is the half life-sized statue of the stallion, who is portrayed regally surveying his domain, that has been positioned in a roundabout outside the Hill 'n' Dale stallion barn. Sikura commissioned two of the statues from artist Nina Kaiser in 2017, and the second one was installed at Stonestreet's Lexington farm only about three miles away.
"We're glad that Curlin is now accepted without any reservation as far as what you can get for them, what they can achieve and who would want them. That's a great thing and it's reflective of people's confidence in him as a sire of great racehorses," Sikura said.
"He has enjoyed the support of mares that are peerless. He's answered all the questions and that's why he's been rewarded in the sales ring," he continued. "That's how the market perceives the horse and how we perceive the horse. There has to be a shared belief, which I think he has enjoyed. Long may it continue."