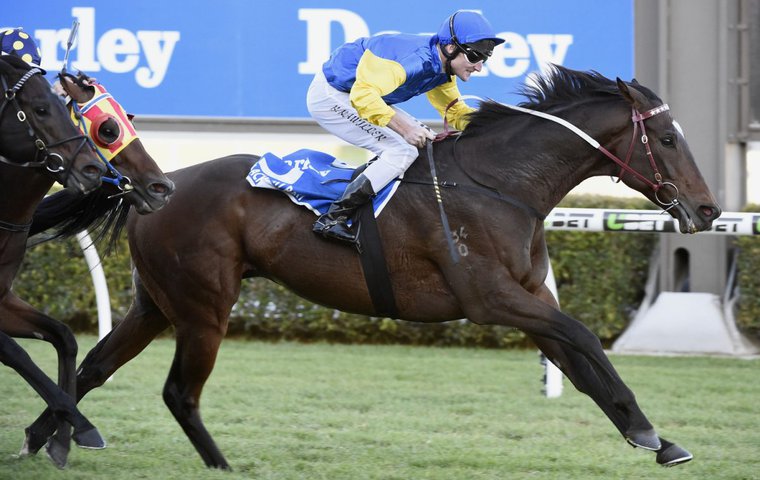 At the end of a tremendous year of global Group and Graded racing, the TRC Global Rankings algorithm has produced an ordered list of individuals in each of the four categories of Jockeys, Owners, Trainers and Sires who made the biggest gains in their total number of rankings points over 2016.

In some cases, these are established stars making further progress, in others they are new kids on the block. Some may also have staged a career revival or just had a really good time of it. We will feature the top three in each category over the next few days, as well as listing some honourable mentions.
Today we are looking at jockeys, and specifically the table-toppers shown here:
| | | | | | | | |
| --- | --- | --- | --- | --- | --- | --- | --- |
| Name | Modal Country | Rank now | Rank end 2015 | Rank change | Pts now | Pts end 2015 | Pts change |
| Brad Rawiller | Australia | 45 | 183 | +138 | 960 | 904 | +56 |
| Florent Geroux | USA | 8 | 41 | +33 | 1014 | 965 | +49 |
| Mirco Demuro | Japan | 6 | 23 | +17 | 1026 | 986 | +40 |
All three men have made regular appearances in our rankings copy since we went public with our figures.
It has been great to see hard-grafting Aussie Brad Rawiller thrive in 2016, winning 15 Group races, including four at the highest level. His thrilling partnership with hard-charging Underwood Stakes hero Black Heart Bart was undoubtedly the highlight.
The trajectory of Rawiller's success according to the TRC algorithm is clear from the graph here, which goes back to the first full TRC Global Rankings at the start of 2014 and shows his dramatic improvement since the end of 2015.
Rawiller, 38, has ridden more than 100 winners on each of the last eight seasons, including a personal best 217 in 2007-08, according to racing.com.
His brother Nash is also a distinguished rider - indeed he was the world's leading jockey for 2012 based on TRC Global Rankings data for that year alone, and his single-season performance for that year ranks #2 in the 100 best single seasons by riders since the start of the rankings period (Brad himself gets in that list - at #65 - for his performance in 2016).
But it is Brad Rawiller's relationship with Aussie trainer Darren Weir that has made such a difference of late, and they are the year's fastest-rising combo.
Florent Geroux is the dominant turf rider in the U.S., according to our figures. Every weekend there seems to be a grass race '@flothejock' wins, while leaving the impression he might not have been on the best horse.
His graph here illustrates huge progress since the spring of 2014.
He has won 30 Graded races this year, including nine at G1 level and four on Arlington Million day.
The 30-year-old Frenchman is pretty good on dirt too, as his partnership with G1 Juddmonte Spinster Stakes winner I'm A Chatterbox at Keeneland in October proved.
Another rider firmly established outside his homeland is Italian Mirco Demuro, who heads our rankings of riders based in Japan. His four G1 wins there in 2016 included one on Jeweler, a daughter of Victoire Pisa, on whom Demuro got his breakthrough win in the 2011 Dubai World Cup.
As can be seen from Demuro's graph, he really started to pick up pace at the end of 2015.
Now 37, Demuro has ridden in Italy (five times champion), France, Britain and Japan, where he has been riding for the past two seasons.
Honourable mentions
Damian Lane (Australia), Seamie Heffernan (Ireland), Flavien Prat (USA), Oisin Murphy (Great Britain).