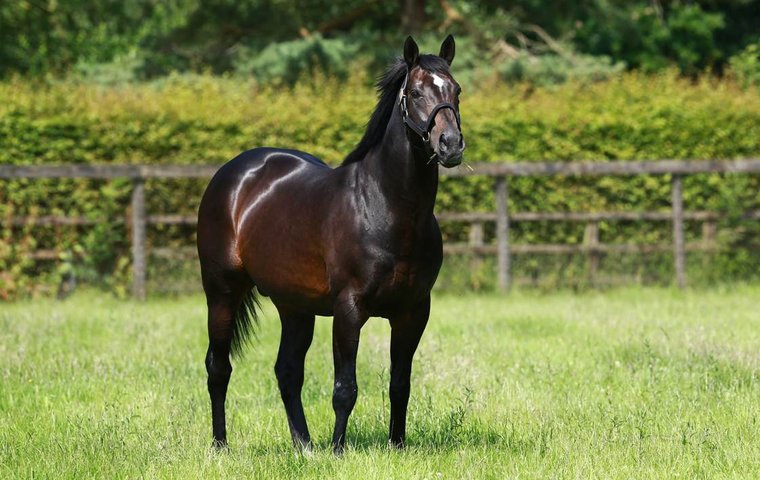 One of the great features about TRC Global Rankings is the ability of the algorithm to cut and slice horse racing performance stats any which way we choose. It's not just about defining the world order of jockeys, trainers, owners and sires over a rolling three-year period, it can break up any of those categories into achievements over shorter periods, or by country, by racecourse, by distance, by horses' ages or most other recognisable sub-sections.

The only limit is that the stats relate just to Group or Graded races recognised by the International Federation of Horseracing Authorities (IFHA), but there are 1,450 of those each year and they're the best 1,450 races in the world, so the sample is as strong as you can get. All rankings are therefore based on pure quality.
Here, for instance, the algorithm isolates every stallion's final total points by individual year for each of the past five years (back to the start of the TRC Global Rankings database). The table below ranks the best 100 seasonal performances in order.
It's little surprise that Galileo comes out on top, but the extent of his domination is stunning - his five individual years are all in the top ten, headed by his worldwide achievements in 2016. Even his 2013 - the weakest year for him (just eight G1 wins, would you believe?) - is the eighth best year by any stallion over the past five years.
In fact, the top three in the overall TRC Global Rankings sires' standings (Galileo, Dubawi and Deep Impact), who along with Tapit are the most expensive stallions, occupy all except one of the top 15 positions in the chart - Dansili's 2013 (#14) is the only intruder. Tapit doesn't fare badly in this table either - his last three seasons all take high rank.
There are 47 individual sires with at least one of their annual totals in the top 100.
Top 100 best individual seasons by stallions over the last five years
| | | | | | | | | | | | |
| --- | --- | --- | --- | --- | --- | --- | --- | --- | --- | --- | --- |
| Rank | Name | Year | Modal Country | Rnrs | Runs | IV | tRPR | G1s | G2s | G3s | Pts |
| 1 | Galileo | 2016 | Great Britain | 95 | 280 | 1.36 | 99.51 | 24 | 6 | 17 | 1142 |
| 2 | Deep Impact | 2016 | Japan | 87 | 276 | 1.66 | 95.87 | 9 | 12 | 18 | 1124 |
| 3 | Galileo | 2012 | Great Britain | 88 | 250 | 1.23 | 97.26 | 13 | 7 | 18 | 1115 |
| 4 | Galileo | 2015 | Great Britain | 83 | 228 | 1.33 | 96.27 | 14 | 9 | 17 | 1109 |
| 5 | Deep Impact | 2014 | Japan | 88 | 252 | 1.66 | 95.19 | 11 | 10 | 14 | 1107 |
| 6 | Dubawi | 2015 | Great Britain | 63 | 184 | 1.40 | 95 | 12 | 14 | 8 | 1101 |
| 7 | Galileo | 2014 | Great Britain | 86 | 222 | 1.28 | 95.8 | 13 | 8 | 17 | 1097 |
| 8 | Galileo | 2013 | Great Britain | 82 | 233 | 1.15 | 95.95 | 8 | 4 | 20 | 1096 |
| 9 | Dubawi | 2016 | Great Britain | 59 | 153 | 1.35 | 94.33 | 7 | 9 | 14 | 1094 |
| 10 | Deep Impact | 2015 | Japan | 87 | 278 | 1.19 | 94.75 | 6 | 7 | 12 | 1088 |
| 11 | Dubawi | 2013 | Australia | 47 | 139 | 1.42 | 93.4 | 6 | 8 | 12 | 1085 |
| 12 | Dubawi | 2014 | Australia | 50 | 162 | 1.47 | 93.49 | 5 | 9 | 17 | 1084 |
| 13 | Deep Impact | 2012 | Japan | 62 | 173 | 1.34 | 92.39 | 6 | 3 | 12 | 1076 |
| 14 | Dansili | 2013 | France | 43 | 108 | 1.35 | 92.15 | 10 | 6 | 6 | 1071 |
| 15 | Deep Impact | 2013 | Japan | 68 | 178 | 1.29 | 92.4 | 5 | 9 | 6 | 1070 |
| 16 | Fastnet Rock | 2012 | Australia | 50 | 130 | 1.41 | 91.24 | 9 | 8 | 6 | 1069 |
| 17 | Dansili | 2012 | Great Britain | 44 | 122 | 1.20 | 92.25 | 3 | 5 | 12 | 1068 |
| 18 | Shamardal | 2014 | Australia | 49 | 122 | 1.27 | 92.35 | 4 | 8 | 9 | 1066 |
| 19 | Fastnet Rock | 2016 | Australia | 81 | 218 | 0.95 | 93.38 | 5 | 8 | 7 | 1065 |
| 20 | King Kamehameha | 2012 | Japan | 53 | 162 | 1.24 | 91.65 | 3 | 3 | 11 | 1064 |
| 21 | Shamardal | 2015 | Great Britain | 54 | 145 | 1.07 | 92.69 | 6 | 5 | 8 | 1063 |
| 22 | Tapit | 2016 | USA | 64 | 152 | 1.21 | 91.54 | 7 | 13 | 6 | 1061 |
| 23 | King Kamehameha | 2015 | Japan | 63 | 175 | 1.18 | 91.46 | 6 | 6 | 5 | 1058 |
| 24 | Medaglia D'oro | 2016 | USA | 59 | 140 | 1.15 | 91.42 | 7 | 4 | 11 | 1057 |
| 25 | Shamardal | 2016 | Australia | 50 | 142 | 1.03 | 91.72 | 4 | 7 | 6 | 1054 |
| 26 | King Kamehameha | 2013 | Japan | 54 | 144 | 1.09 | 91.48 | 6 | 1 | 6 | 1053 |
| 27 | Dubawi | 2012 | Great Britain | 45 | 125 | 0.99 | 91.82 | 2 | 5 | 7 | 1053 |
| 28 | StreetCry | 2016 | Australia | 51 | 122 | 1.23 | 90.43 | 6 | 7 | 6 | 1052 |
| 29 | Medaglia D'oro | 2015 | USA | 53 | 151 | 1.15 | 90.97 | 5 | 6 | 13 | 1052 |
| 30 | Tapit | 2015 | USA | 64 | 150 | 1.04 | 91.55 | 6 | 6 | 10 | 1051 |
| 31 | Stay Gold | 2012 | Japan | 18 | 61 | 1.43 | 89.03 | 4 | 6 | 2 | 1050 |
| 32 | High Chaparral | 2015 | Australia | 59 | 155 | 1.24 | 89.96 | 5 | 4 | 13 | 1047 |
| 33 | Tapit | 2014 | USA | 43 | 98 | 1.31 | 89.98 | 7 | 7 | 9 | 1046 |
| 34 | Invincible Spirit | 2012 | Great Britain | 43 | 115 | 1.04 | 90.58 | 4 | 1 | 9 | 1044 |
| 35 | Invincible Spirit | 2013 | Great Britain | 41 | 119 | 1.01 | 90.83 | 3 | 2 | 8 | 1043 |
| 36 | Empire Maker | 2012 | USA | 35 | 94 | 1.15 | 89.81 | 4 | 9 | 5 | 1043 |
| 37 | Heart's Cry | 2014 | Japan | 32 | 89 | 1.32 | 89.46 | 5 | 5 | 3 | 1041 |
| 38 | Exceed And Excel | 2013 | Australia | 49 | 125 | 1.35 | 88.82 | 6 | 6 | 10 | 1040 |
| 39 | Teofilo | 2015 | Australia | 45 | 121 | 0.95 | 90.77 | 4 | 2 | 6 | 1039 |
| 40 | Montjeu | 2012 | Great Britain | 31 | 93 | 0.94 | 90.57 | 7 | 2 | 1 | 1039 |
| 41 | Dansili | 2014 | Australia | 40 | 107 | 0.97 | 90.69 | 5 | 3 | 4 | 1038 |
| 42 | Fastnet Rock | 2014 | Australia | 77 | 199 | 1.01 | 90.44 | 4 | 7 | 9 | 1038 |
| 43 | Lonhro | 2012 | Australia | 27 | 74 | 1.28 | 88.52 | 4 | 5 | 5 | 1038 |
| 44 | Monsun | 2013 | France | 22 | 67 | 1.30 | 88.71 | 8 | 5 | 3 | 1037 |
| 45 | Sea The Stars | 2016 | Great Britain | 35 | 82 | 1.09 | 89.39 | 3 | 5 | 6 | 1036 |
| 46 | Fastnet Rock | 2015 | Australia | 84 | 225 | 0.79 | 91.25 | 4 | 4 | 7 | 1036 |
| 47 | Invincible Spirit | 2015 | Great Britain | 33 | 91 | 1.14 | 89.3 | 3 | 8 | 4 | 1036 |
| 48 | Giant's Causeway | 2014 | USA | 71 | 170 | 0.94 | 90.58 | 4 | 4 | 11 | 1036 |
| 49 | War Front | 2016 | USA | 45 | 121 | 0.94 | 90.19 | 2 | 4 | 8 | 1035 |
| 50 | Street Cry | 2015 | Australia | 48 | 110 | 1.26 | 88.51 | 6 | 5 | 8 | 1035 |
| 51 | Oasis Dream | 2015 | Great Britain | 31 | 80 | 1.12 | 89.23 | 6 | 3 | 3 | 1034 |
| 52 | Redoute'sChoice | 2014 | Australia | 48 | 154 | 1.07 | 89.76 | 7 | 2 | 8 | 1034 |
| 53 | Invincible Spirit | 2014 | Great Britain | 37 | 83 | 1.21 | 89.13 | 7 | 1 | 9 | 1034 |
| 54 | Not A Single Doubt | 2016 | Australia | 34 | 96 | 1.19 | 88.5 | 4 | 3 | 7 | 1033 |
| 55 | Curlin | 2016 | USA | 27 | 68 | 1.05 | 89.26 | 8 | 2 | 3 | 1032 |
| 56 | Stay Gold | 2013 | Japan | 25 | 64 | 1.32 | 88.03 | 4 | 5 | 2 | 1032 |
| 57 | Dynaformer | 2012 | USA | 26 | 84 | 1.07 | 89.06 | 4 | 4 | 7 | 1032 |
| 58 | Teofilo | 2016 | Australia | 43 | 113 | 0.78 | 90.59 | 4 | 2 | 2 | 1031 |
| 59 | Bernardini | 2016 | USA | 53 | 123 | 0.92 | 89.69 | 2 | 6 | 6 | 1030 |
| 60 | More Than Ready | 2016 | Australia | 52 | 120 | 1.04 | 89.05 | 3 | 6 | 6 | 1030 |
| 61 | More Than Ready | 2012 | Australia | 45 | 107 | 1.05 | 88.99 | 4 | 3 | 7 | 1030 |
| 62 | Giant's Causeway | 2012 | USA | 63 | 142 | 0.95 | 89.53 | 5 | 4 | 7 | 1030 |
| 63 | Holy Roman Emperor | 2016 | Hong Kong | 31 | 85 | 1.12 | 88.44 | 5 | 4 | 4 | 1029 |
| 64 | War Front | 2013 | USA | 28 | 63 | 1.29 | 87.72 | 3 | 7 | 7 | 1028 |
| 65 | Danehill Dancer | 2015 | Great Britain | 32 | 89 | 0.93 | 89.48 | 5 | 3 | 2 | 1027 |
| 66 | Scat Daddy | 2015 | Chile | 51 | 104 | 1.40 | 86.88 | 10 | 7 | 4 | 1027 |
| 67 | High Chaparral | 2014 | Australia | 48 | 104 | 1.08 | 88.93 | 4 | 5 | 4 | 1027 |
| 68 | King Kamehameha | 2014 | Japan | 50 | 129 | 0.94 | 89.56 | 2 | 2 | 5 | 1027 |
| 69 | Shamardal | 2013 | Australia | 38 | 104 | 1.06 | 88.82 | 2 | 5 | 6 | 1027 |
| 70 | Montjeu | 2013 | Great Britain | 30 | 84 | 1.00 | 88.98 | 5 | 1 | 5 | 1026 |
| 71 | Speightstown | 2013 | USA | 31 | 70 | 1.15 | 88.28 | 5 | 2 | 7 | 1026 |
| 72 | Fastnet Rock | 2013 | Australia | 54 | 143 | 0.93 | 89.4 | 5 | 6 | 2 | 1026 |
| 73 | Pivotal | 2012 | Great Britain | 27 | 73 | 1.10 | 88.23 | 2 | 5 | 6 | 1026 |
| 74 | Commands | 2012 | Australia | 23 | 82 | 1.05 | 88.56 | 3 | 5 | 3 | 1026 |
| 75 | Dark Angel | 2016 | Great Britain | 36 | 91 | 0.92 | 89.19 | 1 | 3 | 6 | 1025 |
| 76 | Giant's Causeway | 2015 | USA | 49 | 113 | 1.06 | 88.54 | 2 | 5 | 9 | 1025 |
| 77 | Dylan Thomas | 2014 | Great Britain | 21 | 68 | 1.19 | 88.26 | 2 | 6 | 5 | 1025 |
| 78 | More Than Ready | 2013 | Australia | 44 | 110 | 1.20 | 87.84 | 4 | 2 | 12 | 1025 |
| 79 | Hard Spun | 2015 | USA | 32 | 76 | 1.20 | 87.66 | 5 | 4 | 6 | 1024 |
| 80 | Encosta De Lago | 2015 | Australia | 32 | 97 | 1.23 | 87.41 | 4 | 5 | 6 | 1023 |
| 81 | Kitten's Joy | 2013 | USA | 39 | 111 | 1.00 | 88.68 | 6 | 3 | 6 | 1023 |
| 82 | Scat Daddy | 2016 | USA | 37 | 84 | 1.08 | 88 | 6 | 7 | 0 | 1022 |
| 83 | Kitten's Joy | 2016 | USA | 41 | 91 | 1.10 | 87.84 | 3 | 4 | 8 | 1022 |
| 84 | Monsun | 2016 | Australia | 15 | 51 | 1.13 | 87.64 | 3 | 3 | 4 | 1022 |
| 85 | Monsun | 2012 | France | 27 | 61 | 1.12 | 87.66 | 2 | 5 | 5 | 1022 |
| 86 | Choisir | 2016 | Australia | 28 | 76 | 1.05 | 88.06 | 3 | 2 | 6 | 1021 |
| 87 | Giant's Causeway | 2013 | USA | 68 | 156 | 0.94 | 88.84 | 3 | 9 | 5 | 1021 |
| 88 | Medicean | 2012 | Great Britain | 22 | 49 | 1.26 | 86.8 | 4 | 2 | 6 | 1021 |
| 89 | Shamardal | 2012 | Australia | 39 | 77 | 1.08 | 87.81 | 3 | 1 | 7 | 1021 |
| 90 | Thorn Park | 2012 | Australia | 20 | 56 | 1.17 | 87.26 | 9 | 0 | 1 | 1021 |
| 91 | Redoute's Choice | 2012 | Australia | 53 | 141 | 0.76 | 89.61 | 1 | 2 | 5 | 1021 |
| 92 | Snitzel | 2016 | Australia | 48 | 100 | 1.11 | 87.53 | 0 | 4 | 9 | 1020 |
| 93 | Encosta De Lago | 2016 | Australia | 19 | 87 | 1.08 | 87.71 | 5 | 3 | 3 | 1020 |
| 94 | Bernardini | 2015 | USA | 42 | 88 | 0.98 | 88.43 | 6 | 3 | 2 | 1020 |
| 95 | Exceed And Excel | 2015 | Australia | 68 | 147 | 1.00 | 88.36 | 1 | 6 | 9 | 1020 |
| 96 | Danehill Dancer | 2012 | Great Britain | 40 | 112 | 0.80 | 89.3 | 1 | 2 | 6 | 1020 |
| 97 | High Chaparral | 2012 | Australia | 26 | 75 | 0.96 | 88.45 | 6 | 1 | 2 | 1020 |
| 98 | Choisir | 2012 | Australia | 32 | 70 | 1.19 | 87.11 | 2 | 5 | 6 | 1020 |
| 99 | Montjeu | 2014 | Great Britain | 25 | 67 | 1.15 | 87.81 | 4 | 3 | 5 | 1019 |
| 100 | Savabeel | 2014 | Australia | 35 | 117 | 1.04 | 88.22 | 5 | 4 | 3 | 1019 |