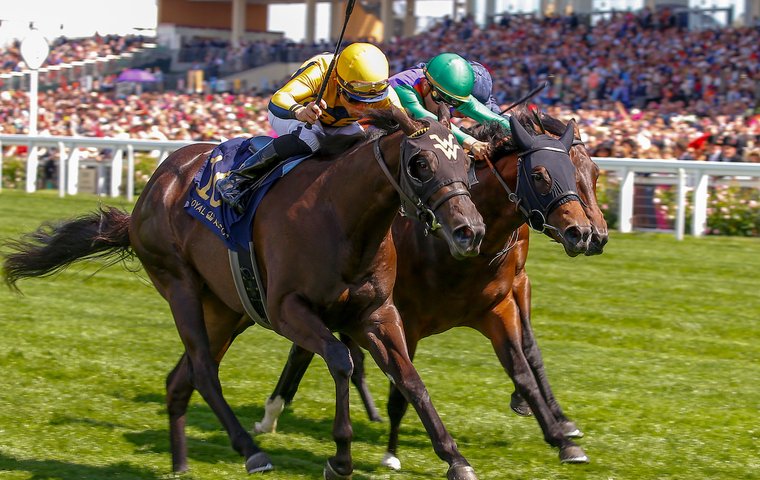 The Taylor Made Sales experience returns to the Tattersalls December Mares Sale this week with a select draft, consisting of Lots 1837 and 1838, and the major U.S. consignor's team are looking forward to putting into practice the lessons they learned in last year's valuable initial foray.

Philip Shelton, Taylor Made Sales Agency's Investing and Recruiting Analyst, explains how this draft has been influenced by what they learned last year.
"What we learned from our first draft last year is how much the physical carries you over here, and this filly and mare are both really, really good physical specimens. We discovered that you really need to have that extra dimension at this sale, that pedigree and performance together are not enough, and that you don't get the same credit for a Grade 1 winner as you do for a Group 1 winner.
"We try to focus our sales drafts on the very high threshold for quality and that's what we have done with these two mares."
The profiles of the two horses differ but both meet the threshold for quality on which Taylor Made places such emphasis.
Sophie P (Lot 1837) is a G1 winner and in foal to one of Europe's best young stallions in Juddmonte Farm's Frankel, one of only five mares catalogued in foal to the sire of ten individual G1 winners from four crops of racing age, while Shang Shang Shang (Lot 1838) is a Royal Ascot-winning juvenile for Wesley Ward.
Both will be coveted by breeders for various reasons.
Her top-level success may have been earned in America, that victory coming in Santa Anita's Gamely Stakes, but Sophie P is British-bred and earned her first black type in Europe before transferring to America. The daughter of Bushranger, out of a Giant's Causeway mare who won for Sir Michael Stoute, also has a pedigree that is very familiar to European breeders as her family includes Signs Of Blessing, a son of Invincible Spirit who won the G1 Prix Maurice de Gheest and was third in the G1 Diamond Jubilee Stakes, and Nadia, by Nashwan, winner of the G1 Poule d'Essai des Pouliches and second in the G1 Prix de Diane.
It's a family with appeal beyond Europe too, as the eight-time G1-winning mare Flawlessly is on the page with plenty of American stakes winners there too, along with the top-class Japanese colt Kongo Rikisho, a G2 winner who was second in the G1 Yasuda Kinen.
Shang Shang Shang (Lot 1838) is a daughter of Shanghai Bobby and was a $200,000 breeze-up buy. The combination of her impressive physicality and defeat of the colts in 2018's Group 2 Norfolk Stakes, made the 3-year-old an ideal candidate for Taylor Made's draft at Tattersalls.
Galileo line
"She is a very attractive filly, a real standout physically and the European market wants precocious types, the Royal Ascot 2-year-old," says Shelton. "It feels like people want speed and, with her Ascot success, we think she fits the bill. We don't know how her pedigree will play out, but her physical stature and Royal Ascot victory should be very attractive to breeders.
"The success Coolmore has with breeding sprinters to Galileo has shown breeders what can be achieved, and she can be bred to a Galileo-line stallion and inject speed into a broodmare band."
Shang Shang Shang is inbred to one of the most influential stallions of the past 50 years in Halo, and Caro, Mr Prospector, Storm Cat, Blushing Groom and Raise A Native are all in the first five generations of her pedigree, but there is no Sadler's Wells and no Danzig, which gives her purchaser plenty of options when choosing a stallion for her, opening up that Galileo line.
"We really appreciate the confidence shown in us by our clients to bring these horses to Tattersalls, especially Deron Pearson, who owns Sophie B and Breeze Easy, owners of Shang Shang Shang, and we believe that their horses fit the market here," Shelton adds.