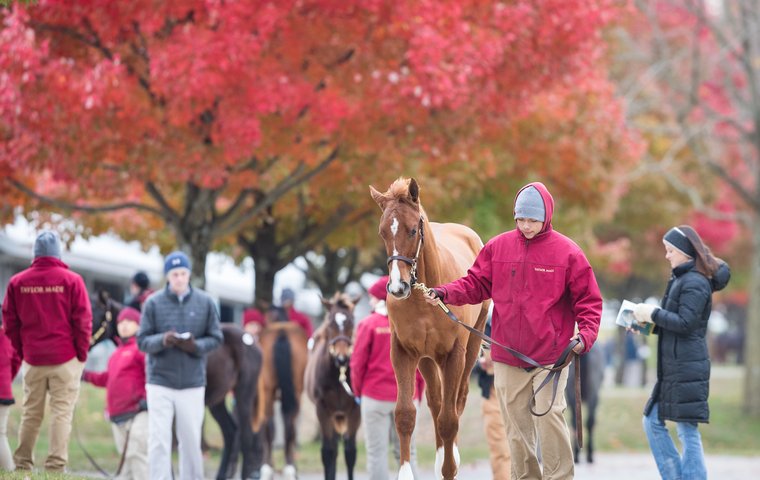 No-one would begrudge the Taylor brothers a few quiet days as the dust settles on another American sales season. It is the sheer longevity of the Keeneland November Sale that tests even the most seasoned of souls, and Taylor Made Sales Agency, that behemoth among consignors developed and managed by the brothers Duncan, Ben, Frank and Mark Taylor, were at the coalface throughout, just as they have been at every American breeding stock and yearling sale for the past 35 years.

When the book closed on this year's November Sale, Taylor Made had turned over $23,958,400 in gross sales to lead all consignors for the 23rd time. Remarkably, another $25,765,000 had also been generated during a single evening at the preceding Fasig-Tipton November Sale. That in itself included the sale of seven million-dollar lots, led by the $4.4 million mare Stopchargingmaria.
Now, instead of winding down for the year, Taylor Made are trying something different. And with that, their sights are set on Europe - more specifically Tattersalls in Newmarket, where they are set to debut with a select draft of six fillies and mares slated for the December Mares Sale (December 3-6).
In keeping with the aim of offering a boutique consignment, each of the sextet are catalogued during the sale's second session on Tuesday (December 4) - traditionally the strongest day of selling - and include mares in foal to Kingman and Showcasing alongside a clutch of current stakes winners.
"Everyone is curious as to why we're doing this now," says Mark Taylor, vice president of marketing and public sales operations at Taylor Made, who will travel to Newmarket to oversee proceedings. "The fact is we've been so busy over the past three decades with our business. We've always had a lot of irons in the fire in Kentucky, and that's made it hard to consider going over to Europe, even going over for the racing.
"But I think now is a good time. We have our next generation of kids coming through and they're assuming significant roles now within the business. And overall, we have a really great team. That's given us the flexibility to take the next step."
Six select lots
Hasten, a Montjeu sister to G1 Criterium International winner Jan Vermeer and half-sister to G1 winner Together, opens the draft as lot 1821. Sealing her position as an elite offering is the fact she is also in foal to Kingman, whose collection of five first-crop stakes winners include Calyx and Persian King.
Following her into the ring is the listed-placed Glade (1822), a half-sister to this season's G3 winner and G1-placed globetrotter Indian Blessing. She is one of only eight mares catalogued to Tattersalls in foal to Showcasing.
From then on, the action centres around the fillies in training.
Raven's Lady (1915) has been one of the success stories of the season for Marco Botti, winning the G2 Goldene Peitsche at Baden-Baden and G3 Summer Stakes at York in the colours of Heart Of The South Racing and partners. By Raven's Pass, who sprang to notoriety as a broodmare sire this year through the high-class 2yo Kessaar, she is out of a half-sister to G1 winner Best Of The Bests.
She is preceded into the ring by two high-class American fillies in Midnight Crossing and Queen Blossom, both European-bred G3 winners owned by Abbondanza Racing LLC and Medallion Racing. The pair shipped to Newmarket earlier this month and currently reside at the National Stud.
Midnight Crossing (1913), a daughter of emerging broodmare sire Dark Angel and a member of the famous Ballymacoll family of Edinburgh, struck in the Robert J Frankel Stakes at Santa Anita just weeks following her $240,000 sale at Keeneland to her current connections.
Queen Blossom (1914), meanwhile, boasts G3 form in both Europe and America, having won the Park Express Stakes at the Curragh and Santa Barbara Stakes at Santa Anita.
Roystonia (1912), a Redoute's Choice relation to Irish 2000 Guineas winner Roderic O'Connor, also brings good form to the table, having run third in the listed Beckford Stakes at Bath for Hugo Palmer in October.
"We looked to bring together a draft of between four and ten because we wanted to keep that boutique element," said Mark Taylor. "Most of the contacts were made through Mark McStay, Amy Lanigan and John Ferguson - they have been extremely helpful.
"Having mares in foal to Kingman and Showcasing is very exciting.
"And then Queen Blossom is an interesting mare. She won a G3 in Ireland and was able to transfer that form to America."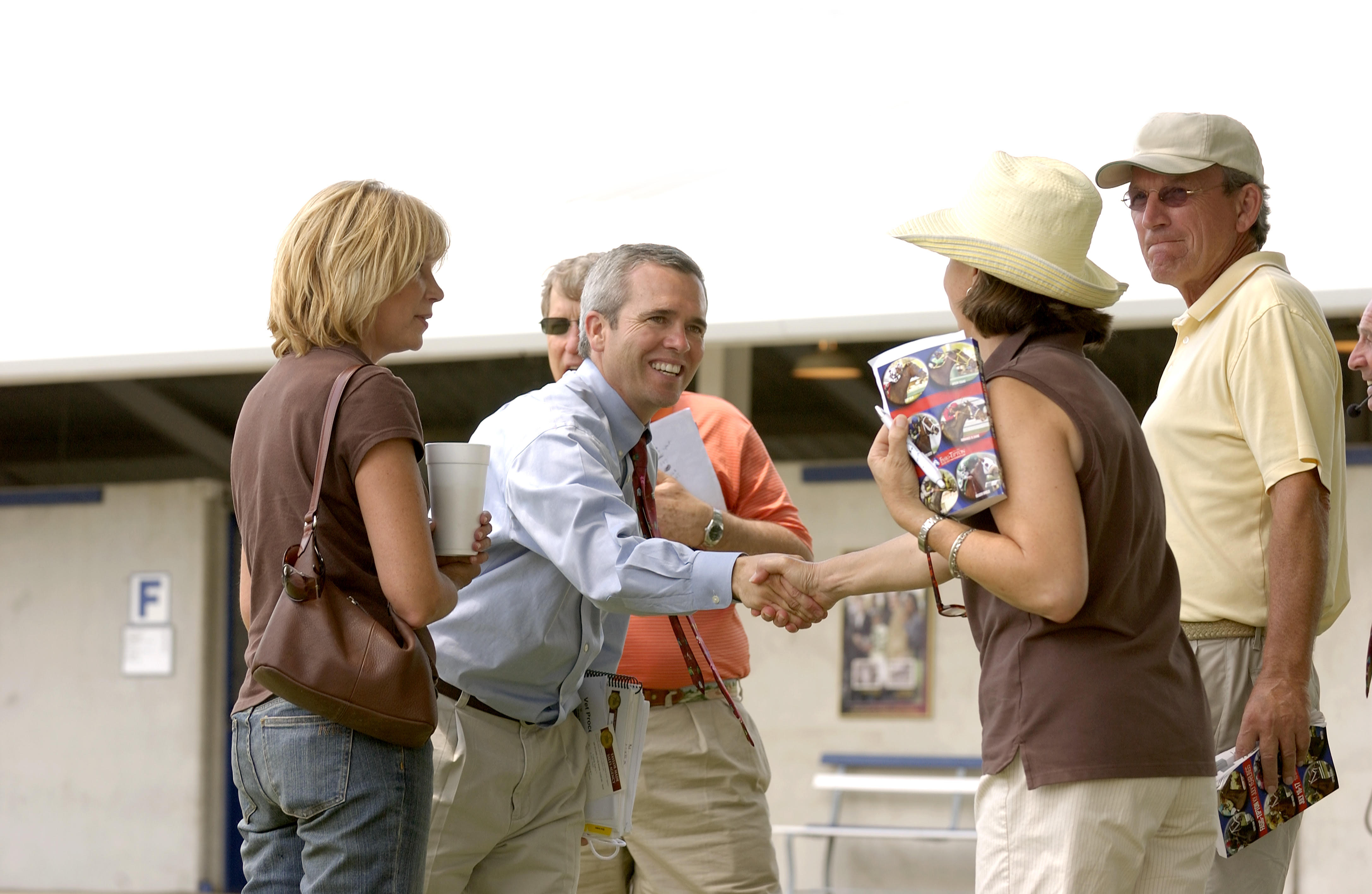 Taylor added, "Midnight Crossing is also a G3 winner and by Dark Angel, a stallion who has attracted a lot of intrigue worldwide.
"We also have Raven's Lady, a current G2 winner, and then Roystonia has recent black type, which is very nice."
Anyone who has visited Keeneland or Fasig-Tipton will be aware of the Taylor Made modus operandi - the welcome centre for potential buyers to register interest, for example, or the trademark uniforms worn by the army of staff. And several of those easily recognisable elements will also be on show at Newmarket.
Bringing a little slice of Kentucky
"We're looking to bring a little slice of Kentucky to Tattersalls," Mark Taylor said. "We want to keep the Taylor Made feel but there will be a few twists.
"For one thing, we're able to host a hospitality box. It's a luxury that I'm looking forward to - I wish we could do the same in Kentucky. And we'll be serving Kentucky burgoo and bourbon.
"We'll probably be bringing more staff than we actually need. Philip Shelton, who runs our racing division, Medallion Racing, and Jake Memolo, our director of research, are both coming over. Both of them follow European racing closely - they're fans."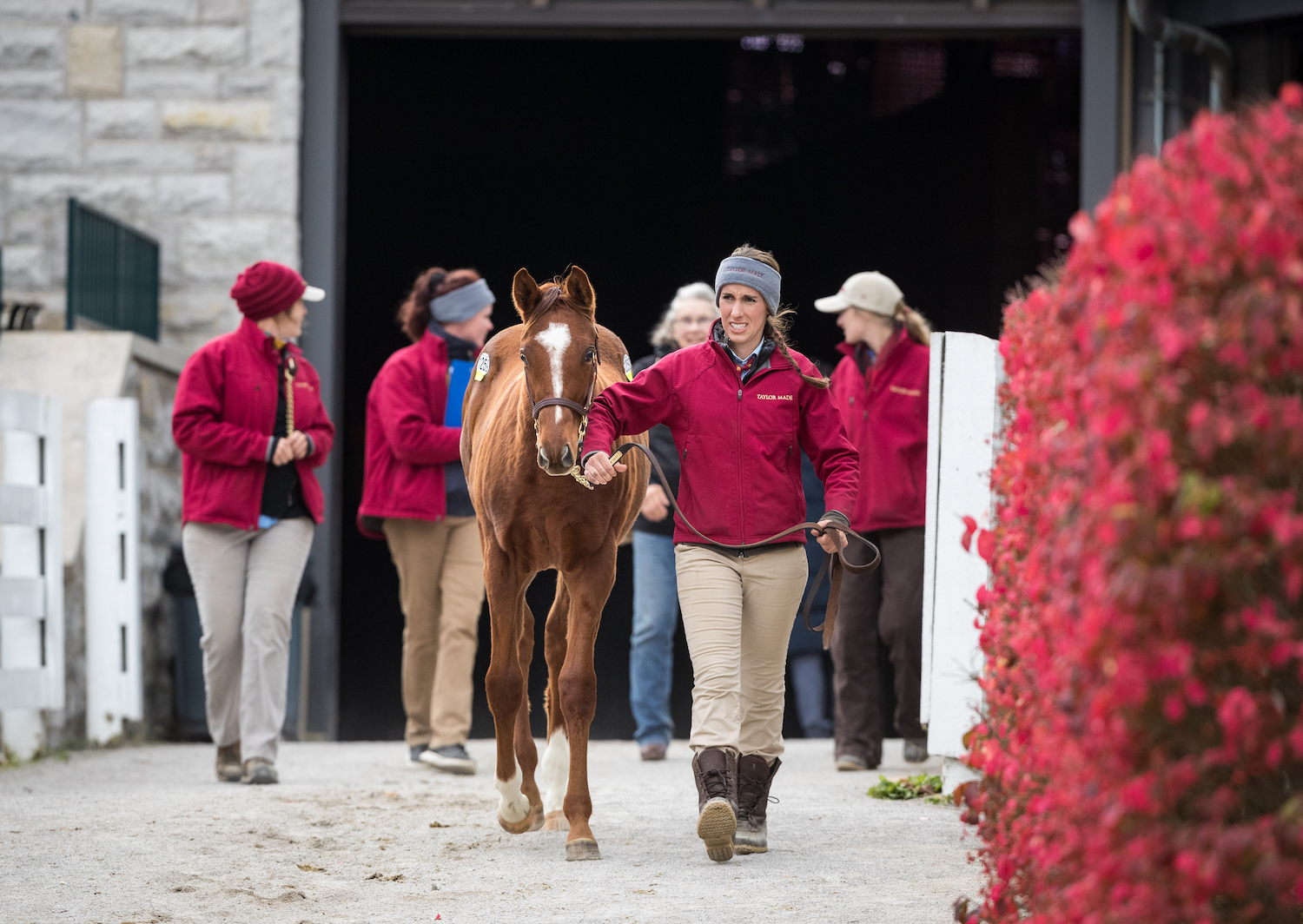 Needless to say, this is a landmark step for Taylor Made, one that could end up opening a host of opportunities. The agency has already signalled their intention to dip into the Arqana yearling market next August in a partnership with Haras de Gouffern and its commercial arm, International Thoroughbred Consultants (ITC). Jean-Pierre de Gasté, in his role as president of ITC and Haras de Gouffern, will assist Taylor Made in its French endeavour, while Cathy Barry has joined as yearling manager.
"All the feedback I've had has been very positive," said Taylor. "We're excited about it.
"We're really looking forward to getting to know more people. We don't get a lot of time in Kentucky to do that as the pace is so fast. So we're looking forward to taking our time, meeting new people and building relationships."