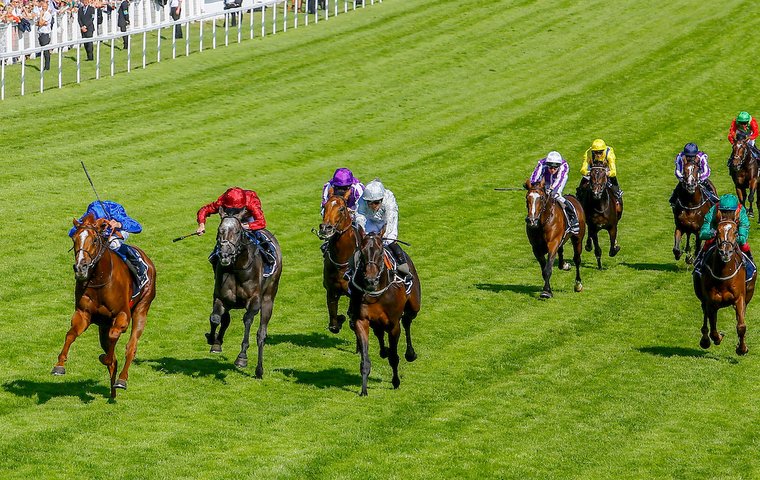 It's the Investec Derby at Epsom. One of the contenders is a horse with a beautiful middle-distance pedigree who had the speed to finish third in the 2000 Guineas. He hasn't run since, his trainer - who is ranked fifth in the world - has been been openly bullish about his chances, and he has better form going into the race than any other runner except the favourite. For good measure, he is ridden by the world's 12th-ranked jockey and owned by the biggest racing operation there has ever been.

So explain this: how come only four of the 11 others in the line-up started at bigger odds?
What kind of blind spot did Masar fall into for virtually everyone watching to dismiss his chances in the great classic on Saturday? The Godolphin colt started 16/1 joint sixth favourite yet ran out a commanding length-and-a-half winner (see video below).
If you'd woken from a 15-year sleep on Saturday morning, seen the field and done a quick study of past performances, then been asked to work out a betting market for the race, you would surely have had Masar in as second favourite, probably at around 5/1, possibly even a shade less.
What's happened in the meantime, it seems, is that we've stopped taking Godolphin runners seriously in the prestige events outside Dubai. In those 15 years, Aidan O'Brien has led the Coolmore team on a wondrous pillage of the sport's greatest prizes. For Godolphin, it's been 15 years of under-achievement. Bloody noses at the highest altitude.
That was still no reason to dismiss Masar so readily, and maybe his fine victory confirms what we've been saying at TRC for a while now, that Godolphin, and in particular the growing talent that is Charlie Appleby, are almost back in the game. Certainly, Sheikh Mohammed's breeding operation has been flexing its muscles like never before of late, not only through the achievements of the world's second-ranked stallion, Dubawi, but also via two stellar sons of Galileo, Masar's sire New Approach, and Teofilo. Indeed, the Derby was a 1-2 for Godolphin - runner-up Dee Ex Bee is a son of their stallion Farhh.
What happens to Masar in the rest of 2018 will be important. Does this Epsom triumph signal he is to be Europe's standout 3-year-old? Does it mean he is a rival worthy of the likes of Cracksman and Enable? Does it present us with a horse who could stand eventually alongside Dubai Millennium, Sakhee, Daylami and Swain in the pantheon of Godolphin greats?
Or will the 2018 Epsom Derby be most notable ultimately for what happened to another horse entirely? Will it be remembered - much as the 1986 edition is remembered for Dancing Brave's defeat rather than Shahrastani's victory - because of the Curious Case of Saxon Warrior?
The Curious Case of Saxon Warrior
For around seven hours on Saturday, May 5, it seemed as though there was nothing Aidan O'Brien couldn't do. Saxon Warrior, who was supposed to be a stayer, and who wasn't supposed to be fully fit, had just sprinted past an elite field of 3-year-old milers to take the world's top trainer's score in the 2000 Guineas to nine (that's 43 percent of all the winners since he had his first runner in the race in 1997). And O'Brien wasn't even at Newmarket to see it. He was at Churchill Downs instead, the excitement building with the spectacular UAE Derby winner Mendelssohn out to win him his first Kentucky Derby.
He wouldn't be able to stay in Louisville long, though. The next day he had to be at Newmarket, where he was saddling Happily, favourite to win the 1000 Guineas. Things couldn't have been more promising for 2018.
It would be ridiculous exaggeration to say it has been all downhill since that Saturday afternoon, but subsequent events have certainly illustrated something the world had almost forgotten: Aidan O'Brien is fallible.
Mendelssohn's Kentucky effort, of course, was a train wreck. Squashed on both sides on leaving the gate, he was always struggling behind horses in the slop and was eventually eased home in last place behind Justify. Happily ran a decent but uninspired third the following day, and did pretty much the same in the Irish 1000 Guineas three weeks later.
But the eclipse of Saxon Warrior at Epsom on Saturday must have been the biggest hurt. We were almost giving him the Triple Crown, and heralding the arrival of his sire, Deep Impact, as a major force on European turf because of it. O'Brien has handled numerous outstanding racehorses, but perhaps none we could call an all-time great. Now, with this horse, he was in touching distance of bringing one home.
Then Saxon stumbled out of the gate, travelled uneasily, got boxed in three times in the straight, lost his tongue over his bit, and didn't appear to know what to do once he got clear.
It didn't make sense. The horse was faster than the others in the Guineas, and he was said to have progressed hugely since Newmarket. It would be tempting to say he didn't stay the mile and a half, but he wasn't losing a lot of ground at the end, and actually ran past Hazapour close home to take fourth.
O'Brien went into the race with the prospect of experiencing possibly his best Derby ever, but it turned out to be just about his worst. One of Coolmore's chief drivers is to breed horses to win the Epsom Derby, and in the last ten years O'Brien has had 13 of them finish in the first three (that, again, is 43 percent of the total), including four winners. He had five runners on Saturday, finishing 4th, 6th, 8th, 9th and 12th. It was his worst result since 2008, when none of his five that day made the first four. (The winner then: Masar's sire, New Approach.)
With four more of his middle-distance 3-year-olds finishing down the field in yesterday's Prix du Jockey Club at Chantilly, suddenly the suspicion is that, after his record-breaking 2017, O'Brien has a much weaker squad for 2018.
Unless, of course, Saxon Warrior makes the grade after all.
"I wouldn't be making excuses for Saxon Warrior," O'Brien said after the Derby. "We'll take him home and see how he is. Everything out there today at Epsom might just have been new to them, and it would have been a big shock to him coming to this track, but I don't know. I've seen it happen to horses where they leave a run here behind them very quick."
The Irish Derby may give the horse another opportunity to prove himself over a mile and a half, and indeed O'Brien has won that race six times with horses beaten at Epsom. The Curragh may also be the next stop for Masar.
In the meantime, however, O'Brien still has his fillies. Forever Together, a 7/1 shot ridden by son Donnacha, was an impressive winner of Friday's Investec Oaks, one of four Ballydoyle runners in the first five (see video below).
Then there's the excellent 4-year-old Rhododendron, already a G1 winner this term, and last year's 2-year-old champion Clemmie, who made a belated return down the field in the Irish 1000 Guineas but should be more competitive next time. And don't forget Deep Impact's daughter September, who has had a setback and has yet to reappear. She was unlucky in two G1s at the end of last season and won the listed Chesham Stakes at Royal Ascot last June (with Masar back in third).
She's another helping raise the profile of her Japanese sire in Europe. Deep Impact's biggest win outside his homeland came at Chantilly yesterday, when his son Study Of Man prevailed in a blanket finish to the Prix du Jockey Club (see video below). It looks like there's hope for him after all.