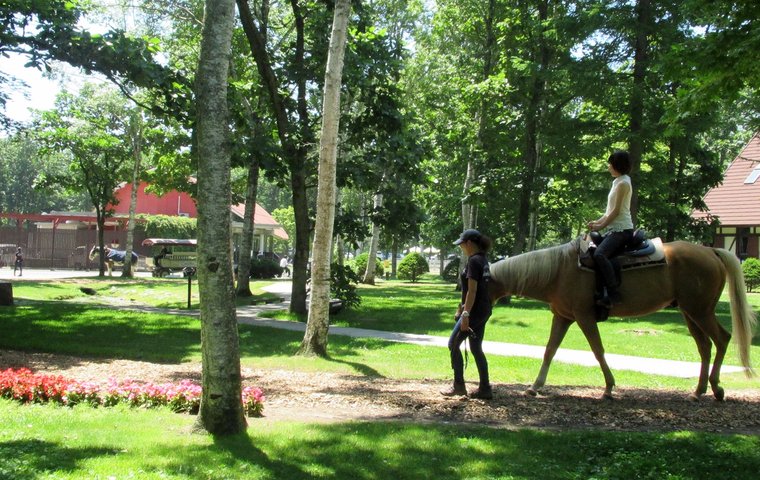 In the summer of 1989, the Northern Horse Park opened in Hokkaido, Japan. Now, as it approaches its 30th year, those behind it continue to revere the horse and desire to share the joys of equestrian life with others.

At any given time, there are about 80 horses featuring 12 different breeds on Northern Horse Park. Ranging from retired racehorses to trick ponies, there is truly something for anyone who enjoys horses. The park was established by Katsumi Yoshida, of Northern Farm, and today his daughter, Akiko Yonemoto, is the director and marketing manager.
"The aim then was basically the same as now," Yonemoto said. "At the time, my father felt that many Japanese didn't know about horses, and he wanted a place where the culture of the horse was accessible to everyone."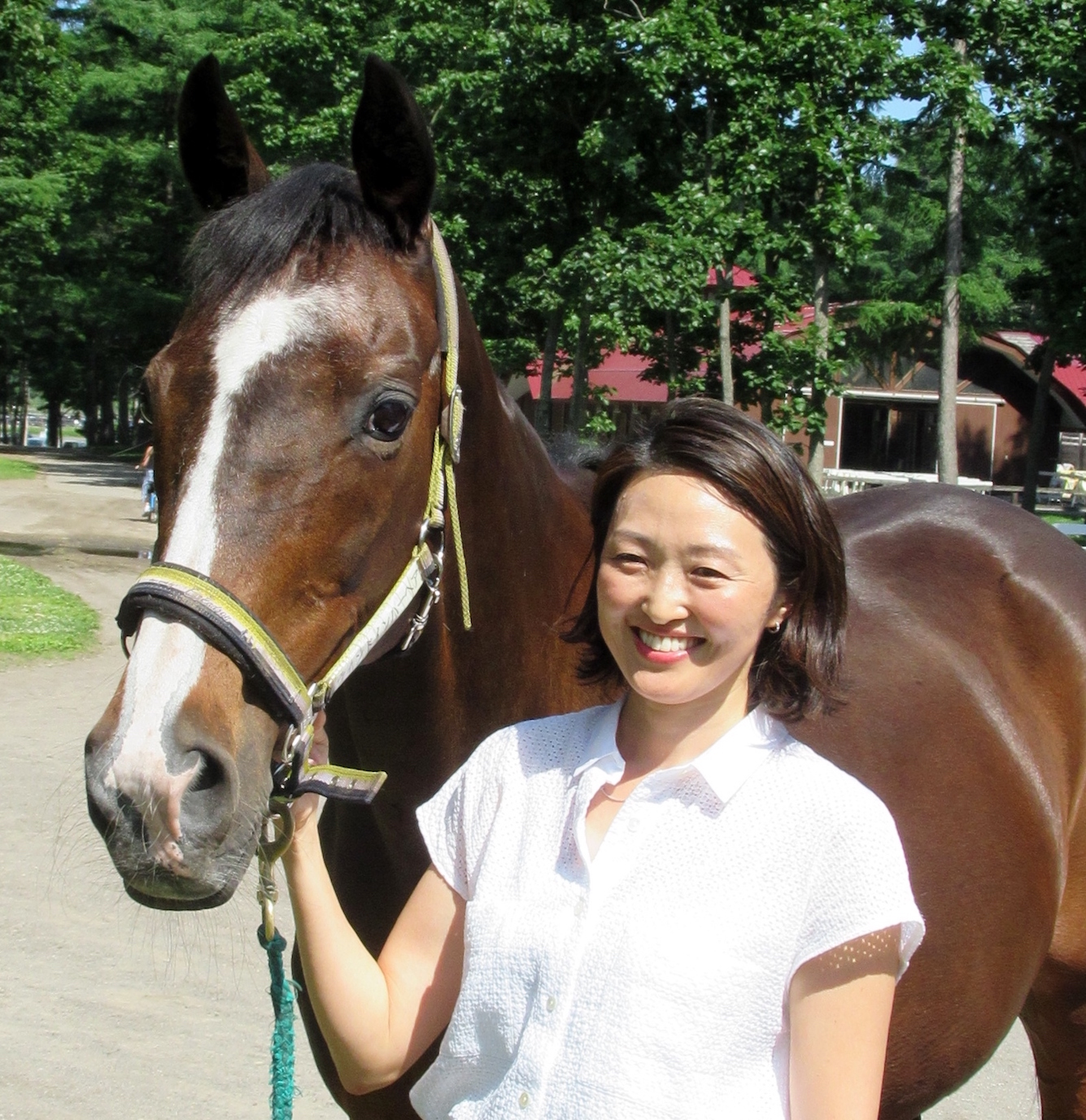 For racing enthusiasts, one of the most interesting buildings on the park is the Horse Gallery, which is a showcase of the history and development of both the Shadai Corp. and Thoroughbred racing in Japan. Zenya Yoshida owned Shadai, and upon his death it was divided between his three sons — Teruya, Katsumi, and Haruya.
Originally, the Horse Gallery was entirely in Japanese, but Yonemoto has worked to make both it and the park in general more accessible to international visitors.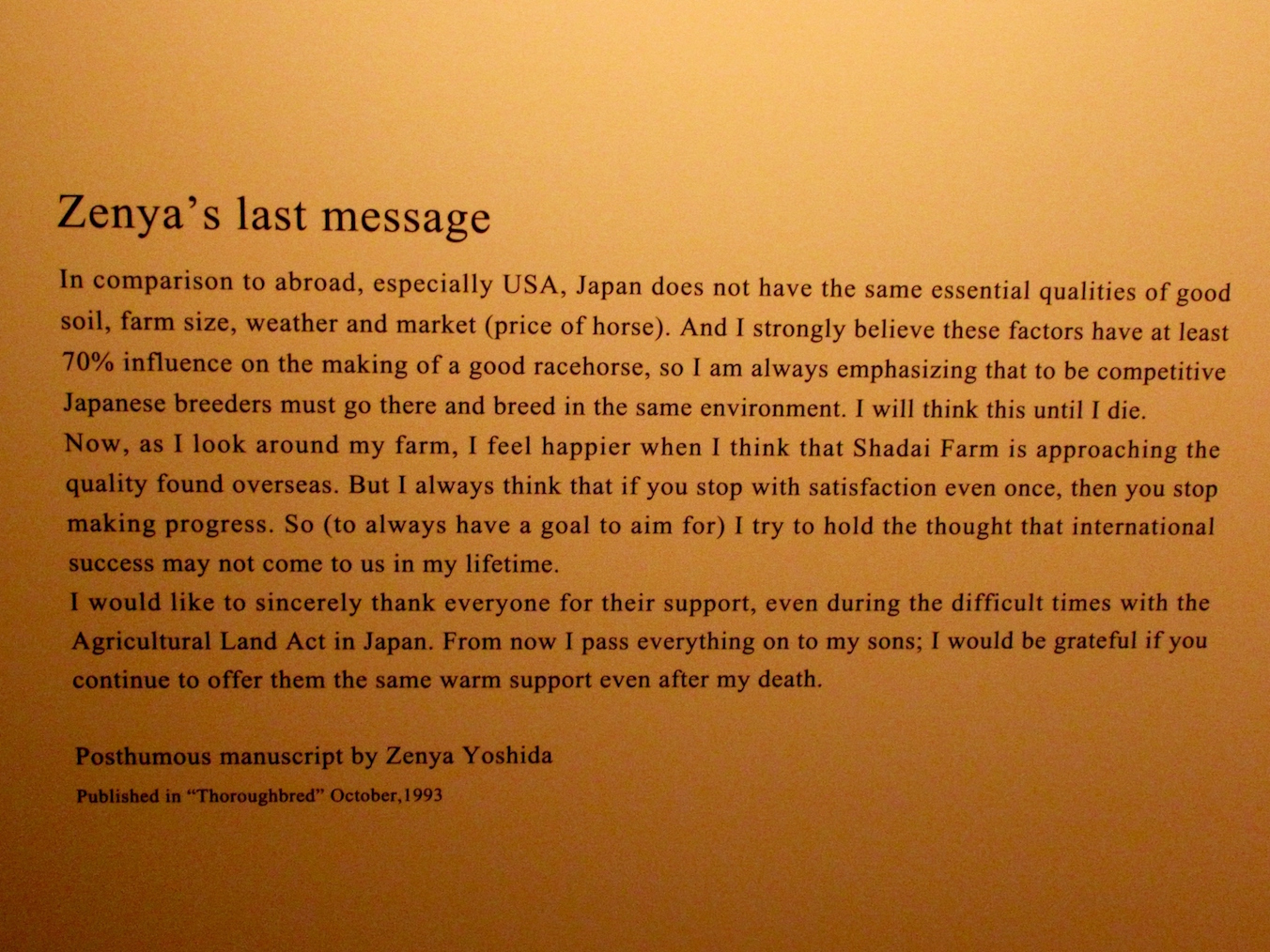 "Last year, I introduced the people from Coolmore to the old gallery, and at the time it was only in Japanese," said Yonemoto. "It featured some of my grandfather's sayings and it had more pictures, but they had to ask what they were. I thought it was a shame that foreign visitors couldn't understand, so I promised the next time they came I would have redone it."
Additionally, the gallery is meant to help new staff to the family's racing operation understand the goals they are working toward.
"I really wanted to my staff here at the park and the staff at Northern Farm to see the gallery and be motivated as to why they are here and why they are working with these horses," Yonemoto said. "I think it is very important to know the company's history where you are working."
Bonding Time
As one would expect, horses are the main focus of NHP. The park, which receives about 300,000 people annually, provides lead rein rides, carriage rides, private and group riding lessons, and a trekking experience. Located just 15 minutes from the New Chitose International Airport, the park even offers a shuttle bus service between the two.
Daily events are held to promote the connection between people and horses. The most popular show on the grounds is the Happy Pony Show, which features very clever ponies who perform a number of tricks for the guests, and it is the first show of its kind in Japan.
For hands-on moments, the park offers Bonding Time and Feeding Experience, as well as the Deard Buena Vista, which is a complete bridal venue for those wanting to include horses in their wedding celebrations.
"Bonding Time is where visitors can enjoy touching and taking photos with horses, with guidance from our friendly staff," said Yonemoto. "Ponies, quiet quarter horses, and famous ex-racehorses are all accessible to the public.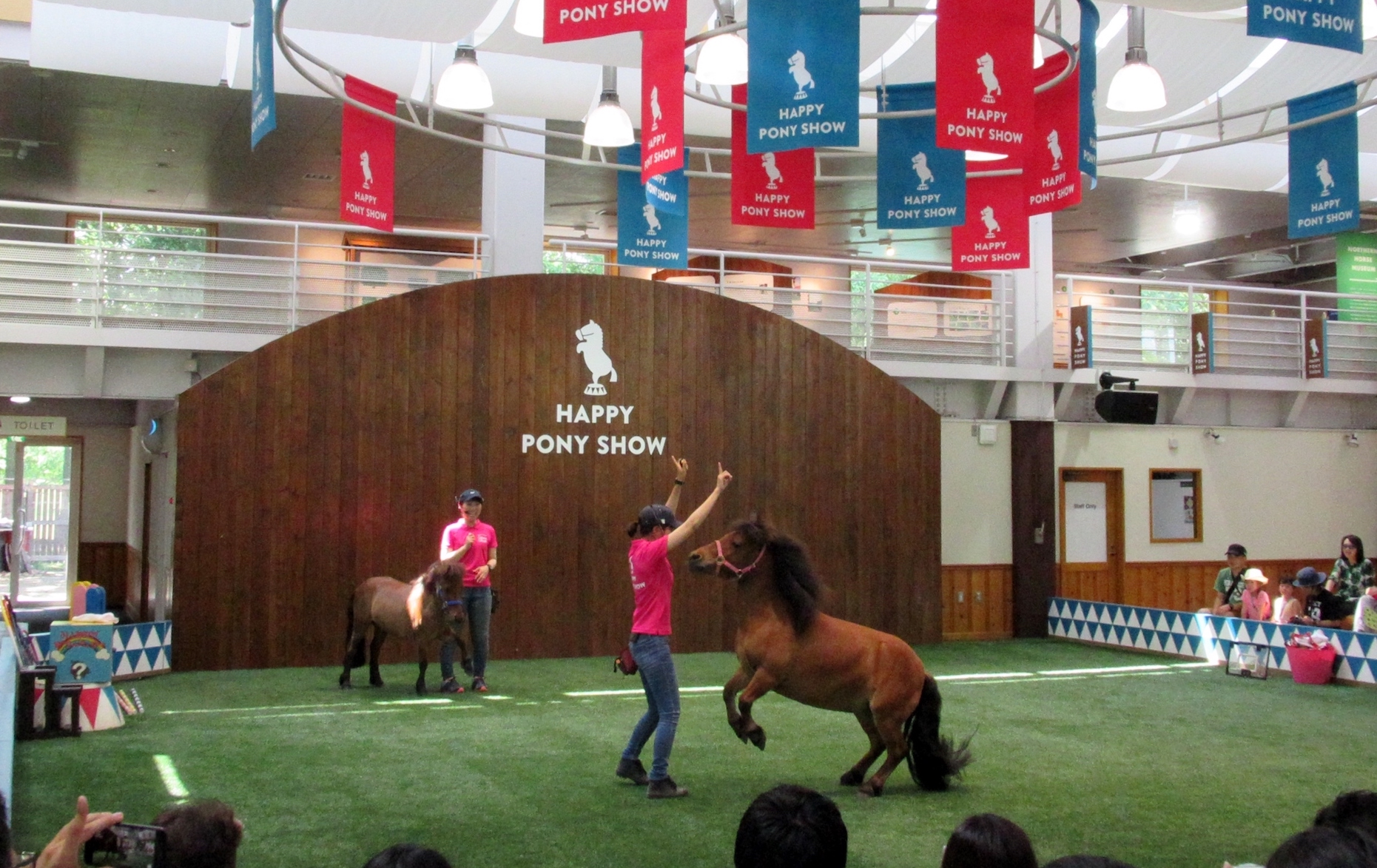 "Feeding Experience is a popular event for the kids. Safety is our priority, so our staff is on hand to give guidance, and care is taken to use long and thin home-baked carrot cookies or carrot sticks to reduce the chance of injury."
In July, NHP also hosts the annual JRHA Select Sale, which features the finest bloodlines on offer in Japan. Sale days are long, and participants are welcome to take breaks and go see the sights of the park as well.
"My father established the park to let people come and get to know about horses and enjoy them," said Yonemoto. "It was also my father's opinion that, between the sales, people could go and participate in some of the shows."
One of the most popular horses for Bonding Time is a 26-year-old pensioned broodmare. Upon being told her name, most of the people wandering up to pet her while she grazes break into a smile. Although she was a G1 winner in her own right, Wind In Her Hair is best known as the dam of the legendary Deep Impact.
"Her son is very popular, so my father thought that Wind In Her Hair must also be very popular, so he decided to pension her here," said Yonemoto. "Also, this is our family treasure, so we want to share her with the world."
Brilliant moments
In addition to educating the public, the Yoshida family also saw the NHP as an opportunity to educate those wanting to work in the racing industry as well as give racehorses a productive retirement. In all, 23 retired racehorses call NHP home, including the likes of 2006 Melbourne Cup winner Delta Blues.
"Katsumi thought that ex-racehorses needed to live somewhere in comfort, where racing fans could come and visit their horsey idols," said Yonemoto. "He also wanted a training facility for farm staff. Young riding staff, learning to ride racehorses, are given the chance to practise under pressure. By having to ride in front of many people, they are challenged to try their best."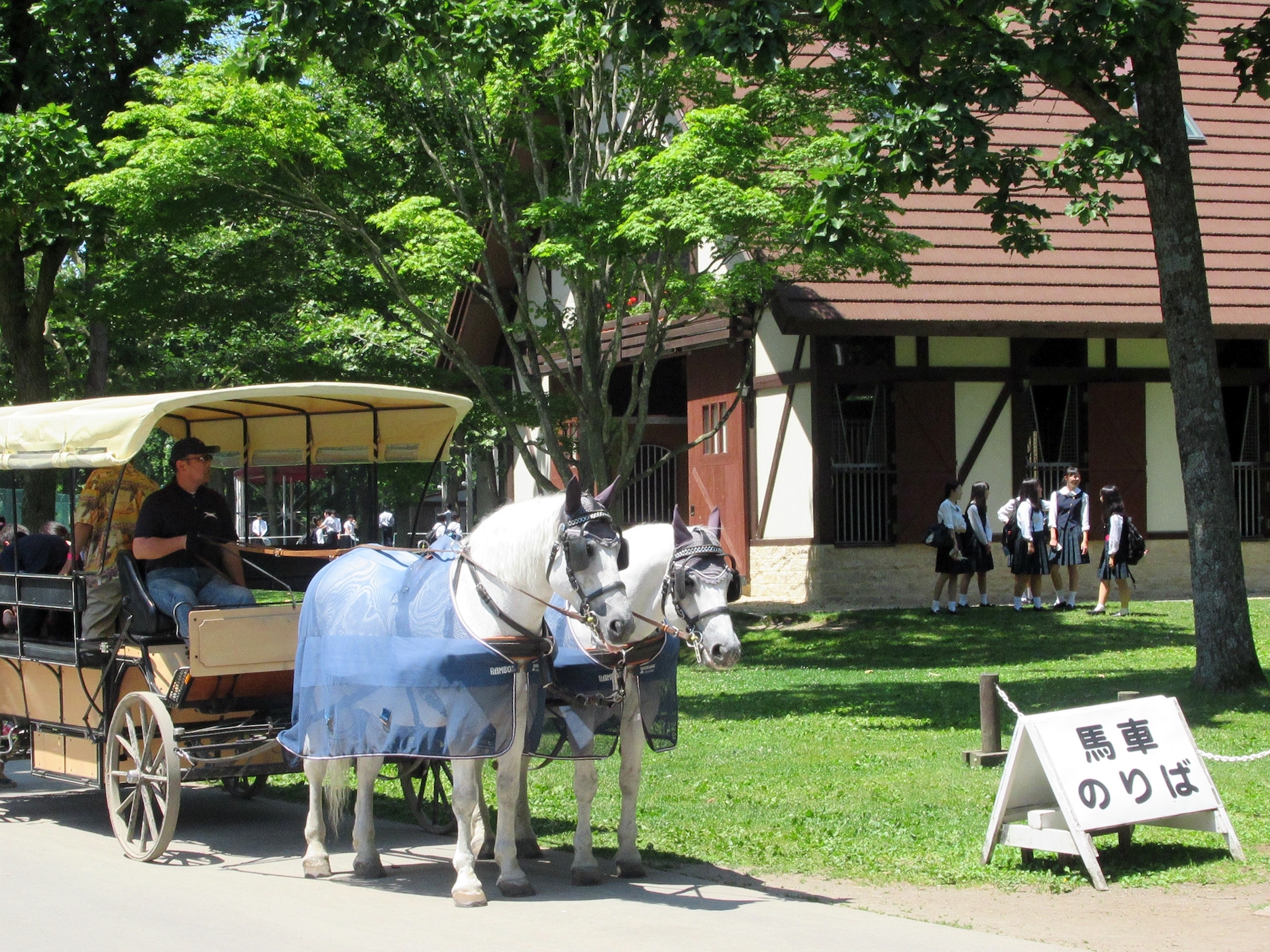 The park also serves as a facility for Hokkaido's equestrian events and features three outdoor riding arenas, two indoor arenas, and plenty of barn space.
"From the beginning of NHP, Katsumi was very keen to promote equestrian competition, as a means to improving equestrian skills in Japan and to spread the culture of the horse," said Yonemoto. "Hokkaido Equestrian Federation holds monthly dressage and jumping competitions at NHP from May to October. Some national events are held by the Japan Equestrian Federation, and other competitions, such as Western Reining, eventing, inter-high school and inter-university tournaments, are also hosted regularly."
The service concept for NHP is "discovering brilliant moments" and, as such, there are a number of different attractions beyond horses as well. The park also has two restaurants, a café, and a snack bar to feed its hungry patrons, and the quality of food on offer is a point of pride for NHP.
"The restaurants were originally made for entertaining Katsumi's clients," said Yonemoto. "He wanted his own restaurants with good food and excellent service. With K's Garden Restaurant, the 'K' in the name comes from Kazuko, Katsumi's mother."
In 2004, the NHP Botanical Gardens were established and feature about 300 different kind of plants in 16 different theme gardens, including 130 varieties of roses.
"The gardens were developed because, when Katsumi was young, he was deeply impressed by farms overseas, where beautiful gardens were often cultivated as a backdrop to the beautiful horses," Yonemoto said. "He liked this idea and wanted the same."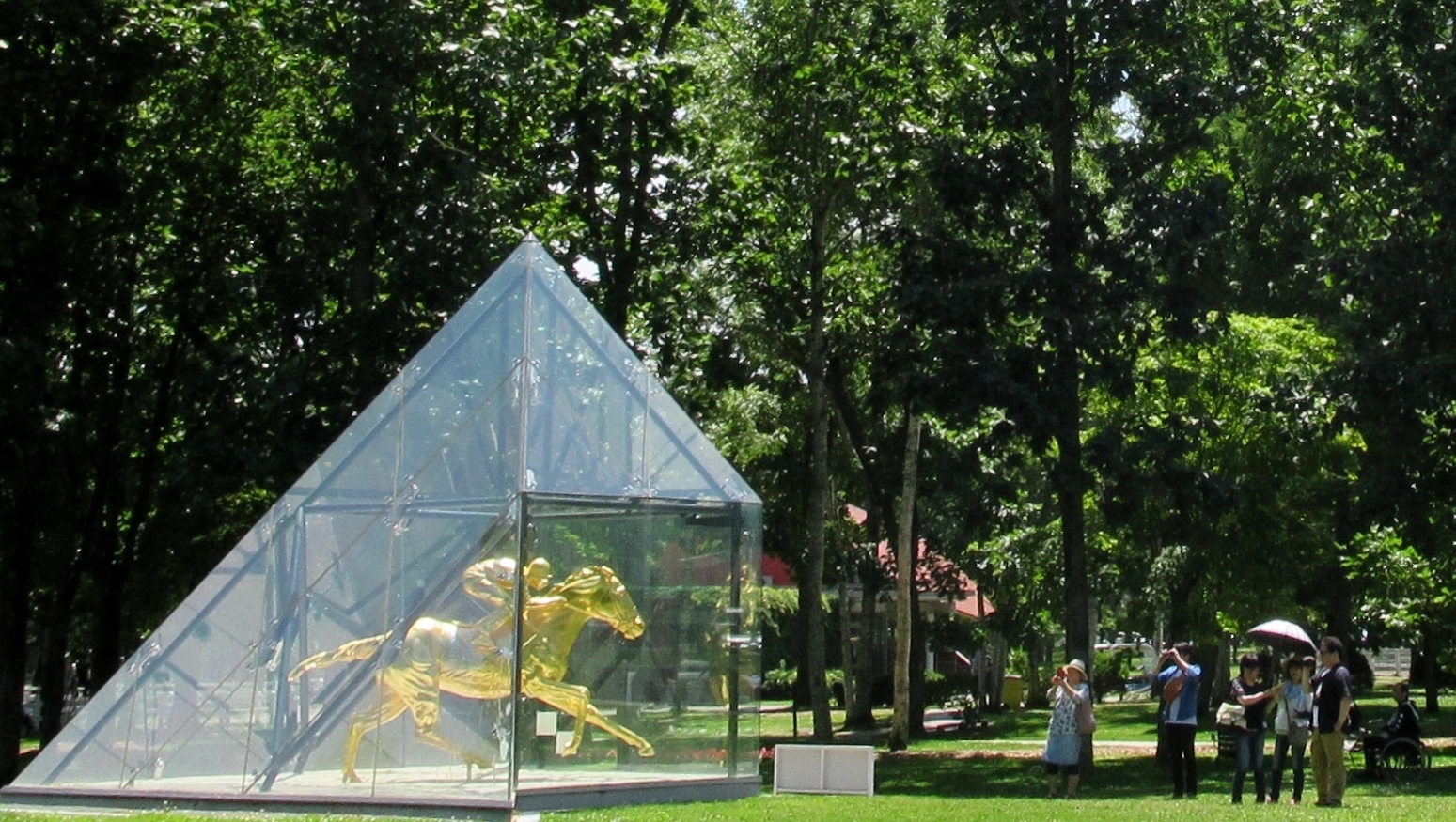 Although the park also features tennis courts, balloon archery, a dog park, and a children's playground, horses are at the heart of it all. Walking onto the grounds, a large gold statue of a racehorse, encased in a glass pyramid much like the ones found at the Louvre, is impossible to miss.
Many great champions have come from Japan, but the horse immortalized in this particular statue is 2000 Kentucky Derby winner Fusaichi Pegasus, who was campaigned by Japanese connections, including Shadai.
"At NHP, we aim to give guests feelings of happiness and extraordinary moments to treasure through the appreciation of horses and of nature's beauty," Yonemoto. "I would like to convey to as many people as possible how fascinating, how beautiful and how smart horses are."