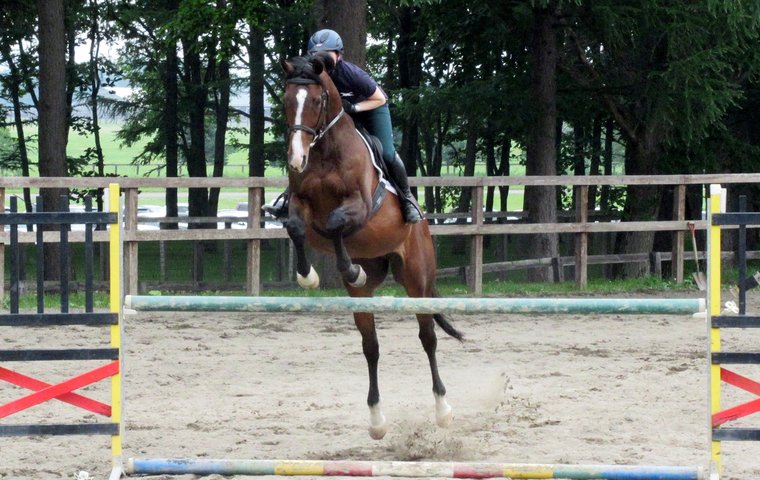 With eagerness radiating off his body, ears straightforward, and eyes locked on his target, the handsome bay set about his task of jumping with ease. Afterwards, his trainer walked him to the edge of the arena. When asked if he was her favorite, she grinned, dropped the reins, and hugged him around the neck.

Although known around the barn as The Master, to racing aficionados he is better known as Delta Blues, the winner of the 2006 Melbourne Cup. Eleven years ago, Delta Blues became the first Japanese horse to take Australia's most famous race. Now, his job is as a teacher.
On the racetrack, Delta Blues got his first taste of glory at the highest level in the 2004 Kikuka Sho (Japanese St. Leger), where he defeated the likes of Heart's Cry and Cosmo Bulk. However, it was becoming Japan's first winner in the Melbourne Cup that brought him international recognition.
Winning key races around the globe remains an important goal to those in Japan, as the industry enjoys proving itself on the international stage. One need not look much further than the current desire to conquer the Prix de l'Arc de Triomphe in France to see that. As such, Japanese-bred Delta Blues, who is by Dance In The Dark, provided an important victory for not only his connections but his country when he won in Australia.
Still playing an important role
Bred by Katsumi Yoshida's Northern Farm, Delta Blues competed in the name of Sunday Racing during his career, and eventually retired to Yoshida's Northern Horse Park, which was established in 1989 for equine enthusiasts.
The retired racehorse barns are off limits to visitors of the NHP in the sense that they cannot simply wander into the space. However, 'backstage tours' called Thoroughbred Guided Tours are given regularly.
"Popular Japanese racehorses get many fans when they are racing, often to idol status," said Akiko Yonemoto, Yoshida's daughter and the director and marketing manager of NHP. "NHP provides lifetime care for these equine idols, and many visitors come to see their favorite horse each year."
Today, NHP is home to 23 retired racehorses, and Delta Blues is chief among them, but he is far from the only one with an impressive race resume. Other well-known ex-racers in the barn include 2010 G1 Tenno Sho (Spring) winner Jaguar Mail; G2 winner Inti Raimi, who finished second behind Deep Impact in the 2005 Tokyo Yushun (Japanese Derby); and G2 winner Forgettable, who is out of Japan's 1997 Horse of the Year Air Groove, making him a half-brother to G1 winners Admire Groove and Rulership.
It is clear that the horses have not been forgotten by the public — most of the stall doors sport small, brightly covered pouches meant to bring them good fortune in retirement.
"These are lucky charms from Japanese shrines," said Yonemoto. "Fans like to bring them for the horses. I think the most I have seen was on Orfevre's stall at Shadai Stallion Station. It has a lot of charms."
Orfevre — Japan's 2011 Horse of the Year — finished second in the Arc twice, while also competing for Sunday Racing. He is now in the early stages of his stallion career.
As for Delta Blues and his compatriots, one of the reasons the ex-race horse barns at NHP are off-limits without a guide is because many of the inhabitants are now serving as teachers for those who are new to working for Northern Farm.
"They are here for people to see them, but mainly they are used to train the riding staff for Northern Farm," said Yonemoto. "The young staff get trained by the horses, who are very good teachers. My father was a successful university rider when he was younger, and he still enjoys it. It was his idea that the good racehorses train people the best."
Not all racehorses are destined for the breeding shed when they retire, and the Yoshida family is proud to provide them with something to do when their racing days are done.
"These horses have useful, active lives at the NHP," said Yonemoto. "They are ridden regularly by the young Northern Farm riding staff, and some of the horses, such as Delta Blues, also compete in showjumping."
The clear favorite
When Delta Blues was racing, his trainer Katsuhiko Sumii characterized him as tough. Now, he is known as The Master around the barn, both because he is the master of the riders and of the other horses around him.
"He can be naughty, but he is very smart," said Yonemoto. "We have a show program, called the Riding Show, in the summertime. Visitors can see famous ex-racehorses performing jumps up close. Many fans come to watch him and the others.
"He seems to really enjoy being watched by the crowd. When there is a bigger crowd, he enjoys it more, but when it rains and there is no crowd, he doesn't want to do it."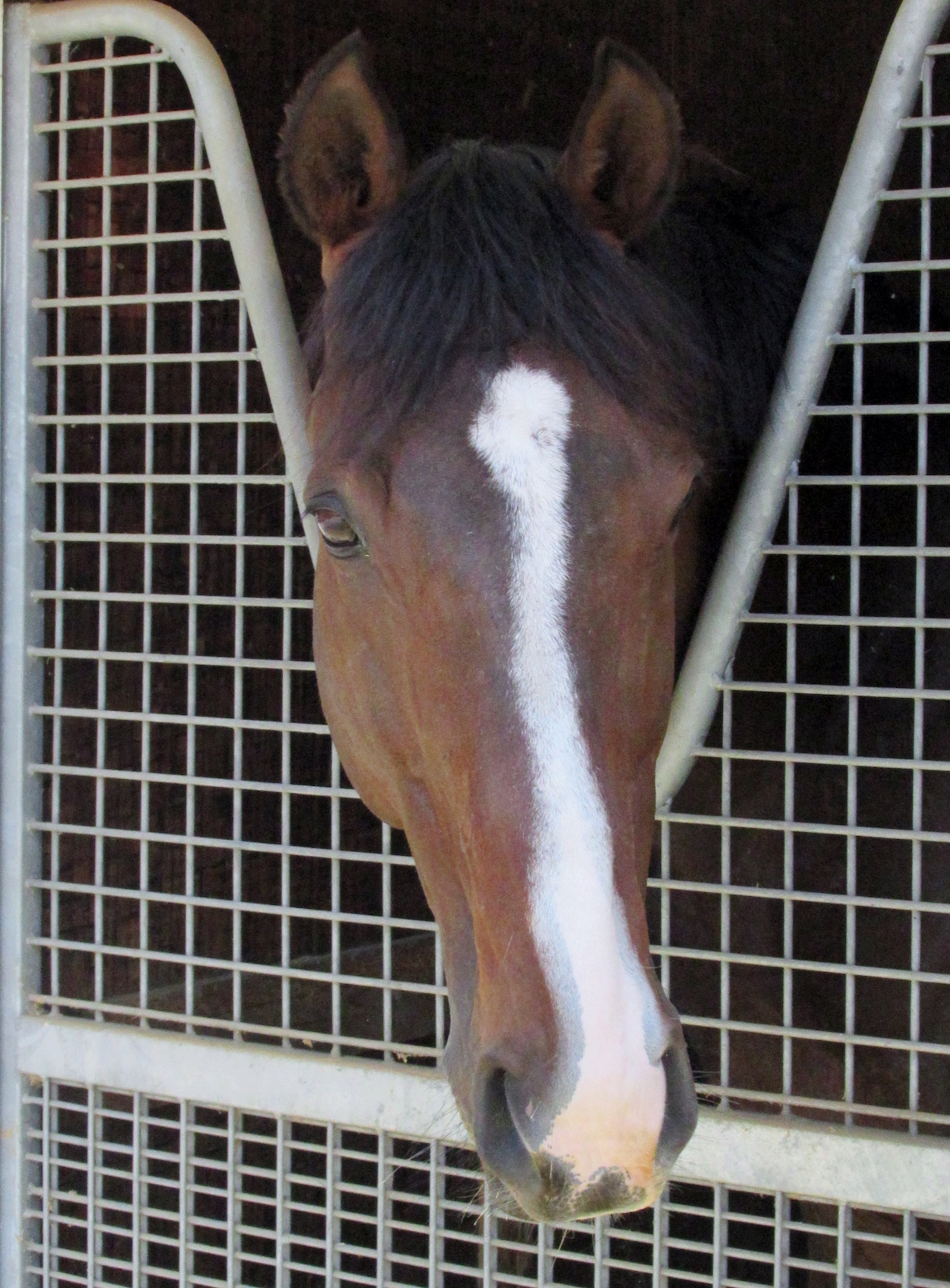 His caretakers report that he is keenly aware of his daily schedule, and even a change as simple as when he receives his bath is enough to alert Delta Blues (pictured right) to the fact something different is happening on the day.
In addition to participating in the Riding Show, Delta Blues also regularly competes in actual showjumping events and tends to do well for himself.
"About once a month he has a competition, and the other weekends he is jumping at the show," Yonemoto. "He probably showjumped a total of 50 times last year. He's definitely the most reliable. The others are still a bit shaky. For example, Forgettable is still very naughty."
Now 16-year-old, Delta Blues has thrived in his retirement as a teacher for those who want to learn how to ride and train Thoroughbreds. His intelligence means he will never be a push-button mount, but his temperament has clearly proven endearing to his caretakers. He makes them work for it, but honestly, and anyone who sees him jump can tell he enjoys it.
"He's very smart, and he is easily the most popular of the retired racehorses," said Yonemoto. "He is reliable. He is The Master."
Find out about the showjumping Ascot Gold Cup winner here.